AI-Powered yPredict Makes Trading Markets Predictable and Profitable – Nearly $500,000 Raised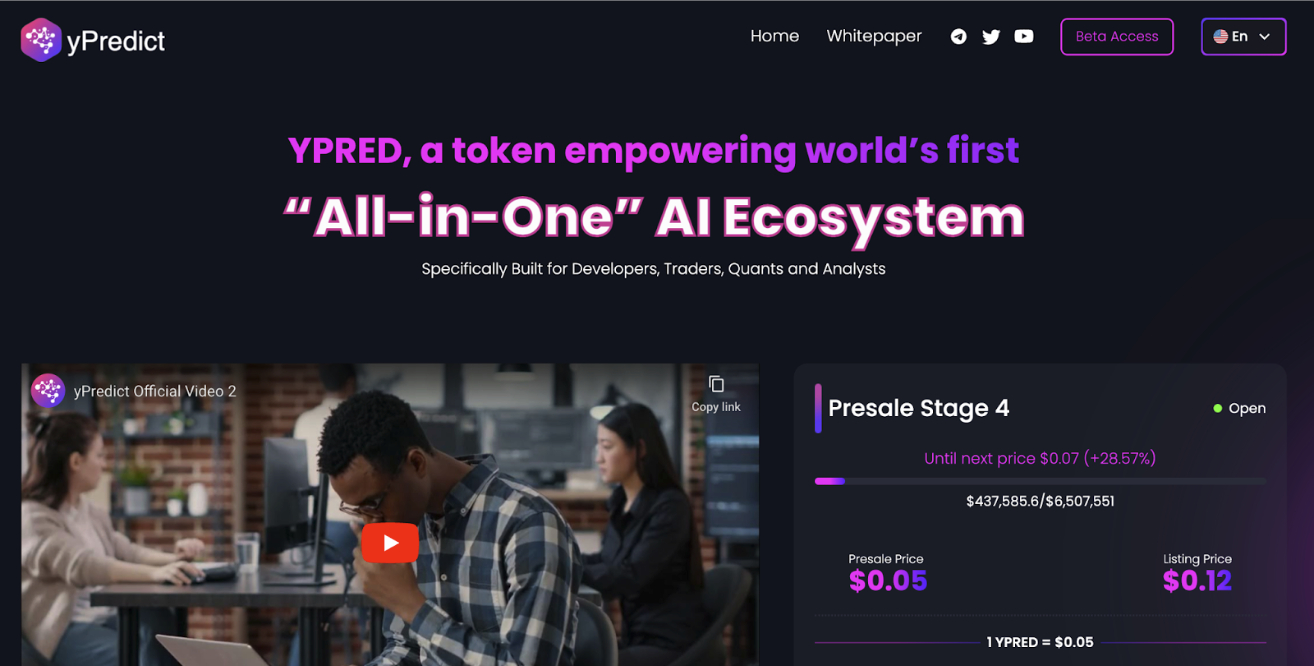 Friday April 28th 2023 – yPredict is a comprehensive AI-driven system designed for traders, quants, analysts, and developers to predict prices in financial markets – currently in presale.
In its fourth stage of an eight-stage process, the presale of the $YPRED token has raised $437,000 with less than $500,000 to go before the fundraising in this stage comes to an end.
There's no time to lose to invest in a revolutionary market predictions system that will change the face of trading.
This next-generation artificial intelligence-based trading research and analysis platform provides data-driven insights to make profitable trading decisions.
The $YPRED token is used to pay for memberships and the predictive models available in the marketplace, thus underpinning the utility and value of the token.
Buy $YPRED today for a 140% return at listing
Prospective investors in the platform can purchase the $YPRED token for $0.05.
The listing price is $0.12, providing investors with a huge 140% return on investment at listing.
yPredict.ai is an ecosystem built by artificial intelligence and machine learning (AI/ML) experts, financial quants and traders.
The offering of products includes analytical tools and platforms designed to provide actionable market insights and analytics.
yPredict achieves this end through the deployment of state-of-art financial prediction models and metrics, trained on massive datasets of varying types to improve trading decisions.
In a validation of yPredict's approach, a recent research paper has shown how the machine learning-based large language models (LLMs) at the heart of AI such as ChatGPT enable it to predict stock price movements.
yPredict solves the problem of algorithms cloaking price formation
When it comes to human behavior and financial markets, there is a certain level of predictability that can be inferred from psychology. The average trader tends to buy too high and sell too low, for example.
These and other traits help to explain how financial markets analysis has developed and brought us technical tools such as candlesticks, charts, technical indicators and much more besides.
However, the team at yPredict is aware that markets have changed considerably in recent years, especially when it comes to price structure formation.
Essentially, the difficulty faced by experienced traders trying to beat the market is the fact that much of the liquidity and decision-making is in the hands, so to speak, of algorithms.
It means much of the market information is 'hidden' or cloaked behind automated systems, sometimes acting at nano-second speeds.
It is hard for human beings to keep up, let alone analyze these movements – yPredict fixes this.
Because of the prevalence of these increasingly sophisticated algos in financial markets – with crypto being perhaps the most extreme example – markets are becoming less predictable.
Research shows that across financial markets as a whole as much of 80% of trading volume orders are executed by algos.
As a result of these developments, traders find themselves in the unenviable position of having to navigate extreme data noise, making it difficult to find a reliable and consistent statistical edge.
This is further compounded by the reality that many market participants, especially in crypto, rely solely on news and social media sentiment and/or trading signals from inexperienced or downright dishonest signal providers.
How yPredict market predictions and marketplaces provide a winning formula
yPredict solves these problems by harnessing the power of AI to build in-house predictive models and marketplaces.
There are many financial information websites and blogs offering market predictions but they rarely disclose the source of predicted values, method of predictions, and status of their prediction authenticity – yPredict does because it is an open system.
The team at yPredict.ai is on a mission to develop a new breed of trading tools powered entirely by AI.
These tools will not guarantee an edge but do provide a way to eliminate much of the noise from the markets.
As a consequence, trading decisions can be made with much greater clarity as regards the underlying data that is informing decision-making, thus improving the chances of gaining a statistical edge to improve returns.
Developers are winners too
yPredict isn't just for traders and analysts.
The yPredict marketplaces allow Ai machine-learning developers to offer for sale the predictive models that they have developed.
Thanks to yPredict, developers will be able to earn a steady and growing passive income from their work, ultimately depending on the verifiable success rate of their models.
Developers earn their passive income in the form of the $YPRED token.
yPredict is an open platform for asset price predictions
yPredict's market predictions is an open platform that makes coins and securities price predictions at no cost to the end user.
These predictions are generated through its own proprietary predictive models and marketplace.
These free predictions showcase endless possibilities for analyzing price trends through AI machine learning-driven tools on yPredict platforms.
Here are the killer features of yPredict market predictions
Open (no login required) and free-forever platform
Publicly available price predictions for thousands of coins
Predictions generated through state-of-the-art financial prediction methods
yPredict analytics provides actionable insights
Building an edge in financial markets whether stocks or cryptos requires data-driven insights and intelligence to analyze patterns in market behavior.
Although there have been some developments in the legacy trading tools industry to deal with the problems associated with increased automation, they still fail to deliver actionable insights to beat highly trained algorithms.
Ever since financial markets existed, traders have tried predicting price direction in order to make profits.
Here are some of the key features that yPredict brings together in its all-in-one ecosystem for price analysis and predictions.
More key features:
Pattern Recognition
Auto-detection of 100+ chart patterns. Every time a new chart pattern is detected, this tool would give an alert with the pattern name and its confidence score. This score is computed based on pattern performance in recent data.
Sentiment Analysis
Provide an overall sentiment of the news and social media content if it mentions the asset name or symbol, currently being analyzed.
Indicator Analysis
Automatically test hundreds of technical indicators on each asset (symbol) and filter out ineffective indicators and list only the ones which have performed in tests on recent market data.
Transaction Analysis
Analyze transactional/tick data for each asset and develop metrics to provide data-driven useful insights.
yPredict freemium pricing model will attract traders, quants and analysts in droves
yPredict Analytics platform is designed to run on a freemium pricing model.
Three levels of membership include free, active and pro trader.
The $YPRED token is used to pay for memberships and the predictive models available in the marketplace, thus underpinning the utility and value of the token.
Investors can buy $YPRED with ETH, MATIC and BNB. For more information, watch this how to buy video.
---