AI Crypto Signals Platform yPredict Secures $3.5 Million For Newcomer-Friendly Trading Features – How Does it Work?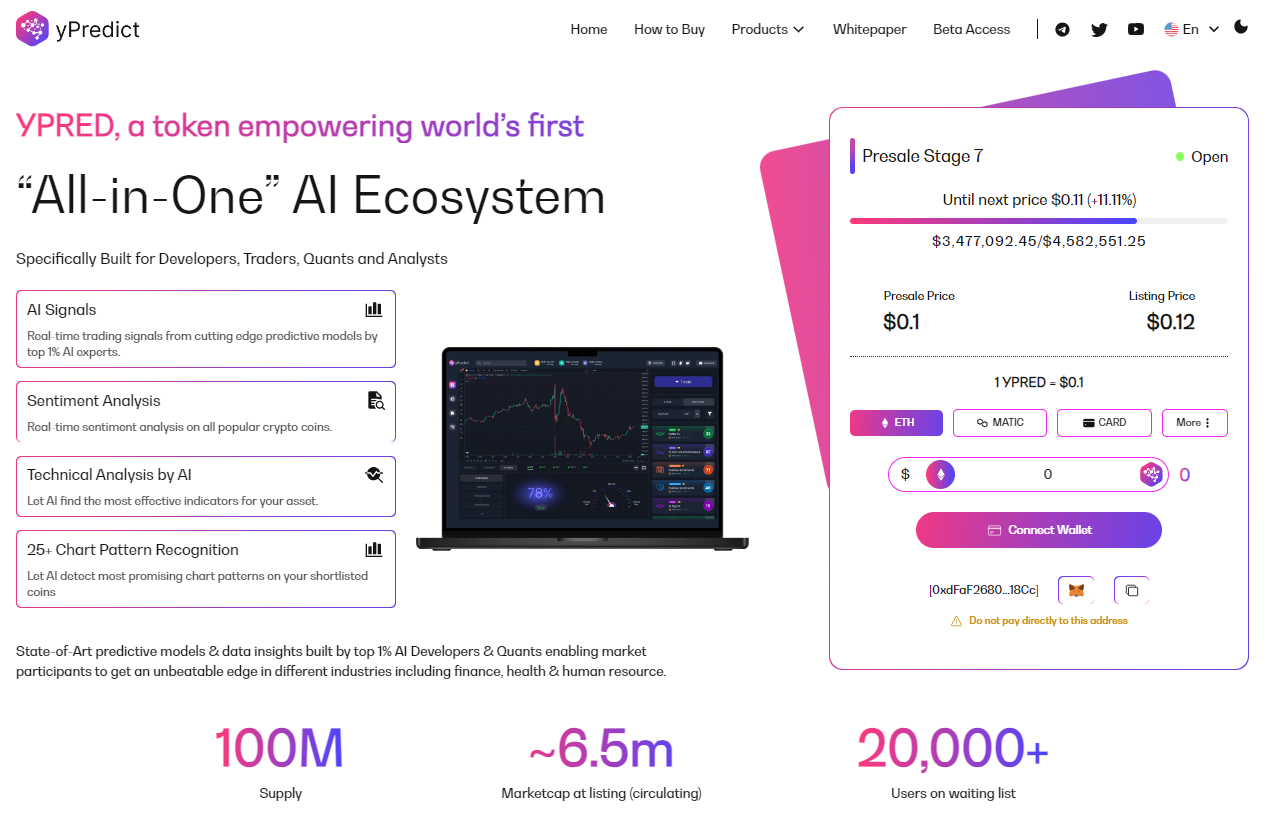 Artificial intelligence (AI) crypto signals platform yPredict just hit a huge milestone in its fund-raising efforts.
The project, which has been hailed by experts as boasting one of the most promising AI use cases of any web3 start-up this year, has now secured a whopping $3.5 million.
yPredict is building a cutting-edge newcomer-friendly suite of trading features and AI analytics tools covering crypto and SEO analysis.
The start-up has been conducting a presale of its native $YPRED token to fund development.
$YPRED will form the economic backbone of the platform's web3 ecosystem, providing its holders with all sorts of benefits, such as lucrative staking rewards of up to 45% every quarter, huge discounts on yPredict's AI tools and lifetime free access to the platform's highly touted crypto price prediction system.
The project is selling 80% of the 100 million $YPRED token supply via the public presale.
The presale is currently in its seventh stage, with $YPRED tokens currently selling for $0.1 each.
But investors have no time to lose if they want to secure their tokens at a favorable price, as when the presale hits $4.58 million, the $YPRED token price will rise to $0.11.
The token will then list across cryptocurrency exchanges later in the year at a price of $0.12.
That means presale buyers who get in now can be sat on paper gains of 20%.
Analysts at Cryptonews.com rank yPredict in their top 5 presales that could deliver 10x gains at the token's launch.
Here's How yPredict Works
yPredict is best known for its plans to build a best-in-class AI-powered crypto price prediction and analytics platform.
According to the start-up's Litepaper, yPredict is "building a cutting-edge crypto research and trading platform that provides traders and investors access to dozens of AI-powered signals, breakouts, pattern recognition, and social/news sentiment features".
The platform's technology was designed using state-of-art predictive models and data insights built by top 1% AI developers and quants.
For those interested in checking out the price prediction and analytics platform in its early form, yPredict has already launched a beta, the waitlist for which can be joined here.
Meanwhile, yPredict is also building a unique marketplace where ML developers can offer their model predictions as subscription services.
Potential investors should also stay tuned for the highly anticipated launch of Alt_Pump_001, an AI model designed to predict the next pump on alternate coins.
yPredict Goes Beyond Crypto Trading Analytics
yPredict is much more than just an AI-powered trading platform.
It is also building a host of AI-powered tools to help content teams.
The platform recently launched its first AI-powered tool, its Backlink Estimator.
And the free preview of the tool was a remarkable success, receiving over 5,000 requests in the first 24 hours.
Demand was such that the team quickly decided to introduce a new pricing structure of $99/query.
However, presale buyers will continue to enjoy exclusive privileges, such as unrestricted access to the Backlink Estimator, as well as to future yPredict models such as the forthcoming WriteMingle tool, a collaborative SEO-friendly content editor.
Elsewhere, yPredict generated huge hype last month with its announcement that it is also building a content solution for medium to large content teams.
As per the project's website, the yPredict editor will be released soon.
Crypto's Best AI Utility Coin?
yPredict's $YPRED crypto token is being touted by some observers as one of the best AI utility coins currently on offer across the market, thanks to the many AI-use cases that yPredict's platform solves.
And thanks to the big staking yields on offer and big discounts that $YPRED owners get on yPredict tools, investors are strongly incentivized to HODL the token.
The other 20% of the tokens are allocated to liquidity (10%), treasury (5%) and development (5%).
Under yPredict's tokenomics, the incentive for a rug pull is thus drastically diminished.
Don't miss out on one of 2023's best presales.
Investors can buy $YPRED with ETH, MATIC and BNB. For more information, watch this how to buy video.
Disclaimer: Crypto is a high-risk asset class. This article is provided for informational purposes and does not constitute investment advice. You could lose all of your capital.
---