AI Crypto Signals Platform yPredict Raises 2.6 Million After Introducing Artificial Intelligence Predictive Models – How Does it Work?

Industry-leading AI-powered crypto trading and market intelligence platform yPredict just hit a big milestone in its fundraising efforts.
The web3 project's presale just surpassed $2.6 million, with the project having recently unveiled a demo version of its first AI price prediction model.
yPredict, whose first-of-its-kind institutional-grade AI-powered crypto price prediction system is being touted as a game-changer for the crypto trading industry, has been raising funds via a presale of its native $YPRED crypto token to fund its early development.
There's no time to lose for investors who want to get involved in one of 2023's most promising crypto start-ups.
That's because when the yPredict presale reaches $2.982 million, the $YPRED price will go up another 11% to $0.1.
yPredict has a presale hard cap of $6.5 million, which could be hit in a couple of weeks if the presale continues to gain pace like it has in recent days.
The token will then list across major exchanges for $0.12 later this year, meaning investors who get involved now can be sat on paper gains of 33%.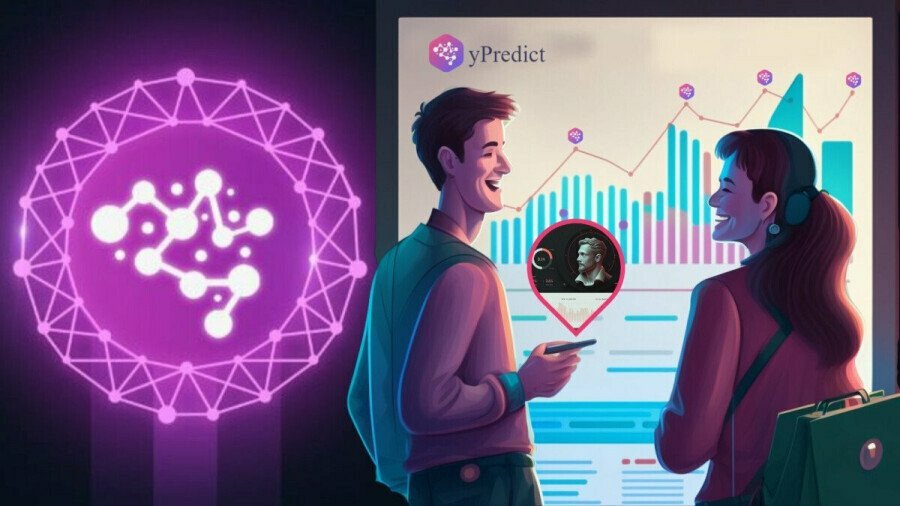 How Does yPredict Work?
Recent developments in artificial intelligence (AI) technology, as epitomized by the sudden rise of generative AI-powered chatbot ChatGPT and its competitors, are a gamer for many industries.
These chatbots are touted as having the ability to dramatically increase knowledge workers' productivity if harnessed right.
And one area where AI is already proving to be a game changer is in the realm of financial market price forecasting.
A recent research paper showed how the machine learning-based large language models (LLMs) at the heart of AI such as ChatGPT enable it to predict stock price movements.
AI models can analyze huge amounts of price data to identify trends that would have gone unnoticed by the human eye.
Good models can hand traders a valuable market edge.
And yPredict wants to give traders just that.
According to the start-up's Litepaper, yPredict is "building a cutting-edge crypto research and trading platform that provides traders and investors access to dozens of AI-powered signals, breakouts, pattern recognition, and social/news sentiment features".
The platform's technology was designed using state-of-art predictive models and data insights built by top 1% AI developers and quants.
Meanwhile, "the ypredict.ai marketplace will enable experts to earn recurring revenue by offering their model predictions or data research as trading signals, which traders and investors can subscribe to".
According to the project's whitepaper, yPredict plans to launch the full version of its Analytics, Repository and Marketplace platform by the end of 2023.
For those interested in checking out the platform in its early form, yPredict has already launched a beta, the waitlist for which can be joined here.
More Than Just a Financial Data Analytics Tool
yPredict just announced an affordable, self-hosted content solution designed specifically for medium to large content teams.
The innovative content solution empowers teams to streamline content creation and enhance productivity.
Its key features are a user management and task assignment system and an AI-powered content editor and scoring system.
"We are thrilled to introduce our expanded product lineup, which goes beyond the scope of crypto analytics and caters to a broader range of industries," said Raj Sharma, CEO of yPredict.ai. The project's presale is currently in its sixth stage, with $YPRED tokens available for $0.09 apiece.
"Our content solution addresses the needs of content teams by simplifying their workflow, harnessing the power of AI, and delivering valuable insights for creating engaging and optimized content."
$YPRED – The Ultimate AI Utility Coin?
yPredict's $YPRED crypto token, which is issued on the Polygon blockchain meaning low gas fees and fast transactions, is the economic backbone of yPredict's revolutionary AI-powered trading platform.
To access yPredict's premium features, new users will need to pay a $YPRED-denominated subscription fee.
10% of these fees will be distributed to existing $YPRED token holders.
This will encourage $YPRED investors to HODL as they benefit from a passive income stream, reducing sell pressure in the market.
And that's not the only passive income stream that $YPRED owners can benefit from, with owners also able to stake their tokens in pools to benefit from monthly rewards.
80% of the total token supply of 100 million will be made available during the public presale.
Analysts have thus labelled yPredict's presale as being amongst the fairest out there right now, given many other presale projects reserve a large proportion of the coin supply for insiders.
The other 20% of the tokens are allocated to liquidity (10%), treasury (5%) and development (5%).
Under yPredict's tokenomics, the incentive for a rug pull is thus drastically diminished.
With more and more traders and investors expected to turn to AI technology for trading assistance in the coming quarters and years, it's no wonder that analysts are predicting big things for the yPredict platform and its $YPRED token.
Popular British crypto start-up/presale YouTube analyst Jacob Crypto Bury thinks that $YPRED has the potential to at least 10x.
Investors can buy $YPRED with ETH, MATIC and BNB.
For more information, watch this how to buy video.
Disclaimer: This section features insights by crypto industry players and is not a part of the editorial content of Cryptonews.com.
---