5ire's Testnet: Thunder (Beta) sees massive adoption worldwide, surpassing all expectations
Disclaimer: The text below is a press release that is not part of Cryptonews.com editorial content.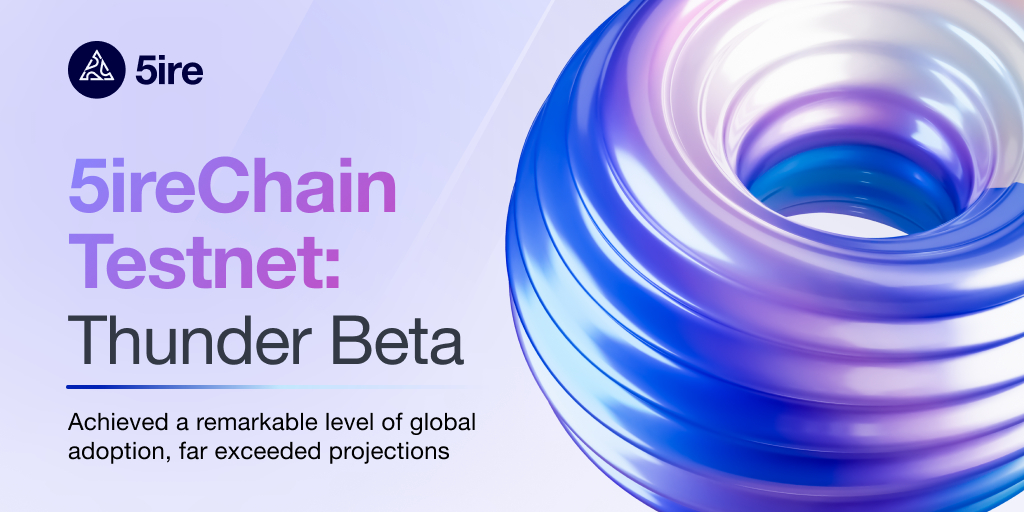 New Delhi, March 14, 2023 - 5ire, one of the world's fastest-growing unicorns with a mission to make blockchain sustainable and accessible for over one billion people by 2030, has seen widespread adoption of its groundbreaking Testnet: Thunder (Beta) since its launch on February 13, 2023.
Between Feb 13 to March 10, Thunder (Beta) has recorded impressive numbers, including 700K+ transactions on the 5ire Native Chain and 310K+ transactions on the EVM Chain, with 460K+ wallets created. The platform's unique consensus protocol, Sustainable Proof of Stake (SPoS), which ensures ESG compliance and rewards nodes for being there for the benefit of society as a whole, has contributed to the platform's decentralization, security, and environmental-friendliness.
One of the most exciting aspects of Testnet: Thunder (Beta) is its full compatibility with Ethereum Virtual Machine (EVM), which allows developers to build decentralized applications (dApps) and bring existing Ethereum-based dApps to 5ire, opening up a world of new possibilities for creating innovative solutions on the 5ire network. The platform is designed to operate efficiently and reduce energy consumption, making it a much more environmentally friendly option than other blockchain projects.
"We're thrilled to see such widespread adoption of our Testnet, and we're excited to continue collaborating with builders and developers worldwide to create a more sustainable and equitable blockchain ecosystem," said Prateek Dwivedi, Co-founder and CPO of 5ire.
5ire has also organized several events to engage with the community and encourage developers to build on the platform. The BuildToEarn Campaign, which incentivizes builders to develop innovative dApps on the 5ire network, has seen positive responses from the developer community. Additionally, the platform has collaborated with Polkadot and plans to integrate with the network leading up to its Mainnet launch in Q3 of 2023.
Speaking on the future of 5ire, the CEO and Founder, Pratik Gauri said, "We are delighted to witness the love and appreciation from the community on the launch of Testnet Thunder Beta and we look forward to working with the same enthusiasm to picture the reality of a secure, transparent and sustainable blockchain. "
5ire has also held several community events, including 5ireGather in Canada, Tulum (Mexico), and Lucknow (India), as well as PG's US Takeover Tour and dApps Bharat Tour: Delhi Chapter. These events provide a platform to the community to engage with the 5ire team and share their vision for a sustainable blockchain future, while showcasing 5ire's technological innovations.
Finally, Thunder (Beta) boasts an impressive number of 1540 smart contracts, 9403 active wallets, 599902 total transactions, and 57565 faucet transfers.
As 5ire continues to make strides in the blockchain industry, the Thunder (Beta) Testnet is a testament to the company's commitment to creating a fairer, more secure, and more sustainable future through blockchain technology.
To learn more about 5ire's Thunder (Beta) Testnet and the BuildToEarn Campaign, visit their website.
To start testing, visit 5ire Explorer
About 5ire:
5ire is a blockchain company that has developed 5ireChain, a smart contract platform that incentivizes sustainable practices and aligns economic growth with global sustainability. With a multilayered Sustainable Proof-of-Stake consensus mechanism and a focus on positive impact, 5ireChain is leading the charge in the shift from a for-profit economy to a for-benefit economy. 5ire's vision is to create a sustainable blockchain ecosystem that empowers individuals and organizations to impact the world positively.
Crunchbase | Twitter | LinkedIn | Instagram | Discord | Medium
---