5 Best NFT Generators and Creators Without Code
Disclosure: Crypto is a high-risk asset class. This article is provided for informational purposes and does not constitute investment advice. By using this website, you agree to our terms and conditions. We may utilise affiliate links within our content, and receive commission.
Disclaimer: The text below is an advertorial article that is not part of Cryptonews.com editorial content.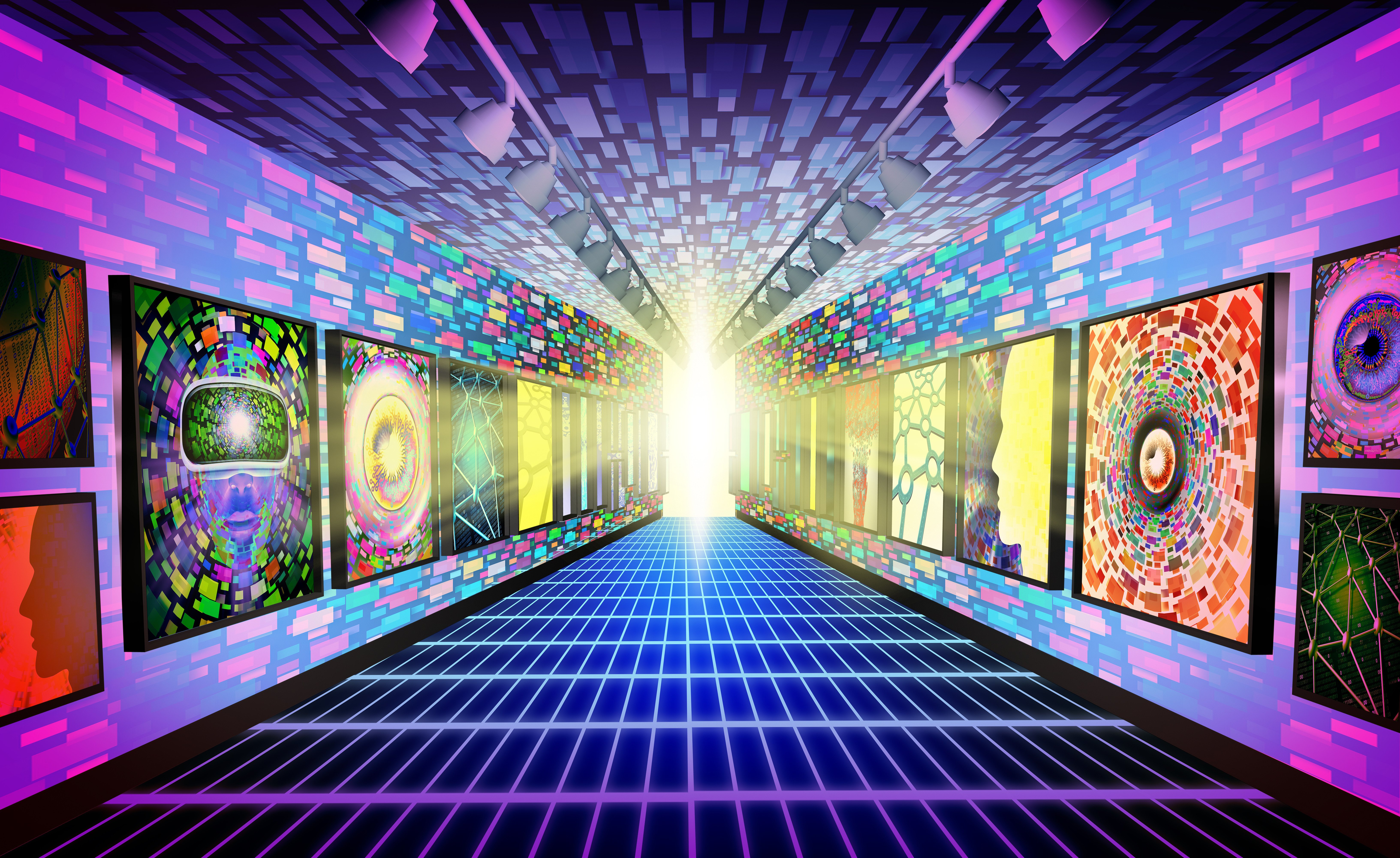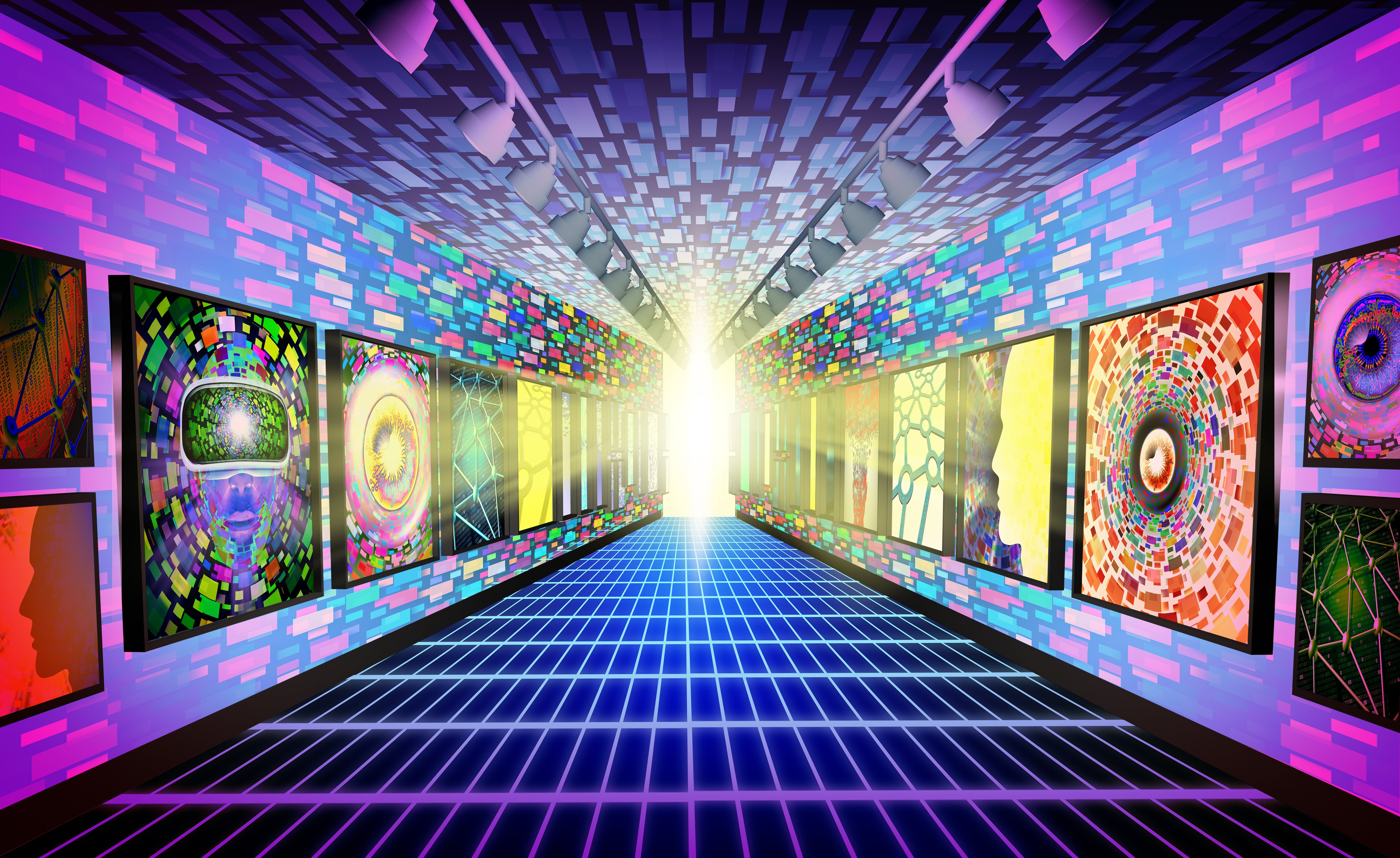 One of the ways to get into the NFT industry is to create your own collection. The difficult part is tokenizing the art and creating your own. You can use something called an NFT generator, which does it for you. They are easy to use and allow you to express your creativity. Which are the best NFT generators? Let's find out.
NFTs: A Quick Overview
What exactly are NFTs and NFT art? NFTs stand for non-fungible tokens, digital assets that are unique and stored on blockchain technology. NFTs can be anything from digital art, to videos, to in-game tokens and even virtual land.
What are NFT Generators + Benefits to Know
NFT art generators are exactly what they sound like – they are tools to help you create art used for NFTs. NFT artists and NFT creators can use this tool for inspiration with templates (if available) or use a blank canvas to let their creativity and art styles run free.
Aside from creating the art, NFT generators can also help those creating NFT art program royalties and do it all without using code! This means there is no prior coding knowledge necessary for the best NFT art generators and a lot of them are free!
Of course, you can use the classic techniques of doing things by hand, but the ease and consistency produced by NFT art generators with just a few clicks are unparalleled.
Top NFT Generators Without Code
There are options to create digital tokens with code, but without code is simpler and it doesn't come with a steep learning curve. If this sounds like an option for you, then we have the best ones to help you generate images and create collections!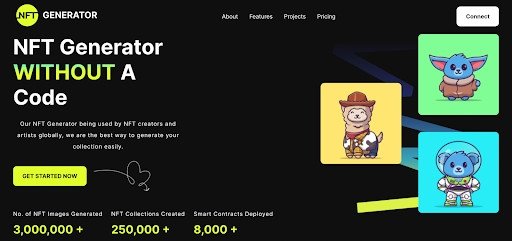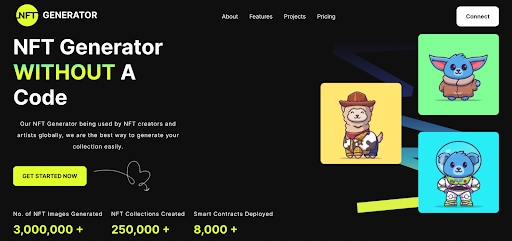 Key Features
Rarity levels
No-code trait rarity setting
Export files
Auto-save feature
Smart contract deployment
Build access list
Pricing
Free to sign up!
No upfront costs
The best NFT generator has to be our top choice. This NFT art generator takes care of everything for you from beginning to end – without the need for any coding expertise! Your NFT art can be created in a matter of minutes with the click of the "Generate" button.
One of the best parts is the ability to support the creation of multiple different characters for one NFT collection. This means your tokens don't all have to look the same. While some other NFT collections may have just one character with various attributes, you can have a leg up with more than one! Smart contract rules are also embedded within this NFT maker so you can create digital art safely knowing your work is proprietary.
Pros
No code is needed!
Create NFT easily
Set rarity levels
Attribute rarity rating
Create more than one character collections
Auto-save feature
Live chat function for support
Supports more than one blockchain ecosystem
Cons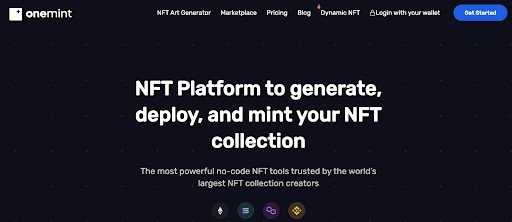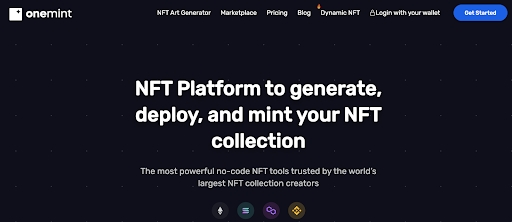 Key Features
Good user experience
Lots of templates and tools to use
Rarity layers
No code necessary
Pricing
Free to use
Minting fee
Team and Community passes for $890
As promised, all the NFT art generator options we provide you do not require coding knowledge. If you want rarity and multiple-character creation, then OneMint also has what you need. What we really appreciated about the platform's user-friendliness, which is so much more important than users think. Not only are you stepping foot into a relatively new space, but you're also creating your own art, so you want things to be as easy as possible and OneMint is up there in UI/UX.
Pros
Free NFT generator to sign up for
Plenty of NFT tools
Create your own NFT collection with multiple characters
Has a price calculator
Attribute rarity
For Ethereum, the largest NFT blockchain
Cons


Key Features
Basic Plan is free to sign up
Weeklong free trial for certain plans
Easy to use NFT artworks creator
Reliable brand
Affordable to use
Pricing
$0 for the Basic Plan
$6 per month for Like a Pro plan
The Appy Pie NFT generator is one that is highly trusted by those creating NFTs. Not only that, but it is one of the best platforms to use to create NFTs because it is so intuitive. Again, an NFT creator can create an NFT collection without code – opening doors for many people.
Appy Pie's NFT builder not only allows you to create new NFT art, but it also lets you convert existing digital art into NFTs! The paid plan gives more blockchain support than Appy Pie generator's free plan. Not to mention, Appy Pie provides a free trial before asking for any monetary commitment.
Pros
Has a free plan
Has a free trial
Very user-friendly
Convert existing art to NFT form
Cons
Metadata not supported by all blockchains


Key Features
Small learning curve
The best NFT generator for art effects
One of the AI NFT generators
Affordable price
Pricing
Free Basic plan
$8.99 per month for the Pro plan
$19.99 for Pro+ plan
We know what you're thinking, why did we say Fotor is one of the AI art generators when it is actually a photo editor? Well, it's both! The Fotor NFT art generator is for creating NFTs and helps digital artists conceptualize their ideas and turn them into NFT images – without code!
If you have used Fotor's photo editing features for your creative process in the past, then you know you can expect the Fotor NFT creator can do wonders on an NFT image!
Pros
Turn existing digital artwork into NFT art.
Create an NFT collection easily
Affordable
Uses artificial intelligence
Cons


Key Features
Includes metadata generation
Has an NFT art collection minter
No coding
Direct blockchain mints
Pricing
Free demo available
$49.99 per month for 2 generations
$69.99 for unlimited generations!
As you can see, Generate NFT Online definitely commands a steeper price to create NFT art. But, is it worth it? That's the biggest question on everyone's minds. You can do everything within 30 min with this NFT generator, and the ease of use is surely worth the price.
This particular NFT generator also has something others do not – video NFT generation! If an NFT creator wants to take their collection one step further and transcend just art, then Generate NFT Online is a great choice (albeit a more expensive one).
Pros
Great for video NFT artworks
More than the limited tools offered by other options
Generates metadata needed
No code required
Cons
A Guide to Choosing the Perfect NFT Generator
The NFT maker has to be easy to use and understand. You will notice that the best NFT generator options are all intuitive. Not only that, but the tools should be easy to use as well.
What can the NFT creator do? What does the art generator support and what blockchain is it compatible with? The best NFT generators should support more than one blockchain, but even if an NFT maker doesn't, it could still provide exceptional value – just look into the features.
The editing feature is what an NFT generator can do to the artwork. Other than customizing NFT traits, can the leading software also apply effects? Features such as customizable brushes will also prove to be very useful for customization.
It's always handy to have access to your collection when you're on the go, so the mobile-friendliness of the tool should be a top consideration as well. Can you use it on multiple devices such as both Android phones and iOS devices?
Some NFT generator tools could price themselves out of the competition by asking for exorbitant prices per month. As consumers, we always want free things, but it's also important to consider the quality of free products and services. You don't have to go out there and sign up for the most expensive NFT generator, but definitely choose one that suits your needs and has a reasonable price point.
Pre-made templates make everything easier in an NFT generator. The groundwork is laid if you choose to use templates and doing so can bring your ideas into reality – without coding knowledge!
How to Use an NFT Art Generator
There are plenty of options out there, but the fundamentals of an NFT art generator are largely the same.
Make your artwork on photo creation software such as Photoshop or Corel Painter
Upload your creations to the generator (either the whole collection at once or every layer – depending on what's supported)
Examine the live preview and make adjustments to the layers if applicable
Click "Generate" and export your NFT collection onto the appropriate blockchain
Engage in further features (if provided) such as smart contract deploys, royalty settings, etc.
FAQ
What are NFT AI generators?
NFT AI generators are smart generators that can create artwork based on text, where you describe what your collection will look like, or from a sample image. Smart technology can extract what you feed it to create unique artwork.
What is an NFT trait? And what are unique traits?

NFT traits are attributes an NFT possesses. It can be something such as facial hair, held props, or accessories. These traits, depending on how rare they are (rarity is usually calculated by how many NFTs have it) can contribute to the value of the individual token.
How do I determine the NFT trait?
A trait can be anything you want, but the best way to determine which ones will be well-received is to choose ones that are creative and visually impactful. Using popular symbolism (but be careful of copyright laws) and easily recognizable graphics are good examples.
What are one of one legendary traits?
If you want an ultimate rare NFT token in your collection, then give it a one-of-one legendary trait. This is a single trait that only appears on one or a few NFTs without repetition. While it does bring incentive to collectors, this type of trait can impact the ranking of your entire collection.
How many layers do I use for a 10,000 NFT collection?
10,000 NFT collections are not uncommon at all. To make sure it is successful, you would need at least 10 layers with 4 variations in each layer. It is very difficult to do manually, so if your collection is this big, you would need professional help or an NFT generator.
Conclusion
In this day and age, the simpler something is to use, the easier it is to market and gain acceptance. NFT generators are no exception and the brains behind them know this. This is why no-code NFT generation is preferred. The ones on our list are all great, but we really like NFT Generator.io, the first option as it is the most user-friendly.
---