11 Best NFT Marketing Agencies
Disclosure: Crypto is a high-risk asset class. This article is provided for informational purposes and does not constitute investment advice. By using this website, you agree to our terms and conditions. We may utilise affiliate links within our content, and receive commission.
Disclaimer: The text below is an advertorial article that is not part of Cryptonews.com editorial content.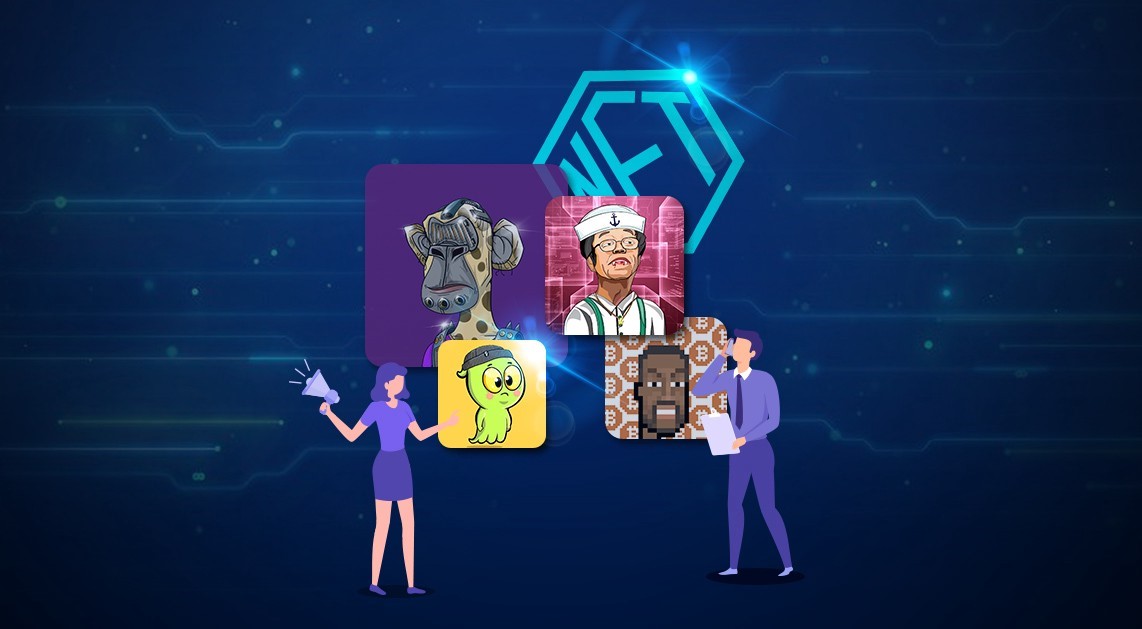 Non-fungible tokens, or NFTs, have grown into a lucrative market, its sales growth increasing 131 times between 2020 and 2021. Now, more than ever, is the best time to get into the wave of NFTs, be it by creating your own tokens or by collaborating with NFT enthusiasts. Even already-established brands like Nike, Adidas, Gucci, and Coca-Cola are using NFT marketing strategies to tap into this new consumer group. Of course, you'd need to stand out in the vast ocean of NFT projects, and the only way to do that is by seeking the help of NFT marketing agencies. In this list, you'll know which agency fits you best.
Interest in NFTs continues to grow, especially among Asia-Pacific countries like Singapore, Hong Kong, Philippines, and South Korea. This ranking is based on the number of searches of the term "NFT" on Google, reflecting the populations' interest in NFTs and NFT wallets. So, if you'd like to get a head start, marketing your NFT project in APAC may be your way in.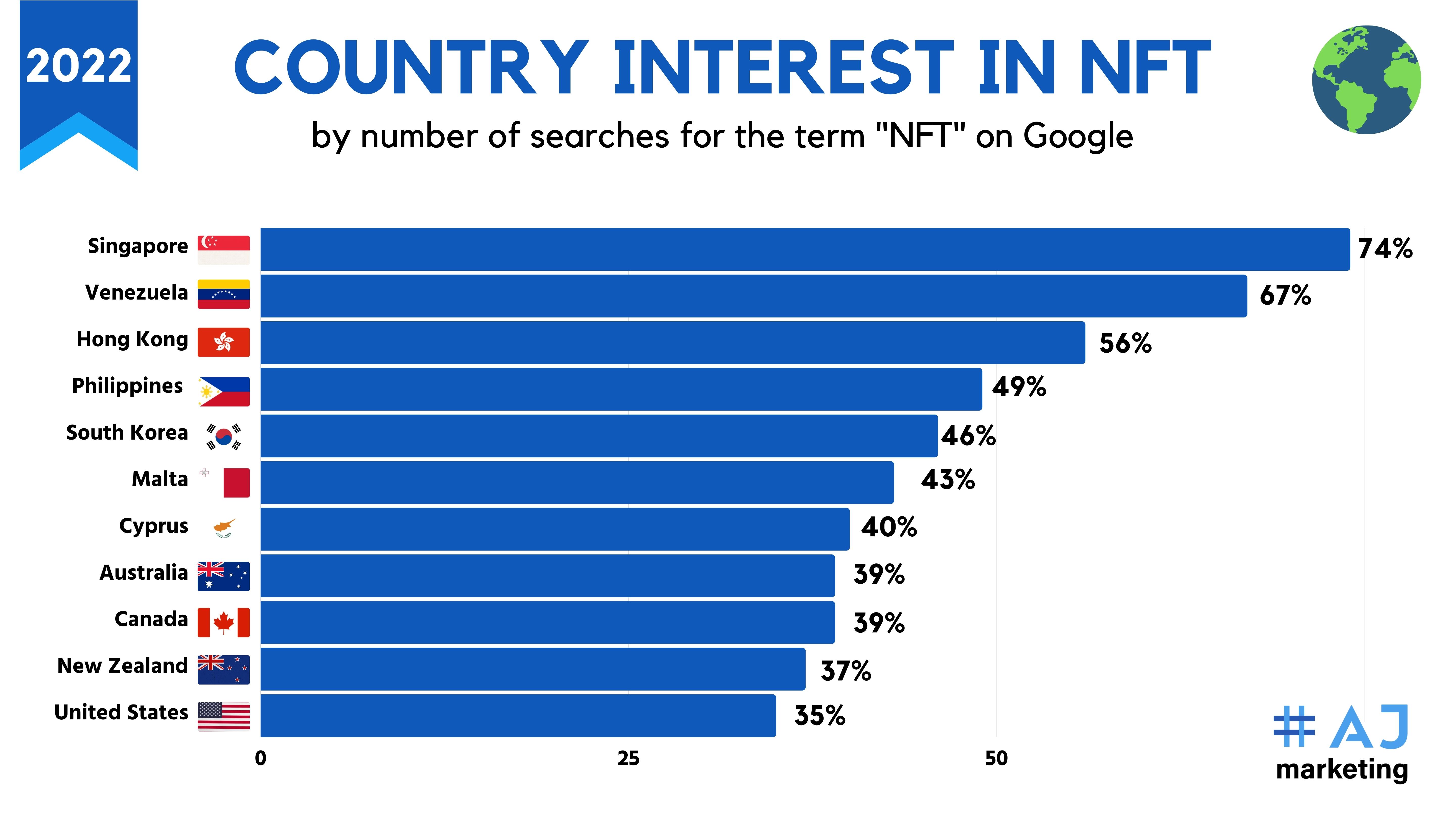 If you're thinking about marketing your NFT project in a different region, keep reading on. This list contains the best NFT marketing agencies not only in Asia, but also in the United States and Europe.
Let's dive into the 11 Best NFT Marketing Agencies! Hopefully you will be able to find a marketing partner for your next campaign.
11 Best NFT Marketing Agencies in 2022
AJ Marketing
X10 Agency
Coinbound
Lunar Strategy
Inoru
AppDupe
Blockchain App Factory
FireCask
Eon8
Chaincella
Fracas Digital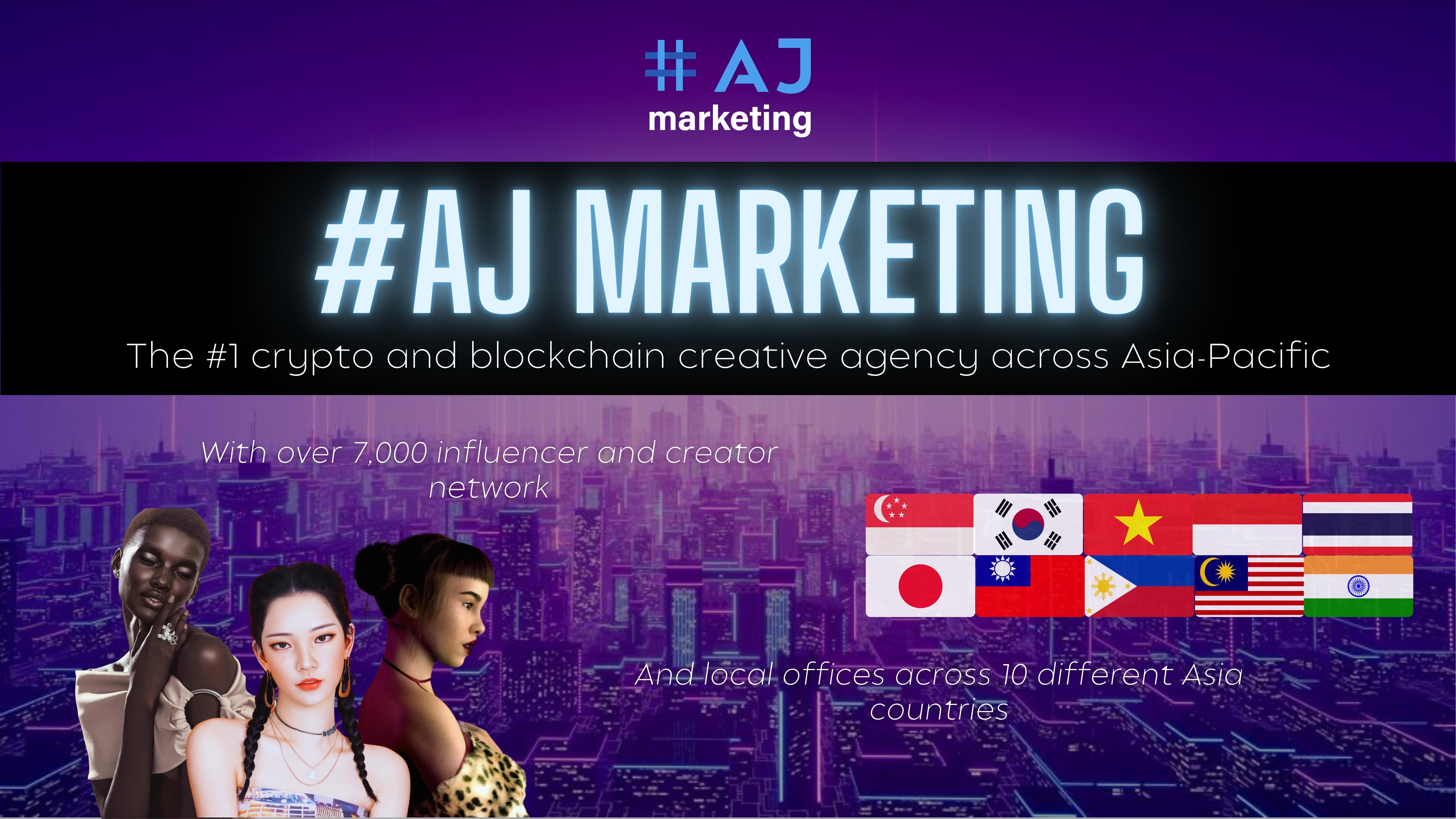 AJ Marketing is the leading NFT marketing agency in the Asia-Pacific. AJ Marketing has local offices in markets most interested in NFTs, including Japan, Singapore, Malaysia, Thailand, Vietnam, Indonesia, Taiwan, Philippines, and Korea. This means choosing AJ Marketing may give your NFT business a big advantage in countries which have digital savvy population.
AJ Marketing's specialty is influencer marketing, having a 7000+ influencer network, including top NFT influencers and experts. Aside from this, the agency offers digital marketing solutions like advertising, social media marketing, digital billboards, SEO, press releases, and celebrity campaigns. This agency also specializes in marketing games, tech, and blockchain.
AJ Marketing has been trusted by top brands such as Adobe, Microsoft, and AMD.
Contacts:
www.ajmarketing.io
[email protected]
2. X10 Agency
Working with X10 Agency is the smart way to launch your DeFi, STO, NFT and IEO/ICO. It has plenty of experience working on utility and security token sales, NFTs, crypto exchanges, and marketing for blockchain and FinTech projects.
X10 describes itself as a launchpad that helps projects to get started, engage with the audience, and reach the long term goals. X10 offers various services such as, PR &
Influencer Marketing, Marketing & Community Management, Listing and Market Making, Legal Framework Advisory, and Asian Markets Packages, specifically in China, Korea, and Japan.
X10 has worked on NFT and crypto projects in the past, like UCoin Currency, ARCNUITY, and MERCURYO.
Website:
https://x10.agency
3. Coinbound
Coinbound is a top-rated NFT marketing agency, which helps crypto brands go viral. Coinbound has been in the business of crypto marketing and advertising longer than anyone else. It has built a custom suite of tailor-made advertising solutions, and has made them available to all its clients.
Its NFT marketing services include NFT Influencer and Thought Leader Marketing, NFT Twitter Management, NFT Public Relations and Earned Media, and NFT Discord Set Up and Moderation.
Coinbound has been able to help various companies such as Metamask, Gods Unchained, Etoro, and Voyager.
Website:
www.coinbound.io
4. Lunar Strategy
Lunar Strategy is a marketing agency specializing in crypto, NFT, GameFi, DeFi, metaverse, and Web3. It has its main office in Lisbon, Portugal. Its team is composed of crypto enthusiasts with different expertise. This agency believes in amplifying NFT projects through genuine community growth.
Its services include Paid Ads, Social Media Management, PR and Influencer Marketing, Community Building, and others such as SEO and Landing Page Optimization.
Some of its other clients are JPEGvault, Game Starter, Nobility Token, superhow.ART, and Pixel Pix.
In its project with superhow.ART, Lunar Strategy was asked to sell a Russian NFT oil painting at an auction. Lunar launched PRs and influencer content. In the end, the NFT painting sold for 30 ETH, which at the time was worth around 120,000 USD.
Website:
www.lunarstrategy.com
5. Inoru
Inoru is a team dealing with Web3, which has on-ground experiences in digitized services on blockchain. It has developed decentralized NFT marketplaces, launchpads, DeFi platforms, crowdfunding, and other crypto-based platform development services.
Its comprehensive set of NFT development services include NFT Marketplace Development, White Label NFT Marketplace, Community-centric NFT Marketplace, Discord Marketing, Collectible Marketing, Influencer Marketing, Listing Services, and so much more.
Inoru means "good luck" in Japanese, apt for the positive results it gives its clients.
Website:
www.inoru.com
6. AppDupe
AppDupe is an end-to-end blockchain and crypto development service provider. It indulges in providing industry-leading NFT development services, cryptocurrency exchange development, DeFi development, and other extensive crypto marketing services.
For its NFT marketing services, AppDupe offers White Paper Writing Services, Landing Page and Web Design, Community Establishment Through NFT Discord Marketing, NFT Marketplace Marketing, and Pragmatic Crypto Art Marketing Services.
AppDupe also offers NFT influencer marketing services, and NFT game development. AppDupe's main locations are in Chennai and Bangalore, India.
Website:
www.appdupe.com
7. Blockchain App Factory
Blockchain App Factory provides cutting-edge solutions to clients across the globe in all business spectra looking to optimize the Web3 revolution. It has an NFT marketing agency that has helped many NFT businesses in the past. Its strategy is to focus on targeting the right audience and creating the right traffic for NFT businesses.
Blockchain App Factory offers Influencer Marketing, Discord Marketing, Telegram Marketing, Whitepaper Development Services, and Landing Page Design.
Blockchain App Factory has experience working with Dash, DasCoin, Ether Gold, and New Zone.
Website:
www.blockchainappfactory.com
8. FireCask
FireCask is a multi-award winning SEO, web development, and digital marketing agency in Manchester. FireCask aims to help businesses in producing, collaborating, and marketing NFTs, from conception to sale.
Its NFT marketing services include Market Research, Digital Art Production, Marketplace Strategy and Onboarding, Email Marketing, NFT Brand Marketing, and Brand Partnerships.
FireCask has experience in working with NFT and non-NFT brands like Expedia, Kumon, Funding Circle, Orbitz, and Headspace.
Website:
https://firecask.com
9. Eon8
EON8 is a 360-degree digital marketing agency bringing a difference to businesses with innovative ideas. It majorly focuses on quantifying business success by leveraging the effectual marketing strategies on digital platforms. It offers a variety of marketing services including Digital Marketing, SEO, SMM, Content Marketing, PPC, Ui and Ux, and App Store Optimization.
For its NFT services, it offers NFT Twitter Marketing, NFT Instagram Marketing, NFT Discord Marketing, NFT Influencer Marketing, NFT Collection Marketing, and NFT Community Marketing.
Its process is to create hype, build value, and claim the community.
Website:
www.eon8.com
10. Chaincella
Chaincella provides robust end-to-end NFT development services to meet its clients' desired output for business industries. Aside from NFT marketing, it also provides NFT development services, whether it be for music, memes, gaming, real estate, or art.
For its NFT marketing services, Chaincella offers Social Media Marketing, Community Management, Telegram Marketing, Press Release, Influencer Marketing, Email Marketing, Video Marketing, Reputation Management, Growth Hacking, and NFT Listing Services.
Website:
www.chaincella.com
11. Fracas Digital
Fracas Digital is a leading ArtTech company. Trusted for its expertise, it helps brands and artists capitalize on the opportunities within blockchain and NFTs. Its team is highly experienced in designing, programming, minting, listing and promoting NFTs on numerous blockchains including Ethereum, Immutable X, Solana and Cardano.
Fracas offers the following services for NFT marketing: Asset Preparation, Smart Contract Creation, Dapp Creation, Marketplace Strategy and Selection, Launch Strategy, Press Releases, and Organic and Social Marketing Strategy.
Fracas Digital is located in Milton Keynes, England.
Website:
https://fracasdigital.com
Conclusion
The current NFT hype is expected to grow more in the coming years, making today the perfect time for your business to enter the market. Whether you create your own NFT project, or you collaborate with established NFT creators, you'd still need the help of NFT marketing experts to launch your token and make it stand out.
We hope you were able to find the perfect NFT marketing agency fit for your business. We wish you luck on your next NFT marketing campaign!
---