$1,000,000.00 in Bitcoin Up for Grabs at LA Blockchain Summit Virtual
Disclosure: Crypto is a high-risk asset class. This article is provided for informational purposes and does not constitute investment advice. By using this website, you agree to our terms and conditions. We may utilise affiliate links within our content, and receive commission.
Disclaimer: The text below is a press release that was not written by Cryptonews.com.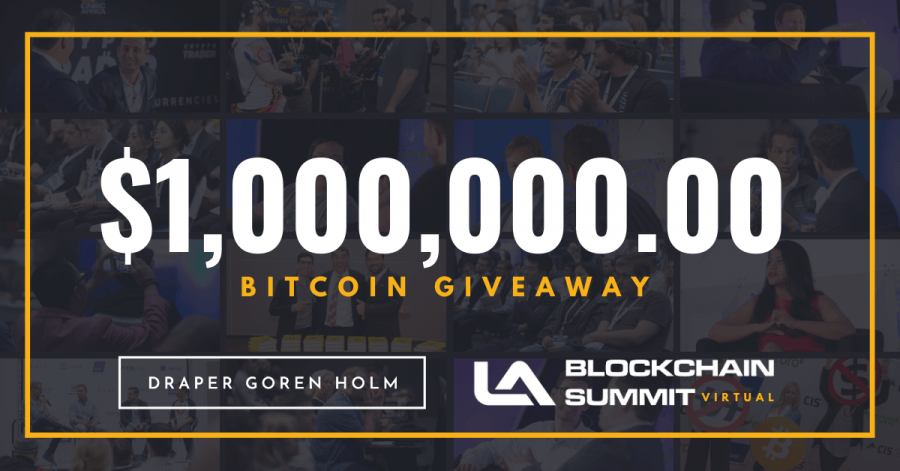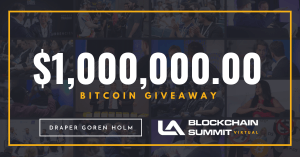 Staying true to their mission of producing world-class experiences, events, and initiatives that promote responsible investing and mass-adoption of blockchain technologies, the LA Blockchain Summit is now going digital! Acknowledging the gravity of the current global situation, the decision to move the summit from the Los Angeles Convention Center to an entirely virtual format was due to COVID-19 and the importance of prioritizing the attendee safety.
To commemorate the summit entering cyberspace, the founders are awarding everyone with a free $299 ticket to join and the first 10,000 qualifying attendees with $100 in Bitcoin. To qualify, more information about this exciting promotion can be found here.
$1,000,000.00 Dollar Bitcoin Giveaway
The Los Angeles-based blockchain venture studio has pledged to give away up to $1,000,000.00 in Bitcoin because the road to mass adoption starts with everyone owning a little bit of the crypto tycoon itself.
Tim Draper, Special Limited Partner and Board Member of Draper Goren Holm, enthused, "We're thrilled to spearhead the largest bitcoin giveaway in history and provide so many people with the opportunity to discover the power behind cryptocurrencies and blockchain technology. Come learn from the absolute best at LA Blockchain Summit and take advantage of receiving $100 in Bitcoin."
Ready to claim your Bitcoin? Learn about the details of the promotion here.
LA Blockchain Summit Enters Cyberspace
Taking place on October 6-7th, this year, the summit is renowned as the West Coast's largest industry conference, selling out for six consecutive conferences in a row.
The summit brings together over 20,000 angel investors, venture capital investors, retail investors, family offices, real estate investors, startups, entrepreneurs, issuers, exchanges, broker-dealers, service providers, educators, academic researchers, developers, and members of the media. Hosted by blockchain leaders Tim Draper, Alon Goren, and Josef Holm, the founders of Draper Goren Holm (a blockchain venture studio), LA Blockchain Summit is a must-attend for all curious and serious blockchainers.
The move to take the event into cyberspace was not an easy decision, but the summit's founders have not lost even an inch of their enthusiasm for the upcoming event. "Taking LA Blockchain Summit virtual poses a ton of new opportunities to impact the lives of more crypto and blockchain-interested individuals so we couldn't be more excited to expand on our reach, efforts, and work towards creating immense value for thousands across the globe," added Alon Goren, Founding Partner of Draper Goren Holm.
Contrary to the typical virtual conference, LA Blockchain Summit is committed to providing an immersive, collaborative, and inclusive environment with plenty of opportunities to connect with like-minded attendees. This unique opportunity to engage with those making history is now more accessible than ever before as the barrier to connecting with high profile leaders has been lowered significantly allowing participants to join from all over the world.
In anticipation of the annual summit that is now still five months away, thousands of attendees have already registered to secure their virtual spot at the event featuring: 300+ speakers, multiple digital stages, a Call for Papers track, developer and technical-centric discussions, as well as one of the most extensive and most accessible virtual networking opportunities available online.
Speaking at the summit this year are some of the most respected academic researchers, developers, and entrepreneurs in the blockchain space, including: Thomas Lee, Catherine Coley, Alex Machinsky, and Robert Breedlove, attesting to the exceptional reputation of this phenomenal event.
Josef Holm, Founding Partner of Draper Goren Holm and Co-Founder of LA Blockchain Summit states, "With everything going on in the world right now, LA Blockchain Summit's mission stands strong as we'll continue pushing all of our efforts to help pave the path to cryptocurrency and blockchain technology mass adoption, regardless if we do it in-person or virtually."
The founders of LA Blockchain Summit regret to admit that they will miss getting the chance to meet all of the participants in person, but leave no shadow of a doubt that this year's summit will be just as fruitful as any of the conferences they have held in the past.
Adam Levy, Operations Manager at Draper Goren Holm, added, "There's no better way to learn more about the industry than by having some skin in the game, so we're excited to provide thousands with the opportunity to learn at LA Blockchain Summit and for thousands to get $100 in Bitcoin."
Get a free ticket to LA Blockchain Summit and qualify for $100 in Bitcoin by learning more here.
{no_ads}
---