ArbiSmart Review (2022) - Crypto Arbitrage Made Simple
ArbiSmart is an EU-regulated crypto investment platform that lets you engage in automated arbitrage trading. Simply put, crypto arbitrage trading refers to buying crypto-assets cheaper in one place and selling them more expensively on a different...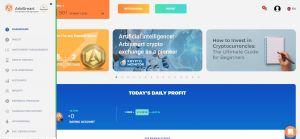 ArbiSmart is an EU-regulated crypto investment platform that lets you engage in automated arbitrage trading. Simply put, crypto arbitrage trading refers to buying crypto-assets cheaper in one place and selling them more expensively on a different trading platform. As such, automated crypto arbitrage is one of the best ways to profit from trading cryptocurrencies.
ArbiSmart review: key features
ArbiSmart is an EU-licensed automated crypto arbitrage platform that lets you deposit fiat and crypto funds and employ them using the platform's advanced AI-based algorithm to earn steady and reliable passive income.
Using ArbiSmart as an investing tool comes with the following benefits:
No prior investing knowledge or experience needed
Fast, effective, and automated trading platform with convenient management tools
Safe and regulated broker
High potential returns with low risks
A steady source of passive income
24/7 customer support desk with the highest customer satisfaction standards
All in all, ArbiSmart simplifies arbitrage investing for regular, everyday people with little to none investing experience. All you need to do is sign up for the service, verify your identity, deposit an appropriate amount of funds, calculate your potential returns, sit back, enjoy and reap profits.
ArbiSmart history and background
Established in Estonia in early 2019, ArbiSmart is operated by ArbiSmart OÜ, a company regulated by the Financial Intelligence Unit (FIU) of Estonia. The company is licensed to provide virtual currency exchange services against fiat currencies under license number FVR000773 and provide virtual currency wallet services under license number FRK000674. The company's registered address is at Harju maakond, Tallinn, Kesklinna linnaosa, Pärnu mnt 158/2, 11317, Estonia, and operational addresses Tornimäe 5, 10145 Tallinn, Estonia.
The company was established using USD 50 million private investment, which is being used for the ongoing maintenance and development of the platform. The company's team's key members are its current CEO Mike Meyers, CTO Andrus Steiner, and Business Development Executive Dennis Muller.
Today, the company's vision is to "democratize the arbitrage space by diverting power away from major financial institutions and placing it back in the hands of ordinary people."
As a regulated service provider, ArbiSmart users must comply with know-your-customer (KYC) and anti-money laundering (AML) policies. As such, every user must register on the platform using his or her real name, address, jurisdiction, and other required information.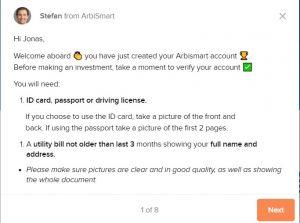 The signup process includes six simple steps:
Enter your full first name and last name.
Confirm that you're not a citizen or resident of the United States.
Provide your email and phone number. You will need to verify those later.
Set a secure password.
Agree to the service's terms and conditions.
Affirm that you're above 18 years old.
The entire verification process can take up to three working days.
Working as a licensed and regulated platform, ArbiSmart has obtained guarantees that:
It has adequate operational capital at all times.
The platform adheres to strict AML policies and procedures.
The service conducts regular internal and external audits.
It has sound data protection and security measures.
All ArbiSmart workers and related persons have clean criminal records.
The product has been verified before obtaining the licenses.
At the time of writing this review, ArbiSmart permits investors from a wide variety of countries. However, when registering on the platform, one must confirm that they are not a citizen or resident of the United States.
The website is available in six languages: English, German, Spanish, Arabic, French, and Turkish.
How does ArbiSmart work?
ArbiSmart uses an intelligent automated trading bot programmed to take advantage of price differences occurring on different cryptocurrency exchanges. It scans for arbitrage opportunities across 35 top cryptocurrency exchanges and automatically executes the best possible arbitrage deals. Like crypto markets, the system works 24/7 and uses lightning-fast reactions to the market developments, which are ensured by ArbiSmart's AI-based algorithmic software. The cutting-edge speed, power, and efficiency of ArbiSmart allow it to executive hundreds of trades across multiple markets in multiple exchanges.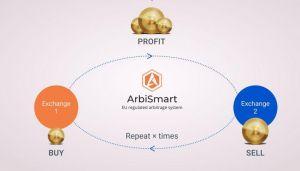 The automated system carries out all the work for you, so as a user, all you need to do is sign up, get verified, and deposit funds (in either fiat or crypto). Once funded, your funds will be converted into the platform's native RBIS tokens, which will be used to executive arbitrage trades.
All returns are calculated on a monthly and annual basis, and you can withdraw profits at any time, as they are calculated and disbursed daily, at 00:01 UTC.
You can use ArbiSmart's profit calculator tool to estimate your earnings according to your investment level.

Besides, you can watch live arbitrage opportunities with ArbiSmart's "Live Arbitrage." Here, the platform displays all of the exchanges monitored by its tool, and you can observe price differences as they arise.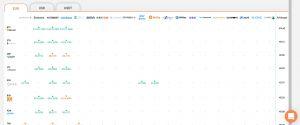 All in all, ArbiSmart comes with a professionally designed website that makes it easy to monitor and manage your investments with ArbiSmart. Using its "Investment Management" section, you can choose whether you want to put more funds into your savings account, perform internal exchanges, manage Compound Savings Account, or sell your well-earned RBIS tokens for profit.
Besides, the website works well if you open it on your smartphone, be it an Android or iOS device.
ArbiSmart fees
ArbiSmart does not charge you fees directly but gets an undisclosed amount from the earnings it made using your capital. In general, there are five tiers of customers at ArbiSmart, each of which has three sub-levels.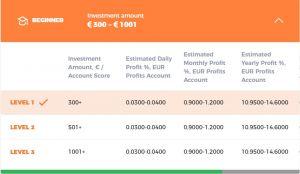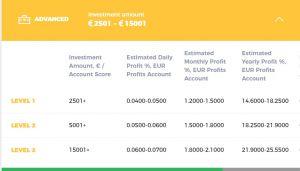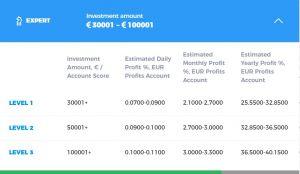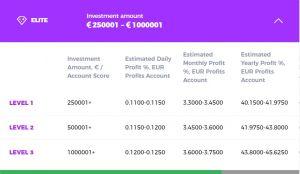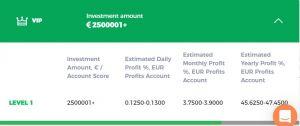 As you can see, your level at ArbiSmart is determined by the amount of money you're willing to invest with the platform. Based on your initial investment, commonly cited annual returns generated with ArbiSmart range from 10.8% to 45%.
For example, if you decide to employ EUR 25,000 of your capital, you can expect to make 24% annually, which equals EUR 6,000 in passive income per year, or EUR 500 per month.
When you start with ArbiSmart, you will have to determine how you want to receive your profits. You can choose between a regular EUR account or crypto wallet (BTC/ETH), and they can be withdrawn at any time. Alternatively, you can receive your earnings in RBIS tokens as a long-term savings account option. The RBIS tokens were listed on virtual currency exchanges like HitBTC at the end of 2021.
Asides from regular earnings, ArbiSmart also offers you an opportunity to earn extra commissions via referrals and a bounty program.
Is ArbiSmart safe?
ArbiSmart is a secure platform that is fully regulated in the EU. It means that the platform operators adhere to strict technological safeguards, rigorous data security protocols, and insurance funds to cover all of its operational costs.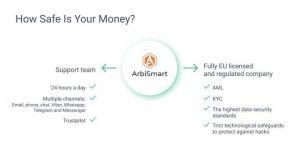 To ensure your ArbiSmart account's security, you can also protect it using a strong password, two-factor authentication via Google Authenticator or SMS, and other security measures.
Last but not least, ArbiSmart also offers unparalleled human support, which is active 24 hours a day via multiple channels, including:
Deposit and withdrawal methods
At the time of writing this review, ArbiSmart supports the following deposit methods:
Swift Bank Transfer
SEPA Bank Transfer
Credit cards from Visa and Mastercard
Bitcoin (BTC) deposit
Tether (USDT) deposit
Ethereum (ETH) deposit
The minimum investment amount is at least EUR 500, or it's equivalent.
Again, you can harvest your arbitrage profits in either fiat currency, cryptocurrencies like bitcoin (BTC) or ether (ETH), or RBIS tokens.
ArbiSmart review: conclusion
ArbiSmart is a great investment option for busy investors seeking sources of passive income. The platform guarantees profits over the long-run and does not charge you extra commissions for using the service, meaning that it's a great deal for people interested in automated crypto arbitrage.
Click here to sign up on ArbiSmart.
---
Other Bitcoin Guides