Sue Ennis, VP at Hut 8, on Bitcoin, A.I Infrastructure, and Bitcoin Mining | Ep. 246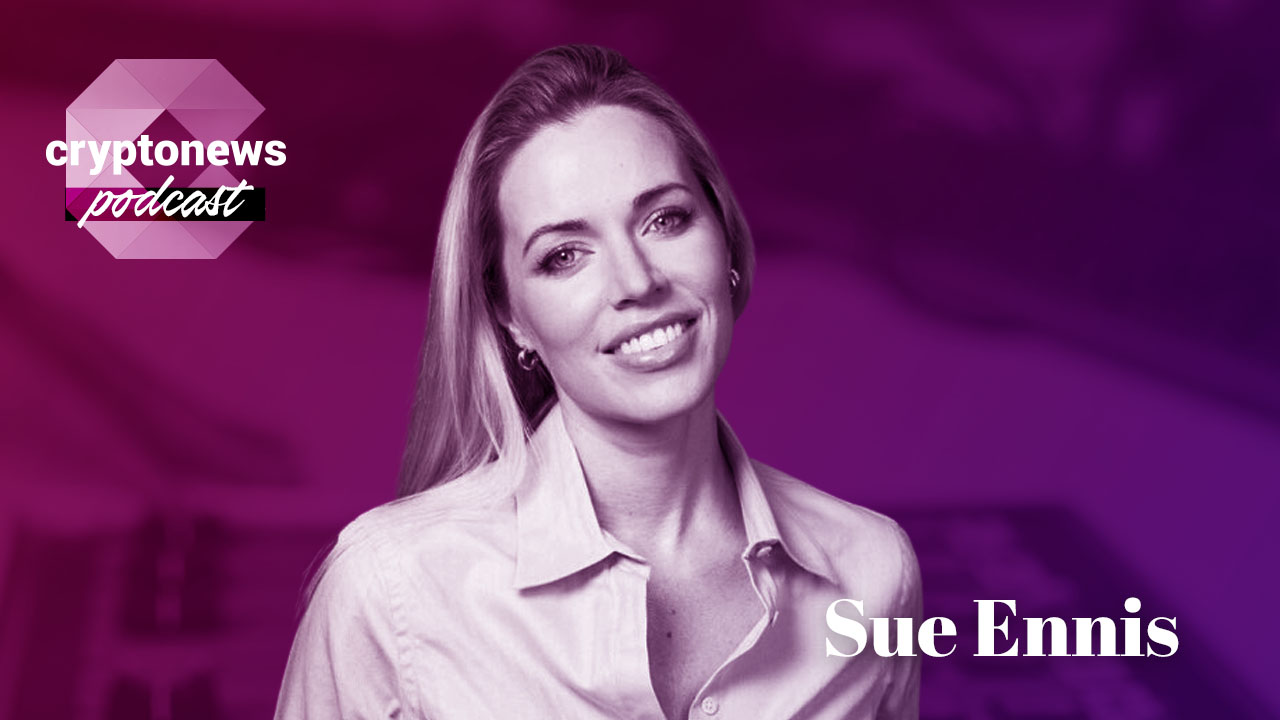 In an exclusive interview with cryptonews.com, Sue Ennis, Vice President of Corporate Development and Investor Relations at Hut 8 Mining, talks about how A.I infrastructure is different from traditional data centers, the opportunity for miners in the data center space, and strategies & impact on miners in next years bitcoin halving.
About Sue Ennis
Sue Ennis is the Vice President of Corporate Development, and Investor Relations at Hut 8 Mining. Sue is a Chartered Investment Manager, emerging technology and innovation champion, advisor, and investor whisperer.
Since 2016, Sue has steered underappreciated companies in the digital asset sector into multi-billion market cap opportunities and told some of Canada's greatest emerging tech and innovation stories.
Prior to joining Hut 8, Sue worked with both start-ups and scale-ups in the blockchain and cryptocurrency space.
Sue Ennis gave a wide-ranging exclusive interview which you can see below, and we are happy for you to use it for publication provided there is a credit to www.cryptonews.com.
Highlights Of The Interview
How A.I infrastructure is different from traditional data centres
Where is the opportunity for miners in the data centre space
Strategies & impact on miners in next years bitcoin halving
Nasdaq 100 rose 39% in the first half of 2023 its best first half of the year ever
Once Hut 8 and U.S. Bitcoin Corp. complete their merger, the resulting U.S.-based company will be one of the largest public miners in North America.



Full Transcript Of The Interview
Matt Zahab
Ladies and gentlemen, welcome back to the Cryptonews podcast. We are buzzing as always. And today we have big sui we got Sue Ennis coming back on the pod for round 2. Hut 8 Mining's, Vice President of Corporate Development and investor relations. We've already heard the intro ones don't need to do it again. And this one is going to be quick little time crunch epi as Sue has to run but super pumped to have you on Sue welcome back to the show.
Sue Ennis
Hey, super pumped to be back lots going on in the industry and excited to get into it.
Matt Zahab
It is it is absolutely bananas. One thing that we got to cover if we just jumped into this right before the show, but you were in St. Joe pay before and you just got back to our beautiful city of Toronto. How should he must have been getting on that plane going from St. Tropez back to Toronto and you could party stories give me give me the tea here, Sue. What do you got for us from St. Tropez?
Sue Ennis
Definitely an endorphin hangover, so I was in St. Tropez for a big owner of an investment bank. It was his wedding. And so he flew a bunch of people down for his wedding. I was only there for three days. And it was bananas. It was a lot of like Birkins and but jobs but just like world, morning that you can't like that unparalleled. So highly, highly, highly recommend for everyone needs to hit St. Tropez and party at the beach club sometime in their life. So.
Matt Zahab
And he flew down as well, like it was everything was carved.
Sue Ennis
Yeah, he kept he kept all of his guests like he it was incredible. Yeah. Otherwise, I probably wouldn't have had as good of a time if I was paying myself. But yeah, it was great. It was really great.
Matt Zahab
That's electric. I love that. Let's get into the crypto stuff here. Obviously, Hut 8, still buzzing as always, we'd love to see it some potential huge news coming out that we will jump into later on in the show. But I think a good place to start would be if you could just give myself and our listeners a quick little TLDR on what is currently happening with Hut 8 because a lot has gone down since you and I chatted about 15-16 months ago. So the floor is yours to what's going on with how they right now.
Sue Ennis
Big time. So we announced a merger with a private company called us Bitcoin Corp back in February. And we're super pumped about this because this would effectively in a post merger world have one of the largest energy portfolios of any publicly traded miner out there. So it's a deal that involves HUT merging with us Bitcoin Corp, south of the border. And it also will really not only diversify our power portfolio, diversifier energy portfolio, but really give us a competitive edge. Also in just the growing enterprise infrastructure as a service space. The guys who founded this company, actually were instrumental in helping to procure equipment from Marathon and Riot back in the day. But most importantly, and most, I think they're their biggest sort of success is number one, they're very good at buying distressed assets and infrastructure and transforming them. And number two, speed and scale. These guys are extraordinary at standing up infrastructure in very short timeframes. And you and I are gonna get into it. But as we look at you know, not only the growth of the Bitcoin mining space, but also the growth of the AI and the machine learning, demand and compute demand. Having a diversified power portfolio, having people who know how to build infrastructure at scale for lower capex is super important. And something that we're really excited about.
Matt Zahab
Wins across the board. I did read in a couple articles that the team might be moving to Texas, does that mean Sue's going out west southwest? Does that is that going to happen? Or is that you can just steal HQ in Toronto.
Sue Ennis
So one of their sites is in Texas, they also have sites in Nebraska. And I think what's really exciting about this company as well as they do have a self mining piece of their business. But they also have a tremendous as I was talking about power hosted infrastructure portfolio and also proprietary software, which is sort of like a we work white glove mining service as well. But anyways, yeah, so so some of their jayvees on the hosted side of the business and some of their self mining operations are in Texas. So am I going to be relocating to Texas? No, but I'm actually really pumped to go back. I love Texas. I love barbecue, love the ovals. So definitely we'll be spending more time down there.
Matt Zahab
What a treats. You mentioned, AI this is something that really intrigued me because on paper, it seems like it's such a it's a match made in heaven. It's almost like PB and J crypto and AI you know, two very trendy emerging technologies. I didn't fully know that you could really use the energy and the data centers and all of the best things from the Bitcoin mining and help sort of launch some AI infrastructure. I'd love you could jump into that and take a deep dive because again, when I was you know, researching, and going over show notes for this, I was like holy shit, this is crazy. And I feel like a lot of other Bitcoin mining companies are gonna follow your guy's suit as well.
Sue Ennis
Yeah, so I think, Let's zoom out quickly from from a macro economic perspective, what's changed? So I think something like like two years ago, the demand for AI and AI infrastructure was something like a $95 billion opportunity versus this has now turned into a $900 billion opportunity and potential total addressable market. If you look at things like it took Twitter, two years to gain 1 million users and chat GPT, five days. And so one of the areas well, first of all, Jamie, our CEO, she's been working in the traditional compute space for over 20 years. So she was the gal that like IBM, BlackBerry, called in when there was a piece of data infrastructure that desperately needed transforming or to get ready for sale. So Jamie is very well versed in sort of these different iterations of compute well beyond before she got into Bitcoin mining, and that that sort of thing. And so actually, in January of 2022, we started buying data centers in Canada, because Jamie, sort of since she's taken, the helm of Hut 8 has seen a world where these traditional data centers, these nascent Bitcoin data centers all sort of merge into one because at the end of the day, all of it is infrastructure. And all of it is compute whether it's your spinning a cloud and colo AI algorithms, or, you know, Bitcoin, anyhow. And so what's really interesting right now is because the demand for AI and compute has increased tenfold over the past year, that also means there's a tremendous amount of demand for infrastructure to power that compute for servers, like because all of that compute needs, infrastructure and power. Right? And because of this high demand, there's a real dearth of inventory available in data centers right now. So data center Hawk, for example, said that there's only a vacancy rate of 2.88% in North America, and in secondary markets, that's 5%. So you have effectively every company in North America, possibly the world is trying to think about their AI strategy and how they're going to employ AI compute, or machine learning to amplify their business processes. But there's not enough infrastructure available for them to actually run that compute. So this is what's really interesting, though, about AI compute in and of itself is that it's less latency sensitive, and doesn't need five nines reliability. So for example, we've got five traditional data centers, they do have a little bit of AI, but they also have cloud and colocation customers. And so there's a lot more bells and whistles that you need to serve that type of customer versus just like a bare metal, I need to run AI, compute, you know, some machine learning algos. And so what's interesting about that is that if you are an infrastructure operator, and you know how to scale infrastructure, you understand how these chips work, because they're a lot different than let's say a bit Bitcoin ASIC, mining, Chip, Oregon, a cloud computing customer. And if we know how to stand up infrastructure at scale, there's a tremendous amount of opportunity to provide an like infrastructure for this for this piece of the market that's, like really deeply underserved and desperately needs it. And so this is where we think that we're gonna see tremendous amount of traction, because we hit all those buckets, particularly in a post merger world. So yeah, it's basically like a different class of data centers are now being needed and stood up at a lower capex and like the traditional eight to 10 million that you would spend with like a traditional datacenter build, and again, and then sort of new HUT post merger world, we've got a tremendous amount of power, a tremendous amount of geographic distribution, infrastructure at scale understanding of the chips relationships on this on the chip supply chain as well. So yeah, we're pretty pumped about sort of what this means for the future and for HUT shareholders.
Matt Zahab
Yeah, that's I mean, that's incredible. It's when HUT first was on my radar, I want to say 2019-2020. Right, when I was just sort of getting into Bitcoin, I guess it would have been early 2020. But nonetheless, all the Reddit threads and all of the Wall Street bets and everything public facing consumer facing in regards to why you should potentially acquire HUT shares. And again, this is not investment advice, people. And I guess I should be disclosing that. Yes, I do have a small bag of Hut 8. I am Canadian, I can buy it through my T FSA. It's very small, and I'm obviously not pumping it in any capacity. I do think it's a great buy. But nonetheless, it was really for an exposure to Bitcoin, right? That was like sort of the bread and butter of the stock back in the day. And now you and the team have created this behemoth where you have like multiple verticals of businesses. What's next after this?
Sue Ennis
Well, I think I think another way of looking at it is Hut 8, least how I see it again, this isn't me like pumping my own bag. This is just how I'm describing that in a post merger world. I really look at HUT as a call option, not only on the growth of the Bitcoin space and the demand for bitcoin, but also a call option on the growth of the AI and machine learning and high performance computing space. And we're sort of looking at ourselves in a post merger world as like an enterprise and infrastructure as a service platform. So if I'm an enterprise I need AI i need ML I need cloud and colo to do that all if I like sovereign nation and I want to have machines hosting so I can, you know, dabble in this Bitcoin mining space HUT can do that. If I'm an investor and I want exposure to sort of bitcoin price action without having to buy a Bitcoin myself, well, Hut's got a stack of right now about 9000 Bitcoin on our balance sheet. And so oftentimes in Bitcoin runs, we also run in parallel. So again, that's, that's another opportunity. So that's sort of how I see HUT in this post merger world. And again, we're just we're really just getting started. And so it's, it's pretty exciting.
Matt Zahab
Sue, you also, I don't think you can say, Oh, we have, you know, just a stack of 9000 Bitcoin, like, that's not a stack. Let's say that's a castle, like, that is a shitload. I think you guys are second, right? I want to say marathon is the only one who has more.
Sue Ennis
So Mara, I haven't looked at what their latest last time I checked, I think they're at like, 12,000 or so. But they actually bought 4500 Bitcoin in January of 2021. So in terms of if they're beating us on the self mind stack, right there. Yeah, I would say yeah, it's a marathon is probably the only one that's ahead of us.
Matt Zahab
Yeah, so a lot of Bitcoin speaking of Bitcoin, a lot of big things popping up. We have ETFs potentially coming in, we have black rock making news, we have the halving next year, 10 months away, I feel like this is something that's not news. And it should be news because every time there's a having things rip, and it's you know, everyone gets to put their, their dancing shoes on and their party hats on, which we love to see. But what's going on with Bitcoin right now. And more specifically, I'd love if you could speak to sort of the public facing stuff. NASDAQ has also rose 39% In the first half of 2023. learn that from big Suis Twitter also, if you're not following through on Twitter do go follow. Great follow. But what's going on in the Bitcoin space right now? What do we have to look forward to? And what about the strategies and impact on miners in the next Bitcoin halving because, again, this has massive implications on headache?
Sue Ennis
Totally. So I think it's incredibly bullish that, you know, sort of, obviously, there's been quite a bit of consternation and concerning news coming out of the SEC since, you know, the FTX collapse, obviously, and fair enough, but there's been more calls for regulation and really a greater surveillance on on platforms that custody and trade customer funds live understandably, but I think is incredibly bullish that in light of all that sort of SEC, FUD Where's regulation going? BlackRock, Invesco, Wisdom Tree, who else Vanguard all refiled their spot BTC ETFs. Super interesting. And they actually all had to refile their applications last week, because apparently, the SEC said that there was an insufficient information around sort of the spot market surveillance that they're going to be using. So So who are they going to use for for spot market surveillance, and it looks like all that was chosen Coinbase. And the fact that they had to refile a lot of sort of the read the stuff I was reading is, this actually isn't like a roadblock, but just sort of like a like a speed bump, it's actually kind of a good thing that the SEC said look, okay, but I need you to sort of tweak this part or that part. And so we can get a spot ETF approved. That's going to be extraordinary for I think the demand and Bitcoin and Bitcoin price action in a big way.
Matt Zahab
Folks, we're gonna take a quick break and give a huge shout out to our sponsor the show that is PrimeXBT long time sponsors and friends of the Cryptonews podcast. We love PrimeXBT, they offer a robust trading system for both beginners and professional traders. It doesn't matter if you're a rookie or a vet, you can easily design and customize your layouts and widgets to best fit your trading style. PrimeXBT also running an exclusive promotion for listeners of the crypto news podcast. After making your first deposit 50% of that deposit will be credited to your account as a bonus that can be used as additional collateral to open positions. Again, the promo code is CRYPTONEWS50 that's CRYPTONEWS50 all one word to receive 50% of your deposit credited to your trading account. Now back to the show with Sue. Sue,, we got to talk about the Bitcoin halving that 10 months away. Gonna be good for everyone. what implications does that have specifically on Hut 8?
Sue Ennis
So I would say it's going to be good for everyone who is holding Bitcoin that would be again, not investment advice. But if you look at past halving cycles, usually we've seen a rally from anywhere from eight times to 100 times the actual price of Bitcoin within the next year, year or so after. Now from a miner perspective, though, there's a lot of risk if you are a single threaded miner and so what do I mean by that? Mining is obviously an incredibly capital intensive business. You have to spend money on power you have to spend money on machines and you effectively have to compete to win a block reward right? And in a post-halving world that block reward actually gets cut in half. So from 6.25 to 3.15, I believe, or 3.1 to five. And so not only as a minor are your potential for rewards getting halved, but you're also what's really changed this time around. And this time in this iteration, and this sort of next era of halving is, there's a tremendous amount of private mining power being stood up in the Middle East, and by traditional enterprise, so there's about six gigawatts worth of power being stood up in the Middle East. And a lot of sovereign nations and, you know, very wealthy family offices that are now looking to get into mining. So what that means is, you know, you've effectively got groups that now have effectively unlimited access to capital and very, very cheap power, who now are going to be competing against you as a miner for that reward. So how HUT is looking at it is effectively saying that, you know, any miner who's single threaded is really going to be reliant on, you know, an incredibly capital intensive business with diminishing returns and increased competition, or with HUT, we're taking the avenue that we're looking at ways that we can partner with some of these newer entrants. And how we're doing that is with this pending merger with us Bitcoin Corp. One of the businesses that they built out is this, like white glove, sort of we work model for mining. So they've got proprietary software stack that's already running with many customers and creating incredible efficiency and returns. So being able to scale that piece of their business, that white glove mining service, that software as a service, is capex light is scalable, and partnering with those entrants in the Middle East. And sort of that being sort of one of our ways to pivot our business without having to rely on so much capital intensity, and we think is going to be a major competitive advantage because it's still us playing in the mining space. But in a more thoughtful capex, late and scalable way and partnering with some of those bigger entrants. So, and obviously, you know, I hate it's so cliche, but like software eats the world, it is a very meaningful for TRICARE software business that coin Corp has built. And so we're really excited to sort of use that as kind of our, our killer app in a post mining world, not saying we're not going to self mine anymore, you know, we obviously still have, as per our recent announcement about 7.5x Ash of self mining, that's going to come online in a post merger world. But I think, you know, focusing on those other really meaningful, scalable businesses, plus the AI and ML strategies were where our heads at.
Matt Zahab
And so when you talk about the V-work style, mining, sort of partnership, does that mean like, let's say I had a mining rig, I would use my own rig, and then I would use your software.
Sue Ennis
So you could just hand us your rig, and we would manage it for you would plug it in, then would load the software on top of it, manage it for you, and then you clip the returns. You're obviously paying a split fee and a service fee for it. But yeah, that's that's what we mean by the we-work well.
Matt Zahab
Nice. I love that. We've covered the pretty solid amount of Hut 8 stuff in Bitcoin related stuff, market related stuff, I'd love to cover some Sue-specific related stuff, you had an incredible trajectory to where you are right now. And I think investor relations becoming more important than ever, in my opinion, because of how much the public and I feel like you know, 20-30 years ago, the average Joe couldn't have any say when now it's like you have all the Reddit streams and the co.com. And obviously, you have Wall Street bets and everything else. It's like your job is ever more important because there's so many more people chiming in on your stock and whatnot. How do you deal with the present day? And I guess a follow up to that is like, how do you stay up to date because as someone in IR you don't just have to know everything about Hut 8. You also need to know about the markets. You also need to know about the Canadian markets more specifically, you need to know about Bitcoin, you need to know about energy AI, how do you keep everything up to date? Like how do you not explode with craziness and knowledge?
Sue Ennis
I mean, for sure, you know, when markets are down, and there's a lot of volatility. And you know, I feel like there are some days where I spend like 80% of my time troll whispering, as opposed to a lot of time on different platforms just like talking to people. I mean, I'd say I'm pretty generally curious person in general. So I've always just like reading the news and just talking to people but I do think that like any company that doesn't have someone connecting with the retail investors, obviously also institutional investors but like the internet is the new decentralized hedge fund. If you don't know who's on your like, who's talking about you on Reddit, or like who the big Twitter accounts are that follower you or who like who on Wall Street bets is like talking shit about you like you got that's going to be a disservice. You got to know and you need to engage those people because to your point, Long gone are the days where like, you go to your financial advisor who's going to tell you what stocks to buy, absolutely not man like it is really democratized access to and also all these online trading platforms like like people have more power than ever to make their own decisions. And also I love the rise of like the YouTube analysts of like the Reddit army. Yeah, it's a beautiful thing. And so you need to really take the internet seriously now I think a lot of sort of older like white haired IR people like don't understand that things have changed. This isn't the 90s. Like, you need to be online or you need to like you need to talk to like the people directly so and I just went on a little my TED talk there, but that's -
Matt Zahab
No no you did what were the worst trolls? Twitter Reddit, like what's the just the absolute woke platform?
Sue Ennis
I'm gonna say it's a little bit of Twitch. Oh, no, no. Okay. Here I would say Twitch is the most like crass. That's why people on Twitch just like want to talk about number two's and like, like bathroom shit. Versus Twitter. I think that's where most anonymous troll Yeah, I'd say Twitter's where the most trolling happens. And it's really funny because I'll have some like savage trolls come out of the woodworks. And when when I DM them directly, especially if they have a following. I will DM them directly and be like, Hey, do you want to chat? Like, maybe I can help clarify some things like 98% of the time they don't respond. It's just people like wanting to like yeah, you know, throw heard in public and then run and hide. But again, there's also extraordinary influencers and brilliant people on all of these platforms who can make a major impact and people talking about your stock and people trading your stock and people even looking at your stock and so you need to pay attention. So anyhow.
Matt Zahab
Any marathons recently?
Sue Ennis
No, not recently, but I do think I might do this like four Day Marathon de Sadler and Morocco where you basically run across Morocco for like four days in the desert and like camp out in the desert. That's like next on my list.
Matt Zahab
Be so toasty though I'd be leaking like sweat city for four days straight
Sue Ennis
And probably like UTI central with all that sand, but like I don't know, I think yeah, I think that might be next on my list. What are you do you read travel coming up?
Matt Zahab
LA, hopefully August and then just a couple golf trips, but nothing, nothing too crazy. And then hopefully Dubai towards the end of the year, but I do have a quick marathon story for you one of my buddies, not a runner, ex athlete hockey player. We play hockey together. He got a couple of us were at the bar one night and we were just talking shit and he's like all run the trauma marathon with you guys. So he trained for two weeks and ran a sub for marathon never ran more than 10k in his life. How bananas is that?
Sue Ennis
It's crazy.
Matt Zahab
Never trained. Yeah, so he shoutout Herbie Good lad. Any know we are getting tight for time here, Sue, any hot takes anything you'd like to discuss? Is there anything that's really tickling your fancy at the moment that, you know, top of mind for Sue?
Sue Ennis
Yeah, you know what, I think that it's been a really, really rough bear market for all of us like this interest rate rising has just crushed all of us. I have fortunately locked into a fixed rate at the terrible worst possible time last September. But I do think that we're starting to see inflation come down in Canada, we're starting to see some decent numbers coming out of the US. Obviously, the Fed held rates but did signal there's probably two more to come. But some of the numbers are aligning that maybe, maybe we're not in for a more aggressive hiking cycle. And so I'm personally really excited because I do think the bull market is coming back. You know, I'm huddling strong, and I just really think January 2024 It's going to be like just gangbusters again. It's all it's gonna be it's gonna be a lot better. And I'm really excited for that time to come because it guys it's been a rough, like the past year and a half has been rough. And so I'm just happy and bullish on on seeing that. You know, let's move out of that.
Matt Zahab
Yeah, totally. Sue, Always a pleasure. Great to have you on can we have you on for round three. We still need to meet up in person and maybe go for a nice little 10k and our beautiful city of Toronto, which is absolutely buzzing right now I haven't seen the city like this since 2019. Like it's crazy. One One thing that I'd actually love your your take on the working days. Again, I live I'm like pretty downtown core Tuesday to Thursday, mayhem people everywhere. Can't get a reso anywhere Mondays and Fridays goes down. Have you noticed that as well. The three day workweek?
Sue Ennis
Yeah, yeah, Tuesday to Thursday is just bananas and then Friday to Monday it's like tumbleweeds and Ghost Town in on King street but yeah Patty isn't in Toronto is awesome because everyone's got their cockroaches or whatever so but yeah, maybe next time we come back on I'll hopefully have one of the cofounders of us Bitcoin Corp join us he they're like huge, crazy. Miko one of the co founders he sold his first business at 21 for seven figures built it at 16 helped procure marathon and Riot when he was like 25 Like he these these guys just are like aliens. They are so not from this world and so hopefully I can get one of them to come back on because I think they'd make a really cool interview but but yeah, thanks for having me on as usual and we'll chat soon.
Matt Zahab
Love that. Sue, before you go, you gotta let our listeners know where they can find you and Hut 8 online and on socials.
Sue Ennis
Yes so I am @bigsuey, b i g s u e y, and Hut 8 you can find hut8.io is our website or @Hut8Mining or @Hut8 on Twitter. That's where you can find us.
Matt Zahab
Love that. Folks what an episode with Sue Ennis bringing the heat as always tons of knowledge bombs as well. Huge shout out to Sue and the team for coming on if you guys enjoyed this one. And I hope you did please do subscribe. It would mean the world to my team and I speak in the Team Love you guys. Thank you so much for everything could not be here without you Justas my amazing sound editor appreciate you as always and to the listeners love you guys. Keep on growing those bags and keep on staying healthy, wealthy and happy bye for now and we'll talk soon.
---