Gracy Chen on Social Trading, Crypto Exchanges and Bitget | Ep. 172
Disclosure: Crypto is a high-risk asset class. This article is provided for informational purposes and does not constitute investment advice. By using this website, you agree to our terms and conditions. We may utilise affiliate links within our content, and receive commission.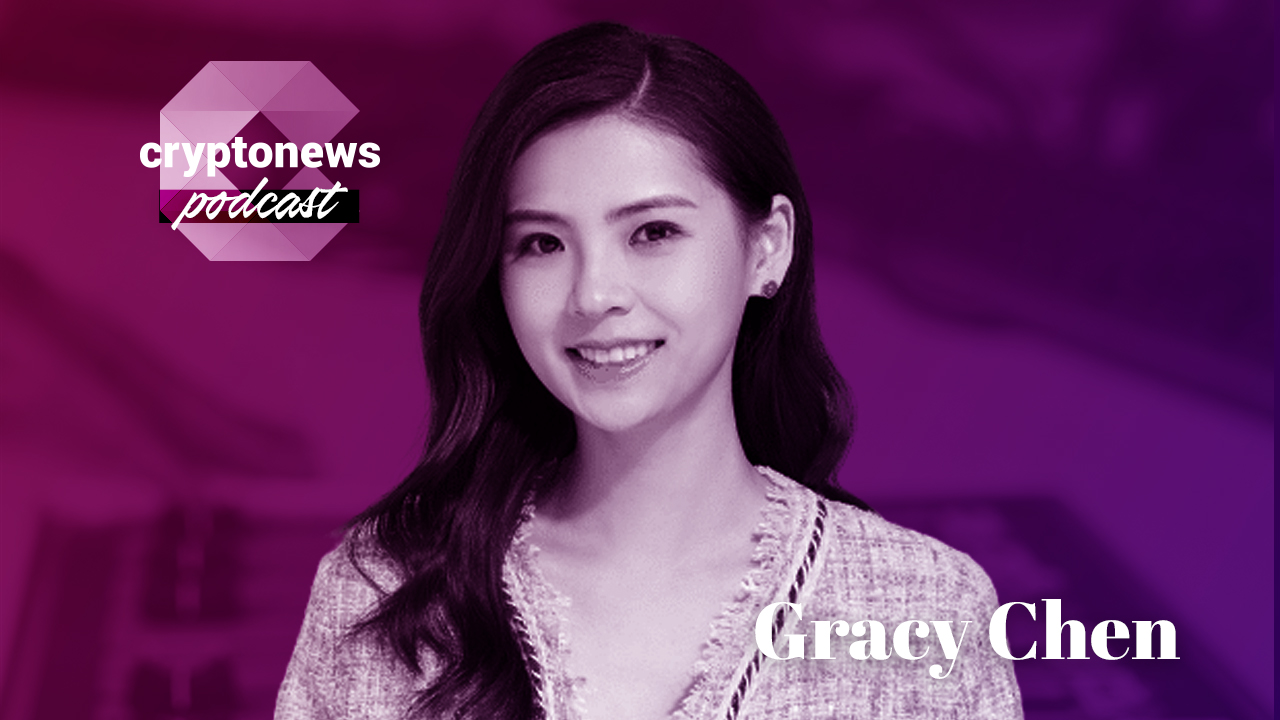 In an exclusive interview with cryptonews.com, Gracy Chen, Managing Director of Bitget, talks about partnering with Lionel Messi, the competitive landscape in crypto exchange and social trading.
About Gracy Chen
Gracy Chen is the Managing Director of Bitget and oversees the growth and expansion of global markets, strategy, execution, business, and corporate development of Bitget. She started her journey to crypto world since 2014 and has been an investor since the early days of BitKeep, Asia's leading decentralised wallet.
Before joining Bitget, Gracy held executive roles at XRSPACE, a VR technology company. During her time there, Gracy oversaw and led the marketing and business development functions, as well as government and public relations in the region. Formerly an anchor and producer at Phoenix TV's technology and finance channel, one of the largest media conglomerates in China, Chen has reported on financial news and events extensively, including the World Economic Forum. During her time at Phoenix, she interviewed tech leaders, including Kevin Kelly, founding editor of Wired. Gracy was named a Global Shaper by the World Economic Forum in 2015. A graduate of the National University of Singapore, Chen will also be pursuing an MBA degree at the Massachusetts Institute of Technology.
Gracy Chen gave a wide-ranging exclusive interview which you can see below, and we are happy for you to use it for publication provided there is a credit to www.cryptonews.com.
Highlights Of The Interview
Synergies between crypto and football – Partnering with Lionel Messi and Juventus
How to win in the competitive landscape in crypto exchange
Crypto winters – how to navigate bear markets
Social trading – the phenomenon of one-click copy trading the it's social impact
Current market trends from crypto trading


Full Transcript Of The Interview
Matt Zahab
Ladies and gentlemen, welcome back to the Cryptonews Podcast. We're buzzin as always, and we have Gracy Chen on the show today she's absolutely tearing it up her and the team at Bitget have made some crazy moves. Let's get into the intro. Gracy is the Managing Director of Bitget and oversees the growth and expansion of global markets strategy execution, business and corporate development of Bitget. She started her journey to crypto in 2014 and has been investor in the early days of BitKeep. Asia's leading decentralized wallet. Before joining Bitget, Gracy held executive roles at XRSPACE, a VR tech company. During her time there she oversaw and led pretty much everything marketing and business dev related and she's also an anchor and producer at Phoenix TV's technology and finance channel has a little bit of TV experience as well. Gracy was also named a Global Shaper by the World Economic Forum in 2015, and is a graduate of the National University of Singapore. She's also pursuing an MBA degree at MIT. Wow, what a intro. Without further ado I'm very pleased to have Gracy Chen on the show. Gracy, welcome.
Gracy Chen
Hi, Matt. Glad to be here.
Matt Zahab
Fired up to have you on that is quite the bio. I love how you got a bunch of experience and I'm in a bunch of weird, you know, unique avenues the crypto and TV anchored. It's pretty rare nowadays.
Gracy Chen
It is. Actually I studied applied mathematics back in Singapore. And then I had a lot of interest in like TV or doing marketing PR things. So though I started something very different, just like straight went to the TV station or to the industry. Right after my graduation. I only did that for one year had a lot of fun. But I think I'm more in the manager or the technology industry rather than media. I mean, I love media. It's just like, I love tech more.
Matt Zahab
I love that. Let's get into Bitget. You and the team have made some crazy moves here as a sports fan. Let's talk about the news that actually came out today. We're recording on Friday, October 21. This episode will air in three days on Monday, the 24th. You and the team security partnership. Drumroll please. With the one and only Lionel Messi the GOAT- the greatest of all time. 700 or 800 Talk something crazy like that seven battle awards. And this kicks off perfectly crazy partnership with you and Messi and wow, what a treat congrats to you and the team. What was the purpose behind this? Walk me through some stories? How hard was it to get the big dog himself?
Gracy Chen
Oh, well, obviously Messi is one of the most popular and widely recognized sports stars. And like you're introduced, He is the recipient of so many, like six European gold issues. And then this year, he will join the Argentinian national team as the as the captain for his Fifth World Cup. And I read somewhere that he actually said this very likely could be his last workup. So we're like super excited about being able to partner with him. So it's been a long process like a few months. We've talked to himself to his company or his agency and, and everyone involved to cook this whole sponsorship. And the reason that we want to get into these sports sponsorship as well as some e-sporting, sponsorship and partnership is that we do think that there are a lot of similarities in terms of the users. And we want to broaden our influence not only influence of Bitget but also influence of crypto industry as a whole so that we can reach out to this bigger audience and get them on board or at least like get them be aware that there is such an interesting asset class cryptocurrency and hopefully they can be interested in bigger and become more user whatever. But we don't aim for just the growth or user wait, we just want to we really want to like broaden our user space. Broaden the awareness and get more people interested in the space.
Matt Zahab
Crazy just building on the football partnership point, it seems that a lot of exchanges and crypto companies as a whole are really keen on partnering with football organizations, whether it's the league itself, or blue chip and very famous teams, it appears that it really gives a lot of credibility to exchanges like yourselves or just crypto companies as a whole. I read your article on NFTmag.io. And you spoke about the synergy between crypto and football and why it works so well. And the importance of crypto organizations partnering with football leagues and teams to really give that credibility. Can you sort of go more into detail on this point? And just talk a little bit more about why you guys partnered with Juventus? And why you're so keen on partnering with the football industry?
Gracy Chen
That's a great question. I think if we look at everything from the sports industry, like no matter the football clubs, or like famous football players, they do enjoy a very large base of fans and followers, which would help crypto exchanges like us to build up a better brand image and gain like method of awareness. And then you switch the shoes and where the industry or the crypto exchanges hear that you probably know that at the same time, these corporations is actually a very good way win situation. And indeed, We are a big way in this very trendy thing. Crypto blockchain is a big trend embraced by many industries, and a lot of use cases, such as NFT, such as, like some special events held in Metaverse or are very interesting, technology based or technology powered events that is happening in the space. And I think a lot of fans will be are interested in knowing them or participating some of them as well. Yeah, so that's why we have so many initiatives and sponsorship or partnership with them. And besides this, like more commercial way of doing looking at them. I think there's another element that we as a company are very interested which is the CSR activation. So for example, earlier this year in I think it's in August, late, late July, early August when I was in Los Angeles and we had a CSR activation with Juventus stars moist skin and Schinsky during their Juventus summer tour, and that's where we had the football players to participate in the charity led basketball game. And we donated like about I think 9000 If I remember correctly, to a LA based nonprofit organization with a mission to increase girls interest and success in technology. And I myself coming from a math and technology background while being in this a more male dominated industry. And we're obviously interested in the in the topic as well. But basically are all these like initiatives that we did with the footballers, or with the football clubs, help branding our brand to flourish and also help them to get into the space into the crypto space.
Matt Zahab
I love that it truly is such an important part. Let's keep buzzing on sort of the crypto exchange topic. You guys have had some absolutely bananas growth over the last year and couple years. A crazy stat that I read was that you guys actually surpassed FTX's derivatives trading volume in Q1 2022, which is an absolutely huge milestone. Congrats on that.
Gracy Chen
Thank you.
Matt Zahab
How do you compete in such a competitive landscape? Crypto exchanges, literally our money printers, it is an incredible business to be in. It is incredibly difficult to be in. There is so much competition, you have behemoth like FTX, Coinbase, Binance, and then of course a bunch of the Asian-based exchanges that dominate in their own right. How do you find market share? How do you attack demographics? How do you compete in such a competitive landscape?
Gracy Chen
Oh, well, I think exchanges offer more or less similar products and services, but each exchange has their own strengths. Well for us at Bitget we are very interested in this topic, which is social trading is probably one of our most important differentiation factor from other exchanges. So we started doing social trading and but before diving in, then just give you a brief introduction of what is social trading. So social trading is this good combination of social and trading where people can observe Have and observe and may make others action. And for example, copy trading, which we pretty much started very early as early as 2020. And there are a lot of other exchanges, following Bitget did the same thing. But we are also the largest crypto trading platform by the trading volume right now. So that's something we started and we have been talking about and growing in terms of product and user space. So for, for crypto copy trading, which is we could one click Copy trade. That's our flagship product. It has amazed over 55,000 Professional traders with approximately 1.1 million followers. And indeed, all these initiatives put us set us apart from some of our competitors. But I think there are something more important about the platform other than some product initiatives or product innovation. So we put a lot of efforts in thinking about what our users want. So right now, we have actually, they just came out within the past few months. Although this is a crypto winter. We can talk about crypto winter later in more details. But basically, I think we want to help our users to navigate through this winter by thinking about what they want. So we think that two things very important to our users. Firstly, how can they you know, save some fees in this crypto winter? And then how can they make sure? Or how can they be protected from some fakes or in stables system kind of events that happen a lot in our space, among other exchanges. And, and when you didn't know that there are a lot of exchanges earlier this year, they just stopped serving their customers. Like they just can't, cannot get given the customers money back. And there are so many headaches in the inner space. So we're putting a lot of efforts to solve those problems. And there are two things I want to highlight, which is to tackle these problems. The first one is we had one zero trading fee for all the spot market tokens. So right now, if you are spot trader or spot market investor, you should definitely look into Bitget so way out one of the only two exchanges around the world that offers free trading fee for orders for trading pairs. So this is, like I said, an initiative to help our users to save a bit. And then there is a protection fund, which is AUM, or we should cut Assad in that production fund is about 200 million USD. And what I heard is, there are only three exchanges in the world that is doing something like this, we have this fund set aside so that our users can be protected against, you know, fake, or whatever reason that they lost money, but not due to their own behavior activity. We think they should be fully protected. Yeah, so these are some interesting products or initiatives that we have, I think, which that sets us apart from our competitors.
Matt Zahab
Let's go back to social trading in particular, and the phenomenon of the one click Copy trade.
Gracy Chen
Sure.
Matt Zahab
Very curious. I've seen this. I've never actually done it myself. But again, I've seen it on incredible platforms like yours. Walk me through this, do I just log on and I get to see a leaderboard of the best traders out there. And I get to copy their traits. Is that Is it really that easy?
Gracy Chen
Yes, yes. And no, I think we really want our customers to be very well educated before they take any action or do any investment. They should be aware that in cryptocurrency investment, because this is a very volatile, volatile asset class, they should know the race. And I actually I don't want to give any investment advice, but I would highly suggest that someone shouldn't put like, whatever like this should be fine with, like thinking about losing. But I'm not trying to say that this poor Dowell like how people lose money, but they should be comfortable investing the sum of money that is not like for their daily expenditure or for them to like buy a house or Yeah, so they should know That is an asset class that is volatile and risky. But yet for the copy trading platform that we have, what we are doing, like You briefly mentioned about the Billboard, and where people can check out all the trading history, they can see the returns of specific weaker elite traders, so that they can make a better choice among all of them. And then they can just like, copy their trades and, and right now we have that product for the derivative market. So you should be comfortable to do diversity of investment, if you are thinking about this. But we're so aware of launching the same product for spot market, because we saw there are so many interests around the space. And we want to just serve both derivative and spot market investors.
Matt Zahab
Do you ever find that new traders jump to derivative trading too quickly, I in particular, can't. You know, I've screwed around with this in the past. And it's worked and hasn't worked for me. I'm more speaking on behalf of my peers and friends in network where a lot of rookie traders will get a little bit of that incredible taste from having a win or some profit on a spot trade. And then they'll be like, Wow, I can 100 access if I get a little more ballsy and risky and go the derivative route. What's your advice for new traders? Do you think you should step into that right away? Do you think you should sort of go through your own little boot camp and training camp of leveling up and perhaps doing some spot and then some, you know, some very light leverage of 235 x kind of thing and then jump into the derivatives? What do you think that workflow and progress should look like?
Gracy Chen
Um, personally, I would highly recommend everyone to be very well educated. So like you said, go through some bootcamp, look through some Beginner's Guide on Google. And maybe you can even check out a Bitget academic so that's our educational platform we have more than like a dozen of people in that team just to write educational articles and produce educational content for the industry. So that everyone can know more about the space before they make any decision because we have to be responsible for our users and we hope users should be like responsible and work educated for their own behavior as well. Yeah, so personally, I would highly recommend someone to try little by little let's start with like spot trading right now at Bitget we charge the trophy for that so that's a very good starting point you don't lose the trading fees and then try some like activities or buy some altcoins maybe I think I think people can start should start with Bitcoin th Are these like major coins, then they can try some altcoins. Get how get a taste of it. And maybe they can try NFTs Launch Pad launch pu derivative. So these are more advanced investment instrument that people should definitely get them more education before doing anything.
Matt Zahab
Very well said there. It is a tough one. Once people get a little taste of gold. They always want to go back for more and it does get very addictive. Gracy, we're gonna take a quick break and give a huge shout out to our sponsor the show and that is PrimeXBT. I've been using PrimeXBT for a hot minute now is they offer a robust trading system for both beginners and professional traders. You can easily design and customize your layouts and widgets to best fit your trading style. PrimeXBT is also running an exclusive promo for listeners of the Cryptonews podcast. Use the promo code CRYPTONEWS50 to receive 50% of your deposit credited to your trading account to get them to CRYPTONEWS50, CRYPTONEWS50 all one word to receive 50% of your deposit credited to your trading account. And now back to the show with Gracy. Let's talk about some bear market trends and best tips best practices. Crypto as a whole is a massive shitshow right now we are hurting. Crypto winter literally is on route is already here and throw winter on top of that it's not going to be fun. Then you throw all of the macro economic shit shows in the world. It's gonna get a little worse. At least I think it's gonna get a little worse. What can we do to keep growing during this bear market during crypto winter.
Gracy Chen
For an exchange? I think we are really making a lot of effort to enhance our student food with better trading experience. To products and like asset protection, a lot of things we've mentioned previously. And it really depends on who you are like what's the exact role in the space for individual advice. But for me, I can probably only speak about Bitget, for example, we really think that this is a golden window, although it's a crypto winter, but it's still a golden window, because a company's success is very visible during the bull market. But it's very easy to overlook the fact that all these successes are the results of efforts made during a bear market. And right now, we are doing building a lot of things. For example, we talked about Bitget Production Fund, which is the 200 million USD consisting of BTC and USDT, that we pledged aside to secure the value. And this acts as the safeguard for Bitget users and the Bitget trading platform, we will also like help the users in this new era of safety and protection in the crypto space. And then there are some other initiatives such as zero trading fee, we talked about that I'm not going into details. Now. There is something we call it Bitget ABC listing campaign. So this is on a daily basis, we are introducing a lot of valuable projects offer users a total of almost 500 Plus spot trading pairs on our platform. And that's indeed one of the largest amount or the centralized crypto exchanges. So the ABC comes with like, for example, day one, we list all the A coins, then be there to list all the B coins. That's why we call it ABC. But that's indeed what we want to do in this bear market. Because there's so many still a lot of projects who are building, we have an investment arm, which invested a lot of not necessarily like projects are listed in our exchange. But they've been looking to so many projects. And even if this is winter that we all call it. But there are so many people who are still building and we are amazed that they are still very good trading. Tokens are projects that is listed at our platform. And we want to encourage people continue doing that. Don't be like scared by the so-called crypto winter, because this is the best time to build.
Matt Zahab
It is what's the, you know, the classic stories like Amazon was built in the bear market, Facebook, that all those stories about. This is where you battle. bear market city population building, you'd love to see it, Gracy, this has been an absolute treat. I know we've talked a lot about Bitget. And what you and the team are up to, I'd love to learn a little bit more about yourself. You have really climbed the corporate ladder and are now the Managing Director at Bitget which is very, very impressive. Do you have any morning routines, nighttime rituals, any sort of, you know, specific habits that perhaps assist you and helps you be the high performer that you are?
Gracy Chen
I hope that I can give people a good answer. But actually what I'm doing exactly is just trying to work hard. I'm a very hardworking person, I, I tried to work, and I study about 16 hours per day. So that leaves me about six to seven hours of sleep and then another one or two hours for like eating or any daily activities. Yes, I try to work really hard. And I usually start my day at about 6am 7am so that I get to talk to my colleagues coming from all different time zones, because we are global exchange we have, we're serving more than 50 countries customers. So right now, we have teams around the world from all the five continents. And I need to like accommodate to some of their time zones as well. So I start very early, and then I end also very late like 12 midnight. So that's when I have like majority of my meeting scheduled so that I can talk to everyone around the world. And then maybe there is this good habit of thinking back like once in a while I'll think about and talk to my team in terms of what we did, which is good, which is wrong. How can we improve? So I look at those slight improvements a lot. What else like when am I working principles? Maybe? Okay, maybe another thing I think is important to know, which is, this is a this is a sentence that I read somewhere and I tell some of my colleagues or whoever, my friends or my younger generation friends who are asking me for career advice, I will tell them that actually, you're not paid by how hard you work, but also by how hard you are replaced. So think about how who are going to replace you and what are your you know, differentiation factor that are a skill sets that you rely a lot on. Personally, I know that my skill set is like, all these experiences I had, and I'm good at telling technology, or basically explain some very technical terms to normal, normal more layman people. And then there are some like other skill sets, but I think it's very important for any individual to look into your own experiences, skill sets and think about a one on one is your irreplacement skills. That's pretty much.
Matt Zahab
I love that. And what about books, resources, podcasts besides the Cryptonews podcast websites? Where are your best resources to learn about the things you're passionate about? Perhaps we can, you know, put a lens on this question and narrow it down to crypto in general. I know Bitget has some great resources on the website as well. But if you were a rookie entering the space and wanted to learn more about crypto, where would you send them? You know, any Twitter accounts do you love? Which? What would that workflow and process look like?
Gracy Chen
Well, yeah, there are a few things that I think a beginner can look into. So for example, there is a lady calling this year, she wrote a lot of Beginner's Guide Beginner's Guide to NFT, Beginner's Guide to DeFi, etc. So it's very easy to find on Google if you search her name. I don't know her personally, but I read some of her beginner's guides and I love them. I think it's really good for a rookie to look into when they started investing. And then this Kol like key opinion leader that we also work with. His name is Scott Melker his Twitter account is Wolf of All Streets. Yeah, you know him cool. So he has this newsletter sent out like I think about twice or three times a week I look into them to keep myself trained like to the updated information as well I have I have myself subscribe to a lot of Twitter accounts. He's definitely one of them.
Matt Zahab
You guys sponsor his newsletter as well. Right.
Gracy Chen
We did. We did.
Matt Zahab
I swear I've seen the logo on that before.
Gracy Chen
But yeah, glad you saw that. But I think the reason why we started sponsor is indeed that we find this those content very good. So we kind of want to support that as well. Yeah, feel free to check my Twitter account, Gracy Chen or @GracyBitget. So I share a lot of my insights, perspectives on market trend and like what is trendy and exchanges are bigger as well as for books, so that's my bookshelf. I mean, that's not the total one but let me just grab a few books for you. Maybe. So maybe these two I would love to recommend people to read them so Principles by Ray Dalio classic financial book, Love principles.
Matt Zahab
Sapiens.
Gracy Chen
I talked to Professor Harare before, so had some like personal funding, and he's a very cool person. He's super knowledgeable, very, like very cool. And he Yeah, this book, I love it. So
Matt Zahab
I have them both on my bookshelf behind me. I love Ray Dalio. You know, he's one of the best investors of all time. And his framework and principles are absolutely world class. And then Sapiens is just a great book that sort of explains how humans got from, you know, monkeys and caveman to where we are now and everything in between. It's just very, very interesting, very thought provoking. And I find gives you a lot of answers for questions you perhaps didn't even Think of asking in the first place. It's just Yeah, it's a great book very well written and very easy to read as well. Not a lot of big words in there flows very nicely. And another thing I love about that book is you don't really need to go from cover to cover. Like you can literally open up any page in the middle. And it's still very, very parent. Gracy. Traveling. You're a big traveler, I alert you on Twitter. You were in Vegas, you were in Asia, you were in other parts of North America. You told me before the show you were in Toronto T.O. Couple months ago as well, perhaps weeks ago, 2022. What's the what's your favorite city you've visited so far?
Gracy Chen
It's probably Singapore. It's, it's a bar in Singapore is not a very like wow kind of place because a lot of people travel to Singapore. But the reason that it has special meaning to me is that I spent six years in Singapore, back in my college time, and it's so good to see many new friends. And a very interesting thing I experienced in Singapore. I was there for this conference, this web3 crypto conference called Token2049. Were you there?
Matt Zahab
No, no.
Gracy Chen
But some of my friends I traveled all the way from Canada, US to Singapore, just for this event as well. But anyway, like I see so many people there. So they have about like 1000 Plus attendees. And there's another like 3000 companies. So I see a lot of hype, like a lot of hype, but a lot of interest in the space. So yeah, Token2049 and this experience in Singapore was making me think, was this really a crypto winter? It doesn't feel winter? It's it feels like summer? Yeah, but right now I see a lot of again, I've met a lot of builders, a lot of interesting projects over there. And I also gave a speech about social trading at Token2049, when I joined this panel, talk about women in crypto. So indeed, there are very few women leaders in crypto and I really want to recommend that people should, like women should be more well educated, that just get yourself educated about investment about finance about cryptocurrency, and start doing investment, as well as be interested in the space and about technology as a whole. I think women shouldn't be perspective as or be thought of as like, we're not good at maths or so. We definitely were good at a lot of things. Like I've encountered so many very brilliant women, especially at MIT and around the world. or so. That's something excited me a lot when I was in Singapore.
Matt Zahab
Do you have any women in web three mentors want to shout out? Or do you have any perhaps not mentors, but you know, one-way mentors like authors or people you follow on Twitter who have really helped you but perhaps aren't aware of you? I have a lot of those myself, but no, I call them one-way friends where it's like, people who are dead muscle my favorite authors who I view as incredible friends of mine. No, they have zero clue that I exist just because of how much I've learned from them. Do you have any woman you want to shout out?
Gracy Chen
Yes, there is one which is Cathy Huang like H.A.U.N.G. Cathy is this lady. I personally know her but she doesn't know me. Hopefully doesn't know me yet. But so she was a partner at a a16z. And then she started her own fund. Oh, which is one of the largest crypto specific fund, you know her. So I think she's really cool. And she was sharing some of her philosophy as well actually recorded one of her interviews on my phone. So for example, I think she said
Matt Zahab
She's very switched on. She knows what she's doing.
Gracy Chen
She said Oh, no growth in comfort zone. No comfort and growth zone. And I really am cool with that philosophy.
Matt Zahab
I like that. What a treat Gracy, thank you so much for coming on. Just incredible episode really appreciate it. And can we to have you on for round to before we let you go can you please let our listeners know where they can find you and Bitget online and on socials. Make sure you drop in your Twitter and of course Bitget's as well.
Gracy Chen
Yes. So yeah, @GracyBitget. That's my Twitter account. Then there's @bitgetglobal that's our global official global account and we are on Twitter, LinkedIn, Instagram, telegram. We have a lot of communities, community groups in telegram as well. Yeah, feel free to I have me on telegram so my TG is also @GracyBitget. So we can like talk one on one.
Matt Zahab
That's a risky move dropping the telegram.
Gracy Chen
Okay, let's give it a try. How many Matts like how many fans met Glock? God, I was like, would that be too much? Maybe? Maybe just Twitter.
Matt Zahab
Yeah, just don't worry about that. Pretend you guys didn't hear that and just give Gracy follow on Twitter slide in the DMS if you want. And you guys can work some magic there. But Gracy, thank you so much. I truly appreciate this very pumped for you and the team at Bitget you guys have been making crazy moves. Can't wait to see where you are in the future and can't wait for round two.
Gracy Chen
Sure. Bye.
Matt Zahab
Folks what a great episode with Gracy Chen Managing Director at Bitget her in the team have been making crazy moves and they are tearing up the crypto exchange space. I really hope you enjoyed this episode. If you did, please do subscribe. It would mean the world to my team and I speaking to the team love you guys and to the listeners. Keep on growing those bags and keep on staying healthy, wealthy and happy. Bye for now and we'll talk soon.
---