Ed Marquez, Developer Relations Engineer for Hedera, on Blockchain Scalability and AI Language Models Within Web3 | Ep. 259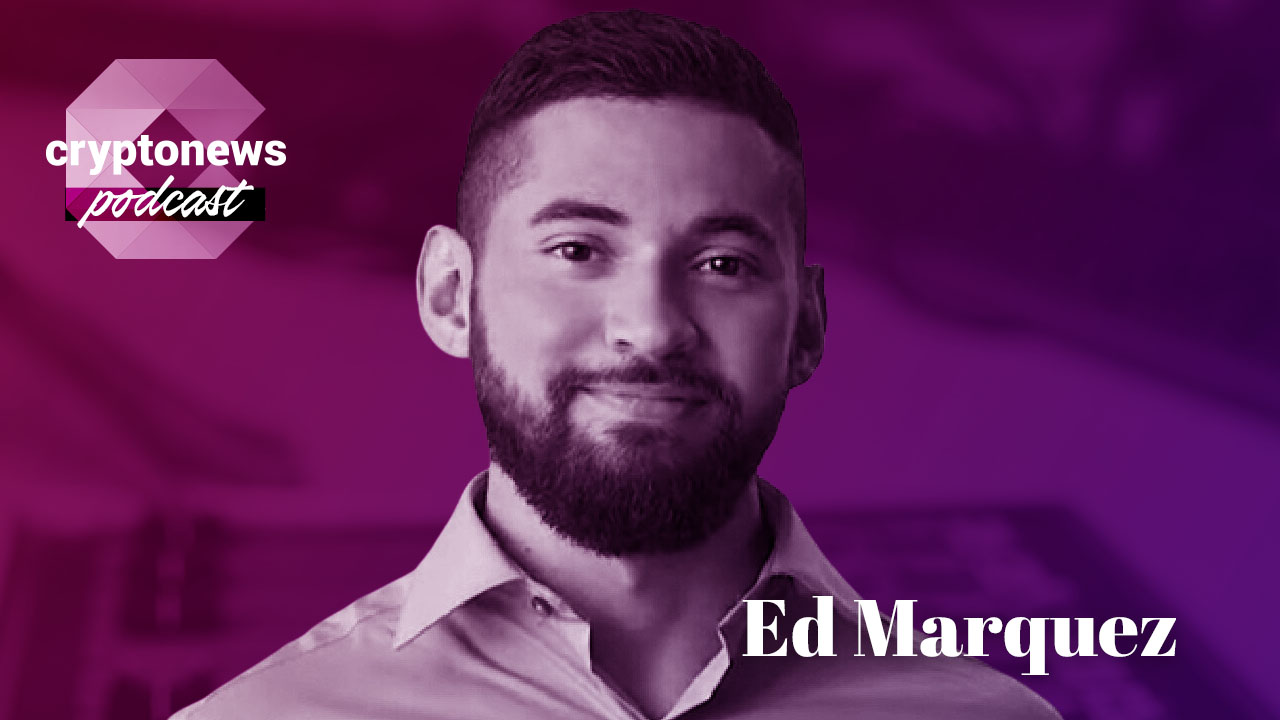 In an exclusive interview with cryptonews.com, Ed Marquez, Dev Relations Engineer of Hedera, talks about Hedera's recent integration of ChatGPT's plugin with its HBAR token and his thoughts on integrating other intelligent AI language models within Web3.
About Ed Marquez
Ed Marquez is a Developer Relations Engineer for Hedera at Swirlds Labs. He is passionate about helping developers get on board with Web 3 and the Hedera network. In addition to distributed ledger technology (DLT), Ed has worked on Model-Based Design and development of control algorithms for embedded systems. Ed holds a MS and BS in Mechanical Engineering from Virginia Tech, and is currently pursuing a MS in Business Management at Harvard.
Ed Marquez gave a wide-ranging exclusive interview which you can see below, and we are happy for you to use it for publication provided there is a credit to www.cryptonews.com.
Highlights Of The Interview
Ed's extensive background in providing technical and developer relations support to the Hedera network and community
Hedera's recent integration of ChatGPT's plugin with its HBAR token
Ed's wider thoughts on the expanding integration of ChatGPT and other AI language models within Web3
Hedera's vision for the blockchain economy bolstered by AI and other intelligent models
Hedera's role at the forefront of innovation within the DLT/blockchain ecosystem



Full Transcript Of The Interview
Matt Zahab
Ladies and gentlemen, welcome back to the Cryptonews Podcast. We are buzzing as always. And before we start, got to give a huge shout out to Tracy Leparulo and the whole team at Untraceable Events, who just threw an incredible Canada Crypto week. And more specifically the Blockchain Futurist Conference in Toronto, Canada. It was held at Cabana and Rebel. Tracy and the team always throw a banger of an event, but this one was the best one yet. And huge shout out to her and the team for having us and lovely to meet everyone who was there as well. And now for the star of the show today, we have Ed Marquez coming in hot. Super pumped to have him on. The developer relations engineer for Hedera at Swirlds Labs. Ed is passionate about helping developers get on board with Web3 and the Hedera HBAR network. In addition to distributed ledger technology, Ed has worked on Model-Based Design and development of control, algos and for embedded systems. That is wild. Ed holds a MS and BS in Mechanical Engineering from Virginia Tech, who has the best football walkout in all of sports and is currently pursuing a MS in Business Management at Harvard. Ed, pumped to have you on, mate. How are you?
Ed Marquez
Hey Matt, happy to be here. And I agree, Virginia Tech has a killer walk in for football games.
Matt Zahab
For the listeners at home, we are referring to American football and if you have not seen it, just Google Virginia Tech Football walk in. It is an electric factory. I have goosebumps just thinking about it. It's wild. Have you ever been there in person when that went down?
Ed Marquez
Absolutely multiple times. Many times and I've had the chance to go back even after graduation. So that was a blast.
Matt Zahab
Oh, so cool. So you have a pretty darn cool bio. Obviously the thing that stands out is having a degree in Mechanical Engineering from VT and working on some pretty bananas stuff. What was it about your childhood that made you want to get into such a crazy field?
Ed Marquez
I grew up in South America and Colombia, to be more precise, and my dad is a civil engineer. I always saw him be very creative, very smart about how things work, and that was always a big inspiration for me. So when I had the chance to come here, I said, let's try mechanical. That seems like there's a lot of variety, a lot of opportunities to work on cool stuff. And indeed, it is a very broad field that can go very deep in different disciplines. So I enjoyed that flexibility, but also had to stay a little longer to do my masters and go a little deeper on that controls development side of things.
Matt Zahab
And were you so born in Colombia, moved to the States when?
Ed Marquez
Born and raised, yeah, I moved to the States about 15 years ago, so just to start college. That was, I guess 13 years ago, 2010, and just to start college. And then I stayed, met my wife, got a couple of dogs, and here we are.
Matt Zahab
Talk to me. Walk me through some of the big culture changes here. Never been to Colombia. It is actually happening this year. Super pumped. We'll be in Medellín. Changes biggest aha, crazy moments. Like, what about the feeling of when you got off the plane and you were know, USA. It's a lot of people's dreams from South America. Any and all details would be lovely from those memories if you were old enough to remember.
Ed Marquez
Of course. Great to hear that you're going to Colombia, by the way. Medellín is the place to go. So very pumped up for you. Yeah, I would say one of the biggest shocks was snow. Like, growing up in Colombia, it's tropical, you have the same weather year round. And then coming here, I love snow for the first two years, but then after the first two years, I was like, I need to get rid of this thing. I don't want to clear it. I don't want to walk in it. I'm done. And so that was always an interesting experience. The other one was the food, right? I'm very used to whole foods. Very delicious, flavor, spicy foods from Colombia, and then that was quite the adjustment. But after 15 years or so, I'm quite used to the diversity that you can find in the US. So I'm enjoying that now.
Matt Zahab
It's such a good point. You brought up all the processed shit that's in our food, and, I mean, I don't think I'm obviously Canadian. I don't think it's as bad up here as it is in the states in regards to the lack of whole foods and really good nutrition that gets put into it. But man, oh, man, were you old enough to feel that on your body? Like, you and I are grown ass adults now, but when I was a kid, I could go to McDonald's and fire, like, four McDoubles down the chute, and it wouldn't scare me at all if I do that now I'm out of commission for, like, half a day. Do you remember the food imbalance when you came?
Ed Marquez
Yeah, absolutely. I mean, just like the snow, I love to try new things. I love to eat five McDonald's burgers too, but definitely cannot do that anymore. And I found early on that I think I want to stick to the healthier side of things just to be less tired and to be able to do a little more with my day. So that was an interesting part of identifying what path to follow and how to find good things to eat. That was a tricky area to navigate.
Matt Zahab
I love that. Let's get into the bread and butter here. Let's talk crypto. Let's take a couple steps back. Before you joined HBAR and the Hedera team, what did you do? What did you work on? What got you so fired up about crypto? What was your aha moment? Who orange pilled you? Normally it's an orange pill to get going, but walk me through the whole pre Hedera process and what Ed did back then.
Ed Marquez
Sounds great. So I was working at an enterprise doing this methodology called Model-Based Design to develop controls, algorithms, basically the software that ends up in the controllers in your car or maybe in the controllers of an airplane or in a robotics factory. That was super fun, super amazing. I loved it. That's what I was doing in grad school as well. But after about seven years of doing that, I thought to myself, I don't see myself doing this for another 30 plus years of my career. In fact, engineers have been working on this for the last, I don't know, 60 plus years. So it's very well established and it's cool, but I want to try something different. And at the same time, that's where I discovered Bitcoin from the store of value perspective. I was doing a whole lot of research on my free time about monetary policy, gold and run into Bitcoin. And one of those videos and resources that I found about Bitcoin introduced Hedera. And so when I saw that, I thought to myself, this looks kind of too good to be true, so let me go read the white paper and watch a few more videos. And I was hooked. I discovered Leemon Baird, who is one of the co founders of Hedera. And I was told that the math checked out, the people were there, the appetite by enterprises was there. And so I just started learning a ton about this network. And on my free time, I was kind of geeking out too, trying the SDKs and the developer tools, and I loved it. And so then fast forward a few months, I had the opportunity to change jobs. I needed to relocate, and then I just applied to Hedera and see if things panned out. And here we are. It worked out. So that was sort of my journey from going from an engineering driven world and enterprises to crypto and the DLT world.
Matt Zahab
And your title, that's something again, I'm not a developer. This is way out of my wheelhouse, way out of my pay grade here. What exactly is dev relations? Right? You've heard of investor relations, public relations. What exactly entails a title of dev relations?
Ed Marquez
That is a good question. It means different things in different organizations. Basically, the approach that we're following is how we can walk developers in their buyer's journey from discovering, from evaluating, from learning and building and scaling solutions on the Hedera network. And so that means is helping them find the network, right? Creating that content so that developers can find information, understand how the Hedera network solves their problems and addresses their needs, and then making sure that they have a good onboarding journey and learning journey, and then that they're successful. Once they decide to commit and build, that they have the support channels that they need, that they have a good experience building and scaling those solutions. So it's from discovery all the way to building and scaling.
Matt Zahab
So you're literally finding good devs, helping good devs get locked and loaded and helping them with any issues from A to Z, really just removing friction, making the process more seamless, making sure that more really smart, friggin people come and choose to build on Hedera.
Ed Marquez
That is exactly right. And developers in many cases are the key, especially early on, right? Because they're the ones that are going to build the platforms, the tools, the use cases that then will bring adoption by end users, by enterprises, by governments. So we have a big focus there with that audience.
Matt Zahab
I got to give you the shit guy question here Ed, my apologies in advance. Everyone loves comparing blockchain one to blockchain two to blockchain three. If I'm a developer and I'm thinking of, you know, taking my skill set, to quote LeBron, you know, coming down to what was it? Coming down to South Beach kind of thing, making the big announcements and choosing to build on Hedera on HBAR. Why and what are some of the reasons why I would choose to or, you know, want to build on Hedera?
Ed Marquez
That's another fantastic question. I think you always have to think about the differentiators and the value that you're getting. I would say in terms of differentiators, one of them is the stable, responsible and transparent governance that this network has is a governance model that no other network out there has and many, in fact, may be trying to recreate it. And the governance model of Hedera is a council of decentralized global organizations. So enterprises and universities from different geographies, different industries representing different interests and also diversified through time, right? So what that gives you is not only decentralization of governance and operations but also very transparent processes on how the decisions for the network are made. Everything is documented in terms of meeting minutes and the fact that these are enterprises and universities doing the governance. It means that it's an appealing factor for other enterprises that are trying to build on a network that is not operated by unknown people. These are people that are staking the reputation for the well being and the stability of the network. And so they have that guarantee of big names and reputation and transparency so that they can deploy use cases and build value on something that is going to be around for the next 100 years. Another one that I can think of is the scalability benefits. So in terms of cost, Hedera offers very low cost for every transaction. And the key difference there to all the other networks is that these costs are pegged to the US dollar, not to the value of the token. Right? So if the token goes to $10 or $100, your business costs stay fixed and pegged to the dollar. So as an enterprise or as a business, you can plan and project your business costs and be able to either raise funds or simply do some financial planning on your side. Whereas when you have a lot of volatility. And your business costs are associated to the volatility of a token. I would say there is an interesting issue there. And then the last one that I'll mention too is stability and security. So because of the technology and the consensus algorithm that we use, we have a network that is not leader based, right? So there is no leader based moment. And so it becomes extremely difficult to compromise the operations of the network or bring it down by attacking a single node or a single point of failure. So enterprises and even small teams, startups and individuals find a lot of value in that because you want to deploy on a network that is going to minimize your downtime. Right? Because downtime comes with headaches costs, bad user experience, and so that's something that Hedera is able to provide as well.
Matt Zahab
That's huge. My apologies here, but it's not 100% clear to me, but Swirlds and am I pronouncing it right? Swirlds Labs.
Ed Marquez
That's right Swirlds labs.
Matt Zahab
Okay. Yeah, it's a bit of a mouthful. When I'm doing research for the show, I'm like, what the heck is that? And furthermore, I can barely pronounce this. This was putting my head in my brain rather in a pretzel this morning. Swirlds Labs, which is sort of like the innovation arm accelerating the future on Hedera. You guys take really good teams and help them get from point A to point B. Is that pretty much it?
Ed Marquez
Yeah, that's one way to think about know. In fact, Swirlds Labs, or Swirlds itself stands for Shared Worlds, which is sort of the vision in the early days of Hedera. And that's coming from Leemon Baird, right? One of the co founders. But yes, Swirlds Labs is basically the firm driving a lot of the engineering and marketing efforts for the Hedera network. Going to take a step back and give you a little bit of a journey of what's happened so far. In the early days it was just Hedera, right? In fact, when I started, I started at Hedera, but then with the long term goal of decentralizing all aspects of the network infrastructure, governance, operations. We started spinning out different organizations to take care of different concerns, right? So for example, the HBAR Foundation came out with the goal of furthering ecosystem development. Swirlds Labs came out with the goal of furthering marketing and engineering initiatives for the Hedera Network. And then we also have a few other organizations, for instance the Hashgraph Association and also the DLT Science Foundation. They're also supporting the industry growth and the adoption of the technology DLTs that is in general as well. And of course, we always have the community kind of giving us open source contribution feedback and also making their voice heard through the Hedera improvement proposals processor hips.
Matt Zahab
I love that. And another area that a lot of people are going to be super excited about is your guys integration with ChatGPT. And obviously you're very switched on and know all fingers and toes on the AI Pulse, and I can't wait to get into that. But before we do, we've got to give a huge shout out to our sponsor of the show, that is PrimeXBT. PrimeXBT has been longtime friends and sponsors of The cryptonews.com podcast, and they offer a robust trading system for both beginners and professional traders. It doesn't matter if you're a rookie or a vet, you can easily design and customize your layouts and widgets to best fit your trading style. PrimeXBT is also running an exclusive promotion for listeners of the Cryptonews Podcast. The promo code is CRYPTONEWS50 to receive 50% of your first deposit credited to your trading account. Again, that is CRYPTONEWS50 all one word. CRYPTONEWS50 to receive 50% of your deposit credited to your trading account. And now back to the show with Ed. Let's jump right into everything. AI, ChatGPT, and Hedera related. Before we get into the Hedera integration, I'd love if we could start with sort of the overarching thesis and we can look forward in regards to AI language models within Web3. You guys have one, a lot of blockchains have one, have integrations and partnerships with ChatGPT. What is the future of blockchain/AI going to look like in your mind?
Ed Marquez
I think this is going to touch most, if not all, industries and sectors and verticals. The reason is because now with AI, what you have are these autonomous intelligence systems that can continuously learn based on feedback and based on data, coupled with something that we haven't had before, which is immutable traceable records, which is what blockchain brings to the picture. So when you put those two things together, right, and we think about particular use cases, for instance, in healthcare now, you have ultimate transparency and immutability in your records and secure data, which is given to you by blockchain. But then you have the ability to diagnose better, to predict better, thanks to AI models. Right? If we think about finance as a different industry or vertical, you have smart contracts that automate the value exchanges and kind of remove any trust assumptions that you may need to do or have for one party. And with AI, you can optimize strategies to whatever goal you want, right? If you want to maximize revenue or minimize losses or whatever, you can couple these two things together. So it's just two extremely powerful technologies that are going to open up a lot of doors. Perhaps one other example that I'll throw in there is supply chain management, right? Like the world of runs on supply chains and having the ability to have immutable records now so that you understand what is where at all times and have that ultimate transparency coupled with an ultimate brain that can optimize routes. Minimize carbon emissions or minimize costs and optimize or maximize delivery speeds is something that is also going to revolutionize how these supply chains are managed and executed.
Matt Zahab
Wow, that's absolutely wild. Ed, before we continue anything else on the future of AI and crypto?
Ed Marquez
Yes. One other point that I like to make that I took from Jeff Booth, he has a book on the price of tomorrow, is the fact that these technologies are exponential, right? These are not linear progressions that we're going to see in how humans do things. And so the point here is that our brains are really good at thinking linearly, right? It served as wealth revolution. But when we start thinking about these exponential leaps that we're about to take with these revolutionary technologies, we cannot even see or imagine the problems that we're going to able to solve and the doors that we're going to be able to open by combining these powerful technologies like AI and Blockchain. So that was just a little interesting fact there from Jeff Booth.
Matt Zahab
Yeah, he's one of the GOATs for sure. And relating this to your guys recent integration obviously this is Hedera's recent integration with ChatGPT's plugin and how you guys made that magic happen with the HBAR token alone. What exactly does the integration entail? Any other cool things you can do besides just specific ChatGPT that anyone can use?
Ed Marquez
Yeah, sure. So I just want to be clear, right today, any developer can start developing ChatGPT plugins. And so that was the route that we took. We saw a lot of value in being proactive there because it was a great way to remove complexities for end users just to provide a little bit more value there. Also an excellent way to engage with developers who may be interested in either AI or Blockchain. And it's also a great proof of concept for our community to show them something tangible of what is possible by integrating these two technologies. And so what our plugin does effectively is it enables anyone that has access to ChatGPT to look at any information from any Hedera account balance without having to go through these more technical channels like Network Explorers or Mirror Nodes. They simply can go to a familiar UI and enter some questions like, hey, what's the balance of this account for HBAR or for this specific token? Or if you want to get information about a specific NFT or fungible token on the Hedera network, you can simply ask that with natural language, right? Just like I would ask you or you would ask me. And you can even take that a step further. You can ask about general network information, right? Like how many transactions is Hedera doing per second right now? Or how many NFTs have been minted on Hedera over the past day? Or two or three or five? So, again, as an initial step, this is a very exciting integration because it shows what is possible, right? We've gone from this world where crypto is only for developers, and you have to know these things like Network Explorers and so on, to you can simply ask it in English. And so I do think there's still a lot more potential that we can explore not only with this integration, but future use cases that we can see that are tangible. For example, how can we enable developers to write blockchain enabled applications just with natural language? And how can we enable analytics of transaction history and on chain data? Because with Blockchains we have this wealth of data and information and these huge decentralized databases. But how can we analyze and get insights from that, right? Whether it's for maybe classifying things that have happened in the past or maybe for predicting certain things or just getting some valuable insights from that. So I'm just very excited about where this can go.
Matt Zahab
So true. Again, I wish I knew how to code. I mean, the onus is on me. I could still take the time right now, but I wish I learned when I was younger. But what point I'm trying to get at is imagine being like you. Imagine being a developer and then having ChatGPT come along. Like, for me, what do I use it for? I use it for writing, I use it for marketing related stuff, some copy, some creative, fun stuff as well, scratching personal itches. But I don't have the skill set to use it on the technical side, which is I feel like that's where you really get your 10 and 100 x value out of that. So it's pretty bananas. But one thing I'd love to talk about, Ed, is your guys. I don't know if this is a partnership or not, but the Dropcc micro payment solution built on Hedera. And this is for FedNow. And FedNow is the instant payment service developed by the one and only Federal Reserve, which is pretty frigging bananas. How exactly did all this go down and Dropcc? I feel like it was a no brainer for them to choose to build on Hedera.
Ed Marquez
Absolutely. So Drop has been around the Hedera ecosystem for many months, I would say probably a couple of years now. You know, they have built, developed and refined this micropayment solution. To me, it was news that they were actually working with the Federal Reserve. So that was really good to see. And I saw an interview of Mans Harmon, the CEO of Swirlds Labs, where he says that he feels really good that Drop and the Fed have sufficient confidence on the platform and the network that it's built on to make a public announcement of this kind. But yes, like you said, for Drop, they understood the value proposition of Hedera. They understood its stability, its technology, the ability to enable new use cases when it comes to micro payments, supply chain, decentralized identity, all of that. And they built something sufficiently robust and solid to the point that it can be listed as a possible service provider for the Federal Reserve going forward. So definitely exciting to see that.
Matt Zahab
Does that, again, my apologies for the ignorance here. I'm Canadian and not American. One thing that I absolutely hate is when even heck at the conference, like, you're chatting with your American friends and it's IOU money, you owe me money. In Canada, we have interact e transfer. So it's just like, Ed, what's your email? You give me your email and boom, I can send funds from my bank to your bank. No password, auto deposit clicked on. It's actually quite a treat. It's very seamless. I think if you have at least a grand in your checking account, it's free as well. It's honestly a really good solution. In the States, you guys got, like, the Venmo and the Zelle and the Cash app and all that. Do people use the FedNow app. Is it common? Is it picking up steam? Can you give me any download on it?
Ed Marquez
From what I understand, the FedNow app is supposed to enable instant micro payments and in-payment solutions for institutions. Initially, at least, that's what I know. I don't see an immediate future where I would be sending my friends money through FedNow. I probably will continue to use Venmo and PayPal and some of the other ones.
Matt Zahab
But down the road, you never know. And, I mean, it's a darn good domain, too. I don't know what's the whole marketing aspect about turning things into verbs? Like, can you zell me? Can you Venmo me? That's used as a verb now. It's cool, but can you FedNow me? It still sounds a little too corporate.
Ed Marquez
Absolutely. I think so. But yeah, there could be a future where maybe FedNow. Through CBDC, Central Bank, Digital Currencies, perhaps they make that transition to target retail users and maybe we'll see a different name. Maybe, like fetly or something. Fentley? Something that is, like you said, more consumer oriented would be good.
Matt Zahab
Yeah, more Verbie, more fun, more cool. The last partnership that you guys absolutely, guys, seems like you guys have a new one every three days, but you guys partnered with Hyundai Order Group, which, again, we all know Hyundai, they're absolutely massive. And they choose to integrate with Hedera into their supply chain carbon emission monitoring system. Again, this is so friggin cool. This is what we need in crypto. We need sort of non crazy, forward facing consumer stuff that can actually move the needle. We need to go B2B. This is absolutely massive. I'd love if you could tell me a little bit more about this partnership and how they are using Hedera to monitor their carbon emission monitoring system.
Ed Marquez
Yeah, sure thing. So this was a partnership. I believe the parties involved are Hyundai, like you said. Kia was also in that, and Genesis. So three basically auto brands working with Hedera and the HBAR Foundation you know, to develop this solution to bring more traceability and also transparent accounting practices to how these carbon emissions are tracked. I believe they're using a solution called the Guardian on Hedera that is like a workflow policy engine for tracking carbon offsets throughout their entire lifecycle, right? From the creation of that carbon offset or carbon credit to, I guess, change of hands and the purchasing of those assets as well. So very exciting to see those enterprise use cases coming on board. And I think this is the key to reveal the value that DLTs and crypto can provide to the world. Right? Because what we saw, for instance, for AI, is that ChatGPT made it obvious how this technology brings value. And so for crypto, what we have seen is we've been stuck in this retail speculation for a long time. But when you start seeing enterprises and use cases and developers come on board and build these things that enterprises and individuals can use, that's when it becomes clear that it's a fundamentally important and enabling technology that we can use for many things.
Matt Zahab
Yeah, well said. Ed this has been a treat. A couple more questions, man, and then we will wrap up another thing that you guys always seem to do, and I don't know how it seems like every two days when I log on to Twitter and on the right hand side of my computer. I don't even really look at this on my phone, but on my computer, you always have the what's happening? What's trending? #HBAR is trending all the time. How does your marketing team pull this off? Are you guys paying people to put #HBAR? How does it work? You got to give me the secret sauce here. Just literally every two days, HBAR is trending. How does this happen?
Ed Marquez
I see the same thing and ask myself the same thing. We do have an amazing marketing team you know shout out to a couple of our social media managers, Oliver on the Swirlds Lab side and also SEPSI in the side of the foundation, or Rufus. And these guys are always monitoring what's happening in the community. They're always putting out the latest news that we know about that we can share. But to be honest, a lot of the credit should go to the community itself. We have a killer community, always great attitude, tons of respect for other networks, for new people that may come into our ecosystem. And so, really, they are the ones doing all the work and sharing the word of the new integrations, the value that Hedera and HBAR can provide. And so I think that's what definitely propels us to get that additional visibility with the trending algorithm of Twitter.
Matt Zahab
Yeah, people want to talk about it. That's awesome. And lastly, we got to do our last and final segment of the show. It's called the hot take factory. You and I jump in, we put our shit kicking boots on. We get a little spicy, get a little hot. Let a couple hot takes fly before you go Ed. It doesn't have to be crypto related. Can be health, wealth, happiness, AI, space, aliens. Pretty trendy right now. UFOs, anything hot and spicy, we'd love to hear it before you go.
Ed Marquez
Man I think I'm going to go back to the way we opened sort of the food system in the US. I don't want to be too controversial here, but the fact that you have to be so deliberate and intentional and research so much about good stuff to eat, it's wild, right? It shouldn't be this hard to eat healthy. But I can understand how where we have these economies of scale and so many things that are processed and we only think about efficiency, we don't always think about the health effects and health impacts that many of these foods that we're changing may have on humans in the long term. So that's just one that really kind of is on my mind at all times.
Matt Zahab
Yeah, same with me. I mean, there's a book behind me, Deep Nutrition. It's one of my favorite books of all time. Again, very easy thesis point only eat whole foods. And that's quite simply, if it's in the ground or if it's an animal running around, that's really it, right? And then there's the absolute, the woes, the worst of all times, the enemies, like the seed oils, which not only add a couple lbs to your frame, but also have cancer esque properties in them and other big four death properties in them. It's just terrible. But again, if you and I were C suite execs at these Fortune 500 food companies, these like, Fortune 50 food companies, what do we care about shipping whole foods or do we care about profit? Right? So it's like, I get it. But you got to be switched on and you got to be cognizant enough as an end consumer to keep eating whole foods and not consuming seed oils. It's hard, though, man. It's not easy. I can't wait to get to the point where I'm wealthy enough, where I can have a private chef who's just cooking me good clean shit all day long.
Ed Marquez
That sounds like the life.
Matt Zahab
Oh, come on. Where's the sign up sheet for that?
Ed Marquez
Yes, sir. What about you? Do you have any hot takes?
Matt Zahab
Oh, I got a bunch. I mean, it depends how much time we have. We are running short for time. I'll do the UFO one. I do think that there's life on other planets, but all this recent UFO stuff, I can't see with how advanced we are, technologically speaking. I can't see how the US doesn't have some crazy next generation flight and physics machines, UFOs, whatever you want to call them, but just things that defy traditional paths of flight. I think there's bananas weapon systems that have already been developed, and they got to fly them somewhere, right? And again, I'm not some conspiracy guy, but why are most of these UFO sightings happening within the exact same spot? Why are there very few sightings in Europe or other parts of the world? They're all happening in the same backyard? Pretty much.
Ed Marquez
Yeah, I'm with you on that one, man. Yeah, I was having this conversation with a colleague the other day, and to me, these are just advanced weapon systems or aircraft programs. Because if you think about it, the latest generation jets that are flying today, that stuff was designed and manufactured, made in the 80s and 90s, so if you think about the things that they must be testing and trying out today, it's probably mind blowing. And also the fact that it's always a few sightings and the crappy videos. It's never something verified by masses of people and credible sources. That's also another one that kind of makes me more skeptic on actual intelligent life coming into our atmosphere.
Matt Zahab
But just from the consumer side of things, imagine if those flights actually work, where now you can board a plane. It literally goes up like a UFO, it rises like a helicopter and just boom. And then rips at the speed of light right to your destination. A 30 minutes flight from New York to London, and there's no bullshit on the runway, no taxi, and no lining up, no nothing. No waiting. It's just boom, and that'd be incredible. But there's a lot of all those industries, so crazy times. Ed, I've had an absolute treat with you, man. This has been a really fun episode. Learned a ton as well. Really appreciate you coming on. Before you go, can you please let our listeners know where they can find you and Hedera and I guess the one and only Swirlds Labs as well, online and on socials, where can our listeners find you for all those spots?
Ed Marquez
Sounds great. So the best place to be part of the community, if you're interested about just hearing the latest news and all that, is Twitter, you'll find us there at @hedera. You can find me on Twitter as well. I would prefer if you follow the Hedera network itself, but I'm also always putting out content for developers. My handle is @ed__marquez, and also on LinkedIn happy to connect if you have any professionally related inquiries or questions regarding DLTs or model based design or any other kind of nerdy stuff that I can help with. And then if you're a developer looking to become part of our developer community and hear from others and see what applications are being developed and all that, definitely check out our Discord. That one you can check out or find on our Hedera website. So if you just go hedera.com/discord, it'll put you there, but you know, feel free to get in touch. It was my pleasure being here as well Matt had a blast talking to you and sharing with your community. So thank you so much for having me.
Matt Zahab
Folks what an episode with Ed Marquez, Developer Relations Engineer for Hedera at Swirlds Labs. Ed absolutely came in hot. We love to see it. Tons of knowledge bombs, some incredible points. Huge shout out to Ed and the Hedera team for making this happen. If you guys enjoyed this one, and I hope you did, please do subscribe. It would mean the world to my listeners, to my team and I excuse me. You guys are the listeners? Wow. Wakey. I got to wake up today. Back to the team. Love you guys. Thank you so much for everything. Literally could not be here without you. You guys are the GOATs. Justas, my amazing sound editor. Appreciate you as always, my man. And back to listeners. Love you guys. Keep on growing those bags and keep on staying healthy, wealthy and happy. Bye for now and we'll talk soon.
---