Does the Cannabis Industry Really Use Crypto?
A quick research suggests that possibly no more than 100 to 200 U.S.-based cannabis retailers (if at all) officially accept cryptocurrencies. If banks become more friendly towards cannabis companies, it might be another obstacle for crypto adoption.
Despite the wave of cannabis legalization across U.S. states and several countries, banks are still reluctant to bank cannabis businesses due to their perceived regulatory riskiness. As a result, the "cannabusiness" is effectively a cash-only business.
Perhaps unsurprisingly, many bitcoin enthusiasts believe that their "magic internet money" provides the ideal solution but can cryptocurrency really solve the cannabis industry's banking problem?
"Green" Bitcoin banking?
During the early years of bitcoin, proponents suggested that the digital currency could be used to solve the legal cannabis industry's banking problems. By adopting the decentralized digital currency as a payment method, cannabis businesses could accept digital payments and would not be reliant on cash-only transactions, which pose risks for the businesses and their employees.
Unfortunately, robberies of cannabis dispensaries are not uncommon because criminals are aware of the fact that many of these retailers operate primarily on a cash-only basis. Bitcoin and other cryptocurrencies could help to reduce the cash-reliance by enabling customers to pay using digital currency instead.
Jeffrey Zucker, a co-founder of cannabis strategy firm Green Lion Partners, told CNBC that only being able to accept cash as a cannabis business is an "unnecessary risk" that could be avoided by adopting cryptocurrencies as a payment method.
Aside from reducing the risk of running a cash-only business, cryptocurrencies can also lower transaction costs, eliminate credit card chargeback fraud, and provide retailers with access to a new customer base. However, none of these reasons have been convincing enough for the cannabis industry to adopt cryptocurrency payments on a large scale.
The anecdotal evidence of dispensaries accepting bitcoin that can be found in crypto media may suggest that crypto banking is common in the cannabusiness but that is not the case.
While there is no publicly available database covering how many cannabis companies are accepting cryptocurrencies, a quick research suggests that possibly no more than 100 to 200 U.S.-based cannabis retailers (if at all) officially accept cryptocurrencies as a payment method. Given that there are over 3,200 licensed cannabis retailers in the U.S., we can say that a maximum of around 5% are embracing crypto, although that number is likely smaller.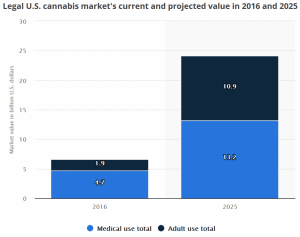 What about the cannabis coins?
Interestingly, a number of "cannabis coins" have been around since the early days of the altcoin market. CannabisCoin, DopeCoin, HempCoin, and PotCoin were all launched in 2014 but despite having been around for half a decade none of the cannabusiness-focused altcoins have been able to gain widespread adoption in the legal cannabis industry.
The top five currently available cannabis coins (PotCoin, DopeCoin, HempCoin, Tokes, and CannabisCoin) have a combined market capitalization of less than USD 5 million, which shows that cannabis coins have (so far) failed to succeed in banking the cannabusiness.
Cryptonews.com reached out to Gabriel Allred, Chief Communications Officer at Tokes Platform, to find out why cannabis coins have not managed to become a popular banking alternative for cannabis retailers.
"The largest issue preventing a lack of adoption is the absence of merchant ready tools for cryptocurrency within retail establishments. Crypto nerds know how to transact mobile-to-mobile with bitcoin (or cannabis coins for that matter), but it's insufficient to expect a merchant to load up a desktop or mobile wallet and ask them to accept cryptocurrency. Conventional point-of-sale providers aren't supporting it, so why are they going to adopt if it adds an extra step to their already arduous business practice?" he stated.
Why is the "cannabusiness" not embracing crypto (yet)?
The reasons for the cannabis industry not embracing cryptocurrencies yet are effectively the same as why retailers, in general, have not adopted cryptocurrencies as much as the crypto community had hoped.
The price volatility of accepting cryptocurrencies as a payment method remains a major turn-off, especially for businesses that do not have company bank accounts. Most crypto payment services convert digital currency into fiat upon sale and then transfers the funds to the retailer's bank account. For many cannabusiness that is not an option, which means they would have to accept crypto outright and hold it, which makes a business' cash flow management more difficult.
Regulations are the other issues. Depending on their jurisdiction, accept digital currencies could draw more regulatory security to cannabis businesses as in many places cryptocurrencies still operate in a regulatory grey area. Cannabis businesses already have enough paperwork to deal with to comply with the law. Adding more is not very appealing for cannabis companies.
Another reason why bitcoin adoption among cannabis vendors has been lower than some may accept is that cryptocurrency use - as a spending currency - remains very low compared to mainstream payment methods. It is no secret that most crypto "users" look at cryptocurrencies as investment assets and prefer to HODL or trade them than to use them to make in-store purchases.
Additionally, as DopeCoin founder Adam Howell pointed out, cryptocurrency is not yet consumer-friendly enough to function as a viable alternative to legacy payment options.
"The world is not ready to pay in digital currency on a mass scale. The technology is too new and does not provide the average consumer with enough benefits to want to use a digital currency over traditional cash or credit card," he told Cryptonews.com in an email.
Finally, as the legal cannabis industry continues to grow and the wave of legalization continues from state to state (and across the globe), banks will likely become more and more open to banking cannabis companies. In that case, there would no longer be a need for cannabis businesses to bank with cryptocurrency.
DopeCoin's Howell also shares this view. He told Cryptonews.com: "In five years there has not been a single currency that has achieved [the goal of banking the cannabusiness] and as marijuana becomes more legalized you will see traditional banks open their doors. Any cryptocurrency still pretending to be a banking solution for the cannabis industry is either delusional or still holding onto a business plan from five years ago that simply does not work."
Howell informed Cryptonews.com that DopeCoin is in the process of rebranding to DigiGreen as part of its move away from a strict cannabis industry focus. Instead, DigiGreen will provide a payment gateway and advertising technology to a range of blacklisted industries, such as legal cannabis, crypto, vape/e-cig, and gambling, among others.
Cryptocurrency has not managed to solve the legal cannabis industry's banking problem and while there are a number of crypto entrepreneurs that are trying to marry crypto and cannabis, it seems that, for the time being, this seemingly perfect fit will not come to flourish on a large scale.
---