Daniel Paez, Executive Producer at Gods Unchained, on Web3 Gaming, Building AAA Games, and Publishing Games | Ep. 254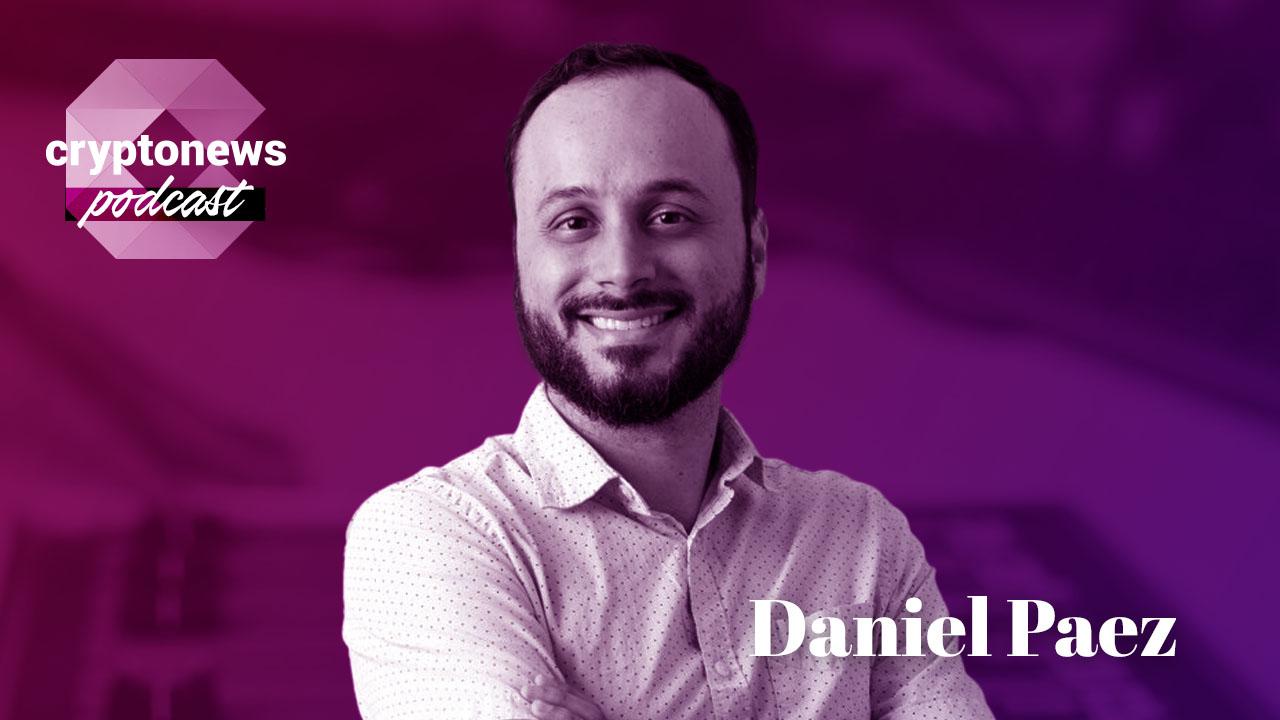 In an exclusive interview with cryptonews.com, Daniel Paez, Executive Producer at Gods Unchained, on the future of web3 gaming, the difference between making games vs. publishing games, and empowering creators.
About Daniel Paez
Daniel Paez is Executive Producer at Immutable Game's flagship trading card game, Gods Unchained. As a developer of data-driven business strategies, Daniel focuses on bridging the gap between insights from a variety of players in the industry. These include linking information from business intelligence teams to key decision-makers, product designers to commercial strategists, and brand management heads to social media influencers. Daniel uses a scientific approach to challenge assumptions and then to build a data-supported knowledge base that influences business organizations, from the bottom up. Before joining Immutable, Daniel worked as the Director of Monetization for both Worldspark Studios and Big Time Studios. He also worked as the Senior Manager of Commercial Finance and Operations at Activision, and previously held several positions at gaming company, Blizzard Entertainment, most recently as Senior Manager of Publishing Intelligence.
Daniel Paez gave a wide-ranging exclusive interview which you can see below, and we are happy for you to use it for publication, provided there is a credit to www.cryptonews.com.
Highlights Of The Interview
Daniel's move from web2 gaming giants (Blizzard & Activision) to web3 gaming
The future of web3 gaming — utility, community, and most importantly, fun
The difference between making games vs. publishing games
Empowering creators by providing them the freedom to create videos of their choice
Gods Unchained has been released on the Epic Games Store
Full Transcript Of The Interview
Matt Zahab
Ladies and gentlemen, welcome back to the Cryptonews Podcast. We are buzzing as always, and I'm super pumped to have today's guest on the show. Coming in hot from Sydney, Australia, today we have Daniel Paez, Executive Producer at Immutable Games flagship trading card game, and that is Gods Unchained. He is a developer of data driven business strategies focusing on bridging the gap between insights from a variety of players in the industry, including linking information from business intelligence teams to key decision makers, all the way down to product designers, commercial strategist. You name it, he's done it. Daniel worked as the Director of Monetization for both Worldspark Studios and Big Time Studios before joining Immutable, and even worked at some of the biggest dogs in the space, like Activision and Blizzard Entertainment. Super pumped to have you on. Welcome to the show, my friend. Daniel Paez how are you?
Daniel Paez
Hey, Matt. Doing well. Thanks for having me on.
Matt Zahab
Pumped to have you on, man. You are 12 hours ahead of me. It's always super weird doing interviews. Perhaps weird is the wrong word, but it's always a bit of a puts your mind in a pretzel little when I'm waking up, throwing a quick coffee down the chute, doing a little couple of slaps in the face, getting ready to go for a 07:00 a.m. Podcast and you're 12 hours ahead. Always pretty crazy. One thing I'd love to start with is your journey into crypto. You worked at the biggest game studios in the world, decided to take that leap of faith over to Web3. Before we get into all the nitty gritty, I'd love if you could give our listeners and myself a quick little TLDR about your move from Web2 to Web3 gaming.
Daniel Paez
Yeah, that's a great question. I love to because I've had many questions come up from developers in traditional gaming asking about blockchain Web3 games and kind of the move there. Definitely share my own personal experiences. So I did get started in gaming at Blizzard, and I worked across all the games, so it wasn't, like franchise specific. I worked World of Warcraft, Overwatch, Arsenal, some of the smaller ones, like Heroes of the Storm, Diablo, things like that, and ended up making a transition over to Activision, which is essentially 99% Call of Duty. And it was actually less than a year after the transition that I started realizing that I was actually starting to get bored. And I started seeing this burgeoning industry of blockchain gaming. And I wasn't too into blockchain back then or anything crypto. I'd follow along a couple of things. I talked to a few people who were Bitcoin maxis and things like that. And as I started looking a bit deeper, I saw a space where there were a lot of people jumping in who had never worked on games or made games before. A lot of people jumping in who never actually worked with economics before either, yet they were putting together some really interesting things and tackling interesting challenges. And I remember today I was just a very boring day working from home Activision. My wife looks at me, she's like, you look really bored. I'm like, yeah, I'm really bored. And I told her that there's this interesting area called blockchain gaming where right now nobody knows what to do, and I don't know what to do, but I think within a year, I might know about 10% of what we should do. And that'll put me amongst the top 50 people in the world of experts. Right? You just do a little bit more than everyone else, and all of a sudden you're considered an expert. Yeah. And I ended up taking the plunge, going straight to big time. That was really interesting because the first six months felt like six years not only got to kind of got to design their economy, but also I got to essentially lead their team that built their NFT marketplace, which is the first time I ever worked with an NFT marketplace before. And I had to build one up from the ground with a small team. Huge lessons learned. And I just got hooked after that. I got hooked for the challenges and the different designs and things that you never had to think about with traditional gaming. And now it's at the forefront with blockchain gaming. And, yeah, ever since then I kind of been hooked there. Designed as well. Worldspark took a few side consulting jobs just because I was actually literally hooked on the challenges that blockchain brings. And then now with Immutable, not only in charge of Gods Unchained, but muscle running the revenue and economy team for our other four titles that we're developing. So it does become kind of a drug, just kind of hunting each challenge and designing really cool things that haven't been done before.
Matt Zahab
Firstly, thank you for that. I love hearing the passion in your voice when you speak about that on the hump side of things and jumping from Web2 to Web3. You talked about how addicting it was and how six months felt like six years. The amount of terms and lingo that are in the Web3 space, it's absolutely bonkers. What were some of the areas that really got you going at the beginning or on the flip side that you were like, what the hell is this? What areas had a crazy learning curve? Give me some specifics about your actual jump and more specifically, some of the easiest and hardest parts of the learning curve into Web3.
Daniel Paez
Yeah, I think probably one of the biggest challenges and what we still deal with today is in traditional gaming, the way you segment audiences and understand your player motivations, it's pretty well developed, right? There are different takes on it, but in the end, they're all pretty well developed. A lot of data backing them and a lot of case studies how to use them. And then when you jump to like blockchain and Web3 gaming. You have these new audiences of folks who are actually heavily into the crypto and NFT space, and they have different sets of motivations, right? And they have different things that drive them. Some things are overlapping with traditional gamers. Many of them are traditional gamers as well. And some things are brand new in the Web3 space. And so even to this day, we're still experimenting and understanding how do you actually build fun, intriguing games for all these audiences and balance everything, so it just feels good for everybody, right? And that's a super interesting challenge that we still take on. And that's probably one of the more addicting pieces of the space. The other really dictating pieces, our backgrounds in economics. And so this element of managing demand and supply looked at elasticity player behaviors, push or serve behaviors. What is the impact of market prices and volume on what players are willing to engage and spend on in the game is super interesting. I really enjoy that. And in terms of the terms, it just felt bonkers. Obviously, I got into the space and started learning more about all the different ERCs, right? I started looking at some other games and I'm like, wait, there are also SFTs. Okay, Semi Fungible Token. Let me start wrapping my head around this one. Right? And then after I moved into Immutable, and since Immutable is building so much of the underlying tech for all these games, you start picking up all these other crazy elements, from custodial systems to relayers to internal swaps that do things in the background for users, and you start picking up all this technical know how. They're like, oh, yeah, I actually never really thought about that. And now when you go discuss, I want players to be able to do like tap, and they bought an NFT. You look at all those ten layers of tech behind that just to allow that to happen. So that's kind of really been bonkers in terms of understanding how quickly the tech is evolving and changing, like, every couple of months.
Matt Zahab
It truly does never end. Before we get into Gods Unchained, and obviously that's the bread and butter of the show here. I've read and listened to your stuff. It's part of the job being a Pod host. One of the things that you kept sort of bringing up that I found incredibly intriguing was elevating the player experience. This seems like this is a Daniel Paez ethos or like Guiding Star kind of thing. You hammered this home point so many times. You can explain it much better than I can. I'd love if you could go on a tangent about elevating the player experience and why this is so important to onboarding the masses for Web3 gaming.
Daniel Paez
Yeah, absolutely. So it's no secret now that this first generation of Web3 and blockchain games, a majority of the games were more kind of gamified DeFi, right? And so, ultimately, the player motivations and why people come in was very simple. They wanted the tokens, right? They wanted a chance at some very high value, rare and scarce NFTs. However, it becomes a very transactional relationship, right? And there's a clear expectation of what they want that you need to deliver. And you can kind of wrap it in a couple of actions they take, but in the end, it is just down to that transactional relationship. While when you look at kind of like the deeper player experience now it becomes a situation of, I am offering you a good or a service, right? I'm offering you hours of immersive experience. I am offering you the ability to, in new ways, dig into mastery of a game, autonomy within the game. And you start touching on these more core psychological motivations that are key to the best and most popular games today, as well as the games that maybe didn't hit the critical mass with the masses, but they have actually garnered a really hardcore group of fans. And when you start mixing the two. Now you start creating a situation where people want to come play and transact with you on a goods and services level, right? It's like, I really want to play this content. I really want to feel like I'm leveling up or I'm progressing. I want to feel really important. And you kind of mix together with this idea of using Gods Unchained as an example of you're having all these experiences. You're getting better, you're exploring new decks, you're exploring playing with different gods and domains. At the same time, you're building up your collection and you see that collection growing. What we've learned is most people actually want to grow a collection. They're not there to quickly flip NFTs they're there to actually feel that they are making their mark within the game. They are deeply invested in the game, both emotionally and financially. And the game actually has a significantly more important part within their headspace and their day to day. And you can't really achieve a healthy level of that when the player experience sucks because then it becomes more of a chore and becomes a job. But when you have a really good experience, and a fun one at that, combined with this element of like, they're getting deeper and deeper ingrained into the ecosystem of game. Now you have a proper community versus just transactional relationships.
Matt Zahab
So true there. You brought up another point, and this is a bit of a side chain point here, but I need you to jump into this as I was fortunate enough to work with a couple of teams who were building and creating massive games. I guess the correct word might be flabbergasted. I was beyond in awe in regards to how much work and effort and how long it takes to build an incredible game. Most of the people at home have no clue how long it takes for a Call of Duty or a Grand Theft Auto or a Gods Unchained or anything that is highly intensive with graphics and community and storyline and plot and narrative and characters and everything. Can you just tell the listeners very quickly how much of a nightmare it is to build a AAA game? Because I feel like 99% of the population has absolutely zero clue. It's bananas. It's wild.
Daniel Paez
Yeah. It's harder than making a movie. Having worked in the California game industry, and you have a lot of people who work both in the movie industry as well as the video game industry, making a game with a studio of like, 100 plus people is harder than making a movie. And it's a perfect example. Diablo Four came out very recently, right? I remember back when I worked at Blizzard, we were discussing when's Diablo IV and people are like, oh, don't ask about that. It came out ten years after Diablo III, and even StarCraft II, from StarCraft I to StarCraft II, took almost ten years as well. And so Blizzard, obviously, is infamous for taking a long time between their titles. Activision for Call of Duty, they actually have a really good system where they have three giant studios working on Call of Duty simultaneously. And so, each studio essentially has a three year turnover time to deliver their next Call of Duty, right? Of course, they still run into issues. Sometimes they pull one studio into the other to help deliver and hit the dates. Because Activision things, especially with Call of Duty, is that dates do not slip. Right? We're talking about a billion plus franchise just for mainline Call of Duty, not even considering Call of Duty mobile. And so it's a massive amount of work, and it's not just the amount of work you need to do to get the game out in a state where players are really happy with you, which is almost the exception these days of big studios, it's actually really hard to get that many people working well together. When you start seeing delays, most of the time it's not even so much. Why can't you animate this character? Why can't you get the art in the game? No, it's just things break down and all of a sudden the progression system won't work with the in game matches or the reward system is broken and we can't actually give people rewards for triggering certain events or like matchmaking is not working very well and you have these systems talking to each other as you get to AAA level. And for me, AAA is essentially when the studio can dedicate entire specialized teams, right? Versus people who do like wear multiple hats. Then it gets even harder because everything's just super siloed off. So it is really hard to make a good game and everyone who's listening plays game, knows how many failed launches and failed attempts and how many times games launch and it takes them a few months to actually fix everything. Cyberpunk is a great example of something that had tons and tons of resources and an amazing studio behind it. And it launched and the launch was not good. Right? It came out super buggy with so many issues and it took them a long time to kind of fix those things. Yeah, making games is not as fun as playing games, I'll say for sure.
Matt Zahab
That was very well said. That's a great quote too. Building games is harder than making movies and I tend to agree with you in that regard. The other thing too is the chance of success. It's like opening a restaurant. You almost know you're getting into a failed business nine times out of ten. And furthermore, there's almost no reason why a game like Candy Crush that really isn't that special or that different than its perhaps competitors, you know, back in the day can just take off and blow up for no reason. Right? And especially now with streaming, that's another brand new phenomenon of gaming where one big streamer randomly stumbles on your game on Steam or something like the Epic Store, which you guys, congratulations, just got into, and your game now goes from undiscovered to top ten of the day. There's so many different triggers that can happen, whereas movies, you sort of know if it's going to be good or not.
Daniel Paez
Absolutely. I would say we're talking about making games, right? That's half of the puzzle. The other half is publishing the games, right? And what we've seen is that many times very seasoned developers will go off and start up their own startup studios, start making new games, and the games look great, and then they realize they have no idea how to get the game to the hands of players, right? How to break through the noise and things like that. And even when you look at the really big ones, like Activision, Blizzard, King, EA's, etcetera, most of the money and effort they put into launching a game and marketing it and getting the hands of players is actually wasted. A lot of it doesn't have an impact on whether people buy it or not. However, for them it's like they'd rather waste a lot of these funds and get a couple of things right that are enough to push it over the edge than risk the entire billion dollar year. And so it's actually really hard to properly publish a game.
Matt Zahab
Yeah, I couldn't even imagine. Let's jump right into Gods Unchained here for a second before we go through everything and there's tons to go through in unfortunately too short of an amount of time. Dan, I'd love if you could give our listeners a quick primer on what Gods Unchained is, how you and the team at Immutable are working together, and give us a quick little TLDR of some recent announcements and then we'll jump into them as we see fit.
Daniel Paez
Yeah, sounds good. So Gods Unchained is a competitive card game. So you go into a match against another player, you bring 30 cards with you, cards that you pick. And your goal is to damage your opponent enough to win the game. Obviously it sounds super simple, but currently Gods Unchained has over 1700 cards. And so you're talking about lots of different types of combinations of cards you can bring with you to the match. And if anyone has played like Magic Gathering or Hearthstone, you get a really good sense of what type of matches we're talking about. Gods Unchained was actually our game director, came from Magic Gathering Arena, worked at Wizard of the Coast. And so there's some really good influences there from traditional gaming. I credit that to why Gods Unchained is one of the few remaining first generation of Web3 games still around. It's very much focused on that player experience. The difference with Gods Unchained and your traditional games is now that your cards are actually NFTs and you can trade them with other users, this is massive. So I worked at Hearthstone back in the day, and what would happen is we have to sell more cards to players, and so we launch a new expansion. And after a few rounds, you realize that people don't really want to buy the expansions anymore because they already have the cards they need to win. And so you have to introduce like a set rotation and you say, okay, great, you can't use your old cards anymore. You can only use these new cards, so you have to buy them. Here we'll let you destroy your old cards and craft some new cards. And if I ever wanted to exchange cards with someone else instead of buying packs, I couldn't do that. With Gods Unchained every card is an NFT. And so what we have are a lot of players who would come in, they'll try out a deck, then they'll research that deck a little bit more, say, oh, actually, I'm going to switch out these three cards for these other three cards. And they'll go in the marketplace and they'll buy those three cards from another player, swap them out they sell what they don't want, or they'll keep it for their collection. So, like that player to player trading that's happening right now is actually more than $100 million a year for Gods Unchained just in player to player trading of cards. So it's massive for the ecosystem, the community as a whole. Yeah, it's something crazy. This is technically stone beta. Our community knows we're currently launching lots of these fundamental systems that we're missing for the game, but it's already at a place where people really enjoy playing the game. They look forward to the next expansion. They look forward to the next game modes, and they're always discussing kind of the next meta and things like that. So that's really a fun thing about Gods Unchained. It's also a unique IP that we created ourselves and that we actually are going to be building out. There will be more awesome announcements later this year regarding the IP. In terms of our kind of recent launches and announcements. You mentioned one Epic Game Store. So we did launch an Epic Game Store about a month ago that was really cool because as everyone knows, Steam isn't the most friendly to blockchain games. However, since Gods Unchained right now is PC only, discoverability is always a challenge for PC only titles that are not on Steam. And Epic actually said, hey, guys, we'd love for you to essentially launch here. We're going to create a new self publishing tool. It's going to make it a lot easier for you guys to upload your bills and manage your game on our platform. And all you have to do is add a tag here that, hey, this is a blockchain game, it has NFTs and you're good to go, fantastic. This is wonderful. So we did that. We saw a massive spike in our users and it's actually opened up a new way for us to start reaching out to new players.
Matt Zahab
Epic of two years ago, they would have never done that. And again, obviously you guys are an outlier. You guys are one of the creme de la creme games of the Web3 space. But I could be wrong here, Dan, but I'm almost positive three years ago, there's no way Epic would have been like, hey, come on in, throw a blockchain tag and we'll help onboard you. I feel like they're sort of opening up to the whole blockchain gaming thing.
Daniel Paez
Yeah, I think not even 3 years ago. I mean, last year we were already looking, what would it take to get on Epic? And just the amount of work was too much and there was too much uncertainty. I think what's been helping a lot recently is a lot more like legal clarification around blockchain. Obviously the US is probably the trickiest place regarding regulations and legal clarity. But when we look at places in Europe, we look at places in Asia, places in the Middle East, they're ahead of the curve here and they're providing a lot of guidance and clarity for us. And I think Epic is looking for ways to get an edge on Steam and this could actually be one of the better ways, right?
Matt Zahab
Very true. Folks and Dan, we got to take a quick break and give a huge shout out to our sponsor of the show, PrimeXBT. And when we get back, we are going to keep talking about some recent roadmap updates for Gods Unchanged. But until then, huge shout out to PrimeXBT longtime sponsors of the show and longtime friends of cryptonews.com. PrimeXBT offers a robust trading system for both beginners and professional traders. It doesn't matter if you're a rookie or a vet, you can easily design and customize your layouts and widgets to best fit your trading style. PrimeXBT is also running an exclusive promotion for listeners of the Cryptonews Podcast. After making your first deposit, you get 50%, that is 50% of that deposit credited to your account that can be used as additional collateral to positions. The promo code is CRYPTONEWS50 all one word to receive 50% of your deposit credited to your trading account. Again, that is CRYPTONEWS50 to receive 50% bonus to your trading accounts. And now back to the show with Dan. Dan, this is perfect timing for us as we are recording on the first but I believe you guys have the new pack opening experience launching Monday, August 1st. And this is something that I absolutely love. Big on marketing, big on anything experiential, I feel like this often gets brushed under the rug. The importance of what it feels like when someone buys a pack and opens it. It's like a mini Christmas or a mini Hanukkah every single time you get to open that. We absolutely love to see that. Tell us more about the new pack opening experience and why you and the team decided to change this up a little.
Daniel Paez
Yeah, absolutely. We launched it about what time was that? Nine, probably say about 9 hours ago. And, well, everyone was sleeping in the west, but we're here in Australia and this is actually part of a long running series of quality of life changes we're introducing to Gods Unchained. And so the pack opening experience from before was really essentially a streamed video. It was not great for countries with low connectivity and it actually made it really hard for us to introduce new types of NFTs that we can sell to players and that players can actually earn in the game and then open up because it was just a very rigid old system. So this one, besides looking a lot nicer, a lot crisper, allowing players to navigate what packs they have, it also allows us to introduce things like cosmetics in there, it allows us to run it on mobile a lot better, which the previous one had issues with. And so this is one quality of life thing. It comes on the heel of us also releasing the new deck builder for the game, which was like a massive improvement in the experience of people actually navigating their collections of cards, putting together new decks for depending on how they want to play, what domains they're going to use, which was really good. What happens, a lot of this work just kind of ends up kind of like almost stuck in the closet, right? And you start pulling these down and say, hey, actually, this will be great for players right now. And we're going to start creating lots and lots of frequent updates for users so that they'll start seeing the game get polished quickly over time, as opposed to like feeling very stale for like twelve months. All of a sudden, huge thing just kind of drops. It's better to get in the hands of the players. We get immediate feedback from them. And does deck builder is a great example. We actually made multiple updates within the first two weeks of launching the Deck Builder according to our community feedback. And now with the pack opening experience, we're doing the same thing. We've already collated a bunch of feedback and we're planning to make these iterations and improvements right off the back of the feedback from the community.
Matt Zahab
I'd love to also jump into Gods. Obviously that is the Token of Gods Unchained. And that is Gods new staking dashboard. One stop shop to manage all of your Gods token, track your rewards, so on and so forth. I'd love if you could talk about just the staking aspect of Gods as well. staking has sort of seen a little jump over the last couple of weeks. We've had Unibot rip, we've had a bunch of staking coins that have absolutely shot up the charts and are currently extremely trendy right now. So I'd love if you could take a quick couple of seconds and give us the TLDR on God's token and the Gods staking dashboard.
Daniel Paez
Absolutely. So right now, the Gods token, its importance comes in two things. One is staking it you essentially become almost a holder of Gods Unchained the game, and we do flow a portion of the revenue to our stakers. The other piece is the utility of the token in the game. So right now the utility is it allows you to level up your cards to a higher rarity and what we call shine level. And the higher the shine, the more valuable your card and your NFT. And so the only way to do that is by syncing Gods as well as the underlying lower level cards in order to shine them up to a higher level. However, with our next season and our next big expansion comes out in a few months, we're introducing our crafting system. And our crafting system is another way that players will be able to create new cards using old cards. And even more exciting is Hayne. Couple of weeks. I don't want to give an exact date just yet, but a couple of weeks later this month, we're launching our new game mode called Sealed. And Sealed is essentially you're given a huge array of random cards. You put your deck together and you try to win maximum seven games or three losses. The better you do, the better your rewards. The cool thing about Sealed is you need God's tokens to actually buy into the mode. And so it's our new premium mode and this is kind of a beginning point where we're going to begin to introduce more and more utility for the token within the game. And something else we're looking at expanding into after we launch Mobile later this year is I think staking is really underdesigned across the space and with games, I think we have a unique ability to confer in game benefits for stakers. So this idea of like, I just don't want you to hold a bunch of tokens so I can give you more tokens. I want people to hold tokens because they get a boost to XP game, they get additional chances for good rewards in the game based on their performance, and we start to confer much better things to players where it's like, hey, actually, maybe I don't want to just go dump tokens, I actually want to hold these. And not because it's a liquid reward, but because I'm actually going to get some really cool perks in the game. And that's kind of the direction we want to begin to take staking in.
Matt Zahab
I love that last point about staking, but I do need to play Devil's Advocate here. Present day maybe it's changed but two, three years ago when NFTs and NFT gaming really just started picking up Steam, I feel like nine out of ten users would have rather had a financial upside versus an in game upside for staking. Would you say that's still the case or do you think that's changed at all when it comes to staking and just perks that the game developer passes along to its user?
Daniel Paez
Yeah, I think the hybrid is probably the best situation here because when I look at tokens, very similar to the recent Rippling decision is I do see more of a commodity, right? And from an economics point of view I'm looking at, everyone knows about faucets of tokens, right? How you emit them, everyone knows about syncs, how you use the tokens. But I call them dams, some people call them tubs. Is this idea of where should people keep their tokens right now? Right? And for me, when I look at how God's tokens are currently designed, I think there's a lot more opportunity to create these hybrid situations of like, hey, there's more than just a financial upside to staking tokens. You actually have a lot of in game upside. And it cites this idea of we are able to reward tokens within the game to our most valuable users and they can do important stuff with them. They can hold them for special perks, they can sync them into seals so they can play for NFT rewards, they can use them up to shine up their cards. And it's this idea like the more utility and we call it both syncing utility as well as holding utility you give to the token, the more demand that token ends up becoming. And it just overall helps keep that token healthy within the ecosystem because even though it's just part of the game, same thing as the cards, maybe people aren't looking to liquidate, maybe people aren't looking to kind of flip, but it still feels really bad when you see your emotional and financial investment within the game lose value. And that's why I think for me, making sure that any asset we do create in the game has strong demand for it through multiple different outlets is one of the safer routes to go to keep these assets feeling good or feeling good to hold.
Matt Zahab
Well said. Dan, we are getting a little tight for time here. A couple more questions and we will wrap up three things that we haven't discussed that we need to get into are season two. The mobile soft launch and the new content creator program. We'll start with the latter. The content creator program. I'm such a big fan of this. I feel like this is something paramount to success. Present Day when it comes to gaming, you are not just a game, but you are a media company and you need your people and your fans to help push content out everywhere, especially with social media. All it takes is one big streamer, one big content creator, and boom, you got a little moonshot. You guys are empowering creators, giving them the freedom to create videos of their choice, giving them a boatload of rewards. Obviously this is being launched as a pilot and will be upgraded and iterated in the future. Why did you and the team do this? Obviously it seems like a great and incredible move. I'm sure it was a little more difficult than it appeared to get launched, but tell me more about the content creator program on Gods Unchained.
Daniel Paez
Yeah, absolutely. So most people who work in the game will tell you content is king, right? I think it's content not just in terms of playable content, but also content that keeps players thinking about your game even when they're not playing, right? And so I'm super bullish about especially video content and how that content could actually keep players more engaged when they come get home and they can play, right? Or they log into their phone on a bus ride home and they can play. And one thing we've been working on unlocking internally is how do you use the value of your tokens to grow a game, right? We call it the Token Growth Loop. And obviously we all know the traditional cases of like, hey, let's just give players a bunch of tokens for playing our game. However, that's not good for the token and not good for the game. Right? Because you kind of create that transactional relationship where they don't really generate value for your game, but they do bring down the value of tokens. And so for us, it's like, well, let's look at traditional gaming and we know that traditional gaming affiliate programs and content creator programs are actually really good when done right. And what we have here is the ability to actually tap into the value of our token and say, hey content creators, I want to support you to create more content about our game. And we're going to create a pilot program, we're going to tap into the value of our token to do this and we're going to take it from here. And it's this idea that we can start to create a program that essentially rewards and gamifies content creation for Gods Unchained. It's about authentic content, not your traditional sponsored content, which players can see right through many times they know it's not authentic and we're going to just take it from there. Where Edict said it's a pilot program. I think we have ten creators signed on for what we launch, but very bullish on growing the amount of content of Gods Unchained, especially on video platforms like YouTube. And I think that will be actually be the key to hitting that moonshot for the game because as you said, all you need is one video to actually go viral and you see massive upswings.
Matt Zahab
Yeah, there's so much upside, so little downside. It's an asymmetric bet that you almost have to take last couple of things. Season two mobile soft launch, both massive updates. The floor is yours. Tell us about them before we let you go today.
Daniel Paez
Yeah, absolutely. So season two is scheduled to kick off in a couple of months and that is when we have our first large expansion in over a year. And so a year ago, back in May last year, we launched our last large expansion. A lot of lessons learned from that, a lot of changes internally with the studio. And for a couple of months now, we've been working on the next huge expansion. So we're talking about I think we have 150 cards at this moment, 160 cards changes the meta completely, has new mechanics. However, what I'm probably more excited about is we're actually going to be launching it in a very different way compared to previous expansions. Before be very much like, hey, come buy tons of packs and there's different chances for different cards to come out. Now, engagement in the game is going to be a lot more important and we actually kind of set up this expansion so that has very good long term value for our users and we're not kind of creating this unfortunate supply issue that previous expansions have had. Outside of that, we're actually refreshing some other things within the game. So we call it the kickoff of season to a lot of changes are coming together with this large expansion. Following on that expansion, right on the heels of it is our Mobile Soft Launch. And Mobile Soft Launch is precisely we're getting the game to work on both Android and iPhones. Our Soft Launch is about reaching out to mainstream gamers and mainstream audiences with this really fun CCG that now you can actually own cards and trade. And the Soft launch is really testing the waters in terms of like are players engaging? Are they retaining? Are they putting lots and lots of hours into this? Are we getting good ratings on the stores so that we can begin to get this really good feedback and make adjustments on the mobile version? And so we kind of combine those two by the end of this year. It's what I've been calling that the inflection point for Gods Unchained because we're kind of taking that next step from a beta and moving towards our full 1.0 version of the game that's fully complete with many features as well as being present on multiple platforms.
Daniel Paez
I love that. Dan, thank you so much for coming on. This has been an absolute treat and you've been dropping tons of knowledge bombs, really grateful and appreciative of your time. Before we let you go, can you please let our listeners know where they can find you per personally and Gods Unchained online and on socials?
Daniel Paez
Yeah, absolutely. So definitely on Twitter @GodsUnchained our Discord channel as well. You can find everything on our website at godsunchained.com. I am very active on our Discord and I'm also a heavy lurker over some reddit, so if you post something there, I'll probably read it. But if you ever want to chat, Discord's the place to go, and I will most likely get back to you guys relatively quickly.
Matt Zahab
Amazing. Folks what an episode with Daniel Paez as Executive Producer at Immutable Games flagship trading card game, Gods unchained. Huge shout out to Dan and the team for making this happen. Dan was unreal dropping knowledge bombs left, right and center on everything gaming related. Folks if you enjoyed this one, I hope you did, please do subscribe. It would mean the world to my team and I. Speaking to the team love you guys so much. Thank you for everything. Justas my amazing sound editor appreciate you as always. And back to listeners love you guys. Keep on growing those bags and keep on staying healthy, wealthy and happy. Bye for now and we'll talk soon.
---