Veritaseum
VERI
Veritaseum
Veritaseum is a project which aims to bring extremely wealthy capital markets on the blockchain. Labeled as "the gateway to peer-to-peer capital markets," Veritaseum was founded in 2013 by entrepreneur, investor, blogger, and financial analyst Reggie Middleton.
| Market Cap | Volume 24h | Circulating Supply | Maximum Supply |
| --- | --- | --- | --- |
| $62,859,733 | $21,997.00 | 2149646.00000000 VERI | 2149646.00000000 VERI |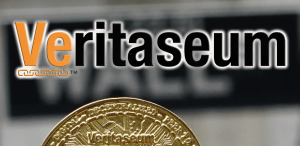 What is Veritaseum (VERI)?
Veritaseum is a blockchain-based fintech software company which delivers global access to peer-to-peer capital markets through its decentralized platform, digital asset research, and transfers.
At heart, the project seeks to level the economic playing field by creating software which enables participation in P2P capital markets without intermediates like banks, brokers, financial advisors, and other mediators. Anyone with an internet connection can sign up for these capital markets using Veritaseum.
The Difference Between Veritaseum and Veritas
Veritaseum is a software company, while Veritas (VERI; not to be confused with Veritas Mining or VeriCoin (VRC)) is a crypto token used to pay for Veritaseum's products and services.
The official ticker symbol for Veritaseum token: VERI
Token type: ERC20
Total token supply: 100 million VERI
Circulating Supply: 2,036,645 VERI
Veritas Paper - a brief introduction to Veritaseum products and services.
What Is The Veritas (VERI) Token?
The Veritas (VERI) are ERC-20 tokens issued on Ethereum blockchain. They can be stored in any Ethereum wallet (MetaMask, MyEtherWallet, Ledger Nano S, Trezor, Parity, etc.). It also implies that miners verify all VERI transactions, and token holders are protected by the advanced security of the Ethereum network.
Nevertheless, Veritaseum's website states that its products are not dependent on any particular blockchain and can be moved to different blockchains. Such a move would require some engineering efforts, but the company expects most new blockchains to be backward-compatible with most Ethereum applications.
The use case of VERI token is to redeem with Veritaseum software for advisory services, research and to gain entry into Veritaseum's autonomous financial machines, P2P value trading system, and P2P letters of credit.
The company also warns users that Veritas tokens are not an investment, but rather an essential part of the software. However, the company cannot prevent token holders from speculating on its value.
How Veritas (VERI) Works?
Veritaseum offers tools and software to participate in peer-to-peer capital markets. The platforms utility token VERI is used to purchase access to the platform's products and services, which range from asset tokenization to financial research data and even self-custody escrow services.
At the moment, the company offers both centralized and decentralized solutions.
Veritaseum's Centralized Solutions
The centralized Veritaseum's solutions are for institutions which are not yet ready to take part in decentralized capital market systems. It runs on servers that are controlled by the client organization. The centralized services include:
A digital exchange made for prime brokerages and exchanges.
Smart arbitrage system which provides cross-platform liquidity for trading digital assets.
A simple example would be an institution like Jamaican Stock Exchange, which can utilize Veritaseum's centralized solution for trading immutable digital assets like Bitcoin, Ethereum or other cryptocurrencies.
Veritaseum's Decentralized Solutions
Veritaseum's decentralized software runs on top of Ethereum blockchain. It allows individuals and organizations to trade digital assets without expensive brokerages and intermediaries.
Veritaseum's smart contracts enforce transactions on mutually agreed terms. Therefore, the agreements cannot be broken, and both parties are bound to deliver under all and any circumstances. Such use of blockchain technology enables Veritaseum's users to deal at much lower costs compared with traditional financial services.
In total, six distinct products constitute Veritaseums distributed services: VeADIR, VeRent, VeResearch, VeExposure, VeManagement, VeTokenizaton and VeAssets.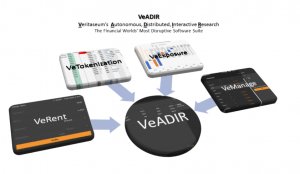 VeADIR
VeADIR stands for Veritaseum Autonomous Distributed Interactive Research. It is the core component of the platform. It gives exposure to vetted research subjects and serves opportunities to grow its asset base through positive risk-adjusted returns. For instance, if someone wants to invest in an ICO and needs comprehensive information to weigh the risks, they can submit a query via VeADIR, pay with VERI and receive the requested information from Veritaseum. Research results then are fed back into the VeADIR system, and the cycle continues. All information is transmitted in machine learning language and needs to be translated to common vernacular using smart contracts.
Also, VeADIR allows purchases based on previous research. Everyone can purchase constructed model portfolios built on the research findings.
Users can order entire research reports or choose to pay-per-query. Whenever you request information on the specific organization, VeADIR contacts it and compensates with VERI for the answers. This information exchange also works the other way around - any organization can request VeADIR to be analyzed and receive compensation in VERI, too.
At the moment, the application is still in beta. The future ambition is to make VeADIR 100% autonomous with AI, so it can handle user requests automatically instead of sending the queries to be verified by the Veritaseum team.
In order to use VeADIR you need to:
Set up a MetaMask account using your browser (Chrome, Safari or Firefox).
Choose whether you want to sign up as an individual or entity.
Pass AML/KYC verification and get verified as a real person or organization.
Obtain VERI tokens to submit queries to VeADIR.
Business and not=for-profit entity level AML/KYC now available in the VeADIR. Now businesses can sign almost as quickly as individuals. Who is YOUR favorite, fully functional DAPP!!! See https://t.co/Yr2m1GKqIU pic.twitter.com/ym4Pt4Feia

— ReggieMiddleton (@ReggieMiddleton) October 18, 2018
[
VeRent
VeRent is the platforms rent component for peer-to-peer, over-the-counter VERI token exchange. Here, exposure buyers and seekers can rent or acquire Veritas tokens if they want to use VeADIR software suite services. The platform creators stress the fact that VeRent is not an exchange nor a marketplace to buy or sell securities.
VeExposure
According to the company's website, WeExposure "offers direct access to VeADIR for users that are able to provide both VERI and Ether for an exposure." In other words, it is a unique facility made for assisting people with available VeADIR access opportunities.
VeResearch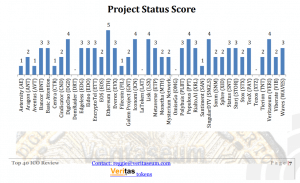 Source: Veritas.veritaseum.com
VeResearch is the platforms human-made research counterpart to VeADIR. The team has a proven track record of fundamental, forensic and macro analysis and has been studying economics and valuation of distributed systems since 2013. VeResearch offers users a chance to obtain investment models for any crypto asset analyzed by the platform. These models are meant to supplement those built by VeADIR, but interested parties can also purchase the valuations separately.
VeManagement
VeManagement is Veritaseum's portfolio management app and back-end administration tool for the VeADIR portfolio. Here, platform users can preview and manage the model portfolio made with VeResearch by signing them with their private keys.
VeTokenization
An automated system designed to create custom Veritas tokens with new assets, opportunities or exposures at VeADIR. It consists of an admin web app, asset configuration sheet, and an Ethereum registry contract.
VeAsset
VeAsset module is one of the latest developments in VeADIR's ecosystem. It's a module for transacting fully redeemable, secured and insured VeGold, VeSilver, and VeSTB tokens. Each of these tokens is 100% backed by their assets (0.999% Gold, Silver, and a mixture of precious metals). These tokens represent the title to ownership of these assets and can be traded on the platform.
How Can You "Veritize" An Asset?
To "Veritize" an asset means assigning a customized VERI token to a particular asset. Think of token with unique properties which are bound to it via smart contract. That way you can Veritize almost any asset. For example, take a building lease, tokenize it and trade it on the digital asset exchange.
Here's a more elaborate explanation of the process.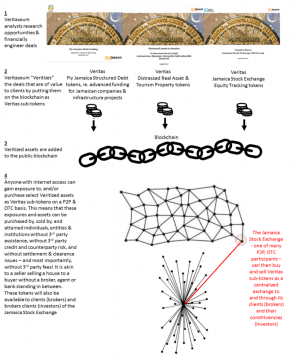 Token Sale & Controversy
Veritas token sale lasted from 25 April 2017 until 26 May 2017. During one month, the company has managed to raise from $6,480,882 to $12 million (varies per source) in Ether. 30 VERI were issued for 1 ETH.
However, the ICO didn't go without blunders, as hackers stole more than 36,000 VERI. The tokens were taken out of the project team's wallet, thus causing little harm to the ICO participants.
Perhaps the most obvious point of discontent is VERI token supply. Out of 100 million issued tokens, only 2 million were distributed to the token sale participants. Together with the 36,000 stolen tokens, they make the total circulating supply of 2,036,645 VERI. The rest 97.9% sit in a wallet held by the CEO Reggie Middleton, causing an outstanding concentration of influence over the remainder of the tokens. Even the slightest token sell-off by the team could result in plummeting prices, which dissuades many seasoned crypto investors.
According to Reggie Middleton, most of the held Veritas tokens are for over-the-counter bulk purchases to private investors. Likewise, all the fees collected by VeADIR go back to the team's wallet, too.
How to Get Veritaseum?
As of 2018, Veritaseum trades on HitBTC, Mercatox, EtherDelta (ForkDelta), LATOKEN, Fatbtc, and Tokenomy exchanges.
Besides, there is a possibility to rent VERI tokens via the VeRent app. At this moment it's not possible to buy VERI tokens directly with fiat currencies
Current State of the Project
Veritaseum's ever-growing team has developed a functioning dApp, although most of its components (except for VeResearch and VeManagement) are still in beta. Besides, the team has been on track with their roadmap, completing most of the scheduled tasks by the end of 2017. The remaining venture is a peer-to-peer OTC direct value trading, which is expected to launch in the 4th quarter of 2018.
In the most recent news, Veritaseum has announced the expansion to Africa continent and opened its operations in Lagos, Nigeria, and Kampala, the capital city of Uganda and seems to have ambitious plans for further Africa expansion.
Unfortunately, Veritaseum doesn't have a complete whitepaper, so most users and interested parties have to gather information scattered throughout the project's blog, website, Twitter and YouTube channel. Due to an unclear picture of how Veritaseum was conceived, its roadmap and code development progress reports, many people have developed skepticism towards the project.
Conclusion
Veritaseum is an ambitious project which has faced numerous scam allegations. It presents a unique opportunity to tokenize one's assets (like real estate, precious metals or government bonds), buy and sell digital assets on the blockchain and gain exposure to various trading opportunities. Despite that, the public allegations and communication issues cast a shadow over the team's efforts and progress.
VeADIR software suite is still in beta, but people can already try it, which can be a sign of more exciting things to come for Veritaseum. As with most blockchain projects, it has plenty of potential, but for now, it's anybody's guess what will come out of it.
Similar projects
DigixGlobal - tokenizing gold on Ethereum blockchain.