Dent
DENT
Dent
DENT is the global exchange for mobile data. It empowers smartphone users to sell, buy, and donate their excess mobile data just like any other commodity.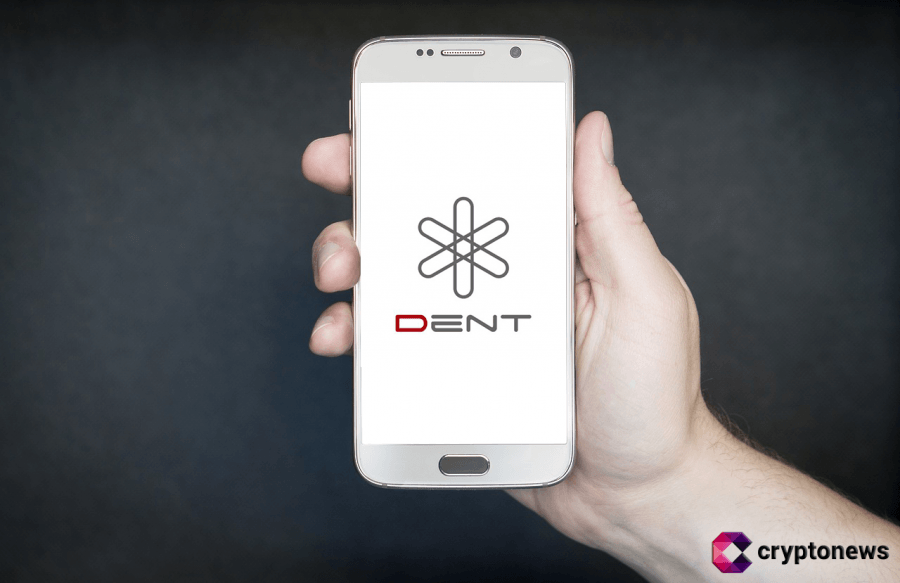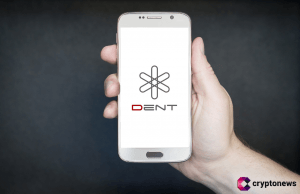 | Market Cap | Volume 24h | Circulating Supply | Maximum Supply |
| --- | --- | --- | --- |
| $75,153,435 | $675250100 | 100000000000.00000000 DENT | 100000000000.00000000 DENT |
What is DENT?
DENT is on a mission to liberate mobile data by helping people to avoid an arm and a leg costing data roaming fees. Also, it lets you monetize your unused data which goes back to a mobile operator as soon as your plan expires.
Dent Platform is built on Ethereum blockchain and has a native token ERC-20 token DENT. The mobile data packages come in the form of smart contracts. DENT mobile app is already available for iOS and Android mobile devices and has over 7 million users worldwide.
DENT's peer-to-peer network is a game changer among existing telecom businesses. It changes the game in three ways:
It eliminates all the existing costs of data roaming due to exorbitant routing setups between the telcos.
Both individuals and telcos can use DENT to trade mobile data, paving the way for a new, more inclusive data sharing economy.
Individuals and IoT devices can automate the buying process using DENT exchange and get the best deals in the region.
According to Cisco, the global mobile traffic was worth over $32 billion in 2017 and growing. Most telco users are trapped with their data options. No matter which data package you buy, it expires in a month or two. Meanwhile, most users end up either underusing or overusing their data plans.
DENT developers felt a need to liberate mobile data by allowing users to purchase, monetize, and spend their data as they please. Such an innovative vision has created a brand new, $4.8 billion market by adding much-needed flexibility regarding the mobile data usage and plans.
DENT Team
DENT project is developed by Dent Wireless Limited. Tero Katajainen founded the company in 2014. Other co-founders Mikko Linnamaki and Andreas Vollmer have joined the business in the midst of 2017.
Tero Katajainen is the company's CEO and the mastermind behind all tech at DENT. Previously, he co-founded multiple Internet startups and also holds a Master of Science degree in Electrical Engineering. Mikko Linnamaki is a serial entrepreneur and a co-founder of DOVECOT. Andreas Vollmer has over 12 years experience in mobile app development.
Other notable people at Dent Wireless are CTO Henrik Erkkonen, SVP of Telco Operations Ramon Greep, director of payment systems Michael Wirth, and Ville Sundell, who is the smart contracts expert. DENT is based in Hong Kong, but it also has an office in Singapore.
DENT consists of various state-of-the-art technologies that come together to allow users to exchange mobile data. The key components are the DENT Exchange, Ethereum smart contracts, a mobile, and a web app, and virtual operators.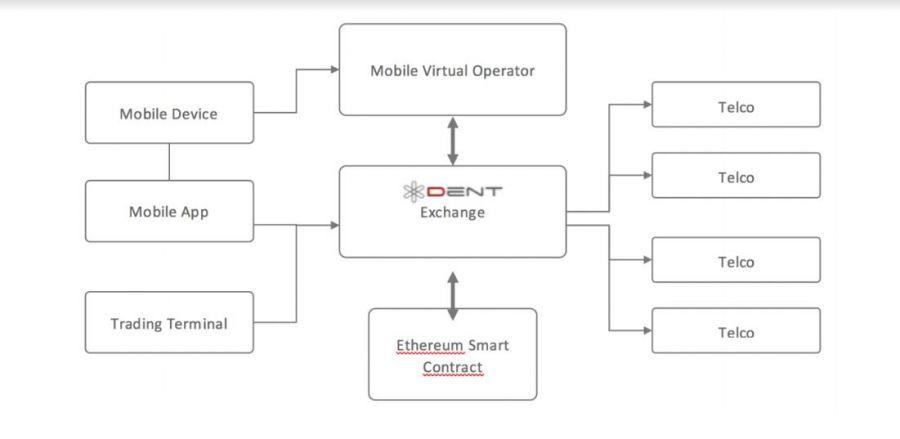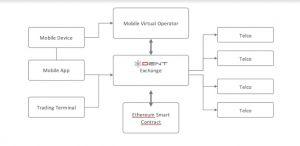 Fundamentally, DENT couldn't function without a large consumer base. You might be aware that the telecommunications industry is extremely competitive. No innovative telco cannot afford to pass the opportunity to reach more customers. Hence, customers themselves are the driving force for attracting telecoms into the DENT ecosystem. The more users DENT has, the more lucrative its platform is for the service providers. Besides, every telco participating in the DENT market gets a chance to deal with competitors customers directly. A complete list of supported operators can be found here.
The DENT Exchange is the key component of the DENT ecosystem. Fundamentally, it's a trading platform with the likes of a stock market, forex, and similar markets. Here, users and 3rd party telcos meet and conduct deals with the help of the Ethereum blockchain. The exchange has seven components: instrument repository, pricing data, portfolio management, market maker algorithms, order management, order execution, and DENT Exchange parachain.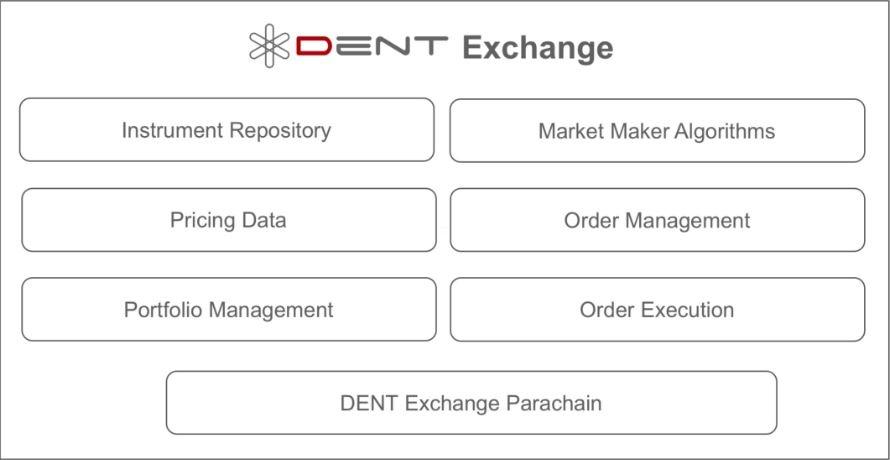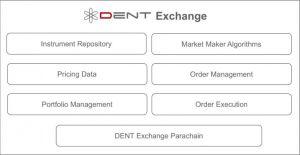 DENT Web and mobile apps allow market participants to see the order book, place orders, review price history, quote feeds, market depth and other relevant trading information. The mobile app is just a simplified version of the web app.
Ethereum smart contracts execute the transfers of DENT according to the events taking place in the market.
Virtual operators or telcos act as market makers. They provide various data packages for DENT users. Also, they are the payment gateways for conventional Premium-SMS/USSD data pack deals.
Having such a system enables DENT to facilitate three types of transactions:
User-to-user data transactions.
P2P international data package transfer in roaming situations.
Initial Data Offerings (IDO) by telcos.
DENT's revenue comes from fees via spread and commissions of handling the IDOs.
DENT (not to be confused with Dentacoin (DCN)) is an ERC-20 token and the native currency of the DENT market. It can be used to pay or get paid for mobile data packages or exchanged into fiat using one of the cryptocurrency exchanges.
The current circulating supply of DENT is 17,241,387,101. The total supply is going to be 100,000,000,000 DENT. According to Mikko Linnamaki, such a high number of DENT tokens is necessary if the company goes global and has many active users. In his own words:
"If just as little as 20 Million mobile users top up their phones with 1000 DENT's per month, we need 20 Billion DENT / Month."
Dent crowdsale began on July 11, 2017. It lasted for two weeks and raised approx. $4.3 million. At the time, 1 ETH was equal 400,000 DENT. As such, 1 DENT ICO price was around $0.0006.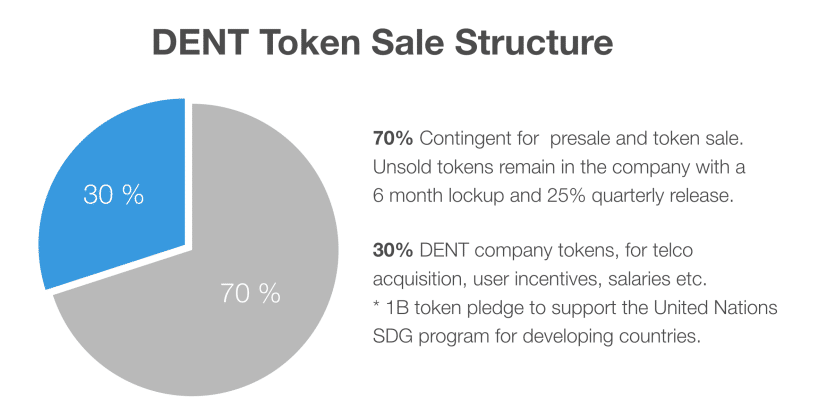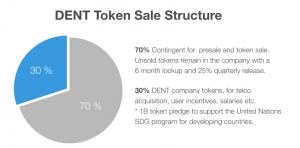 Can You Mine DENT?
DENT tokens are pre-mined, thus cannot be mined.
As of January 2018, DENT can be traded at:
Binance, KuCoin, LATOKEN, Lykke Exchange (paired with BTC, ETH).
Cashierest, CoinZest (paired with BTC, ETH, KRW).
Vebitcoin, CoinBene, BITBOX (paired with BTC).
HitBTC, Fatbtc, IDEX, DDEX, Allbit (paired with ETH).
Coinrail (paired with BTC, KRW).
Bitbns, WazirX (paired with INR).
Liquid (paired with BTC, ETH, QASH).
FCoin (paired with ETH, USDT).
CPDAX (paired with KRW).
Radar Relay (paired with WETH).
Where to Store DENT?
DENT can be safely stored in any ERC-20 wallet. The most popular options include Ledger Nano S, MyEtherWallet, or Metamask. DENT tokens can also be used and stored using the DENT app.
As of January 2019, DENT already is a global hub for mobile data trading with over 7 million active users worldwide. Next, the company seeks to become the number one telco worldwide.
The company has proven to an ambitious and trustworthy service. It has successfully launched its iOS app in December 2017, followed by the release of the Android app in 2018. In December 2018, Dent also started the Dent Exchange, a web application allowing users and telcos exchange data using cryptocurrencies and fiat. Currently, it works in 28 countries and counting. The top 5 markets where Dent is used the most are Indonesia, Bangladesh, Philippines, Kenya, and Myanmar.


For 2019 Dent plans to add voice calling and worldwide SMS markets to become a true "World Telco." Other significant milestones for 2019 include video calling service and having more than 15 million active users in over 70 countries at the end of Q2.
Similar Projects
TELCOIN (TEL) – An Ethereum-based cryptocurrency for telecom operators.
Electroneum (ETN) – A cryptocurrency for mobile phones.
Mobius (MOBI) – Integrating fast and free mobile payments into apps and businesses.