ChangeNOW
ChangeNOW cryptocurrency exchange is a non-custodial and registration-free service that allows you to change over 200 cryptocurrencies. But is ChangeNOW truly risk-free? Does it really not require any KYC? How easy it is to buy bitcoin via ChangeNOW? How does it match with competitors? Finally, what is a NOW token and how can you use it? Read on to find answers to these as well as other key questions in this ChangeNOW.io exchange review.
General info
| | |
| --- | --- |
| Web address: | Link |
| Main location: | Providence, Mahé, Seychelles |
| Daily volume: | 0.0 BTC |
| Mobile app available: | Yes |
| Is decentralized: | No |
Parent Company:
ChangeNOW International Ltd
Transfer types:
Credit Card, Debit Card, Crypto Transfer,
Supported fiat:
USD, EUR
Supported pairs:
13000
Has token:
NOW
Fees:
High(Compare rates)
Pros & Cons
Very easy and user-friendly More than 200 cryptocurrencies Non-custodial exchange Very reasonable rates No registration required Excellent customer service
No ability to sell crypto-to-fiat Large swaps may be paused for KYC/AML checks No integrated custodial wallet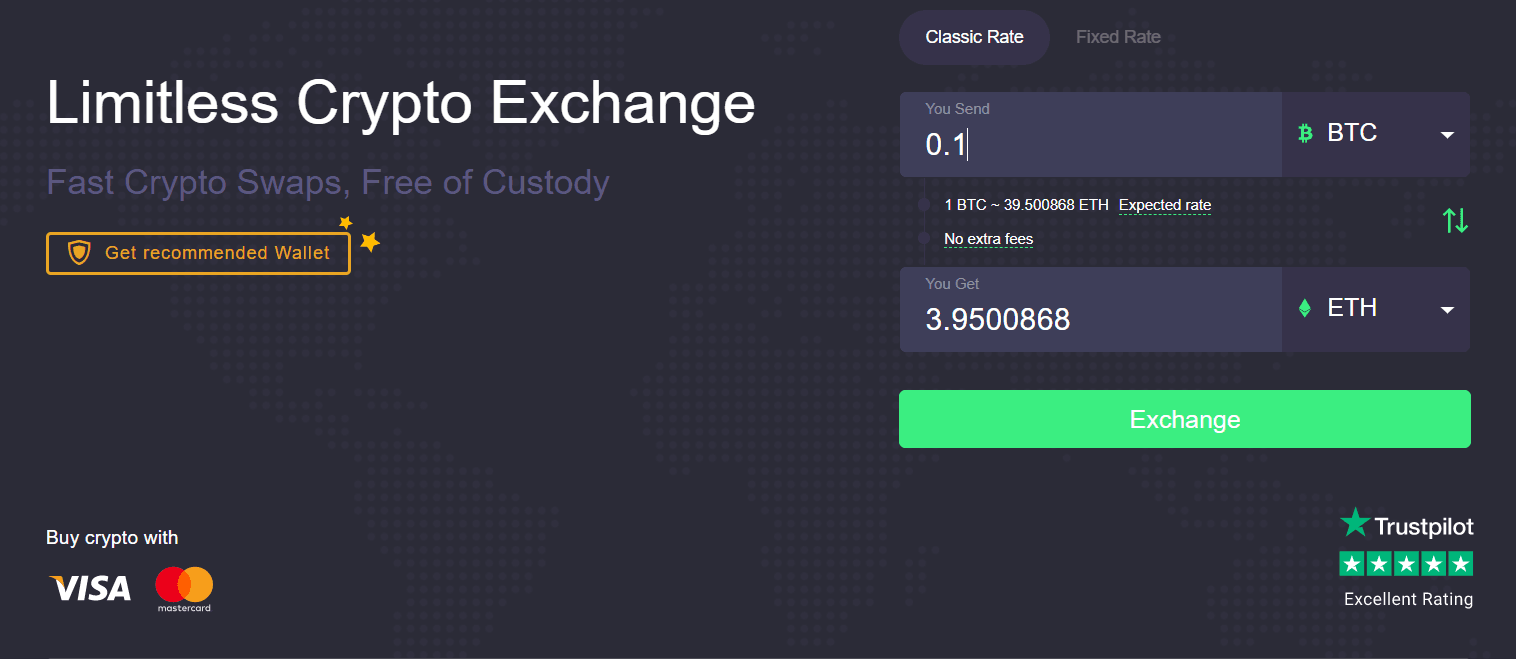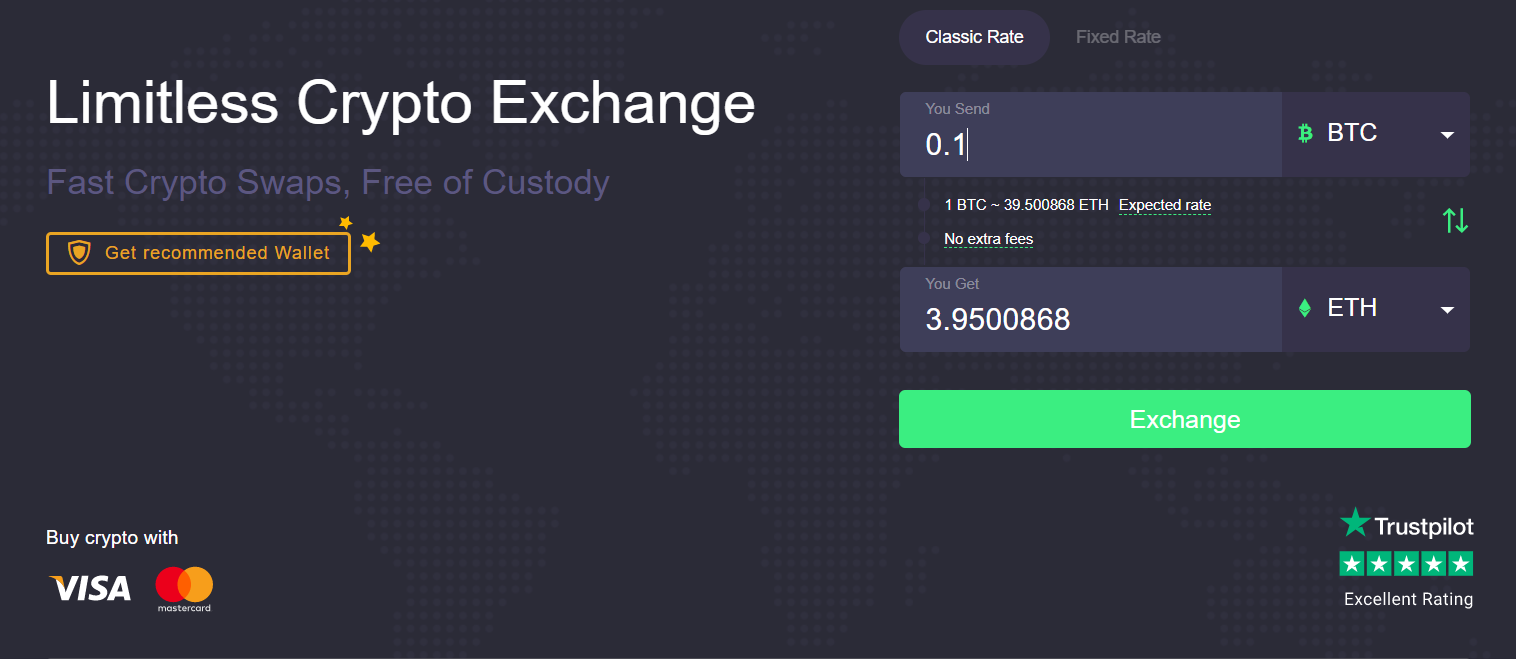 ChangeNOW is a non-custodial instant crypto-to-crypto and fiat-to-crypto exchange where you can trade more than 200 coins quickly, conveniently, registration-free, and without any limits. Located in exotic Seychelles, ChangeNOW is a highly secure and trustworthy platform as it acts only as a temporary intermediary – it does not store your funds and doesn't require account creation for using its services. Besides, it offers a fiat-to-crypto onramp option – you can buy cryptocurrencies with a VISA or Mastercard through their third-party partners' integration.
Key Features
ChangeNOW is an innovative and user-friendly instant exchange that offers you some of the best rates as well as a quick and convenient service. Here are some of its key features:
Fast and convenient exchange without registration. ChangeNOW lets you buy and exchange cryptocurrencies without opening an account or filling in any redundant Know Your Customer (KYC) checks (unless you're doing something extremely fishy).
Non-custodial exchange. ChangeNOW is a non-custodial instant exchange service and requires you to have your wallet for storing cryptocurrencies, which is great for alleviating security risks.
More than 200 cryptocurrencies and 13,000 trading pairs. You can trade Bitcoin, Litecoin, Ethereum, XRP, USDT, Monero, Tezos, BNB, EOS, and more than a hundred other top altcoins. Nearly any market pair is possible at ChangeNOW, which can help you to avoid multiple swaps – a common issue with custodial exchanges.
No exchange limits. ChangeNOW claims that exchange limits are lame, which is 100% true. Hence, it lets you swap as much as you want.
Handy mobile apps. ChangeNOW's Android and iOS apps are even slicker than a website version of the exchange, so you can perform instant coin swaps on the go.
Ability to buy cryptocurrencies with a bank card. ChangeNOW is also a great option if you're looking to buy crypto with a bank card. It has partnered with Simplex for this, so you can pay directly with any VISA or Mastercard card.
Whether you're an experienced cryptocurrency veteran or a diligent rookie – ChangeNOW offers unique benefits for all. While increasing regulatory scrutiny leaves less and less room for moving cryptocurrency quickly, privately, and securely, ChangeNOW manages to comply with regulations as well as protect their consumers' interests.
Where is ChangeNOW Located?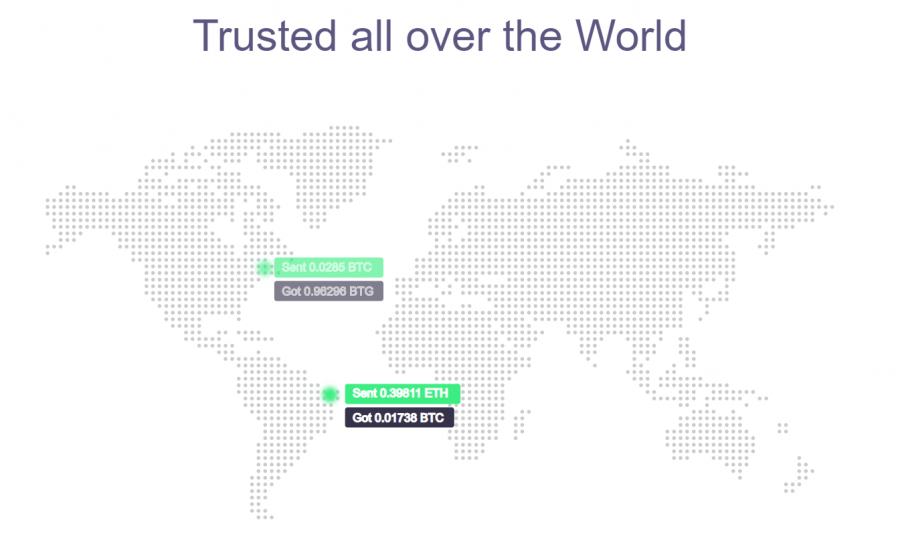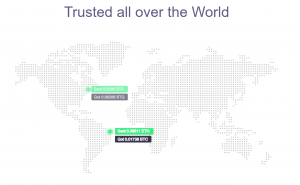 Source: ChangeNow.io
ChangeNOW launched in the wild crypto year of 2017. The company is incorporated under the name CHN Group Limited and is located at Global Gateway 8, Rue de la Perle, Providence, Mahé, Seychelles.
The company also has an office in Amsterdam, Kraanspoor 50, 1033 SE, The Netherlands. If you have an urge to reach them, the company's support can be contacted via phone, email, or social media channels like Twitter, Facebook, Reddit, Telegram, and others.
Who Owns ChangeNow.io?
For ChangeNOW's founders, privacy goes first – just like Satoshi Nakamoto, they decided not to disclose their personality. Nevertheless, ChangeNOW is a very public company – on LinkedIn, you can always find their Chief Marketing Officer Pauline Shangett, who represents the team in the media space. Along with Pauline, ChangeNOW's Business Development team is also available anytime on their LinkedIn for any kind of activity.
Is ChangeNOW Available in the United States?
The company's website states that ChangeNOW is available worldwide. All you need is a smartphone, an internet connection, and a crypto wallet to trade. There are no background checks, no registration, and no forced KYC.
However, the exchange's terms and conditions specify that individuals using its services can't be citizens or residents of the countries that are subjected to United Nations Security Council Sanctions Lists or its equivalent. All prohibited countries include:
The United States
Cuba
Iran
North Korea
Crimea
Sudan
Syria
Bangladesh
Bolivia
So, as you can see, ChageNOW is not available in the United States, even though the website itself does not geoblock its citizens. Essentially, it is likely that ChangeNOW won't prevent you from using it, but the exchange may not have your back in case things go south.
Last but not least, it is highly likely that you may use the service in your native tongue – ChangeNOW website is available in 28 languages.
ChangeNOW Fees
ChangeNOW doesn't charge much for its services. The transaction fee varies from 0.5% to 4% and depends on whether you choose a classic or fixed exchange rate.
Classic rate. A classic rate exchange uses the best available rate on the market. It is subject to fluctuation due to changing market conditions and network fees. As a result, you can never be sure about the precise amount of coins you're going to get per single swap.
Fixed rate. Fixed-rate swaps do not fluctuate, so you get exactly what you pay for when initiating the exchange. However, you'll pay an extra spread to get a guaranteed rate.
You get charged only if the swap is executed successfully. The fees are built into the present exchange rate, which also includes blockchain transaction fees. This is nice, as there are no deposit or withdrawal charges, as well as additional hidden costs.
At the time of writing, 1 Bitcoin would return you 52.32 ETH, according to a global exchange rate.
ChangeNOW offers us a 1 BTC = 50.85 ETH rate, which equals to approx. 3% in fees for this pair. However, as we stated previously, these fees are subject to change depending on a variety of factors, including network congestion, type of exchange rate used, and market volatility.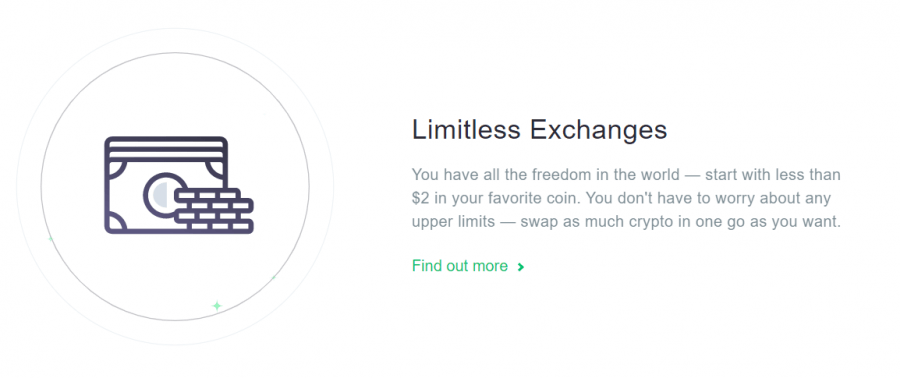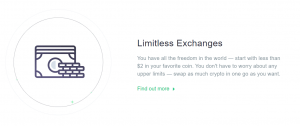 Source: ChangeNOW.io
If you decide to purchase bitcoin or any other cryptocurrency via ChangeNOW using your bank card, you will face the following transaction fees:
5% Simplex processing fee or a minimum of USD 10 per transaction.
1% ChangeNOW service fee.
Blockchain transaction fees
Here's how it compares with other instant exchanges if you were to purchase USD 1000 worth of Bitcoin today (at the time of writing):
| Exchange | Bitcoin received | Fees, % | Mandatory registration |
| --- | --- | --- | --- |
| Perfect rate* | 0.105 | – | – |
| ChangeNOW | 0.1007 | 4.18% | No |
| Changelly | 0.0978 | 7.1% | Yes |
| SwitchHere | 0.0892 | 16.27% | Yes (for purchases above $100) |
*Perfect rates are only used as a benchmark and do not constitute an actual exchange rate
As you can see, ChangeNOW is on the cheaper end in the niche of instant-exchanges, especially when it comes to fiat-to-crypto purchases. Still, the rates you're getting tend to change every minute, so you are likely to get even better prices at times.
Security
ChangeNOW is more secure than most centralized cryptocurrency exchanges since it does not keep your funds., neither requires registration. Everything that you exchange is sent back to your provided wallet, so it is up to you to keep your funds safe. And, knowing that most centralized exchange wallets are a bonanza for professional hackers, that is the most secure way to go about it.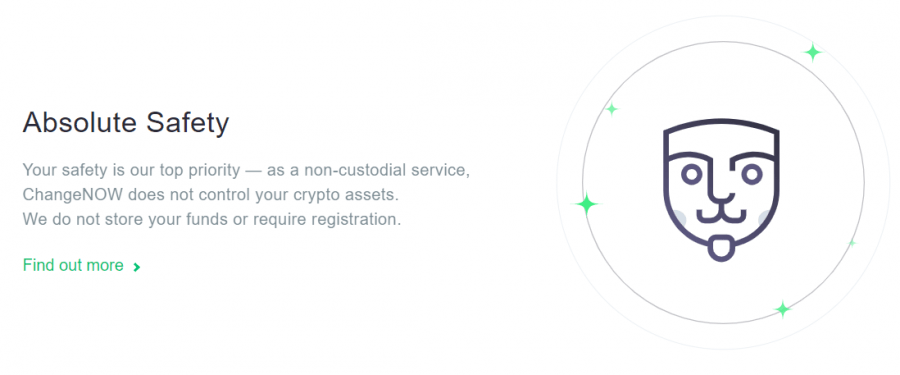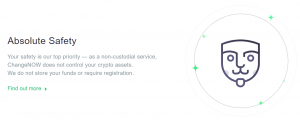 Source: ChangeNOW.io
ChangeNOW recommends usingGuarda Wallet, although its extensive list of partners also includes companies like Ledger, Trezor, Exodus, Edge Wallet, Atomic Wallet, CoinSwitch, Binance, Bittrex, Bitfinex, Indacoin, and others.
How ChangeNOW Works
ChangeNOW does not ask you to open an account. So how does it work? Well, it operates in the following way:
It's engine calculates the best possible exchange rates for you.
You send the funds to ChangeNOW's wallet.
ChangeNOW uses its partnerships with top cryptocurrency exchanges and service providers to swap your cryptocurrency.
ChangeNOW sends your swapped funds back to the provided wallet address.
Aside from that, they also have a dedicated API for wallets and other crypto platforms. Besides, they offer a NOWPayments service, which allows merchants to accept custody-free cryptocurrency payments with ease.
Is ChangeNOW Reliable?
ChangeNOW service and app have dozens of positive reviews online. The platform scores an impressive 4.5 out 5 rating on TrustPilot with more than 350 reviews, and it's Android app is rated 4.3 (out of 5) on Google's Play Store.
Here's what some of those recent customers are saying about ChangeNOW and its app.
"Highly recommend! Fast, easy to use, and with low fees. Great customer service that responds quickly. I mistakenly sent TUSD to USDT, and they were able to retrieve it and send it back to my wallet. Way better than having to deal with exchanges." – Eli, January 9, 2020
"Thank you! So awesome to know there are several alternatives to swap coins. No issues with my coin swap, the transaction was done in 4 min. I'm so happy to have found you all. Keep up the great things you all are doing!" – Yolanda, January 2, 2020
"Hello my friend. I am from Iran you are great, really functional and very easy to wish your team success." – Amin Zorati, January 16, 2020
"This app allows me to exchange cryptocurrencies fast, easy and without the need to create any account. No hassle. Includes embedded support for speedy resolving of issues." – Ivan Pleva, November 21, 2019


Source: ChangeNOW.io
Nevertheless, there are some unfounded allegations of scamming a user of 100 BCH in 2018. However, under a closer investigation, it appears that the user has sent a fake ID picture for an AML/KYC check and prompted a document forgery investigation. The case had been resolved in October 2018.
Know Your Customer (KYC) and Anti-Money Laundering (AML) Policy
Despite being branded as an anonymous or private exchange, ChangeNOW still has to comply with the regulations. As such, it employs an automated risk prevention system.
The system scans through all transactions, and if yours is marked suspicious, the swap is put on hold. Then, the customer is asked to confirm his or her identity.
Each KYC case is handled individually but requires the basic KYC documents:
A quality picture of an ID document
A source of deposited funds
A selfie of you holding the ID document.
Once these documents are received and verified, the swap is completed, and the funds are transferred to your wallet.
ChangeNOW requires the AML/KYC procedure if a transaction was marked suspicious by an automated risk prevention system. The company does not disclose the set of criteria that this system employs – because if made public, there will be people who will try to abuse those criteria in order to cheat the algorithm. If you do not agree to go through KYC, your funds will be refunded back to your wallet.
Usability and Design
Once you visit the exchange's homepage, it becomes clear that ChangeNOW is designed with simplicity in mind. There are no confusing charts, candle bars or flashy windows, so the only thing you have to do is a few simple clicks. Namely, you have to choose which crypto pair you want to trade, the amount of exchange, and if you wish to use a classic or fixed rate.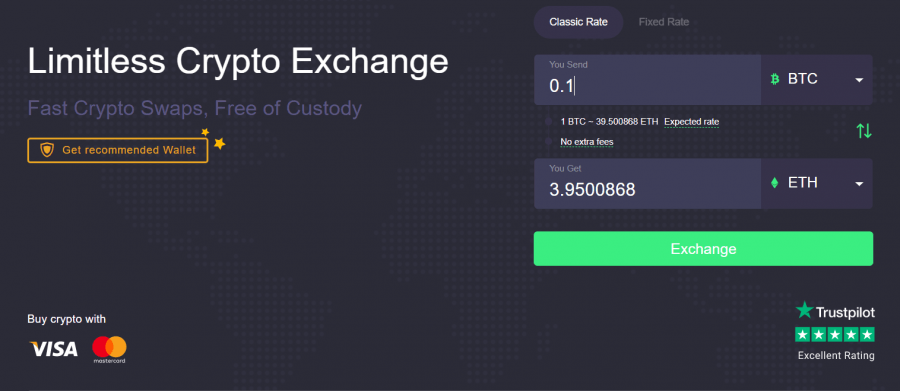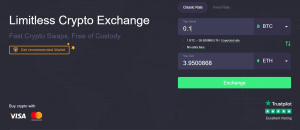 Source: ChangeNOW.io
The same goes for ChangeNOW's mobile application, which is even slicker than the website. It takes just a few simple clicks, some cryptocurrency, and a wallet address. If you already have a wallet, the whole process should not take longer than 40 minutes (and about 5 minutes on average) for the swapped funds to reach it.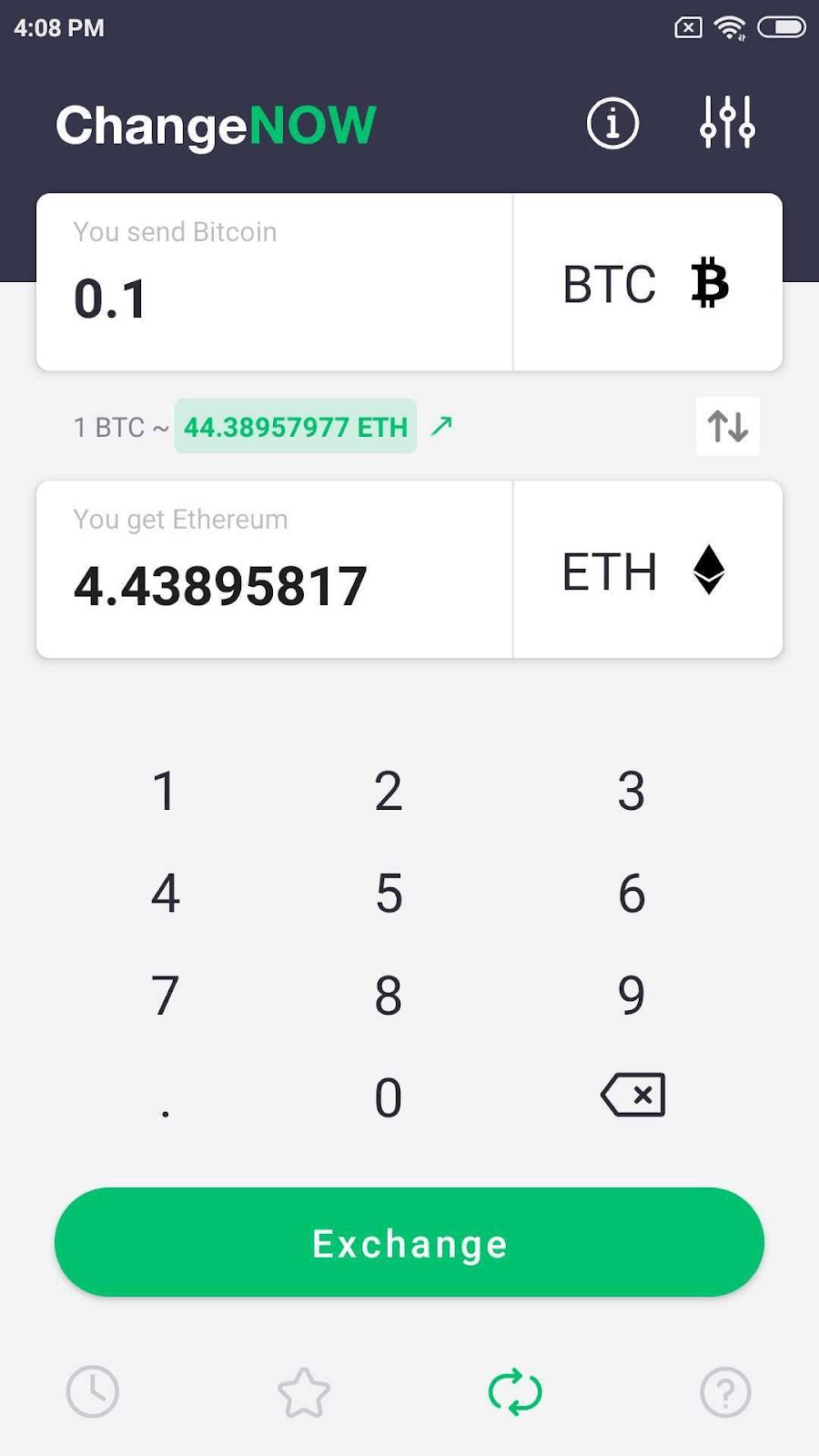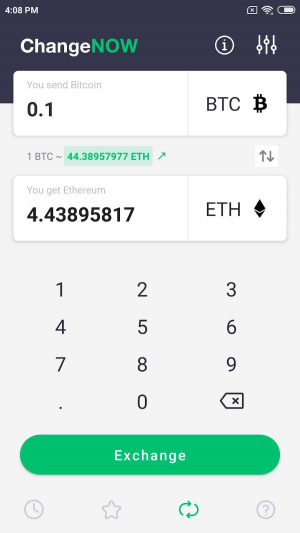 Source: ChangeNOW.io
Also, ChangeNOW lets you purchase crypto directly with your VISA or Mastercard bank card using Simplex integration, which makes the exchange a convenient fiat-to-crypto gateway for both beginners and veteran holders. The minimal bank card purchase amount is USD 50. Though, it doesn't seem like the mobile app supports fiat-to-crypto purchases yet.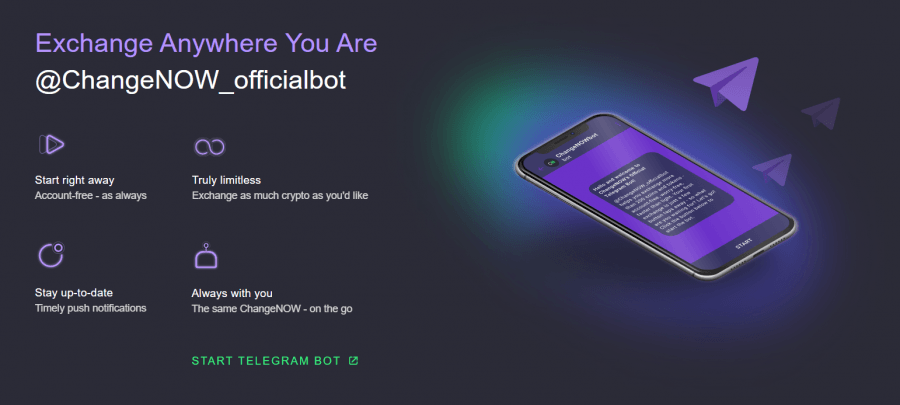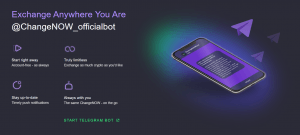 Source: ChangeNOW.io
The latest innovative way to use ChangeNOW instant swaps is via their Telegram BOT. You can exchange any of the 200 supported cryptocurrencies with one another by simply following the instructions in a Telegram chat!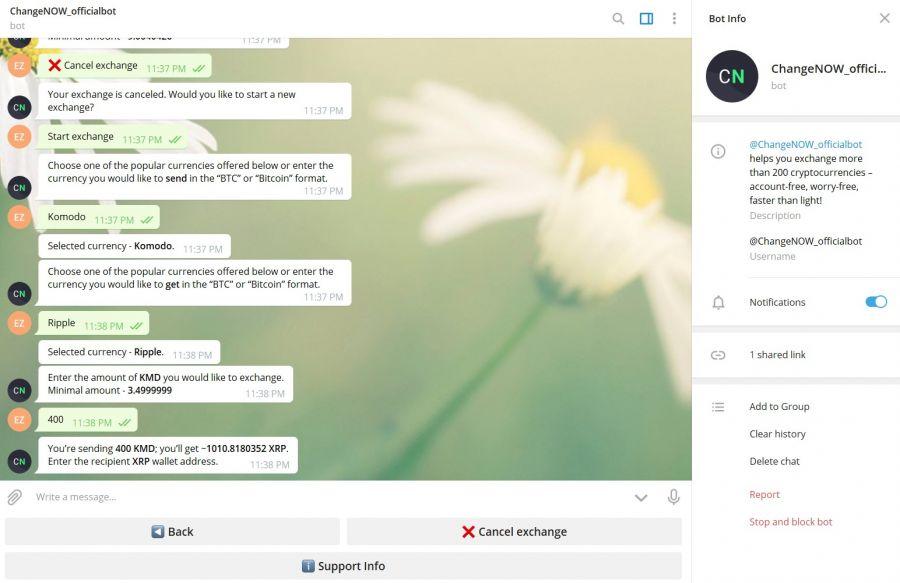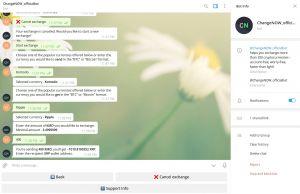 ChangeNOW.io Telegram chat bot.
Last but not least, if you don't have a crypto wallet to send your funds to, ChangeNOW recommends using a Guarda Wallet. You can get it for your mobile device (Android or iOS), computer, web browser, or open a web wallet by clicking the "Get recommended Wallet" button on the ChangeNOW's homepage.
Customer Support
Another perk of using ChangeNOW is its terrific customer support service. You can reach it via the support contact form as well as social media channels on Twitter, Facebook, Telegram community chat, Instagram, and even Reddit. Just like their swap service, the response shouldn't take longer than an hour.
How to Use ChangeNOW
ChangeNOW instant exchange lets you trade cryptocurrencies with just a few simple steps:
Prepare a cryptocurrency wallet for your desired digital token (download and install it or use the recommended wallet by ChangeNOW if you don't already have one).
Go to ChangeNOW exchange.
Select the cryptocurrency you want to exchange (You Send). The default is exchanging Bitcoin (BTC), but you can choose 200+ other cryptocurrencies from the drop-down menu.


Source: ChangeNOW.io
Select the coin you'd like to receive (You Get). The default is set on receiving Ethereum, but you can choose any other supported coin from the drop-down menu.
Choose whether you want to use a Classic or a Fixed-rate in the transaction (see explanation above) and hit the "Exchange" button.
Enter the recipient wallet address. In this example, it will be an Ethereum (ETH) wallet generated address. Make sure to double-check it before clicking "Next" because entering a wrong address will result in a permanent loss of your crypto.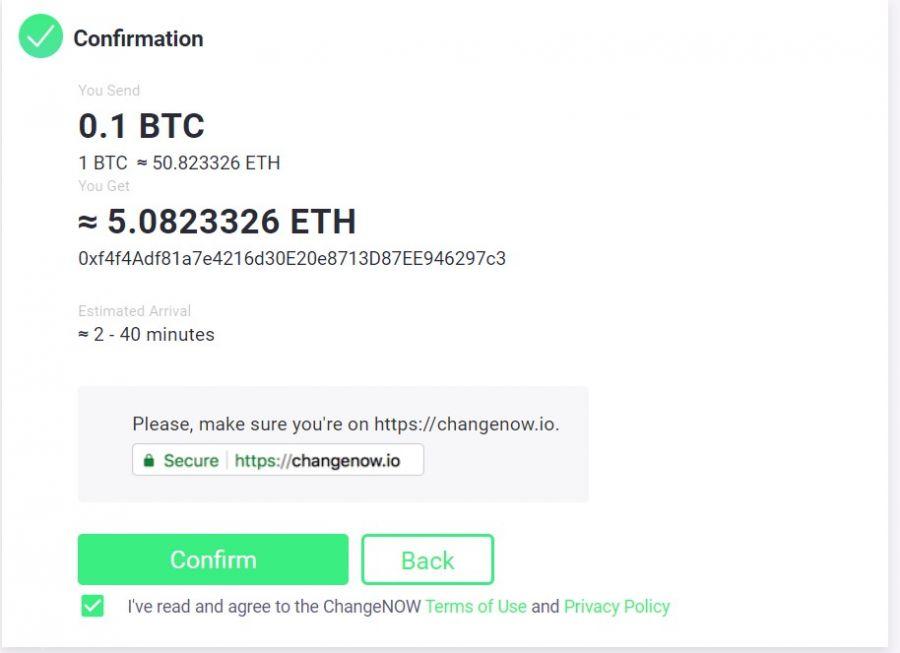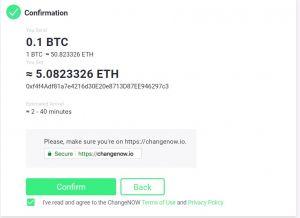 Source: ChangeNOW.io
In the next window, you will be presented with all the details of your transaction and how long its processing should take. If you agree with all the terms, hit confirm, and you're good to go.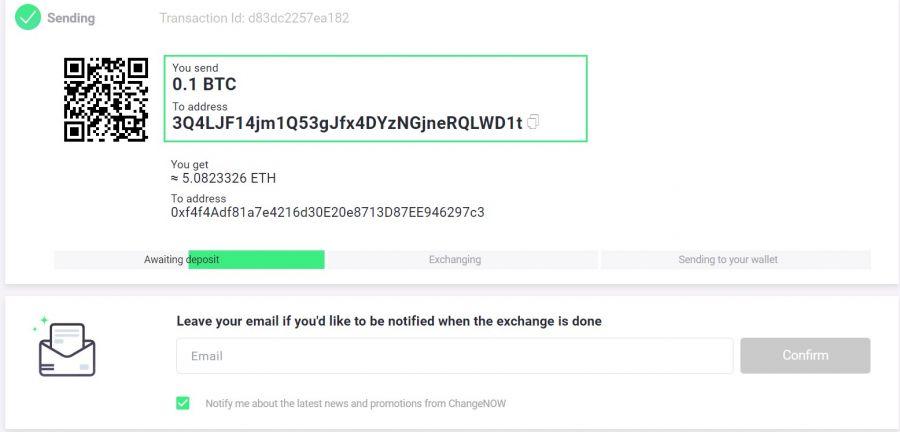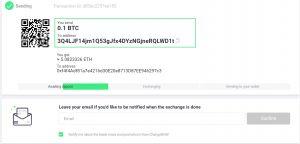 Source: ChangeNOW.io
Finally, you will see the ChangeNOW's deposit address where you should send your crypto to exchange. Once you send your coins (in this case, BTC), the exchange will start processing your transactions. In turn, you should receive your swapped coins to your dedicated wallet in 30 minutes or less.
That's it! The process is the same regardless if you use ChangeNOW's mobile app or website – quick and without any forced-KYC!
If, for some reason, you find it difficult to follow these instructions, you can also check out ChangeNOW's YouTube channel, which is full of handy tutorials. For example, here is a simple video guide to ChangeNOW's swaps.
ChangeNOW's NOW Tokens
ChangeNOW is the only instant cryptocurrency exchange with its token called NOW Token.
The main utility of NOW Tokens is to act as an internal currency for NOW products and acquire additional perks like:
Better exchange rates
Faster customer support
Special offers in all NOW services
Voting for asset listing
Prizes, raffles, and promo campaigns
Better affiliate conditions
NOW tokens are issued on two chains – Ethereum (ETH) as an ERC20 token and Binance Chain (BNB) as BEP2 type coins. Initially, 200 million NOW tokens were minted – 100 million per each chain.
The tokens were distributed in the following proportions:
| Purpose | Amount | Proportion, % |
| --- | --- | --- |
| Gradual airdrop for exchange users and affiliates | 60 000 000 NOW | 30% |
| Private investors | 20 000 000 NOW | 10% |
| Project advisors and evangelists | 24 000 000 NOW | 12% |
| Reserve fund for project developers | 24 000 000 NOW | 12% |
| Reserve fund for project marketing | 24 000 000 NOW | 12% |
| Reserve fund for risk prevention | 20 000 000 NOW | 10% |
| Founding team bonus | 28 000 000 NOW | 14% |
The gradual airdrop of NOW tokens has started on May 28, 2018, and was finished on August 26, 2019.
Essentially, the NOW Token supply is deflationary, since all NOW Tokens spent on ChangeNOW services will be burned until there's only 100 million NOW Tokens remaining at the ratio of 50/50 ERC20/BEP2. The burns take place quarterly and are explicitly announced on ChangeNOW's website.
Currently, you can buy and sell NOW Tokens at two exchanges – IDEX (ERC20) and Binance DEX (BEP2). ERC20-based NOW tokens can be stored in any Ethereum ERC20 compatible wallet. BEP2 tokens issued on the Binance Chain must to be stored in special BEP2 supporting wallets like Ledger, Atomic Wallet, Trust Wallet, Binance Chain wallet and others.
Deposit and Withdrawal Methods
Despite being primarily a crypto-to-crypto exchange, ChangeNOW does have an option to purchase cryptocurrency with a bank card (VISA or Mastercard). However, unlike crypto transactions, bank card purchases come with their limits – you have to spend min. USD 50 per transaction. The maximum purchase is USD 20,000 and USD 50,000 per month per person.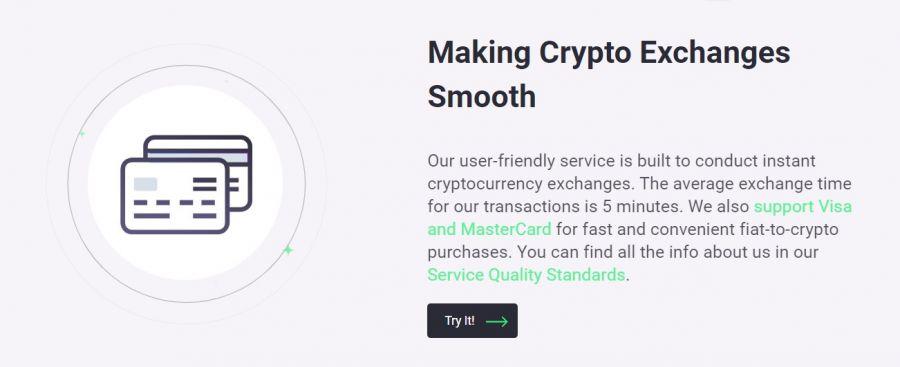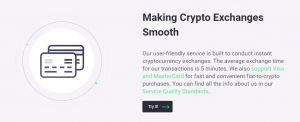 Source: ChangeNOW.io
Apart from that, all the deposits and withdrawals are conducted directly through your wallet, so there are no extra fees. As said, there are no limits to how much money you can swap by changing one cryptocurrency into others.
Conclusion
ChangeNOW is a terrific service for private and instant cryptocurrency swaps. It has a stellar customer service, experienced team, great rates, and well-designed service that is simple enough to use for everyone interested in acquiring or trading cryptocurrencies. It's a top contender in crypto swaps niche, and may help you to lift your crypto experience into a whole other level!