Bitbuy Review
Bitbuy is a leading cryptocurrency exchange in Canada best suited for Canadian residents and citizens (and only!). Founded in 2013 with a mission to provide a quick, safe and easy way to buy and sell bitcoin and other top cryptocurrencies, today Bitbuy is a fully regulated exchange with oversight from Canadian federal authorities. Its top features include the ability to trade six cryptocurrencies (BTC, ETH, LTC, BCH, XLM, and XRP) directly in the Canadian dollar and BTC based pairs, advanced trading platform, and OTC desk, and excellent customer support service.
General info
Web address:

Bitbuy

Support contact:

Link

Main location:

Toronto, Canada

Daily volume:

? BTC

Mobile app available:

Yes

Is decentralized:

No
Parent Company:

First Ledger Corp

Transfer types:

Bank Transfer, Crypto Transfer

Supported fiat:

CAD

Supported pairs:

6

Has token:

-

Fees:

Medium (Compare rates)
Pros
Canadian dollar-based exchange.
Excellent customer experience and service.
Regulated exchange.
Excellent fiat onramp with strong banking relationships
Cons
Accepts only Canadian citizens and residents
A limited number of cryptocurrencies
Moderate fees
Key features
Bitbuy is known to be a user-oriented platform that makes buying top cryptocurrencies easy, fast, and convenient. Instead of being a one-stop-shop for all sorts of crypto-related services, it focuses on building trust by being user-friendly, regulatory compliant, and focused cryptocurrency exchange.
Key features of Bitbuy include:
Pure Canadian dollar (CAD) exchange. Bitbuy accepts Canadian citizens and residents only and is not available in any other country.
Ease of use.Bitbuy offers two platforms - Express and Pro. Pro trading is geared towards experienced traders, while Express lets you purchase cryptocurrencies easily and without friction.
Ability to buy and sell the top six cryptocurrencies. They include Bitcoin (BTC), Ethereum (ETH), Ripple (XRP), Litecoin (LTC), Stellar Lumens (XLM), and Bitcoin Cash (BCH).
Regulatory compliance. Bitbuy is a regulatory compliant platform that works in accordance with the Financial Transactions and Reports Analysis Centre of Canada (FINTRAC) as a Money Services Business (MSB).
OTC desk. Large volume traders and institutional investors can make use of Bitbuy's OTC trading platform.
Excellent customer support. Bitbuy offers a direct customer support line via emails and responds within 12 hours or less.
All in all, Bitbuy is a relatively small, yet extremely dedicated and trustworthy platform for Canadians.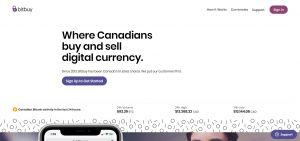 Visit Bitbuy
Background review
Bitbuy is a well-established platform with a large baggage of experience in the industry. It was founded in 2013 by Adam Goldman and Ademar Gonzalez as a subsidiary of First Ledger Corporation. Initially, it was called InstaBT and was designed to be an easy-to-use gateway for Canadians to buy and sell bitcoin. In 2016, the company has undergone a rebrand and adopted the name Bitbuy. Besides, it listed other cryptocurrencies, as well as opened an OTC desk for high volume traders along with other service improvements. In 2018, the company has upgraded and relaunched its platform, making it more user-friendly and easier to use.
Today, the company cemented its position in the cryptoverse as leading Canada's cryptocurrency exchange due to its customer-oriented focus and transparency. Besides, it is regulated by Canadian federal authorities as it is registered with the Financial Transactions and Reports Analysis Centre of Canada (FINTRAC) and acts as Money Services Business (MSB).
Although its services are still limited to the Canadian market, it is likely to scale the business to foreign markets in the future. If you're unsure about the cryptocurrency market in Canada and want to learn more about its latest developments, you can follow its latest updates at Bitbuy's resources section on its website.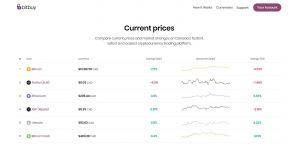 Bitbuy fees
Bitbuy charges fees for fiat and crypto trades, fiat currency deposits and both fiat and crypto withdrawals from the platform. Cryptocurrency deposits to the platform are free of charge.
If you're just starting out, a Canadian Dollar (CAD) deposit will cost you between 0.5%-1.5%, based on the payment method. For instance, a simple wire transfer will incur a flat 0.5% fee, while a faster Interac e-Transfer will cost you 1.5% of the deposit amount. You will pay a relatively high 3.5% deposit fee for an extra fast Express Interac e-Transfer.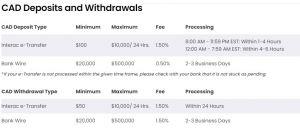 Much like Coinbase and Coinbase Pro, Bitbuy offers two types of trades - express and pro. Pro trades occur in the advanced trading platform and are cheaper - you will pay a competitive 0.1% maker fee and a 0.2% taker fee for buying and selling cryptocurrencies.
If you're in a hurry, express buy will cost you a 0.5% fee per every CAD/CRYPTO trade. Express cryptocurrency sale will cost you 0.5% per trade, too.
Withdrawal fees at Bitbuy vary according to the withdrawal method. If you want to withdraw cryptocurrency, the fees tend to vary per different cryptocurrencies. Here's the current Bitbuy's crypto withdrawal fees table:
| Coin | Minimum Withdrawal | Fee |
| --- | --- | --- |
| Bitcoin (BTC) | 0.001 BTC | 0.00025 BTC |
| Ethereum (ETH) | 0.02 ETH | 0.01 ETH |
| Litecoin (LTC) | 0.05 LTC | 0.02 LTC |
| Bitcoin Cash (BCH) | 0.01 BCH | 0.001 BCH |
| Ripple (XRP) | 25 XRP | 0.02 XRP |
| Stellar Lumens (XLM) | 25 XLM | 0.02 XLM |
| EOS | 0.03 EOS | 0.02 EOS |
Speaking of fiat withdrawal fees, they vary from 0.5% to 3%, based on the withdrawal method. Simple bank transfers and wires currently stand at 0.5%, while Interact e-Transfer will cost you 1.5%. If you need money faster, you can also choose an expedited bank transfer which will cost you 3% of the transaction value.
All in all, Bitbuy offers competitive fees for its users, which is somewhat unusual for the platforms that are focusing on user-experience. Even so, you can find better trade rates at other international exchanges but there are always trade-offs - they are either unregulated, has worse UX, or lacks proper customer support.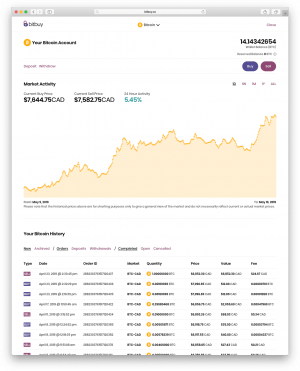 Bitbuy security measures
As a transparent and regulated exchange in Canada, Bitbuy is a secure service for your cryptocurrency activities. According to Canadian law, it does not qualify as a money services business (MSB) yet even so, in anticipation of regulatory shift, Bitbuy acts in accordance with the MSB regulations. It does not list questionable crypto assets either - only the most popular and time-proven cryptocurrencies get listed on its exchange.
Speaking of platform security, Bitbuy doesn't disclose much and offers the following security measures:
95% of user funds are kept in cold wallets.
2-Factor Authentication (2FA).
Daily encrypted and distributed backups.
Uses Secure Socket Layer (SSL) to protect its costumers.
Mandatory KYC verification.
Monitoring of transaction data for patterns to indicate red flag activities.
Passed Proof of Reserve and Security Audits.
Passed third-party cold storage, team background, and client info handling tests.
As a compliant and transparent exchange, Bitbuy leads by example on how to deal with crypto-security issues. Aside from regular third-party audits, it also conducts third-party security checks and actively monitors its on-platform activities. Besides, its team has passed background and client information handling checks, meaning it runs a highly competent service. The only issue may be an SMS-based 2FA user account security system, which was proven to be insecure in the past.
Bitbuy hasn't experienced any hacks in the past and remains a highly secure and trusted cryptocurrency exchange.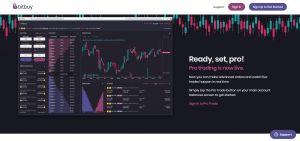 Design and usability
Bitbuy has two trading interfaces - Pro and Express.
Express trading is trading made simple - all you need to do is select the crypto assets you'd like to buy, enter the dedicated amounts and click the purchase button. It is an ideal option for novice traders who are just entering the world of cryptocurrencies yet it also charges higher fees (as mentioned above).
Pro trading is designed for more experienced traders who are looking for advanced orders, charts, order books, market trade history windows, and other handy tools such as market depth charts. Essentially, it allows you to execute your trading strategy with more precision and control. Besides, the trades are cheaper there - but it might be too overwhelming for inexperienced users.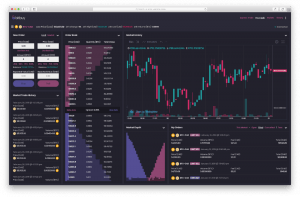 Both platforms allow you to trade fast and quickly. Large volume traders and business clients can also make use of Bitbuy's OTC trading desk (for bigger than CAD 25,000 trades).
One of the best-known Bitbuy's strengths is its excellent customer support service. The support is reachable via email and phone, which is highly convenient and not offered by many exchanges. The email response time can take up to 12 hours on any day of the week, which is relatively fast, especially if compared with competing exchanges.
Bitbuy trading platform is accessible via browser but you can also trade on the go if you download its mobile app. It is available on both Android and iOS devices and allows you to perform the main features of the web platform.
In sum, it is clear that a happy client is Bitbuy's priority. Both starting and seasoned traders may enjoy the platform and the way it is designed, which makes up a pleasant trading experience. Although experienced traders may find some aspects of the platform limited, newcomers are surely likely to enjoy a smooth and frictionless cryptocurrency buying and selling process.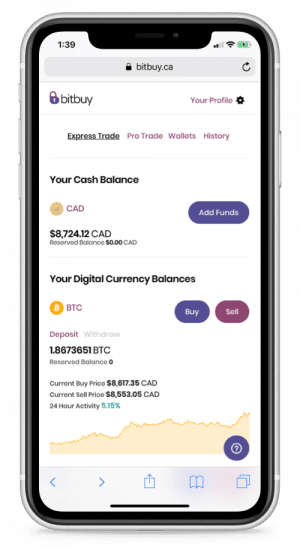 Bitbuy Exchange
Deposit and withdrawal methods
Regarding Bitbuy's deposit and withdrawal methods, it allows you to move your funds in and out of the platform in a multitude of ways, including:
Bank transfer
Cryptocurrency
Express Interac e-Transfer
Flexepin
Interac e-Transfer
SWIFT
The transfer times depend on your chosen method and can take up to 5 business days to process. Bank wire typically takes between 1 and 2 days. Interac e-Transfers are settled from 8:00 AM 11:59 PM (EST) within 1-4 hours and between 12:00 AM and 7:59 AM AM within 4-6 hours. Express transfers will settle within the same day, and, in some cases, several hours, but they also come at a higher cost.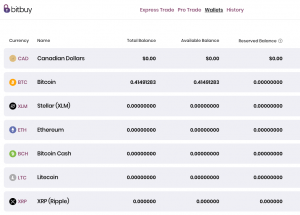 Conclusion
Bitbuy is leading Canada's cryptocurrency exchange for a reason, and focused, reliable, and customer-oriented are the right words to define it. Instead of being a global conglomerate, it concentrates on fostering its local user base, regulatory compliance and smooth functioning of the exchange, which is exactly what most beginners are looking for in a cryptocurrency exchange of their choice.
Summary
Web address:

Bitbuy

Support contact:

Link

Main location:

Toronto, Canada

Daily volume:

? BTC

Mobile app available:

Yes

Is decentralized:

No
Parent Company:

First Ledger Corp

Transfer types:

Bank Transfer, Crypto Transfer

Supported fiat:

CAD

Supported pairs:

6

Has token:

-

Fees:

Medium (Compare rates)