BingX
BingX is a unique, innovative exchange that allows you to connect with elite traders to bring about the best possible results for your investments. With other platforms, you are swimming in the dark and have to rely on your own wits in order to find the best investments. With BingX's superior analytics and crypto social trading network, you never have to wade the waters of crypto alone. You have models to base your strategies on, and you can even choose to easily copy a great trader's strategy using copy-trading. With no deposit fees and some of the lowest fees in the industry, BingX has already set themselves apart from the pack. With all of these qualities, along with standard crypto trading capabilities of regular exchanges and a perpetual swap feature that allows seamless crypto derivatives trading, BingX is a fully realized platform for all of your current and future needs in trading cryptocurrencies. 
General info
| | |
| --- | --- |
| Web address: | Link |
| Main location: | Singapore |
| Daily volume: | 14258.3 BTC |
| Mobile app available: | Yes |
| Is decentralized: | No |
Parent Company:
Transfer types:
Supported fiat:
Supported pairs:
Has token:
Fees:
Very Low(Compare rates)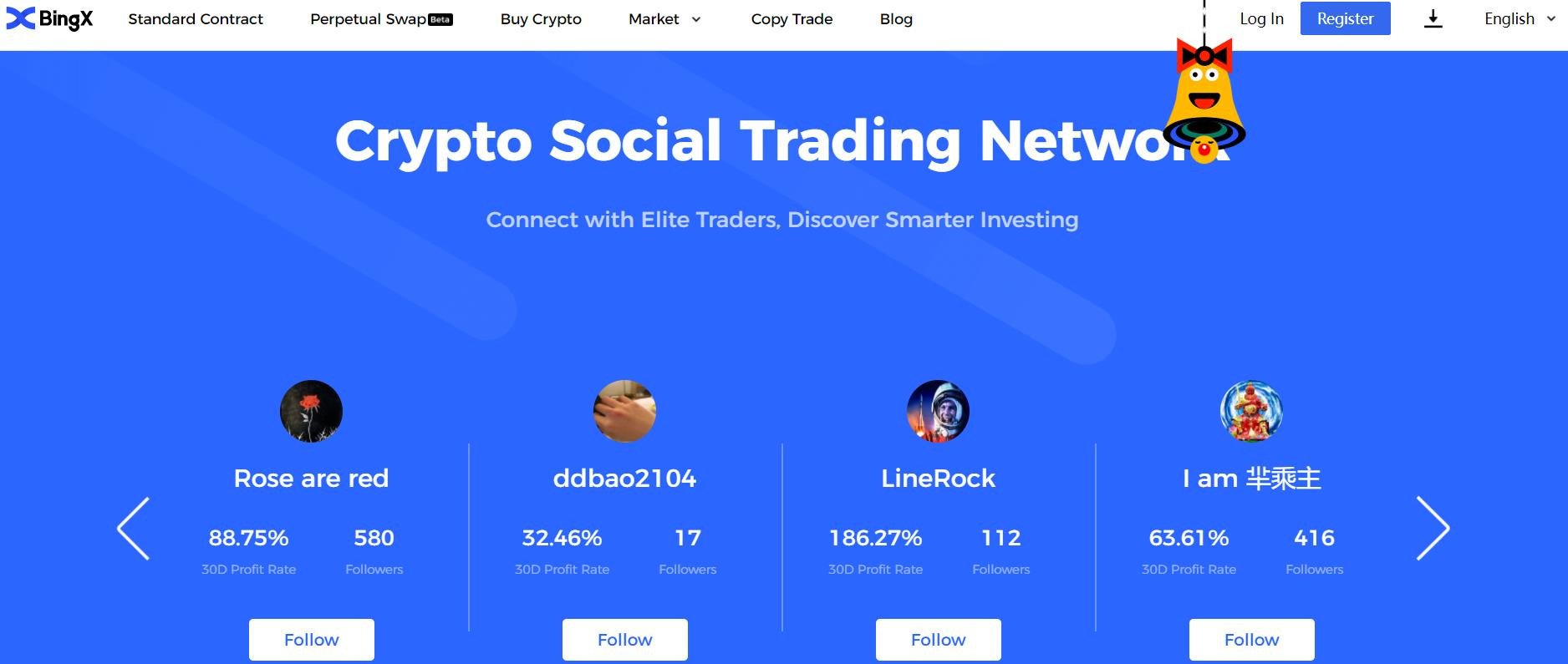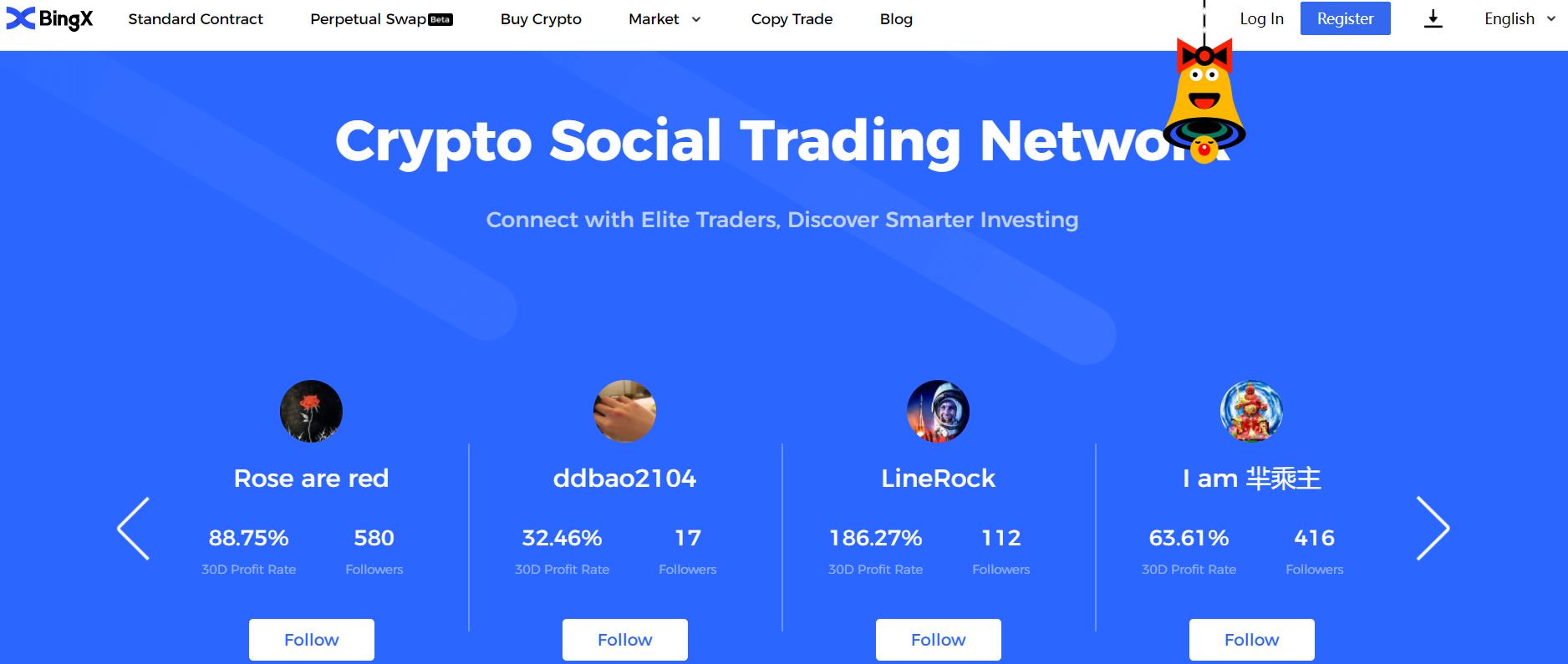 Open an account with BingX by following this link.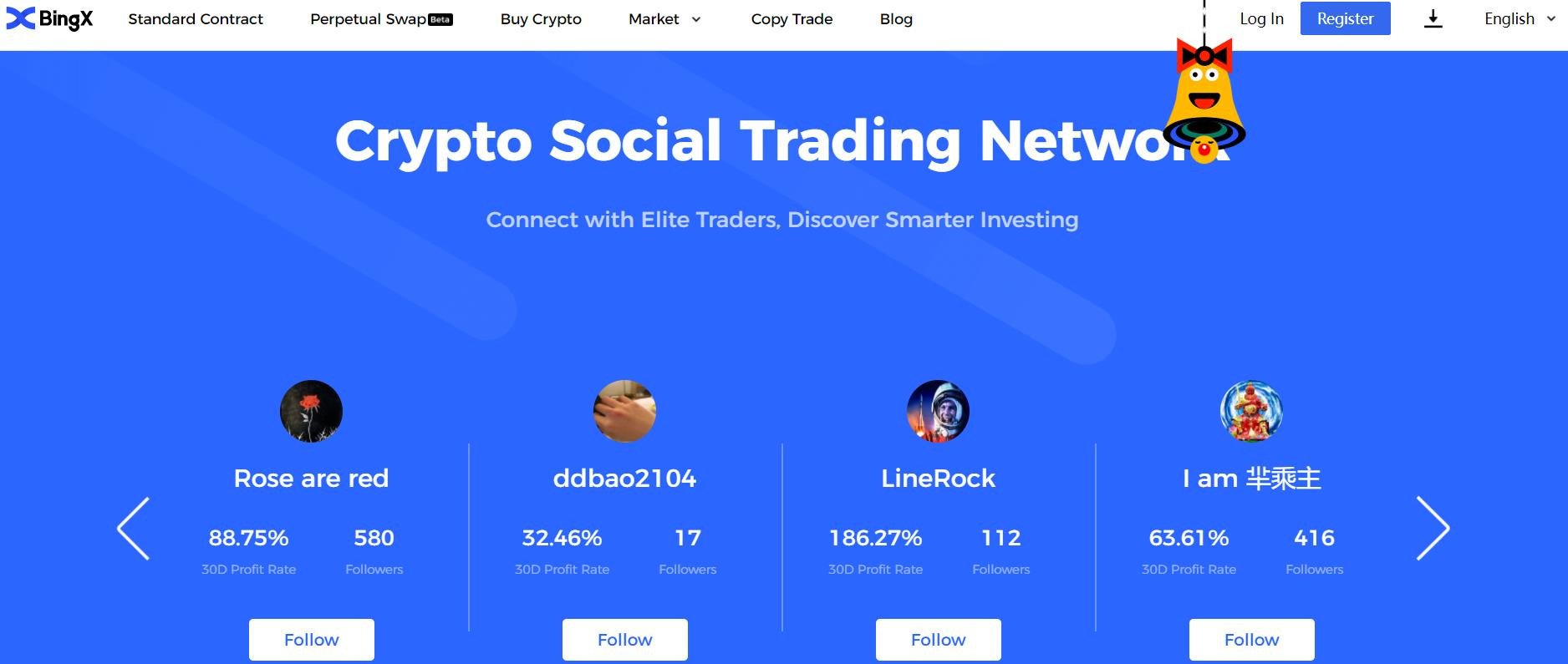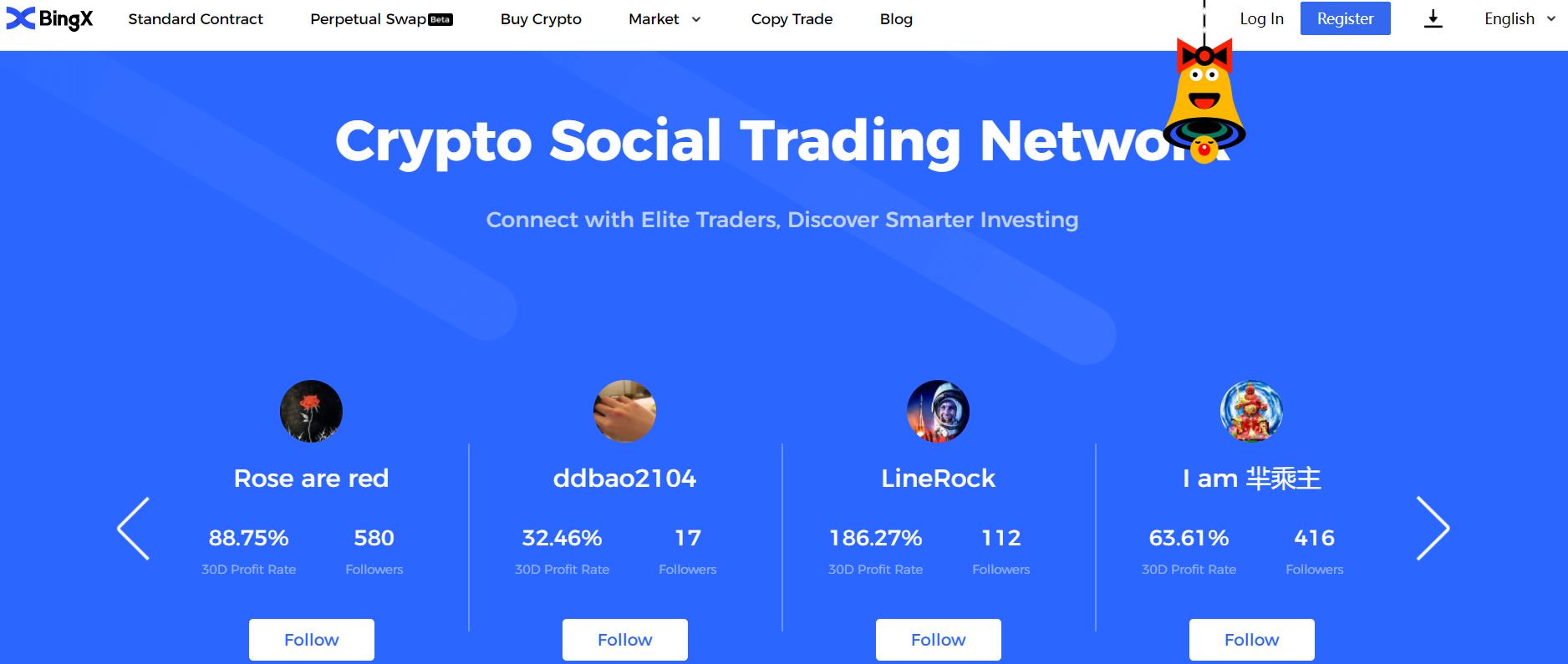 BingX: Key Features
Buy and sell cryptocurrencies worldwide: Although known for its copy-trade features, BingX is no slouch when it comes to regular buying and selling crypto. With a well-designed, professional trading platform, users can buy and sell with the ease, just as simply as any other exchange out there.
Largest and most advanced copy-trading features in the market: While some exchanges just have copy-trading as a feature, BingX goes all the way and delivers an unequaled copy-trading experience. With clear, simple-to-read analytics and stats on the best copy-traders on the platform, you can pick and choose your strategy depending on your needs. This is how BingX made a name for itself. If you are looking solely for copy-trading as a feature, BingX has no rivals.
24/7 Customer Support: You can execute normal trades and copy trades as well as do leverage trades. Although simple to use for the user, these all need care and attention when handling on the exchange side. With leverage trading being risky, it is especially helpful when a company has the support to back up these features, since you may need questions concerning certain features. BingX's 24/7 support in 10 languages, including Dutch, gives you the peace of mind that you will be taken care of when executing trades.
Fiat Support: Using platforms like Banxa and Moonpay for multiple currencies like USD, AUD, EUR, KRW, THB, TWD, BGN, BRL, CAD, CHF, COF and more, BingX provides extensive fiat support. The platform uses third party protocols to execute these fiat buys.
Perpetual Swap feature: With the Perpetual Swap feature, you can keep your limit orders, margin trades running around the clock. Investors have to close their positions first and then re-open when a contract delivery date arrives. For experienced traders, the Perpetual Swap solves when users miss market fluctuations caused by tedious operation procedures that would encumber them on other exchanges.
Intuitive and Beginner-Friendly Platform: From getting started with just your email verification in order to navigate all of the platform's features, BingX gives beginners and experts a user-friendly experience when it comes to the interface. 
BingX: Background and History 
Registered in Singapore as Bingbon, BingX is an ambitious cryptocurrency exchange that has been at the cutting edge of innovative blockchain technology. Renamed BingX after a full-scale rebrand, the exchange quickly gained a reputation for its copy-trading features.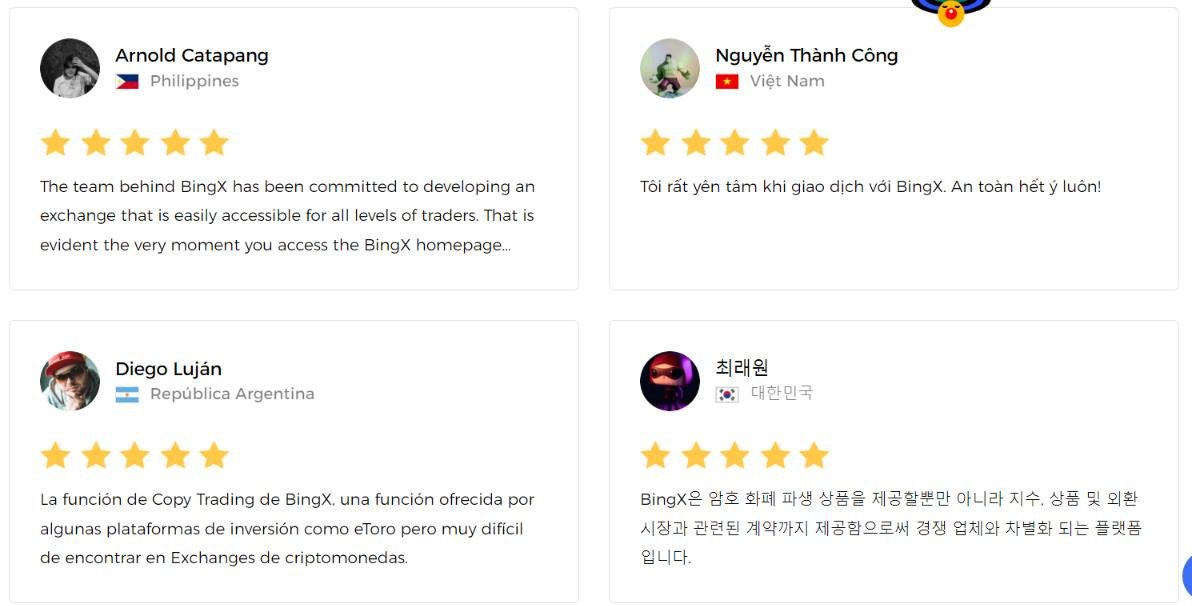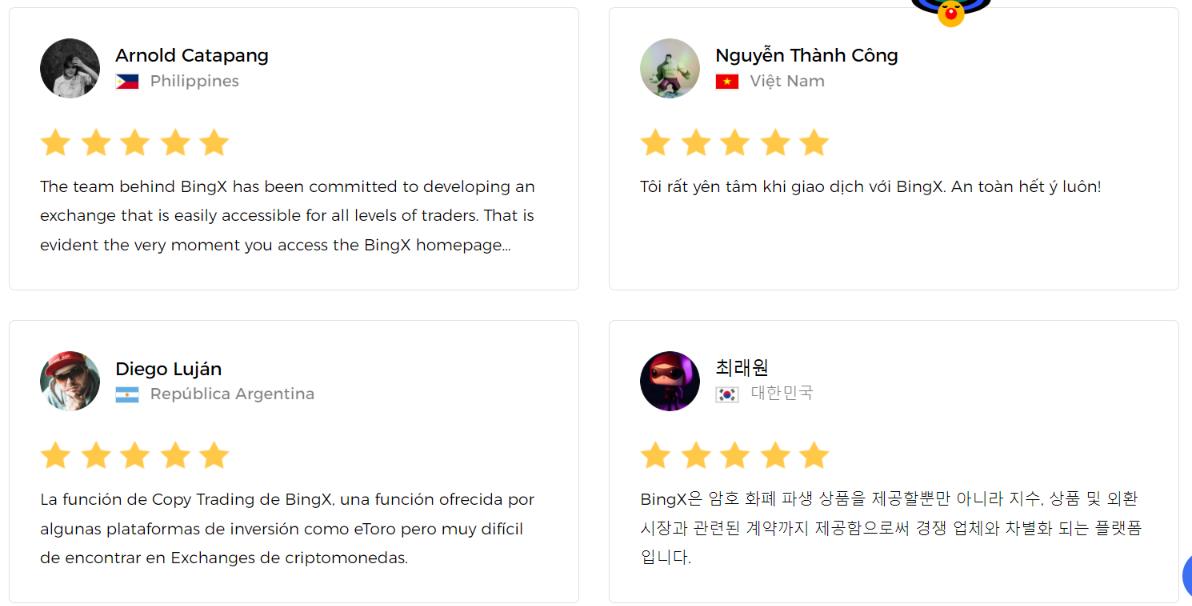 Established in 2018, BingX's promising protocols secured angel investment and series A funding. In 2019, the copy trading feature was added and became a massive success in Asia. In 2020, BingX grew rapidly, reaching high trading volume and expanding into English-speaking regions. In 2021, BingX ranked 7th on CoinMarketCap by 24 hour trading volume and can handle more than 200,000 orders per second. As the site  continued to expand with achieving dual licenses, BingX has reached 10,000 daily trading users and a daily trading volume of more than 700 million U.S. dollars. BingX continues to try and expand on their technology, even with the amount of success the platform already possesses. 
As blockchain began to ramp up and have a worldwide following, Bingbon obtained the authoritative MTR license that allowed them to offer a wide range of services, like digital currencies and crypto wallets. This has allowed the platform to spread while making sure BingX has been expanding its services worldwide ever since. Now, as BingX, they are the biggest copy-trading platform in the world. 
Achievements 
BingX had a strong rise in the cryptocurrency scene. In just its few years of existence, it is consistently ranked at the top 10 on Coinmarketcap's list under 'Derivatives Exchanges'. Along with this, BingX has secured its place as, by far, the largest copy-trade platform on the market. While other exchanges have it as an afterthought, BingX brings special care and thought into their copy-trading, making it the best exchange to use when copy-trading. 
There is no other exchange that can even come close to claiming the overall options that BingX achieves in this regard. The platform has attracted and will be sure to attract even more users who are well-versed in this feature. However, not only experienced traders benefit. That and with super low fees and commissions, it's no wonder why over a million users have been using BingX for their crypto needs. You have great fundamentals in the regular crypto exchange features along with the special copy-trading feature that BingX is known for.
Team and Management 
Vigilant attention was given to the creation of this team. When the founding and overall leadership is recruited from top companies, from top venture capitalist firms to tech giants, you know that the team has been carefully crafted to execute on the highest levels. With blockchain technology being the latest in technological and financial developments, experts in these various fields are needed. When it comes to the team, BingX pulled no punches. With experience from J.P. Morgan and Standard Charter Bank, the exchange deftly covers their financial bases. 
Fees 
Here is a preliminary chart of what the fee structure looks like.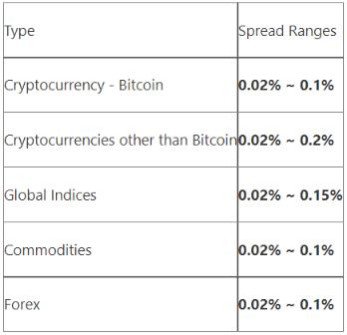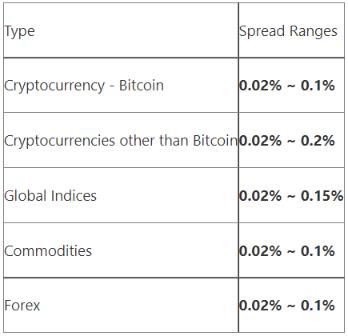 BingX: Design and Usability
The design is a standard blue and white with a very inviting font. Although these colors are how many exchanges are designed, what makes BingX a cut above the rest is the execution from the front page to registration. The letters are always big and legible, making it easy for the user to navigate right when the site is opened. Right at the top, each of the features are clearly discerned, from registration to using perpetual swaps. There is no confusion as to the functions of any button on the platform. In terms of the general user interface, every step of the way is characterized by step-by-step. Whether you are registering or depositing, the site gives you a pleasant experience. 
Trading in general on BingX is great, with the standard tradingview that characterizes many top-notch crypto trading platforms. Those who are not familiar with how these trades work may not be as comfortable. But everyone who has used the regular trading view format to buy and sell crypto should have no problem with the trading platform interface. In fact, users might grow fond of trading with the clear candles and trading with limit orders.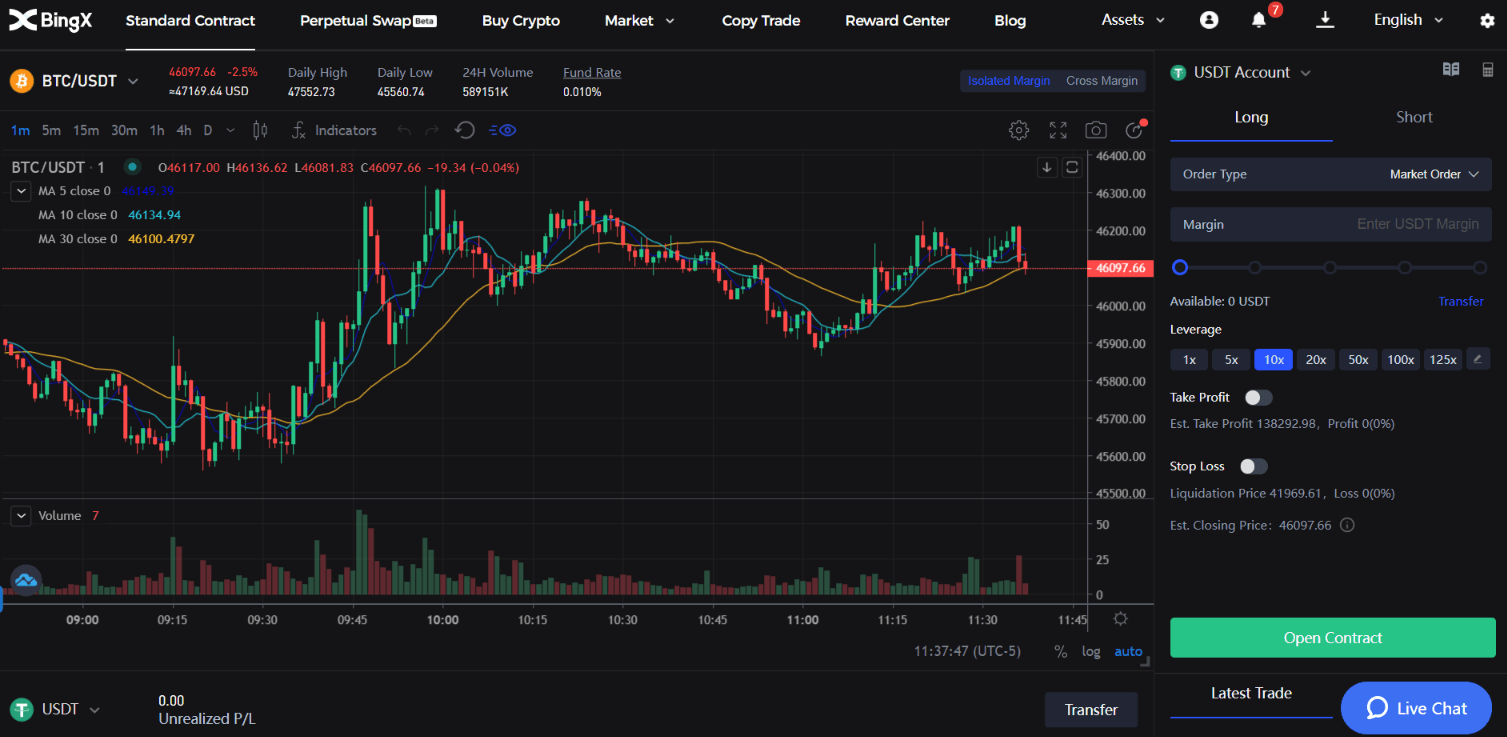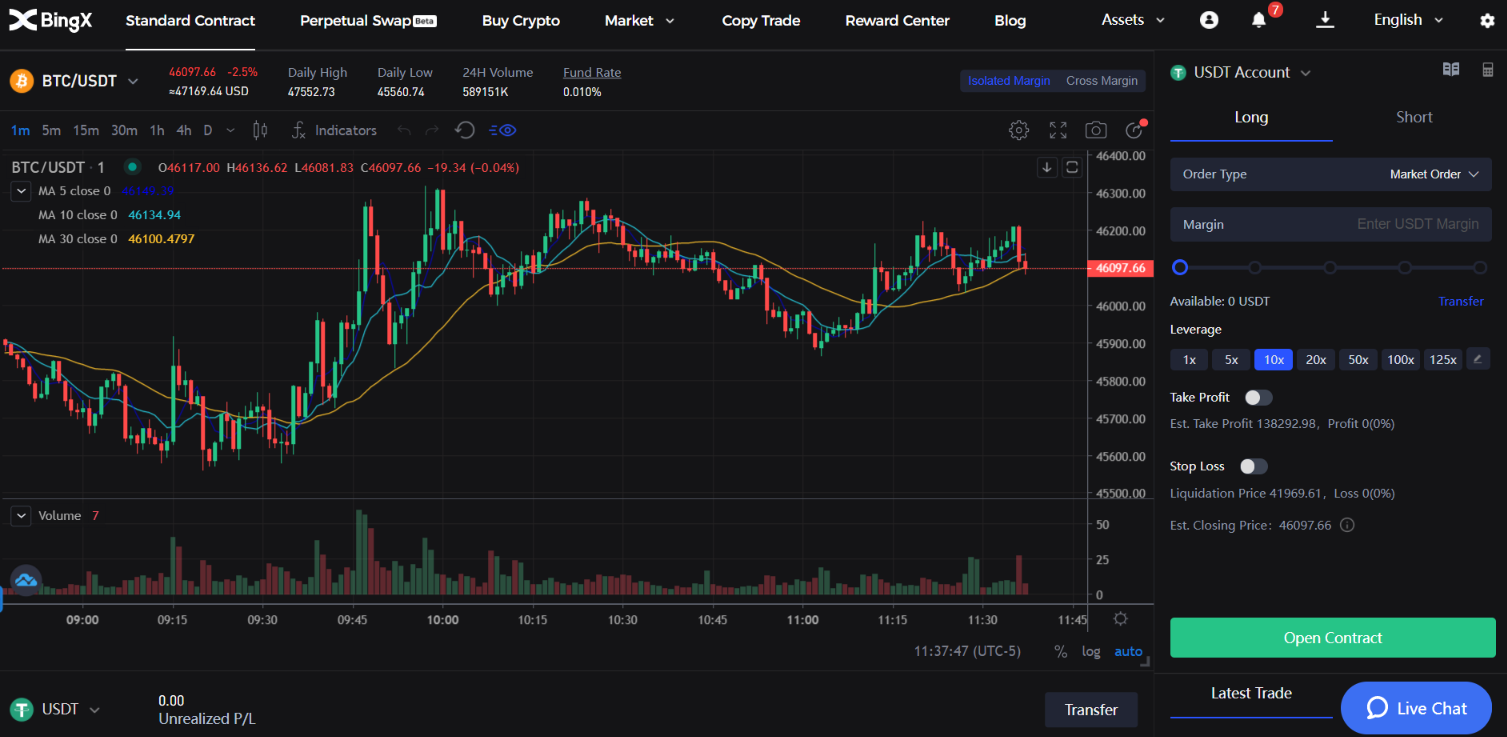 Depending on your region, you might have to put in more KYC details. Otherwise, all you need is email and password and you're good to go. If you are only using crypto, the site is completely available for you to use with no KYC, giving you as much privacy as possible. If, however, you want to buy using fiat, you need to put extra information for things such as advCash and Coinify. BingX does not handle any of the fiat gateways and these are taken care of by third party sites. These, of course, aren't completely necessary if you are only depositing crypto. 
This is the awesome thing about BingX. You can do trades that use leverage, things that usually require extensive documentation for traditional finance portals, but do them with more privacy. The same liquidation risks apply but you can get started quickly. If you are planning on massive trades, however, you do need to provide further authentication. 
To top it all off, there is a blog that allows the users to be acquainted with cryptocurrency in general, allowing those who need support the necessary things to learn. 


Tiered Authentication 
BingX encourages authentication for many users, even though you are able to access the features without it. Most users won't have over 1 BTC or 50 ETH to play around with, making it incredibly accessible to the vast majority of users. If you're a big player in the market, however, authentication is necessary.
Unauthenticated: 
USDT- daily limit 10,000; single transaction limit 10,000; cumulative max. 40,000.
ETH- daily limit 50; single transaction limit 50; cumulative max. 200.
BTC- daily limit 1; single transaction limit 1; cumulative max. 4.
Authenticated: 
USDT- daily limit 1000,000; single transaction limit 100,000; no cumulative limit.
ETH- daily limit 400; single transaction limit 150; no cumulative limit.
BTC- daily limit 5; single transaction limit 2; no cumulative limit.
BingX Affiliate Program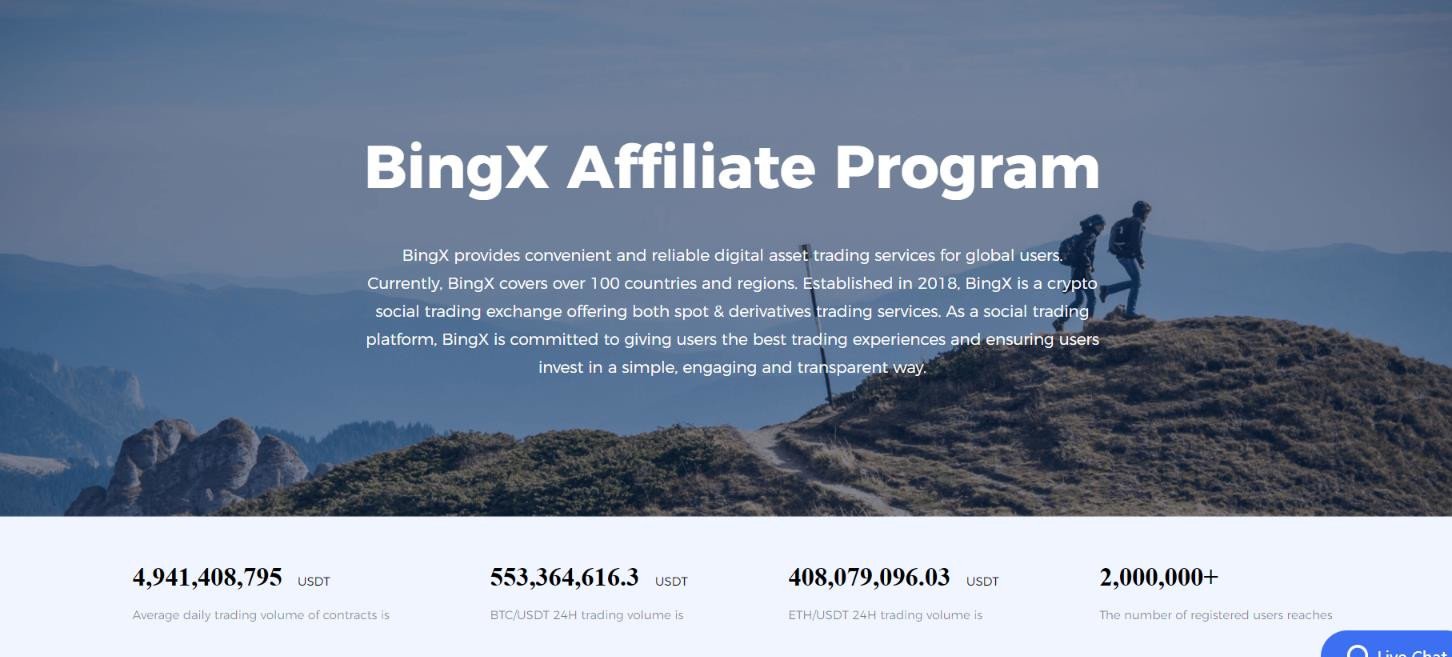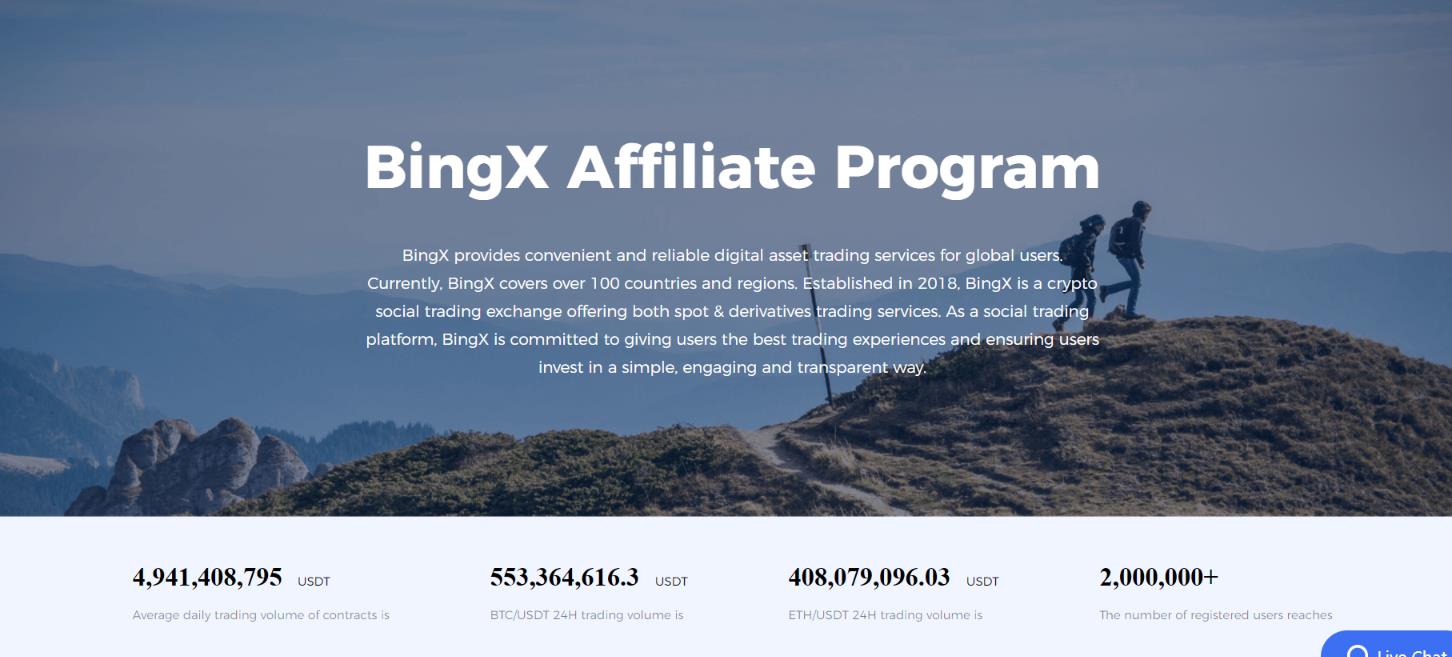 If this is something that would interest you and if you happen to have a network you know that can use BingX, you can contact [email protected]. The commission rate is a whopping 60%, easily one of the highest in the industry for affiliates. Affiliates also have lower fee rates in industry, as low as 0.045% for standard contract rates. Maker rates are at 0.02% and Taker rates at 0.03% for Perpetual Swap with up to 100+ USDT bonuses available upon registration. You will also have branded gifts courtesy of the exchange. If you have a network, BingX has a promising affiliate program you can take advantage of. 
Mobile app 
The mobile app boasts much of the same features as the desktop app and is a clear mobile version of many of the features that you need, like buying, selling and copy-trading. For those who like to see how their assets are doing on the go and want to time certain trades, having it on mobile could be essential for your needs. 
User's Account Security Measures 
Users can use Google authentication for their account adding an extra layer of security. With support to contact at a moment's notice, BingX provides the necessary means to keep your account secure. 
Deposit and withdrawal methods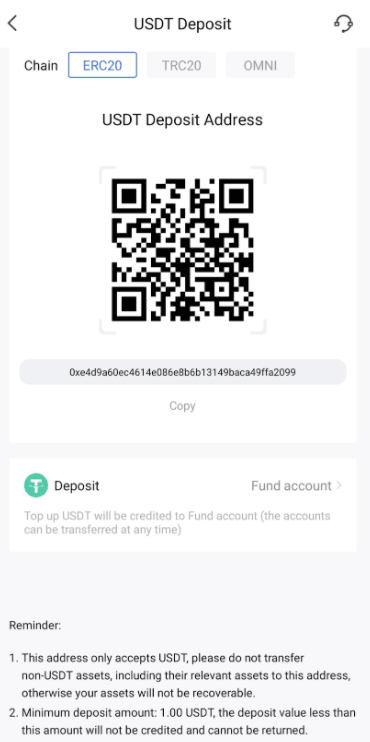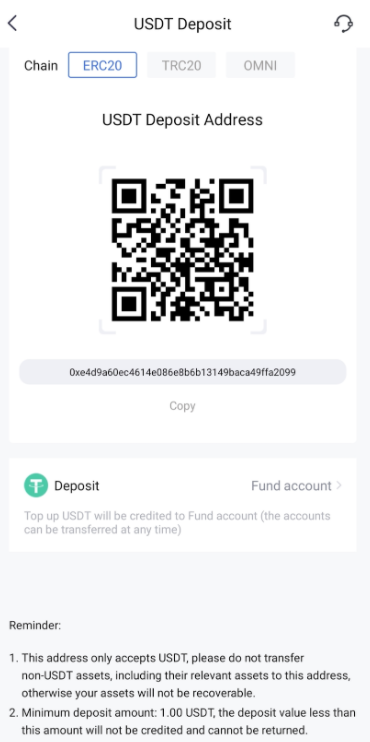 BingX hosts a number of wallets, from cryptocurrencies like USDT and BTC, that you can use to deposit your crypto. You may also use a QR code if you find that convenient. There are no fees for withdrawal and the fee structure for withdrawals can be found in the fee section above. 
Conclusion
Overall, BingX does a great job at the fundamentals as well as excels as an exchange on its unique features. If you are copy-trading, BingX is a must to have in your toolkit. Even if you aren't copy-trading, the wealth of features that it has makes it an attractive option. It's no wonder why over a million users have already taken advantage of it! You can open an account here through this link.