ZT Global Review
ZT is a cryptocurrency exchange that is suitable for everyday crypto traders. It's mainly a crypto-to-crypto exchange, meaning that it supports a wide variety of altcoins. Besides, you can make use of its OTC desk to buy stablecoins with fiat and vice versa, and its ZT Savings section allows its users to earn passive crypto income. In brief, ZT is a secure and regulated platform, meaning that you have to verify your identity to access all of its services and withdraw funds from the platform.
General info
| | |
| --- | --- |
| Web address: | ZT Global |
| Support contact: | Link |
| Main location: | Seychelles |
| Daily volume: | 0.0 BTC |
| Mobile app available: | Yes |
| Is decentralized: | No |
| | |
| --- | --- |
| Parent Company: | ZT GLOBAL |
| Transfer types: | Credit Card, Debit Card, Crypto Transfer, |
| Supported fiat: | CNY, JPY, THB, WJF |
| Supported pairs: | 300 |
| Has token: | ZTB |
| Fees: | Medium (Compare rates) |
Pros & Cons
OTC desk Low trading fees Staking platform Wide selection of assets
Must verify identity to withdraw funds No direct fiat-to-crypto trading Mobile apps are still in beta
Screenshots
ZT Global exchange review: key features
ZT is a cryptocurrency exchange based in Seychelles. It lets you buy and sell a wide variety of coins, including top DeFi and leveraged tokens.
The key features of the exchange include:
Trade more than 200 crypto assets in CNT, USDT, BTC, and ETH denominated markets, including the latest DeFi tokens.
Crypto-to-crypto exchange. ZT is a crypto-to-crypto platform, but it supports many stablecoins for the optimal trading experience.
OTC trading desk. Trade large quantities of stablecoins directly to fiat and vice versa.
24/7 customer support. The exchange has a helpful customer support desk as well as an extensive FAQ question with user guides.
ZT Savings service. Invest and stake coins and reap from 6% to 60% (!) annual yields.
Mobile app trading. ZT has a mobile app for iOS and Android so that you can manage your positions and trade on the go.


Background of the exchange
ZT Global cryptocurrency exchange is incorporated in Seychelles, an archipelagic island country in the Indian Ocean which is home to popular cryptocurrency exchanges like BitMEX, Binance, KuCoin, ProBit, Poloniex, PrimeXBT, ChangeNOW, and many others. Founded in 2019, the exchange also claims to have completed global compliance layouts in Korea, Japan, Singapore, Vietnam, Malaysia, Germany, United States, Hong Kong, Estonia, Taiwan, Australian, and other places.


Source: www.ztb.im
The exchange's team members are said to come from a significant international background, including well-know Wall Street institutions like Investopedia, Bank of America, Merrill Lynch, Google, Moody's, Goldman Sachs, Shenzhen Stock Exchange, Tencent, Baidu, and other top-tier companies.
Today, the exchange is serving users in more than 158 countries and regions across the world.
The website is available in seven languages: English, Simplified Chinese, Korean, Thai, Vietnamese, Japanese, and Farsi.
Registration and identity verification
Registration at ZT Exchange is plain and simple - you can open an account using either a valid email address or a phone number.
Mind that linking your phone number with a cryptocurrency exchange account might be unsafe based on your country of residence, as, for instance, there is a prevalence of SIM-swap attacks on individual exchange accounts in the United States. However, this might not be an issue in some other country, especially if it has stricter policies that impact one's ability to perform phone number porting.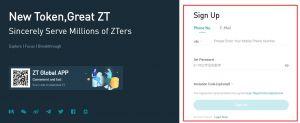 Once you type in either your phone number or email, you will have to verify it. Once you do that, your registration is complete, and you can deposit and trade cryptocurrencies. Nevertheless, you will need to undergo the identity verification process if you want to withdraw funds from the exchange.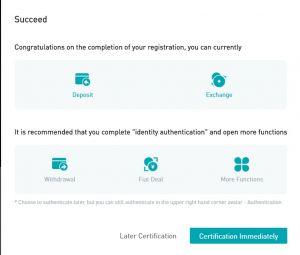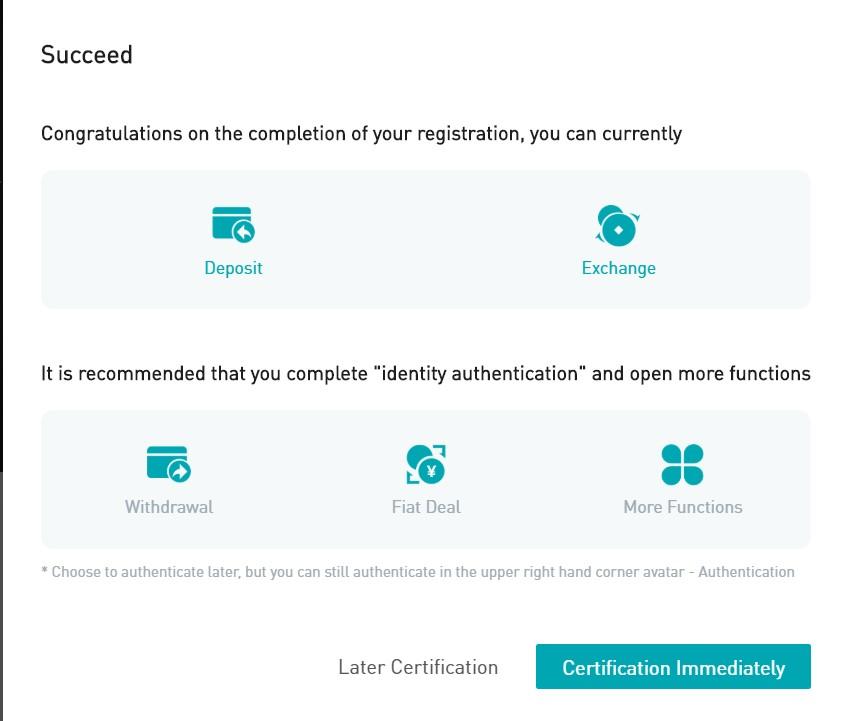 ZT Global offers an easy and quick way to do this, as you will need to provide:
Your country
Name and surname
Certificate (ID or passport) number
Photo of ID (or passport) with certificate number visible
Statement verification
The exchange accepts users from most countries in the world, except for areas where cryptocurrency trading or acquisition may be illegal. If you're unsure about your situation, it is advisable to seek legal consultation before registering and depositing funds on the exchange.
ZT Global fees
ZT Global charges crypto trading and withdrawal fees. Deposits at the exchange are free of charge.
In terms of trading fees, ZT Global is a run-of-the-mill exchange, as every trade on the exchange incurs a fixed 0.2% fee. This puts it in the same fee-tier as Bittrex, Kraken, ProBit, and other popular centralized exchanges.
However, active users of the exchange can get a tiered fee discount based on the amount of user's ZTB holdings (exchange's native token) or cumulative 30-day trading volume in terms of USDT. The VIP fee tier system consists of seven different levels, which can bring down your trading fees to as little as 0.11% per trade. Just by having more than 300 ZTB tokens or trading more than 3000 USDT worth of crypto a month, you will already lower your fees to0.16% per trade.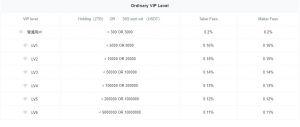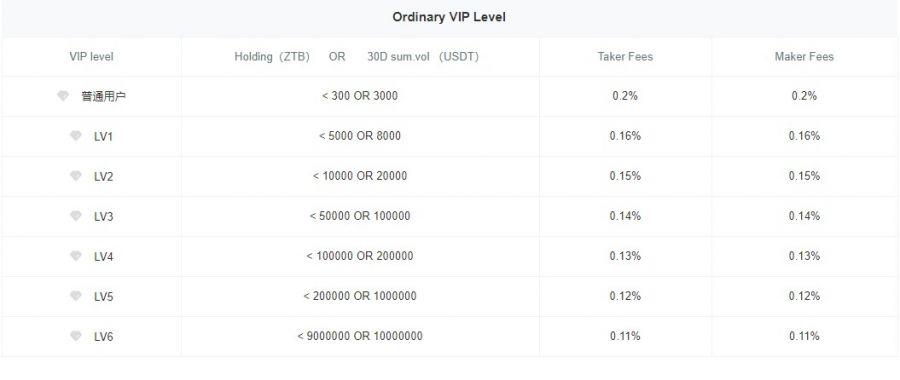 ZT fees table.
As for withdrawals, the ZTB.im exchange charges a different fee per cryptocurrency. Here is a small sample of some popular coins with their withdrawal fees at the ZT platform.
| Coin/Withdrawal Fee | ZTB.im | Binance | HitBTC | Poloniex | Bittrex |
| --- | --- | --- | --- | --- | --- |
| Bitcoin (BTC) | 0.0005 BTC | 0.0004 BTC | 0.0015 BTC | 0.0005 BTC | 0.0005 BTC |
| Ethereum (ETH) | 0.005 ETH | 0.005 ETH | 0.02917 ETH | 0.06 ETH | 0.042 ETH |
| Litecoin (LTC) | 0.001 LTC | 0.001 LTC | 0.053 LTC | 0.001 LTC | 0.01 LTC |
| Ripple (XRP) | 0.1 XRP | 0.25 XRP | 6.38 XRP | 0.05 XRP | 1 XRP |
| EOS (EOS) | 0.1 EOS | 0.1 EOS | 0.01 EOS | Free | 0.1 EOS |
| Monero (XMR) | 0.04 XMR | 0.0001 XMR | 0.1006 XMR | 0.0001 XMR | 0.0001 XMR |
| Tron (TRX) | 3 TRX | 1 TRX | 372.5 TRX | 0.1 TRX | 0.03 TRX |
As you can see, ZT is a mediocre exchange in terms of withdrawal fees, too. Its fees are on the lower end of the spectrum in the industry, though they are slightly higher when compared with the smallest fee exchanges. Still, fees vary per coin being withdrawn, and are generally low. A complete list of withdrawal fees and minimum withdrawal amounts from the ZT Global exchange can be found here.
Design and usability
ZT exchange is relatively easy to use. While it might be somewhat advanced for complete newbies, it is a decent option for both amateur and professional crypto traders.
When you log in onto the platform, you can navigate either to markets, exchange, OTC desk, check user guides, ZT Savings, join the official community group, see your open orders or history, and manage your assets or account.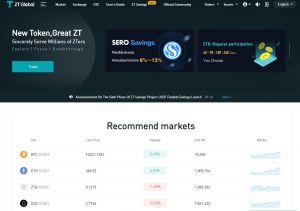 The markets tab lets you explore all of the markets available on the exchange. In order to find the right market, you can mark your favorite ones or browse Main,Innovation, and ETF sections, as well as sort them by CNT, USDT, BTC, and ETH base pairs.
The main markets section includes the most popular crypto projects, while the innovation section lets you find new hot tokens, including DeFi governance coins. The ETF section is filled with BULL/BEAR leveraged tokens that represent the price of regular coins but with three times more leverage, meaning that you can earn or lose three times more than trading the unleveraged version of a coin.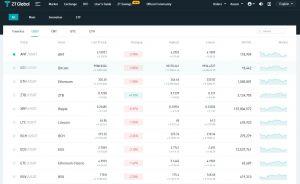 Next, the most critical part of the platform is its exchange. ZT has a neat trading window that makes it easy to monitor market prices, place buy and sell orders, and navigate the markets.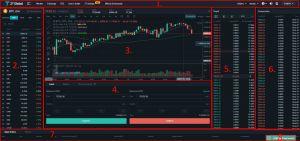 Main menu/navigation
Markets navigation
Charts/price monitoring window
Order placing window. ZT supports limit, market, and trigger-based order setting.
Current market orders panel
Recently executed trades window
User orders and trading history overview
Live chat customer support
The exchange should be extremely clear and easy to use for all sorts of traders with market experience; however, it might be somewhat overwhelming for complete newbies who are looking for an easy way to trade.
ZTB.im exchange also has an OTC desk, which lets you buy and sell stablecoins like USDT, CNT, or LCG for fiat currencies like CNY, THB, JPY, and WJF. You have to verify your identity to qualify for using the OTC desk. Currently supported payment methods include bank card payments, Alipay, and WeChat.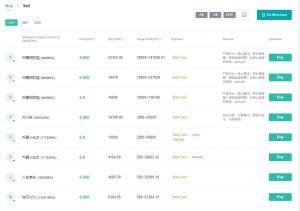 On the User's Guide section, you can learn about all the fundamental aspects of ZT exchange, including how to deposit and withdraw coins, how to perform transactions, verify your identity, and more.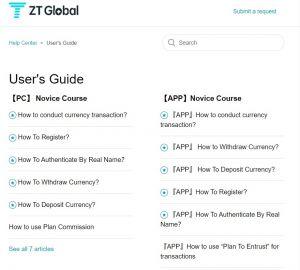 Last but not least, ZT Savings let the exchange's users stake and earn cryptocurrencies. Here, the yields range from 6% to 60% annually, meaning that your coins can generate significant passive income. At the moment, you can invest tokens like GKC, DMCH, SERO, USDT, GKC, and the exchange's native ZTB token.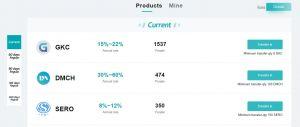 To view your current assets and balances, you need to go to the "Assets" window at the top right corner. Here, you can view your total assets, exchange assets, as well as fiat account.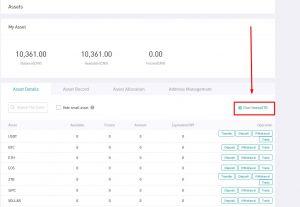 ZTB wallets include an excellent feature called "Dust SweepZTB," which lets you convert all the remaining small fractions of individual coins into ZTB token. It is a very convenient solution to the "dust" problem, which refers to leaving minuscule amounts of individual coins that are too small to trade and withdraw.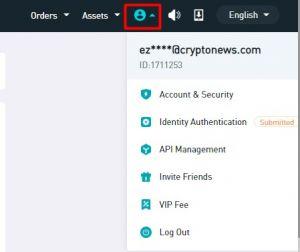 ZT exchange also makes it simple to manage your account, security settings, referrals, API, identity verification process, and review your VIP fee level. All you need to do is head to the account management window at the top right corner of your screen and click to enter the section you need. It's worth mentioning that ZTB has a lucrative referral program that lets you earn up to an 80% rebate.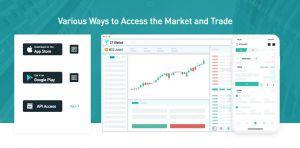 ZT mobile app
ZT exchange has mobile apps for both iOS and Android, though they are still in the beta phase. The apps let you access the main functions of the exchange, including trading, depositing and withdrawal of assets, and more.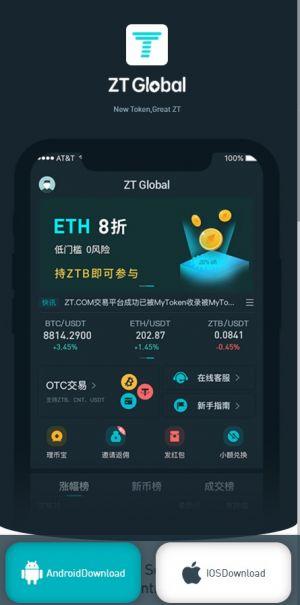 Customer support
ZT exchange has an extensive help center where you can find answers to the most frequently asked questions (FAQ), user guides,security tips, news, and other key information about the platform.
Apart from that, you can contact its customer support service via the following channels:
Submit a ticket via the help center.
Email:

[email protected]

Customer support chat at the exchange.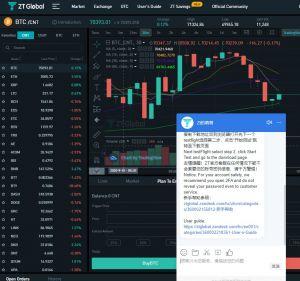 The support team works 24/7, so it should take more than an hour to get a response to your query, except during busy times.
All in all, ZT exchange is not a service for completely new crypto traders, but seasoned traders will find it simple and easy to use. The platform seems to be tailored towards the Asian audience, who might find it extremely useful, especially considering its OTC desk that can function as a fiat gateway.
ZT security measures
ZT exchange is a centralized platform, meaning that you have to deposit coins and tokens into its custody in order to trade. At the same time, the exchange has to secure your data and assets from hackers and other malicious actors, so you have to trust it that the platform is not running on fractional reserves and is competent enough to safeguard your funds.
As of 2021, ZT is yet to experience a hack. It is said to use bank-level user data encryption, dynamic authentication methods, multi-level risk identification systems, and control, as well as the decentralized structure and anti-DDOS attack protections to ensure user funds and transaction security. It boasts of more than 100 safety and bank-level risk control measures in total.
Its robust trading platform works well, too. The exchange claims that it can support more than 130,000 transactions per second. Aside from the exchange, ZT's team runs a number of related blockchain services, including ZT Cloud, ZT Capital, ZT Commercial College, ZT Labs, ZT Mining Pool, and ZT CLUB. Also, the exchange says to have obtained multiple operating licenses from various national exchanges.
On the user side of things, ZT lets you set up the following account protection measures:
Two-factor authentication (2FA). 2FA is one of the most recommended account security measures and should be set up on all of your crypto-related accounts. ZT supports 2FA using Google Authenticator.
Phone number 2FA. ZT lets you bind your account to your phone number, where you can receive a withdrawal, password change, and other essential notifications.
Email. Receive confirmation codes for all sorts of security settings.
Anti-Phishing code. The code that is sent to you to prevent email attacks.
Fund (trading) password. ZT Global lets you set up an extra password (on top of your login password) for trading and withdrawing funds from your account.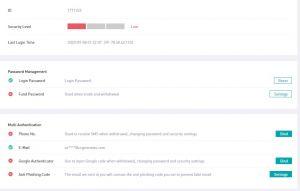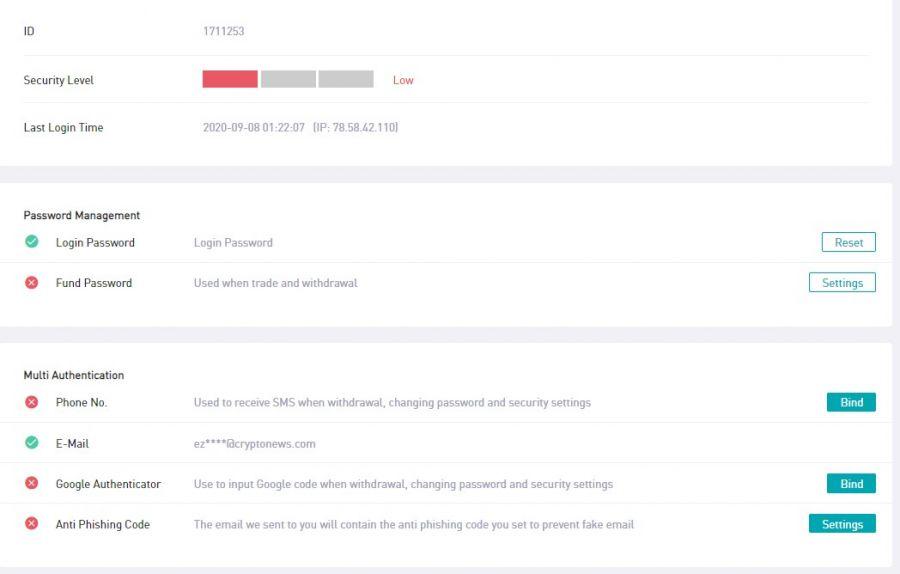 All in all, ZT is a professional and secure business operation. It is yet to experience its first major security breach, meaning that its security practices aren't an easy cookie for all sorts of hackers and attackers, and the exchange takes the security of its operations very seriously.
Deposit and withdrawal methods
To deposit funds onto ZTB.im, you will need to have some cryptocurrency first. The exchange does not support direct bank deposits, nor purchases via bank cards or e-wallets, meaning that it is a pure crypto-to-crypto exchange.
Depositing cryptocurrency is relatively easy - all you need to do is head to your assets page and hit the "Deposit" button. The same goes for withdrawals but mind that to withdraw funds from the platform you need to have your account verified.
Alternatively, you may buy cryptocurrency (stablecoins) using ZT's OTC desk. Here, you can buy USDT, CNT, or LCG coins using a bank card, WeChat Pay, and Alipay. The coins will be credited to your exchange account, from which you can proceed to trade them into other cryptocurrencies.
At the same time, you can use ZT's OTC platform to sell your crypto holdings back into fiat. As such, ZT does not support direct fiat deposits or withdrawals, but its OTC platform allows for fiat-to-crypto trades between users.
Conclusion
ZT exchange is a handy up-and-coming crypto trading platform, especially if you're looking for a place to buy and sell Bitcoin and over 200 other crypto assets. Its OTC desk allows for direct fiat-to-crypto exchanges, while you can also earn passive income using the ZT Savings section. It also has relatively low fees and a generous referral program, which lets you earn crypto with ease. Overall, ZT exchange is best suited for real and more experienced traders in Asia, although the platform is developing quickly and accepts users worldwide.