TurboXBT
TurboXBT is a short-term contract trading platform offering a decent spread of different assets. While very simple and easy to understand, this type of trading does carry significant risk that users should be aware of. Still, the platform itself is there to help: with its intuitive interface, no fees, and extensive help center, trading is both simple and enjoyable.
General info
| | |
| --- | --- |
| Web address: | TurboXBT |
| Support contact: | Link |
| Main location: | Seychelles |
| Daily volume: | ?? BTC |
| Mobile app available: | No |
| Is decentralized: | No |
| | |
| --- | --- |
| Parent Company: | Unknown |
| Transfer types: | |
| Supported fiat: | None |
| Supported pairs: | 38 |
| Has token: | None |
| Fees: | Very Low (Compare rates) |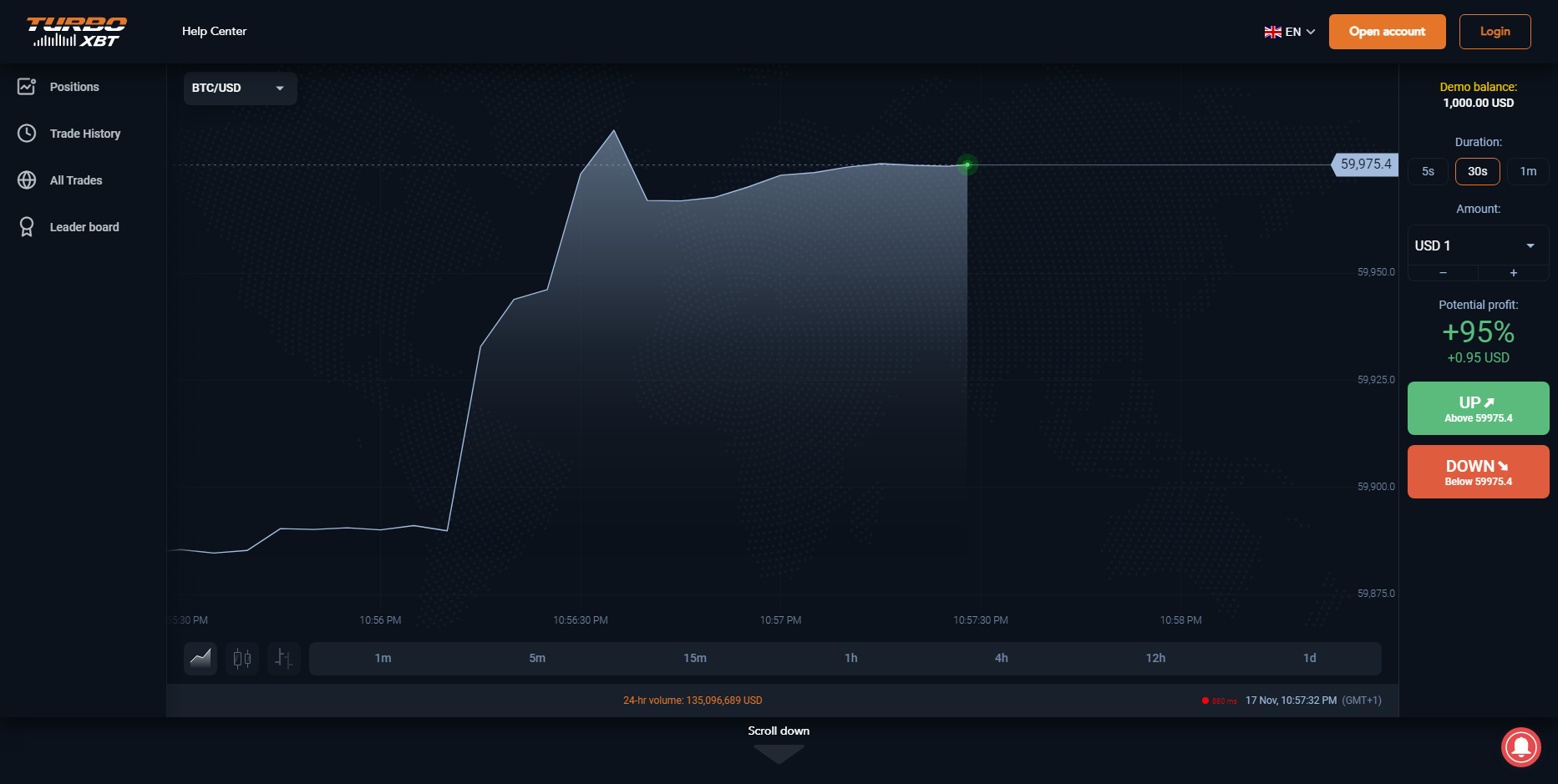 TurboXBT Review: Key Features
TurboXBT is a short-term contract trading platform. This means that users choose an asset, enter an amount, choose the time for which the contract will run, and whether they believe the price will be higher or lower once the contract runs out. If they're right, they receive the profit off their prediction; if they're wrong, they forfeit the stake they've made.
Other notable features of the exchange include:
No fees at all. This is quite a rare sight in any industry, let alone the cryptocurrency one, but TurboXBT truly does not charge any fees—not for depositing, not for withdrawing, and not for trading. The only fees you may need to pay are the usual network fees as set by the blockchain you're using.
Extreme ease of use. The UI is very intuitive so you're unlikely to run into any trouble there.
Demo account. Worried you'll risk too much money before getting the hang of it? The platform offers a demo account with USD 1,000 in it to let you test it before committing.
Privacy-centric. Not only does the platform not force KYC on their users, but you do not have to go through with it at all—there is simply no need, as all services are available to all users.
More than just crypto. While you can only use crypto to stake, you can place your wagers on several other asset types for a total of 38 trading pairs.
TurboXBT Background and History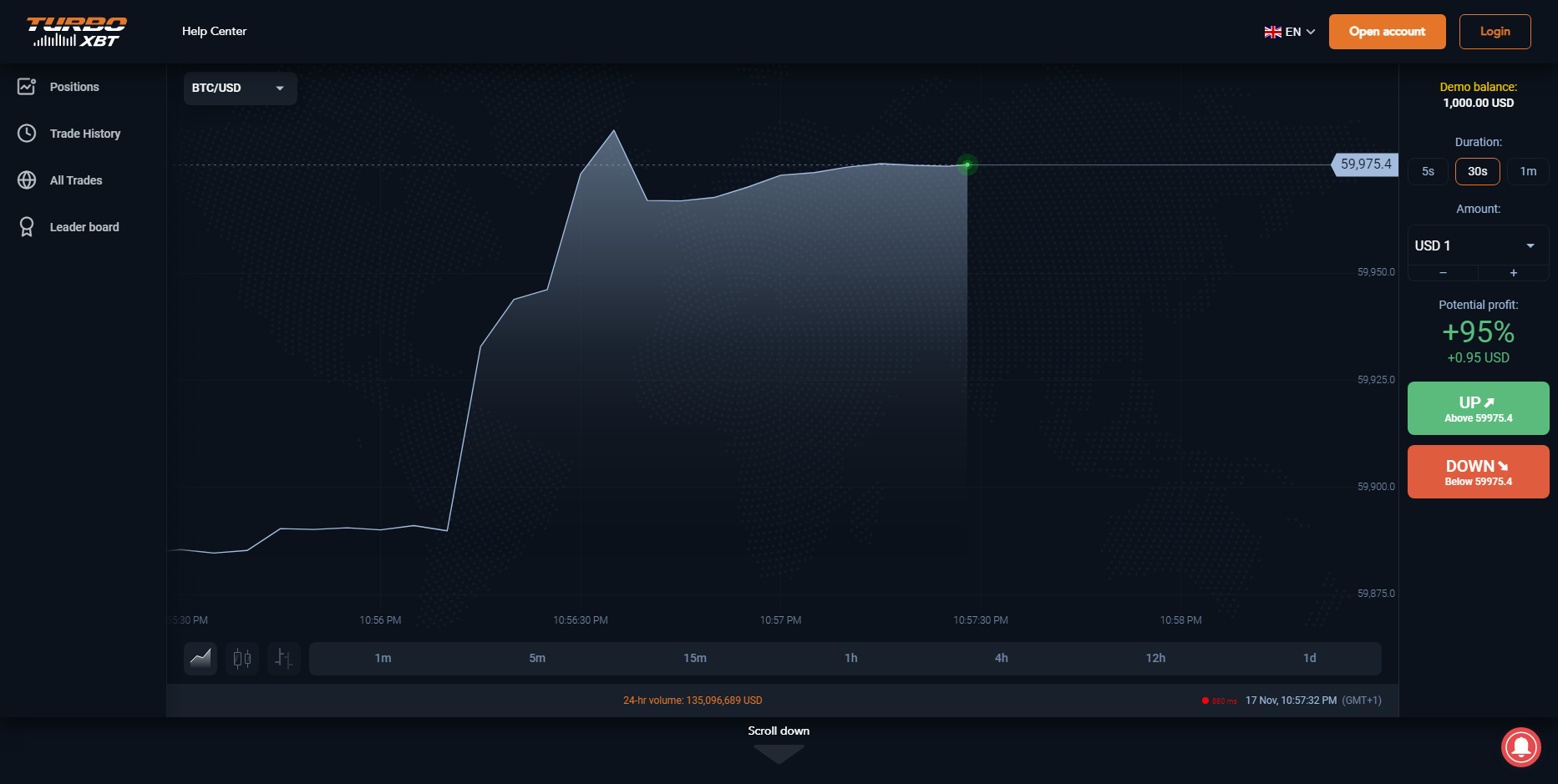 Little is known about the founding of TurboXBT and its team. This information is not available online, and the team claims the need to protect their private investors as the reason for not disclosing more information.
TurboXBT is incorporated in the Seychelles, which is a blockchain-friendly area that has been drawing a number of similar businesses. However, this also means that the platform is not regulated. On the other hand, neither are there any KYC checks on the platform, meaning it is especially well-suited for privacy-oriented traders. However, access is prohibited for users from the following areas: United States of America, United States outlying islands, Japan, Saint-Vincent and the Grenadines, Canada, Algeria, Ecuador, Iran, Syria, North Korea, Sudan, American Samoa, Russian Federation, and other countries where the company's activity shall be licensed, accredited or regulated by other ways.
TurboXBT is available in 16 languages: English, Spanish, French, German, Italian, Portugal, Hindi, Vietnamese, Indonesian, Turkish, Russian, Chinese, Japanese, Korean, Bengali, and Thai. In other words, it is globally accessible in terms of understanding.
As there are no verification requirements, there are also no account tiers. While this may seem like a drawback, it's actually a good way to offer a level playing ground to all users regardless of their personal wealth or trading volume.
TurboXBT Fees
TurboXBT is a unique trading platform in the sense that there are no fees. Deposits and withdrawals incur the usual blockchain network fee that depends on the asset—and is not something that the platform can influence—but no trades, regardless of whether the user takes a profit or a loss, will charge them anything. Naturally, if it ends in a loss, the trade amount is forfeited; but if it ends in a profit, the user receives the full amount, with no percentage—no matter how small—taken by the platform.
TurboXBT Design and Usability
TurboXBT has a very simple and straightforward interface design—only the buttons you need to execute your trades and nothing more. The landing page has a live tracker of the performance of assets in relation to USD, which means watching it carefully can potentially help users determine their own course of action.
Still, the first thing to do is to open an account. All you need to provide for this is an email address and to set up a secure password. Once you've confirmed your account through a PIN code that is sent to your email address, you can immediately deposit funds and start trading.
Once you've deposited your funds, trading is literally only a few clicks away. On the right hand side of the screen, you choose the duration of your short-term contract, which ranges between 30 seconds and 15 minutes, choose the amount you want to stake, and click Up or Down. The amount you stake will affect your potential profit, which is immediately shown on the screen, but keep in mind that the platform shows you the maximum amount based on recent performance and that your actual results may vary on a case by case basis. Up and Down are the only two options you have: either the price of the asset will be higher than it is right now once your contract runs out, or it will be lower. The third option, that it ends up being exactly the same, is infinitesimal; however, if it somehow does happen, it is considered a loss.
Although creating your own short-term contract is extremely easy, TurboXBT also lets you use their demo account to try your hand at this type of trading without risking your actual funds. You receive around USD 1,000 on your demo account—virtually, of course—and you can make any trade you want. In fact, when you first log in and before you deposit your funds, you're automatically taken to the demo trading screen. This is shown at the top of the right-hand side, where it says USDT demo; to access "real" trading, click the downward arrow next to that line and choose the type of asset you want to use.
While the demo account is only available in USDT, your actual trading account is available in BTC, ETH, and USDC in addition to USDT. These are just the assets you're funding your account with—trading is available for 17 assets (two cryptocurrencies, BTC and ETH, eight forex currencies, four commodities, and three indices), all of which make up 38 trading pairs. Most of the pairs are the assets paired with USD, but a notable exception are forex currencies, as they require to be paired with a currency that is different from them.
The asset you use for staking your trade is not necessarily the same pair that you're trading on. While the asset itself can be chosen from the aforementioned downward arrow, you will have to shift the screen to your trading pair of choice from a similar drop-down menu, this one placed on the upper left part of the screen.
Since this is only a short-term contract trading platform, there are only these options for trading, that depend on contract duration and staked amount. This means that at no point will you get access to the underlying assets other than to deposit and withdraw them, making trades much faster and more precisely executed. This also means the platform does not offer any spot trading, margin, iceberg orders, etc. They take the motto "what you see is what you get" very seriously, for a very streamlined experience with no unpleasant surprises along the way.
Sadly, the platform does not offer a mobile app.
When it comes to customer support, TurboXBT offers a very exhaustive Help Center covering everything users may want to know. The articles and guides are very detailed, both textually and visually, with step by step explanations of everything you need to know. If you need more help, there is a live chat option in the lower right hand corner, which claims to have a usual reply time of less than five minutes. This is especially useful if your issue is time-sensitive.
TurboXBT Security
According to their website, the majority of customers' digital assets are held in cold storage, while only a small portion of them are held in their online wallet when processing transactions. Additionally, all incoming and outgoing transfers are executed manually, once their team checks all transactions for risk scoring, money laundering, suspicious trading activity, and other patterns. However, the platform is neither regulated nor insured.
When it comes to user security, newcomers are prompted to create a secure password when setting up their account, as you cannot open an account if your password doesn't meet their security requirements. Aside from this, there is the possibility of adding two-factor authentication (2FA) to your account. Once it is active, it will be used not only to sign in, but also to change your password and withdraw your funds, for example.
An added layer of security is the fact that withdrawals are only processed once a day, which means they are closely inspected as well. Users have to whitelist the addresses they're withdrawing to, minimizing the risk of mistyping it or similar, which could lead to the funds being irretrievably lost. To whitelist, you will need to confirm the address with a PIN that is sent to your email address.
TurboXBT has not been audited by any external professionals specializing in exchange security.
TurboXBT Deposits and Withdrawals
To deposit funds to your TurboXBT account, all you need to do is click the Deposit option on the right side of the screen, or under the Transfers tab on the left side. You will be taken to a screen where you can choose the currency you wish to deposit. Keep in mind that the stablecoins, USDT and USDC, are based on the ERC-20 protocol before depositing. Currently, the deposit times depend on the blockchain's requirements; TurboXBT considers BTC deposited after three confirmations, which takes around 40 minutes, while ETH and ERC-20 tokens (USDT, USDC) require 6-10 block confirmations, which usually takes around 4 minutes. They charge no deposit fees.
Most recently (as of December, 2021), TurboXBT has added support for card payments as well through the Coinify service. This means that users can use fiat currencies to directly purchase the cryptocurrencies required to trade on the platform. Coinify is supported in over 180 countries worldwide and is regulated by the Danish Financial Authority, the Danish Tax Authorities, and the Blockchain and Virtual Currencies Working Group under the European Commission to ensure that it adheres to the highest industry standards and complies with international regulations.
Withdrawing funds is also done through the Transfers tab on the left hand side. Just choose the withdrawal address that you've previously whitelisted and enter the amount. There are no withdrawal fees either, but the platform will let you know how much the network will charge you. As stated above, TurboXBT processes all pending withdrawals once a day, between 12:00 and 14:00 UTC. In other words, a withdrawal requested before 12:00 UTC will be processed on the same day. Any withdrawal requested after 12:00 UTC will be processed on the next day. Again, the speed of the withdrawal depends on the network after that.
Conclusion
TurboXBT promises only a platform for trading short-term contracts and delivers very well. The platform is privacy-oriented with no forced KYC, good security measures, and a great engine that can handle the number of different trades happening at any point. While there are not many assets you can deposit and withdraw, this may turn out to be better for many people, as it takes away from the indecisiveness they would otherwise face.
The information provided does not constitute, in any way, a solicitation or inducement to buy or sell cryptocurrencies, derivatives, foreign exchange products, CFDs, securities and similar products. Comments and analysis reflect the views of different external and internal analysts at any given time and are subject to change at any time. Moreover, they can not constitute a commitment or guarantee on the part of TurboXBT. The recipient acknowledges and agrees that by their very nature any investment in a financial instrument is of a random nature and therefore any such investment constitutes a risky investment for which the recipient is solely responsible. It is specified that the past performance of a financial product does not prejudge in any way their future performance. The foreign exchange market and derivatives such as CFDs (Contracts for Difference), Non-Deliverable Bitcoin Settled Products and Short-Term Bitcoin Settled Contracts involve a high degree of risk. They require a good level of financial knowledge and experience. TurboXBT recommends the consultation of a financial professional who would have a perfect knowledge of the financial and patrimonial situation of the recipient of this message and would be able to verify that the financial products mentioned are adapted to the said situation and the financial objectives pursued.