Paybis
Since the website's launch in 2015, Paybis has been offering cryptocurrencies that users can pay for using credit and debit cards, as well as Neteller, Skrill, bank transfers, and Bitcoin. This makes it significantly easier for many new users to get their hands on their first crypto. Offering services in more than 180 countries, with very few exceptions, Paybis is a truly global cryptocurrency exchange.
General info
| | |
| --- | --- |
| Web address: | Paybis |
| Support contact: | Link |
| Main location: | Glasgow, Scotland |
| Daily volume: | 0.0 BTC |
| Mobile app available: | No |
| Is decentralized: | No |
| | |
| --- | --- |
| Parent Company: | Paybis LTD |
| Transfer types: | Bank Transfer, Credit Card, Debit Card, Crypto Transfer, |
| Supported fiat: | 47 currencies |
| Supported pairs: | 10 |
| Has token: | - |
| Fees: | High (Compare rates) |
Paybis Review: Key Features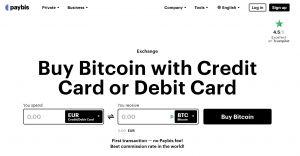 Paybis is a well-established cryptocurrency exchange that has been in business since 2015, offering an easy way for complete newcomers to enter the cryptocurrency industry with nothing more than a credit/debit card, which many other exchanges do not accept at all. Notable features of Paybis include:
Credit/debit cards accepted: Paybis is one of the few exchanges accepting these payment methods. You can also use Neteller and Skrill, as well as bank transfers and even Bitcoin to buy crypto.
Global coverage: Paybis offers their services in more than 180 countries all over the world, as well as 48 US states (the only exceptions being Hawaii and New York).
No wallets on the exchange: instead of keeping your funds in a wallet hosted by the exchange, they are immediately transferred to your own wallet that you enter during the purchasing process, for security reasons.
Referral program: for every friend you refer to the platform, you earn 20% of the Paybis fees that they pay—large customers who bring in many referrals or enterprise-level users can discuss receiving an even higher percentage with the team.
FCA license: the exchange is licensed by the Financial Conduct Authority, the UK regulatory authority.
Quick KYC process: the KYC process only takes around 15 minutes, after which you're free to trade.
Handy conversion calculator: to find out how much a certain amount of any offered cryptocurrency will cost you, simply enter the amount in the calculator on the Paybis website.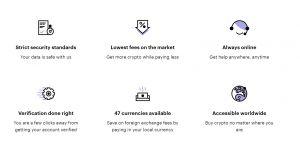 Paybis History and Background
Paybis is a cryptocurrency exchange that was initially a thought experiment in 2014 with the goal of offering access to cryptocurrencies to as many people as they could, with as many different purchasing methods as possible. Its founders Innokenty Isers, Konstantin Vasilenko, and Arturs Markevich had the exchange officially start operations in 2015. The first year was predominantly devoted to the technical aspects of running an exchange. The exchange is also fully self-funded by its founders—it has never, throughout its history, received any external funding.
The three founders of Paybis share decades of experience in IT and have all been involved in the cryptocurrency space from early on. The rest of the c-suite also holds relevant experience to their positions, including prestigious degrees and previous experience at major tech companies.

Paybis is licensed by the Financial Conduct Authority, which is the UK regulatory body for financial institutions of all kinds. They offer global coverage that includes more than 180 countries (only 36 territories are listed as restricted on their websites). This also includes 48 US states, with notable exceptions being Hawaii and New York. Residents of Texas are also subject to some restrictions, like being unable to purchase stablecoins or make fiat-to-fiat transactions through the platform.
After signing up with Paybis, you'll have to verify your account by delivering the following documents:
Identity verification: passports, IDs, and driving licenses are all accepted, and you need a selfie with your ID of choice.
Address verification: you can only submit a bank statement that is not older than three months, regardless of whether it's on paper or electronic—but the documents must not be modified in any way.
Additional verification: in special cases, you might need to take a selfie with your credit/debit card, but only if you're making a payment with it; you may also need to submit a selfie with a handwritten declaration in case you are dealing with large amounts of money through the exchange.
The platform promises that the verification process takes only around 15 minutes on average, but that it can take up to 24 hours in special cases, as long as you do not need to resubmit any documents. Paybis does not offer any account tiers, so you will have access to all the same functionalities of the exchange regardless of how much you intend to trade.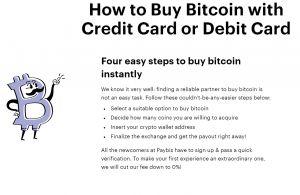 Paybis Fees
The fee system on Paybis is separated into three categories: the exchange's fees, credit/debit card fees, and network fees.
For your first credit or debit card purchase on Paybis the exchange does not charge its fees (card and network fees still apply). From your second transaction onwards, Paybis charges 2.49% of the transaction total.
The fee you pay for credit and debit card transactions will depend on the currency you're using. The minimum fee is USD 10 or equivalent in your currency. If you're paying in USD, EUR, or GBP, the fee is 4.5%; for other currencies, this goes up to 6.5%. If the percentage comes up less than USD 10, for example, then you will be charged the higher amount.
The network fee works the same way as any network fee, like the ones you pay when transferring funds from an exchange to your wallet and vice versa: you can choose the amount and this will decide how fast your transaction will be included in a block and reach enough confirmations.
Paybis Design and Usability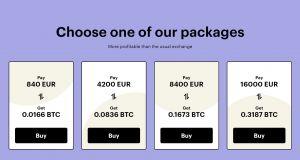 Paybis use is very straightforward: on the landing page, you can enter the amount you wish to purchase, along with the payment method and currency, and have the exchange calculate the amount you receive in return in the cryptocurrency of choice. You can also see the current price of all nine cryptocurrencies they offer:
Bitcoin (BTC)
Ether (ETH)
Litecoin (LTC)
Tether (USDT)
Ripple (XRP)
Bitcoin Cash (BCH)
Stellar Lumens (XLM)
Binance Coin (BNB)
TRON (TRX)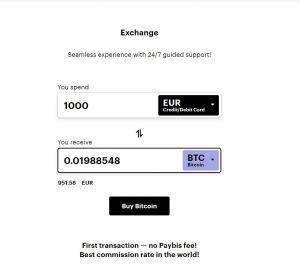 You can purchase any of these cryptocurrencies in exchange for 47 worldwide currencies, which saves you conversion fees. You do not, however, have to use credit or debit cards (although these fiat currencies are only offered in that case): if you have Skrill or Neteller, you can purchase your crypto using either USD or EUR. The platform also accepts bank transfers and Bitcoin.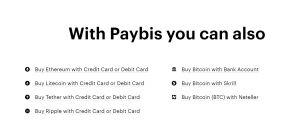 Of course, before you can go through with a purchase, you will have to verify your account by going through the KYC process described above. Although submitting your documents for KYC can take a while—depending on where you keep your bank statements with your address—the process itself usually takes only around 15 minutes, according to the platform.
The purchase itself is extremely simple. You can either put in the amount of any given cryptocurrency you want to buy or the amount of fiat you can afford to spend. After that (and with KYC done), you simply enter your wallet address, then your payment information and your crypto is sent to you directly instead of being stored on an exchange wallet. You can also save your card information in case you want to make more purchases in the future, so you only have to enter your CVV number the next time around.
In May 2020, the exchange completed a visual redesign that modernized it but still kept the simple approach that set them apart from other, less beginner-friendly cryptocurrency exchanges. The exchange only offers cryptocurrency purchase; as an exception, you can sell Bitcoin alone—either in exchange for another cryptocurrency, or for fiat, but you can only transfer it to your bank account directly or to your Skrill or Neteller account.
Paybis also offers a referral program: when you invite your friends to join the exchange, you earn 20% of the Paybis commission on all of your invitees' transactions (enterprise affiliate partners can reach out to the exchange directly to discuss a larger payout). There is no upper limit on how much you can earn this way. Your dues are paid on a monthly basis once the minimum amount of USD 50 is met, and you choose whether you'd prefer to receive them in Bitcoin or in fiat, via bank transfer. The platform also offers the payment invoice for download, in case you need it for accounting purposes.
Paybis does not offer a mobile app.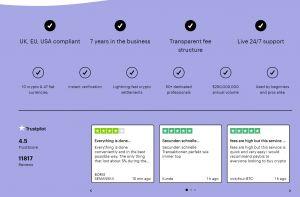 In case you run into any issues on the exchange, the Paybis support team is there to help you 24/7. You can find the live chat button in the bottom right-hand corner of your screen, but you can also email the team with your concerns. Their live chat response is almost instantaneous. However, before reaching out, you can also check their support portal to see if your issue has already been addressed by their extensive guides and how-to articles.
Paybis Security
The main security aspect of Paybis is that none of your purchased cryptocurrency is stored on the exchange —when purchasing crypto, you immediately enter your wallet address and the funds are transferred there. This means that there is largely no need for extensive security measures like cold wallets. It is, however, recommended that the users take their own precautions like setting strong passwords and protecting their credit card information, as they cannot set two-factor authentication on their accounts.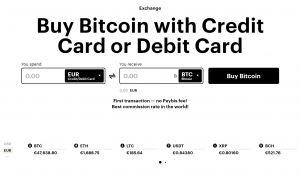 The exchange has never been hacked. Additionally, Paybis security has not been evaluated by experts in external reports.
If you don't have a secure cryptocurrency wallet, you can get one from Ledger or Trezor.
Paybis Deposits and Withdrawals
"Deposits and withdrawals" at Paybis aren't exactly the same as on other cryptocurrency exchanges, considering users never really deposit funds to the exchange, nor do they withdraw anything from the exchange wallet to their own wallet. Instead of depositing and then using the funds whenever you need them, you only send as much as you need to buy the amount of crypto you want, which is transferred directly to your wallet and never stored on the exchange itself.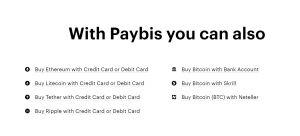 In that sense, fees are the ones we outlined above in the Fees section. To send the funds to your wallet, all you need to pay is the network fee. Purchases are nearly instantaneous, but the time, until your crypto gets to your wallet, depends on the fee you paid and the number of confirmations required.
Paybis Review: Conclusion
Paybis is a well-established cryptocurrency exchange with the sole aim of making crypto as accessible to everyone as possible—and nothing more than that. By keeping to their primary purpose, they are able to offer service quickly and reliably. Although the fees seem exorbitant, they are actually among the lowest in the market for this payment method; the vast majority of other exchanges do not accept cards at all.
Paybis is one of the easiest exchanges for complete newcomers who are intimidated by the security requirements of cryptocurrencies: all you need are your own funds, a card, and your own crypto wallet, and you can get started!