Nuri Review
Nuri is a unique service that bridges the gap between legacy finance and cryptocurrencies. It is one of the first platforms to offer both banking as well as non-custodial crypto wallet and trading services, and even has its own debit card that can be used for spending money and crypto daily. The offer is available to EU residents only and seems to be getting positive feedback from users.
General info
| | |
| --- | --- |
| Web address: | Nuri |
| Support contact: | Link |
| Main location: | Berlin, Germany |
| Daily volume: | 0.0 BTC |
| Mobile app available: | Yes |
| Is decentralized: | No |
| | |
| --- | --- |
| Parent Company: | Nuri GmbH |
| Transfer types: | Bank Transfer, Crypto Transfer, |
| Supported fiat: | EUR |
| Supported pairs: | 2 |
| Has token: | - |
| Fees: | Medium (Compare rates) |
Pros & Cons
EUR bank account and crypto wallet
Nuri debit card
Low trading fee
Real BTC in non-custodial wallets
Limited number of coins
Low privacy measures
Some users report their account getting frozen
Screenshots
Nuri review: key features
Nuri is a European blockchain bank that makes it easy to buy and sell crypto for euros (EUR). The company was founded in 2013 and is continuing to grow into a popular financial service in Europe.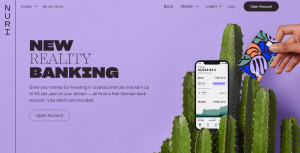 The most notable features of Nuri include:
Bank account for Euros and crypto. Whether you receive your salary in bitcoin (BTC), ether (ETH), or Euros doesn't matter anymore because you can receive, spend, and convert them in minutes with one Nuri account.
EUR 100,000 deposit guarantee. Nuri's users' Euro funds of up to EUR 100,000 are protected by the German Deposit Guarantee Scheme. However, the insurance doesn't apply to your BTC holdings.
1% crypto trading fee. Nuri has one of the cheapest ways of buying bitcoin and ether directly from your bank account. The same fee applies for selling crypto for fiat, too.
Quick customer support team. Customer service is quick to offer genuine replies to all sorts of queries, available from Monday to Friday from 9 am to 6 pm CET; however, this excludes weekends, German public holidays, or bank holidays.
Secure, non-custodial wallets. Nuri doesn't hold your crypto keys; hence it cannot lose your coins.
Bitcoin interest account. Nuri lets you earn up to 5% interest on your BTC holdings if deposited in the interest account via a partnership with Celsius Network.
Free debit card with worldwide payment and free cash withdrawals. Swap your crypto to EUR and pay on the go using the card, wherever and whenever you need it, at the lowest possible fees offered by VISA.
Overall, Nuri is an excellent solution for beginners looking for a user-friendly crypto experience. The service makes it easy to buy and sell crypto, as well as use crypto in daily banking activities, and even earn interest on your crypto holdings. As a bonus, you get an EUR bank account to receive and send payments, which makes it a unique and modern one-stop-shop solution for all things finance.
Background and history
Nuri had its humble beginnings in 2013 when three friends began pursuing the idea of paying for everyday items with bitcoin. In 2015, Nuri was finally bootstrapped and launched their MVP product - a bank transfer for cryptocurrencies and a prepaid debit card. In 2016, Nuri raised its first funding round of EUR 800,000 from High-Tech Grunderfonds, Digital Currency Group, and an angel investor. At the time, it was processing approximately EUR 75 million in transfers and opened an office in Kreuzberg, Berlin, Germany.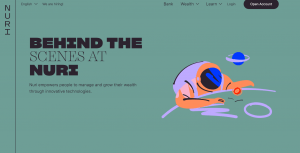 In 2018, Nuri had to cease its operations due to the shutdown of its payment partner, Wavecrest. Later in the year, Nuri shifted its strategic goal towards becoming a bank for the blockchain economy and raised an additional EUR 4 million from investors EarlyBird and Coparion. The company has regained its access to traditional finance by establishing a new partnership with German enterprise solarisBank.
In 2019, Nuri raised another EUR 13 million in a Series A funding. Its team exceeded 80 employees, and the company is well on its way to bridge the gap between legacy and crypto finance.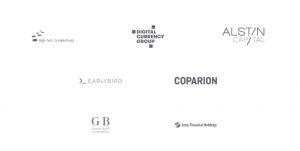 In 2021, the company rebranded from Bitwala, as it was known until then, to Nuri. As of 2021, the company's vision sounds like this:
We want to empower people to exchange value like they exchange ideas. Globally, instantly and at the lowest possible cost.
Nuri's management team consists of its CEO and co-founder Ben Jones, Chief Compliance Officer (CCO), and co-founder Jan Goslicki, CFO Christoph Iwaniez, Chief Growth Officer Philipp Beer, and Chief Product Officer (CPO) Kristina Walcker-Mayer.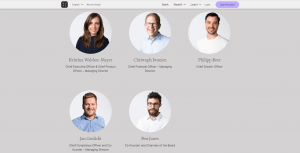 Ever since Nuri turned from payments to new generation banking, the service has to comply with the German Banking Act, which means strict regulations and anti-money laundering procedures are applied to all of its customers.
The full credentials of the company are:
Nuri GmbH
Ohlauer Straße 43
10999 Berlin Germany
Company Registration Number: HRB173698B , Amtsgericht Charlottenburg, Germany
Managing Directors: Christoph Iwaniez, Jan Goslicki, Benjamin P. Jones
Tax Number: DE305362792

Nuri services all natural persons who have a permanent residence in the Federal Republic of Germany or any other member state of the European Economic Area or Switzerland, meaning that the service is available only to people who reside in Europe.
When signing up for Nuri, keep in mind that you're opening both a crypto digital wallet, as well as a German bank account. Hence, all new Nuri users must undergo a know-your-customer (KYC) check. The verification takes place using a live video chat via Nuri's mobile app, and you need to showcase your face and identification document (ID or passport). The whole process takes approximately 10 - 15 minutes.
Visit Nuri
Nuri fees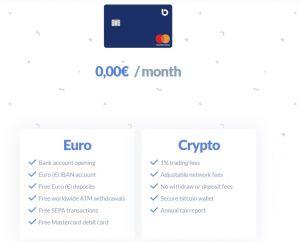 Nuri has a relatively straightforward fee structure that includes both banking as well as crypto buying and selling costs. Its fees fall into three categories: banking fees, crypto service fees, and fees for other services.
When it comes to banking services fees, Nuri offers its users the following rates:
| Banking services | Type | Rate |
| --- | --- | --- |
| Account Management | Account opening & management | FREE |
| SEPA Transactions | Outgoing SEPA transfer | FREE |
| | Incoming transfers | FREE |
| Credit Transactions | Card payments (EUR/SEPA area) | FREE |
| | Card payments (other currency/SEPA area) | FREE |
| | All other card payments | FREE |
| Limits | Maximum offline card disposal per day | EUR 3,000 |
| | Maximum online card disposal per day | EUR 5,000 |
| Cash Withdrawals | ATM withdrawal in SEPA area | FREE (some ATM providers may charge their own fee) |
| | ATM withdrawal outside SEPA area | FREE (some ATM providers may charge their own fee) |
| | Maximum card withdrawals | EUR 1,500 |
Crypto services fees are on the lower side of the spectrum, too. For example, converting BTC to EUR via a regular exchange would typically include a string of fees, including conversion and withdrawal fees, but with Nuri, you're only paying a mere 1% of the transaction amount.
| Crypto services | Type | Rate |
| --- | --- | --- |
| Trading Cryptocurrency | Buying Cryptocurrency | 1% (+ EUR 1 network fee) |
| | Selling Cryptocurrency | 1% (+ current network fees) |
| | Minimum trade amount | EUR 30 |
| | Maximum trade amount | EUR 15,000 |
| | Trading limit | EUR 50,000 per rolling 7 days |
| Cryptocurrency Transactions | Receiving crypto deposits | FREE |
| | Sending cryptocurrency | FREE (+ current network fees) |
| | All other card payments | FREE (+ current network fees) |
Here are other service fees and limits you should keep in mind:
| Other services | Rate |
| --- | --- |
| Account opening | FREE |
| Initial ordering card in Germany | FREE |
| Investigation order | On-demand |
| High Deposit Fee (more than EUR 50,000) | Variable rate set by ECB |
| Replacement card fee | EUR 9.50 |
| Postal bank statement | On-demand |
Overall, Nuri appears to be running a relatively cheap crypto bank service with a simple and transparent fee schedule. If you're planning to make use of its bank account, then you're also unlikely to find a cheaper way to convert your EUR to crypto and vice versa directly to and from your bank account in Europe.
Nuri security
Nuri is a fully regulated non-custodial German service provider that complies with the country's laws and regulations. For example, your Nuri's bank account is hosted by solarisBank, Nuri's German partner bank, so your EUR funds (up to 100,000) are insured by the German Deposit Guarantee Scheme (DGS). As such, it can be considered a highly secure service with legal guarantees.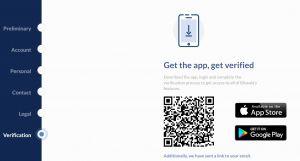 However, deposit insurance doesn't cover the loss of your bitcoin or ether holdings. Nuri is a non-custodial crypto digital wallet provider, meaning that at no time Nuri or anyone else can access or control your crypto funds or transactions. The only thing you have to take care of is your wallet's private keys and a couple of backup keys that should be kept safely offline.
On the opposite end of the spectrum, excessive regulations force every Nuri user to reveal their identity, which may be considered as a personal security hazard. As such, the service might not be perceived as secure by privacy-minded individuals.
On the user side of things, you can protect your account with a strong password and two-factor authentication (2FA). Nuri account is also linked with your phone number, so you will receive an SMS mTAN code every time you log in to the platform. Also, you can choose to log in to the mobile app using your fingerprint.
Overall, Nuri is a highly secure service provider with no history of security breaches. With regulations for your bank account, as well as non-custodial crypto wallet support, you can be confident that your funds are safe all the time.
Go to Exchange
Design and usability
Nuri is a very beginner-friendly solution for everyone. Not only does it make it easy to buy and sell bitcoin, but it also makes it simple to receive EUR, BTC, and ETH payments as well as spend those currencies on your daily needs.
You can access Nuri either via its web platform or mobile app. Both mediums offer excellent user interface and experience, and the key difference seems to be that you cannot verify our account as well as manage Ethereum (ETH) wallet and purchases via the web platform.
When it comes to platform design, using Nuri is super simple, easy, and pleasant. In fact, it makes it so easy to open and set up your account, that even your grandma could probably do it. Both the web platform and mobile apps guide users through the entire registration and wallet opening process while making sure that there are no external distractions. The same applies to setting up BTC and ETH crypto wallets - the service explains why and how to do it properly.
After you register and log in on the web platform, you will see a simple menu and account overview. Here, you can see your transaction history, IBAN, referral code, or order Nuri's debit card.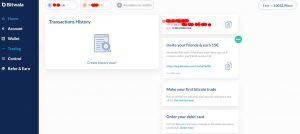 In the menu, you can also see "Account" and "Wallet" sections. In the "Account" window, you can manage your bank operations such as sending or receiving EUR payments. In the "Wallet" section, you can send or receive BTC. Mind that sending or receiving Ethereum (ETH) is currently available on the mobile app only.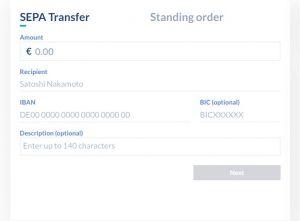 In the "Trading" section, you can perform Bitcoin trades (again, ETH trades are available on mobile only).

Last but not least, "Control" window lets you review and edit your personal and contact information, tax information, review account statements, do your crypto taxes, check Nuri's card settings, and manage your account security as well as reach out to the Nuri's customer support team.

In the "Refer & Earn" section, you can also find your referral code and earn EUR 15 per every friend you invite to use Nuri.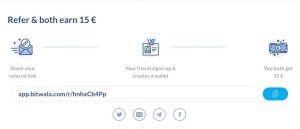 Although it only supports Bitcoin and Ethereum for now, in the future, Nuri's support center mentions plans to expand its digital assets offering.
Nuri mobile app
Nuri's mobile app is much like its web application, although it has a somewhat more beautiful design and supports more features (like ETH wallet). It is easy and convenient to use and guides its user through most of the processes.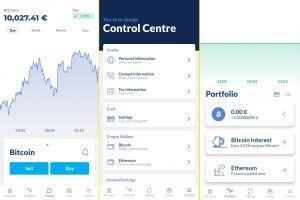 It lets you:
Manage and review your portfolio
Send and receive EUR payments
Open non-custodial bitcoin and ethereum wallets
Send, receive, and convert BTC and ETH
Manage your Nuri card
Access other vital features of Nuri.
While it's difficult to compare, the app is probably even more comfortable to use than its web alternative. Besides, it has a helpful guide, Lola, who will help you to open cryptocurrency wallets in an understandable and secure manner.
Nuri's card
Nuri issues a contactless debit card, which lets you make payments wherever VISA is accepted - be it in stores, online, or over the phone.
Nuri's debit card is a EUR card, meaning that you don't get to spend BTC directly - it only deducts your EUR balance. Nonetheless, Nuri makes it convenient to convert your BTC to EUR via its mobile app, so you can always spend your cryptocurrency by converting it on a moment's notice.
The app also lets you change your pin code, block or report lost card, and change its PIN code. Mind that it is a contactless card, so it also supports up to EUR 25 NFC payments.
Nuri's crypto earnings account
Nuri lets you put your crypto to work and earn up to 4.51% of annual interest for your bitcoin. As a result of a partnership with Celsius Network, you can open a BTC Interest Account and receive interest payments on your BTC every Monday.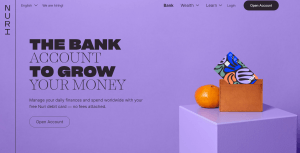 You can withdraw your BTC from the BTC Interest Account at any time you like, and won't receive any penalty for withdrawing too early. However, keep in mind that investing in crypto finance products at this stage may have significant risks, as there is no deposit insurance, no state supervision, and risk of extreme volatility.
Crypto tax
Last but not least, Nuri supports crypto tax reporting. As per cooperation with CryptoTax, all of your crypto purchases and sales are recorded in a manner that makes it easy to obtain and download a custom, ready-made record for the tax authorities.
Customer support
Another great feature of Nuri is its excellent customer support. It starts with a comprehensive customer support center which has guides and explanations on all aspects of Nuri services.
Alternatively, you can contact Nuri's customer support via the following channels:
The fastest way to contact customer support is via live chat in the app and on its website. Either way, you can expect to get an email reply to your query within a few hours or so.
Create Free Account
Deposit and withdrawal methods
Nuri makes deposits and withdrawals easy as pie. Currently, supported methods include bank transfer and crypto transfers.
You can top up your bank account with bank transfer at any point in time, and you can send or receive bitcoin and ether directly to your digital wallets as well.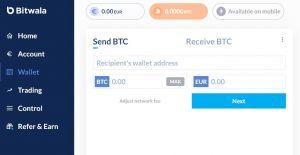 Unfortunately, there is no way to top up your Nuri account using a debit or credit card, which is often considered the fastest way to buy crypto. However, you can top up your account with either bitcoin or ether, which can work as a quick workaround for now.
Despite this inconvenience, Nuri remains one of the fastest and most affordable ways to buy and sell BTC and ETH directly with your bank account.
Conclusion
Nuri is an excellent compromise for European crypto enthusiasts who want to merge their banking and crypto operations. By combining low exchange fees, debit card, bank account, and crypto-wallets, Nuri is currently one-of-a-kind company to facilitate crypto adoption in Europe.
Although it supports only BTC and ETH for now, it offers non-custodial digital wallet service, as well as a convenient way to report your crypto taxes. As such, its services are highly secure, although they might not appear suitable for crypto privacy proponents. However, if you're looking for a safe and reliable fiat-to-crypto bridge, Nuri remains one of the top beginner-friendly options in Europe.