Netcoins
Netcoins is a user-friendly Canadian cryptocurrency exchange that aims to make cryptocurrencies less mysterious, intimidating, and complicated for Canadians. It lets you buy and sell top crypto assets, including Bitcoin (BTC), Ethereum (ETH), Tether (USDT), Bitcoin Cash (BCH), Litecoin (LTC), XRP, and QCAD. Every trade on Netcoins costs 0.5%, and the platform makes it easy to fund your account with fiat, as well as change it into crypto and back. Unverified users can still use Netcoins for coin purchases with a bank card via its built-in Simplex integration.
Netcoins.ca review: key features
Netcoins is an excellent exchange for quick, regulated, and cheap cryptocurrency trading. After the purchase of coins, the platform also makes it easy to sell them or make a withdrawal to your private wallet.
General info
| | |
| --- | --- |
| Web address: | Link |
| Main location: | Vancouver, Canada |
| Daily volume: | 0.0 BTC |
| Mobile app available: | No |
| Is decentralized: | No |
Parent Company:
BIGG Digital Assets
Transfer types:
Bank Transfer, Credit Card, Crypto Transfer,
Supported fiat:
USD, CAD
Supported pairs:
6
Has token:
-
Fees:
Medium(Compare rates)
Pros & Cons
Easy to use 0% funding and low trading fees Helpful and responsive support
Limited selection of coins Mandatory verification for fiat trades Limited trading options


Other key features of Netcoins include:
Buy crypto with CAD and USD. Netcoins lets you hold both U.S. Dollars and Canadian Dollars in one account, which makes it a handy fiat-to-crypto gateway with low deposit and withdrawal fees.
Trade 7 top cryptocurrencies. Netcoins supports the trading of Bitcoin (BTC), Bitcoin Cash (BCH), Ethereum (ETH), Litecoin (LTC), XRP, Tether (USDT), and QCAD coins.
Non-custodial crypto purchases via Simplex integration. If you're not a Canadian or can't verify your identity, you can still use Netcoins Simplex integration to buy crypto using a bank card. However, mind that Simplex often applies its own verification process.
Simple and easy onboarding process. Registration takes only a few minutes, and the user verification process is seamless, too. As a FINTRAC regulated platform, Netcoins is obliged to verify your identity if you want to use its services.
User-friendly platform for new crypto users. Netcoins exchange is super user-friendly. As such, it is great for newbies but is also used by more experienced members of the cryptoverse.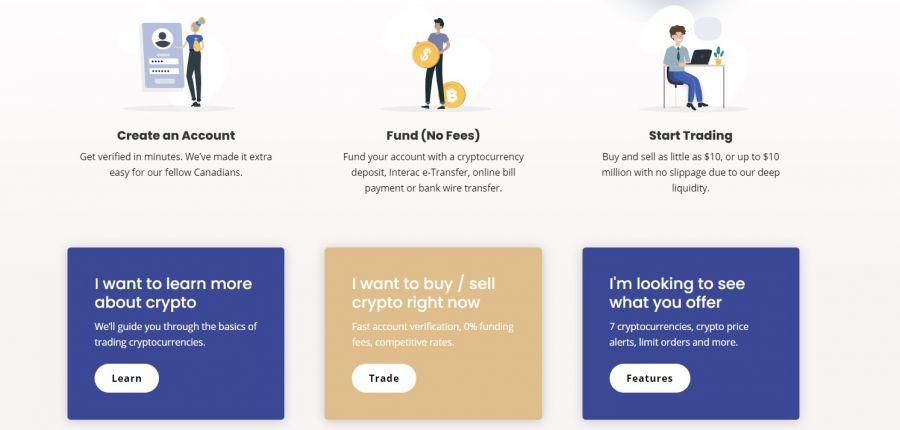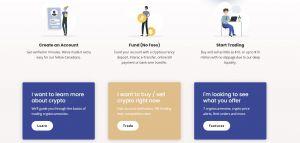 All in all, Netcoins is a user-friendly, convenient, and low fee platform. If you're new to the crypto trading space, it may be one of the best starting points for you.
History and management of Netcoins
Netcoins is considered to be one of the most experienced crypto companies in Canada. Founded in 2014, the service started providing Virtual Bitcoin ATM solutions to more than 170,000 stores across three continents and a private brokerage service for institutional and large scale crypto investors.
Since then, the company has evolved with the latest trends in the crypto industry and morphed into a trusted cryptocurrency trading platform with its own over-the-counter (OTC) trading desk and Netcoins.app trading platform.
The mission statement of the company is as follows:
"We're on a mission to make it easy for anyone to buy and sell cryptocurrency in a trusted environment."
The exchange has a strong leadership team, which includes President of Netcoins Mitchell Dement, who is also known as the founder of the world's first Bitcoin ATM.
Netcoins is based in Vancouver, Canada. It is registered with FINTRAC as a Money Service Business (MSB) (reg no. M15560893).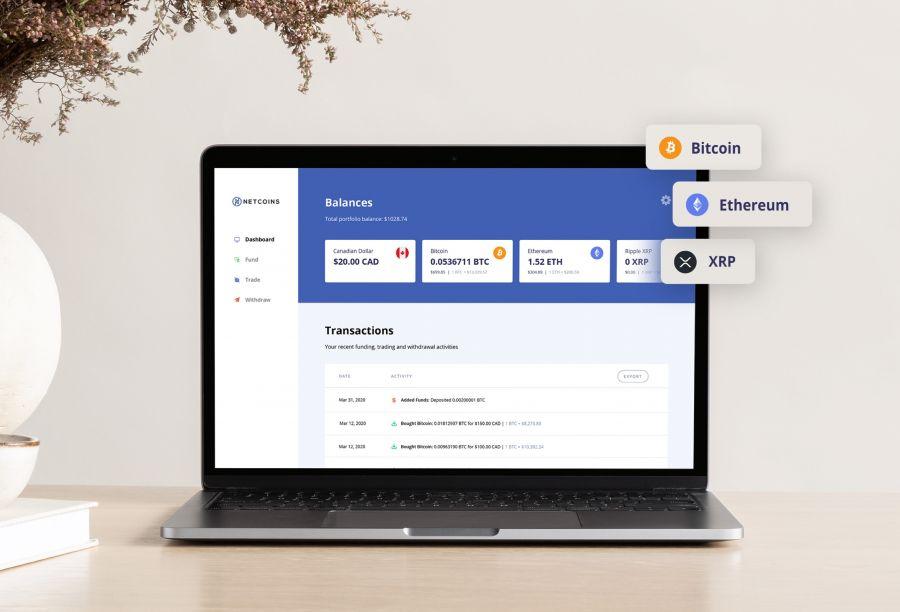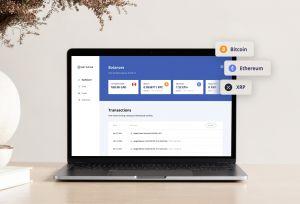 Besides, Netcoins is a publicly-traded company in Canada, as it trades under its parent company BIGG Digital Assets (CSE: BIGG /QTCQB: BBKCF). As a result, the company's financials and books are more transparent compared with competing exchange services.
Netcoins.ca is an exchange for Canadians. Nevertheless, it accepts customers from all over the globe, except for the residents and citizens of the United States and Australia. At the moment, there is no complete list of countries whose citizens and residents can use Netcoins, but you can check if your country is supported by attempting to open an account. During the registration, check if your country is on the phone number verification list – if it isn't, that means Netcoins doesn't serve your country. However, keep in mind that Netcoins is primarily a Canadian exchange, and its functionality, as well as deposit methods in other countries, may be limited.
Registration and verification
Netcoins uses a quick user verification process which adheres to Canadian know your customer (KYC) and anti-money laundering (AML) regulations. As such, in order to buy cryptocurrency via Netcoins, you need to
Set up an account
Verify your email and phone number
After step 2, you can already buy bitcoin and other cryptocurrencies via Netcoins and Simplex integration using your bank card.
Verify your identity (needs your ID document or resident permit, full name, address, and more).
After verifying your identity, you can fund your account and start trading crypto.
The whole verification process at Netcoins is rather quick and takes only 5 minutes.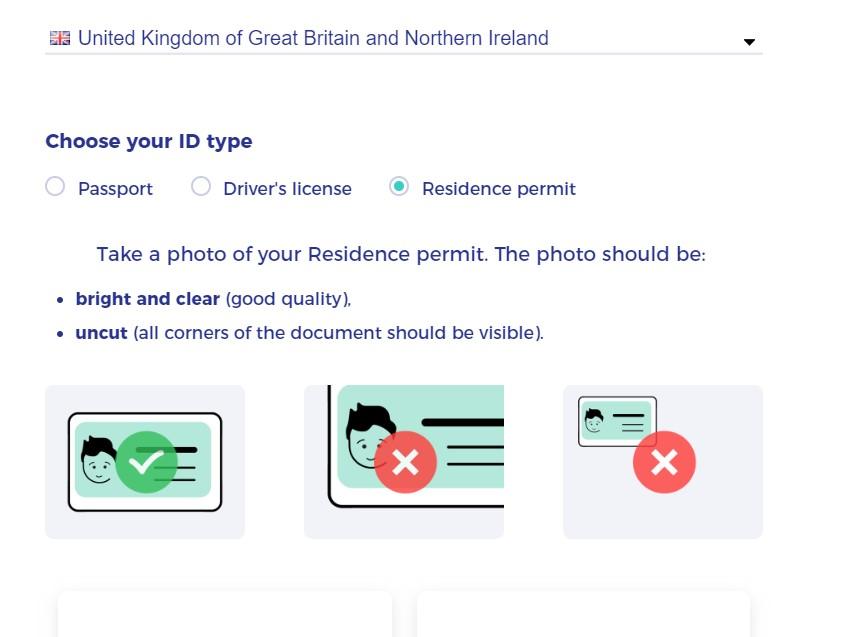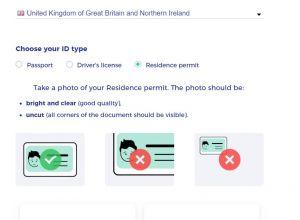 In case you're not Canadian or cannot verify your identity with Netcoins, you can still buy cryptocurrency using your debit or credit card via Netcoins integration with Simplex, though Simplex is likely to ask you to verify your identity, too.
Netcoins fees
Netcoins charges a flat trading fee of 0.5% per trade. It charges neither deposit nor cash withdrawal fees. Cryptocurrency withdrawals may incur a small network transaction fee.
Here's how Netcoins fees match up with other popular Canadian exchanges.
| Exchange | Trading Fee | Deposit/withdrawal fees | Ease of use | Spread size |
| --- | --- | --- | --- | --- |
| Netcoins | 0.5% | FREE / Variable network fee | Easy | Low |
| BitBuy | 0.1%/0.2%/0.5% | Network fee | Medium | Medium |
| MyBTC.ca | ~4.75%- 9.75% | Payment processor fees | Easy | High |
| CoinSmart | 0.2%/0.4% | Network and payment processor fees | Easy | High |
| CoinSquare | 0.1%/0.2%/0.4% | Network fee | Medium | Medium |
| BullBitcoin | FREE/1.25% | Variable | Easy | Medium |
If you decide you buy cryptocurrencies directly into an external wallet via Netcoins Simplex integration, you will pay Simplex fees, which can be as high as 7% per transaction. Hence, buying coins directly via the Netcoins platform will always be a cheaper option. The minimum purchase amount via Simplex integration is at least 71 CAD or USD.
As such, Netcoins is one of the cheaper exchanges amongst user-friendly crypto exchanges for Canadians.
Design and usability
Netcoins is an extremely user-friendly exchange that is suitable for beginners. It does not have an advanced trading interface like other major crypto trading platforms and uses a simplified crypto trading frontend instead.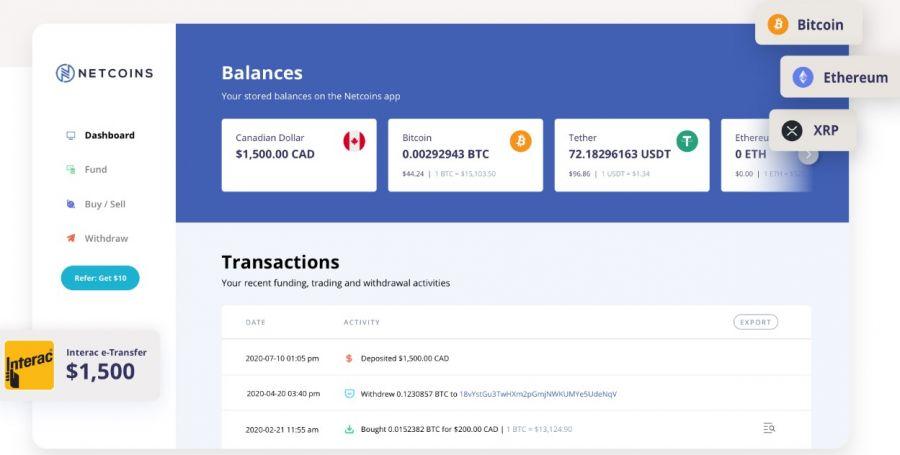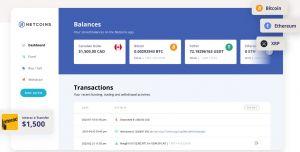 First and foremost, the exchange guides you through the registration and verification process, so the next thing you need to do once you're done with it is to fund your account. The exchange makes it super easy to do so, as all you need to do is navigate to the "Fund" section via the main menu.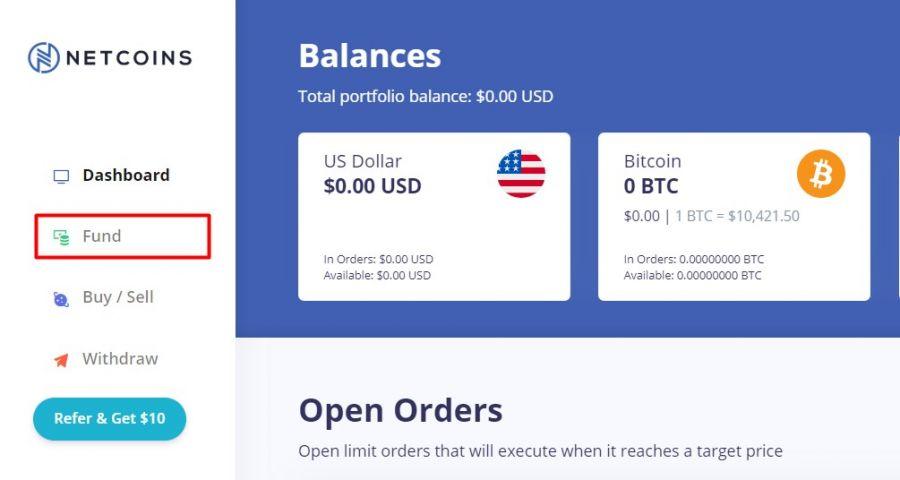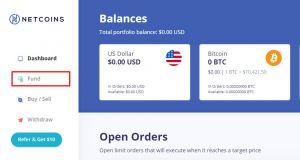 Here, you can deposit either dollar (CAD and USD) or make a cryptocurrency deposit in one of the coins supported by Netcoins: BTC, BCH, ETH, LTC, or XRP.


When it comes to buying and selling crypto, Netcoins is probably the most user-friendly exchange of all. It has a super-simple interface for exchanging your money without any confusing charts and too many order types. Nevertheless, the exchange allows you to place both instant (market) as well as limit orders, making it a handy but user-friendly tool for buying and selling crypto assets at desirable prices.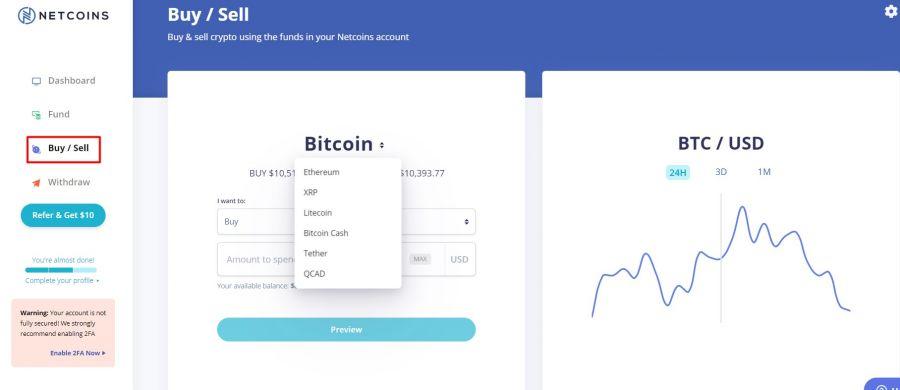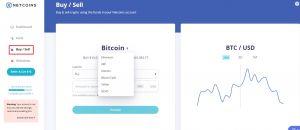 Speaking of desirable prices, Netcoins also lets you set up price alerts. You have an option to receive a notification or SMS whenever a certain coin makes a predetermined price move.
Netcoins mobile app
Unfortunately, Netcoins does not have a mobile app yet, but their website can be accessed and used via your mobile browser. All you need to do is go to Netcoins.ca and login to your account. After that, you will be able to perform all of the regular operations that you can do on your computer on-the-go.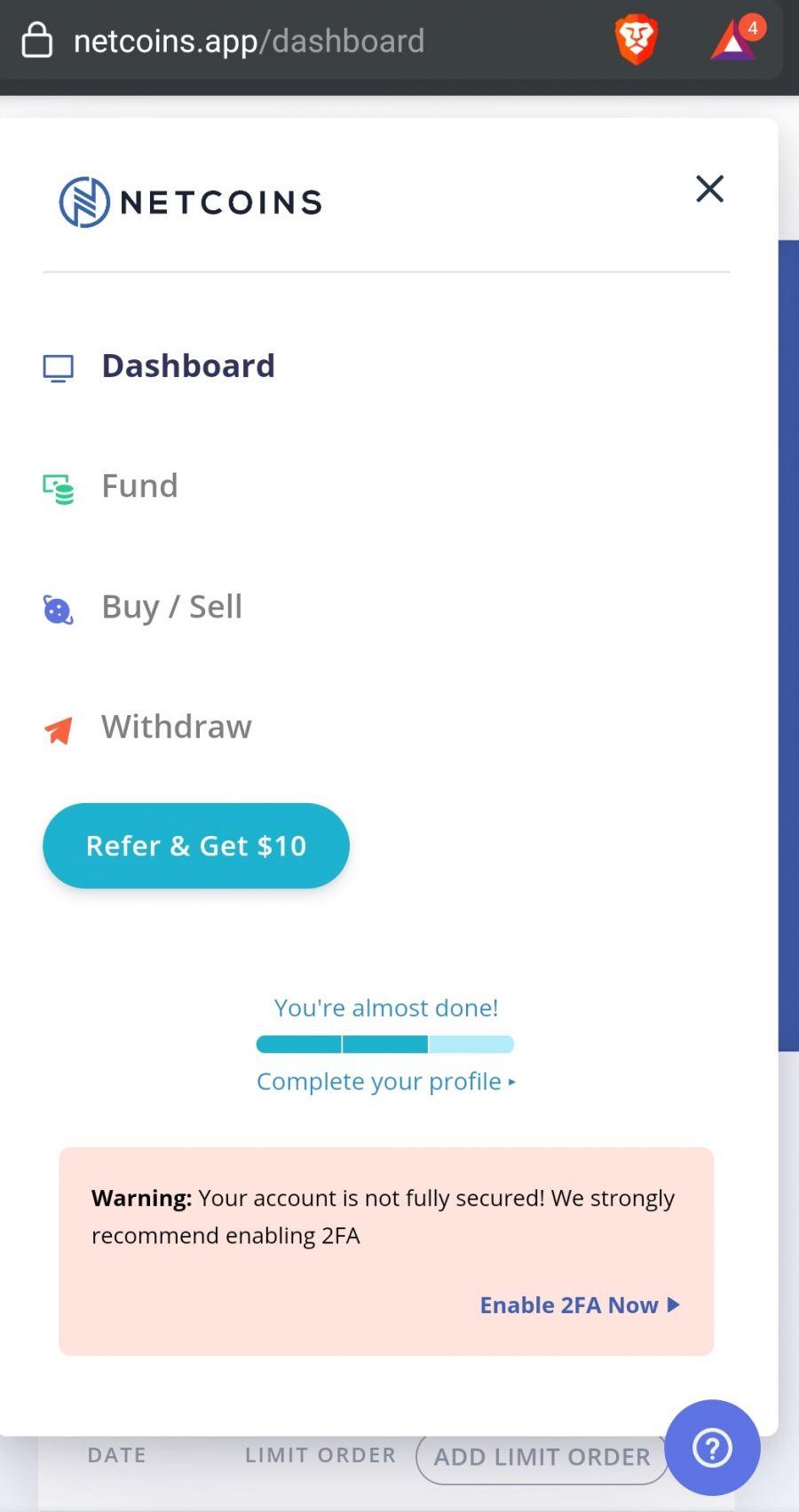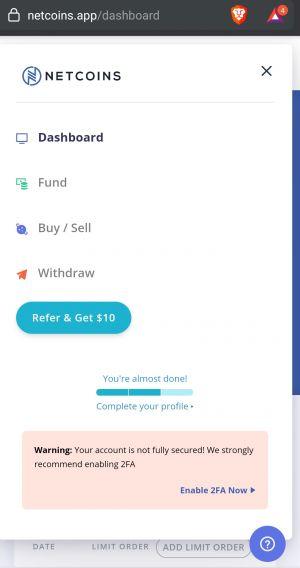 Netcoins customer support
Netcoins have a responsive customer support team that is reachable via a number of channels, including:
Note that the Netcoins customer support desk operates during business hours Monday to Friday from 09:00 to 17:00 PT.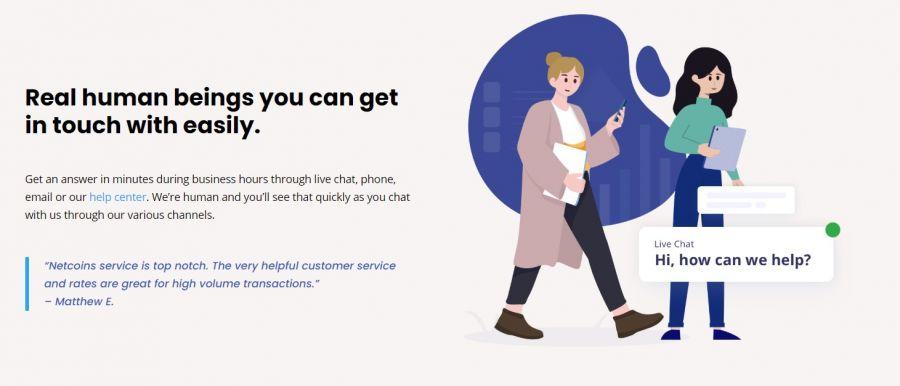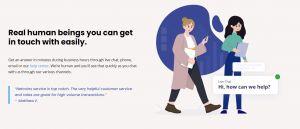 Customer support is typically quick to respond, and you should get a response to your query within 24 hours.
Netcoins security
Netcoins is a custodial broker, meaning that it provides a digital wallet service and ensures the protection of your private keys. Custodial platforms are considered to be less secure than decentralized exchanges (DEX) since they can be attacked by hackers, but at the same time, they are more convenient to use.
As of February 2021, Netcoins has not yet experienced a major hack or data leak, which shows that its management team is taking its security seriously. Besides, it is a regulated and publicly-traded company under its parent firm BIGG Digital Assets, making it a reliable and transparent operation.
From the user side of things, you can protect your Netcoins account using a strong password and two-factor authentication (2FA). Besides, you can review your account activity and observe whether anyone unwanted has accessed your account.


Nevertheless, we don't recommend leaving your crypto assets on a custodial exchange for longer than required. For the most secure cryptocurrency storage method when keeping large amounts of crypto, consider setting up a multisignature wallet (advanced) or acquiring a hardware wallet by Ledger or Trezor.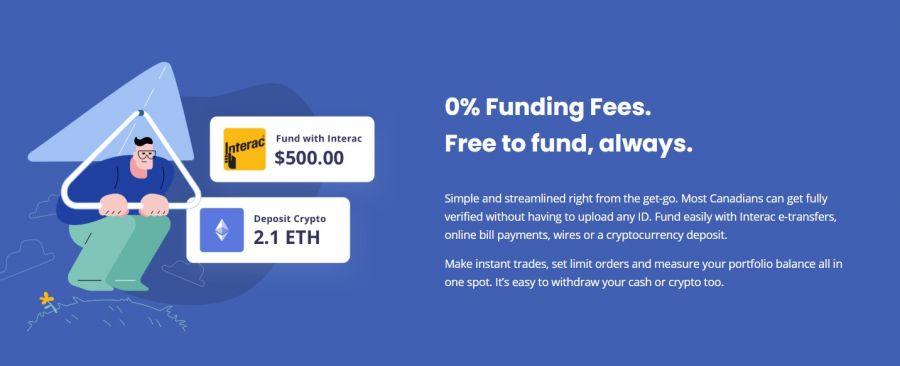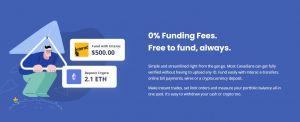 Deposit and withdrawal methods
Netcoins let you fund your account with both cryptocurrency and fiat. Its users can choose from the following methods:
Interact E-transfer (minimum USD 10)
Bank Wire (minimum USD 500)
Online Bill Payment (available for BMO, Scotia Bank or credit union users, USD 50 min.)
Cryptocurrency transfer (BTC, ETH, USDT, LTC, BCH, XRP, QCAD)
When it comes to withdrawals, Netcoins lets you cash out your crypto holdings or send them out to your private wallet outside of the Netcoins custody. Netcoins does not charge withdrawal fees, but blockchain fees apply.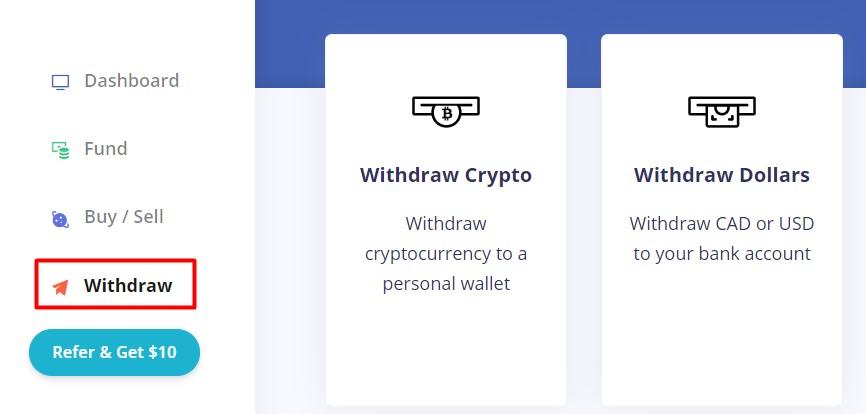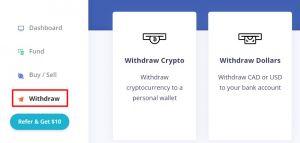 Performing a withdrawal, whether it is in fiat or crypto, is as easy as pie. All you need to do is navigate to the "Withdrawals" section on the main menu and follow the on-screen instructions.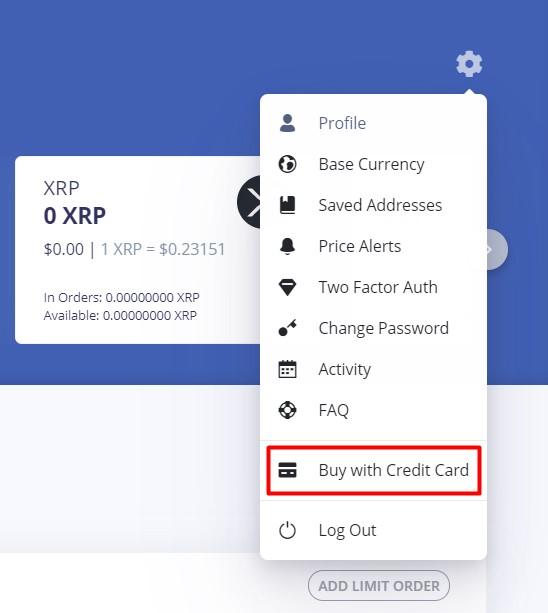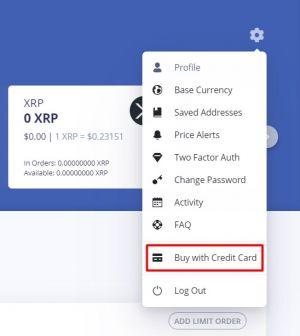 In case you cannot verify your account or want to make a crypto purchase with a bank card, Netcoins also has a Simplex integration, which lets you buy cryptocurrency with fiat and receive it directly to your private crypto wallet. However, unlike trading crypto on the Netcoins platform, you must have a secure private crypto wallet prior to initiating a purchase. Here at Cryptonews, we recommend using a hardware wallet by either Ledger or Trezor as a secure and reliable cold storage method.
Netcoins referral program – invite your friends and get $10 each
Last but not least, Netcoins is currently offering you to earn CAD 10 for referring users to their platform. You will get 10 CAD for every friend who signs up using your referral link and trades a total of 100 or more dollars on the platform.
If you found this review useful and informative, you can sign up on Netcoins using our referral link below and claim your CAD 10 bonus.
Conclusion
Netcoins is one of the most user-friendly Bitcoin and crypto trading platforms in Canada. It is super easy to use and is one of the best starting places for new Canadian crypto users.