LocalCryptos
Due to increasing regulatory scrutiny, peer-to-peer (P2P) cryptocurrency markets are becoming the last bastion for individuals who want to buy, sell, and trade cryptocurrencies privately and securely. LocalCryptos is one of the best P2P exchanges out there, as it facilitates bitcoin, ethereum, and litecoin trades in more than 130 different countries using more than 40 payment methods. Formerly known as the LocalEthereum marketplace, LocalCryptos has rebranded to become a viable LocalBitcoins alternative and one of the best crypto P2P marketplaces out there.
General info
| | |
| --- | --- |
| Web address: | LocalCryptos |
| Support contact: | Link |
| Main location: | Richmond, Australia |
| Daily volume: | 0.0 BTC |
| Mobile app available: | No |
| Is decentralized: | Yes |
| | |
| --- | --- |
| Parent Company: | LocalEthereum Pty Ltd. |
| Transfer types: | Bank Transfer, Credit Card, Debit Card, Crypto Transfer, |
| Supported fiat: | Most currencies |
| Supported pairs: | 3 |
| Has token: | - |
| Fees: | Medium (Compare rates) |
Pros & Cons
Non-custodial Pro-privacy platform Facilitates fiat-to-crypto trades Supports cash trading option
Only 3 cryptocurrencies No mobile app Beware of scammers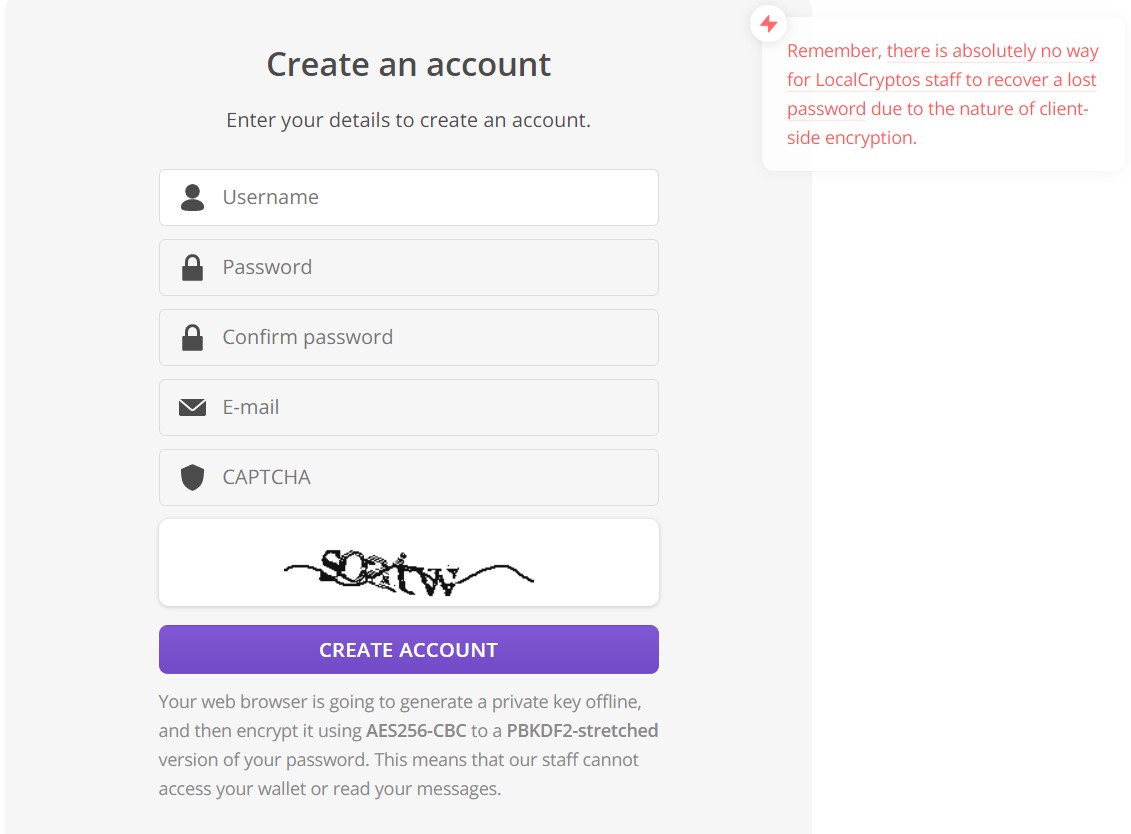 LocalCryptos is a non-custodial exchange that lets you buy and sell Bitcoin (BTC), Ethereum (ETH), and Litecoin (LTC) cryptocurrencies with other traders worldwide. It is a modern-looking platform with a growing community that enables private P2P cryptocurrency trading without having to compromise your security.
The key features of LocalCryptos include:
Non-custodial exchange. LocalCryptos does not store your coins and does not have access to your LocalCryptos wallet.
Non-custodial escrow service. Not only LocalCryptos does not store your coins but it is also the first platform to use the non-custodial escrow system.
Peer-to-peer cash trades. Trade directly with over 100,000 traders from all over the world via a variety of trading methods, including much desired private peer-to-peer cash trades.
End-to-end encrypted messaging. LocalCryptos puts your data privacy first. As a result, all of your chats and messages within the platform use end-to-end encryption. However, your messages can be decrypted and used as evidence in case of a dispute.
Low fees. LocalCryptos charges a 0.25% maker fee (the person who posted the offer) and a 0.75% taker fee (the person who responds to the offer).
Community voting for new cryptocurrencies. LocalCryptos is an evolving community and its users can vote for the new cryptocurrencies, suggest new features, and participate in other initiatives. Currently, the platform allows trading for Bitcoin (BTC), Ethereum (ETH), and Litecoin (LTC).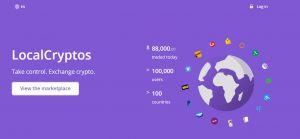 Source: LocalCryptos.com
In brief, LocalCryptos is one of the best P2P exchanges out there. Privacy-preserving non-custodial escrow services are in great need during these times of "privacy wars," and LocalCryptos is one of the leading services in this area.
Background
LocalCryptos started out as LocalEthereum in 2017 and was rebranded to LocalCryptos in November 2019. At first, it was a go-to place for buying and selling Ethereum, but later it added support Bitcoin and Litecoin trading, as well as community voting for other coins.
The company is operated by LocalEthereum Pty Ltd, which is located in Richmond, Australia. It's founder and current CEO is Michael Foster.
Can you use LocalCryptos in the United States?
LocalCryptos is available in more than 130 countries worldwide, including the United States. Other popular countries where users can access LocalCryptos without any restrictions include Russia, China, South Korea, Venezuela, The United Kingdom, Canada, Australia, New Zealand, India, United Arab Emirates, and many more.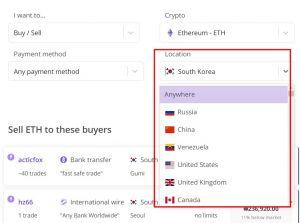 Source: LocalCryptos.com
The best way to be sure that LocalCryptos is available in your country is by making an account and checking out whether there are buy or sell offers in your area.
At pixel time, the LocalCryptos platform is translated into 12 languages: English, Spanish, Russian, Chinese, Japanese, Hindi, French, Portuguese, Ukrainian, Urdu, Arabic, and Melayu.
LocalCryptos fees
Unlike traditional custodial exchanges, LocalCryptos has a simple fee structure. It charges:
0.25% maker fee, which is paid by the person who is making an offer (placing an advertisement for either buying or selling).
0.75% taker fee, which is paid by the person who responds to an already placed offer (replies to an advertisement).
The taker fee is higher than the maker's because LocalCryptos wants to incentivize order-placing in order to increase the liquidity on the platform.
In contrast, the platform's main competitor LocalBitcoins exchange charges the sellers a 1% fee per completed trade. However, at LocalBitcoins, the buyers are not charged at all (except for the external fiat payment fees).
Traders involving Ethereum also reserve a small fraction of payment to cover the network's smart contract execution fees also known as gas.
Involved blockchain fees vary entirely based on the current state of network congestion. The more transactions are sent during the same block period, the higher the fees.
How to use LocalCryptos
LocalCryptos platform is extremely simple to use. Anyone can start trading by following four simple steps:
Create an account. Click here or on the signup button below and register on LocalCryptos with your email within 30 seconds - no personal details required!
[cta review='localethereum']Sign Up[/cta]
Alternatively, you can log in directly onto the platform using one of your Ethereum wallets. LocalCryptos has integrated Metamask, Ledger, WalletConnect, Portis, and Fortmatic support.
During the signup, your web browser generates a private key offline and encrypts it with AES256-CBC to PBKDF2 version of your password, which means that LocalCryptos staff can neither access your LocalCryptos wallet nor read your private messages.
At the same time, LocalCryptos staff cannot recover a lost password because of the client-side encryption, so be sure to backup your seed words safely.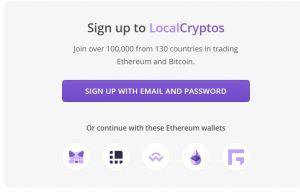 Source: LocalCryptos.com
Search for buyers and sellers who match your criteria. Anyone can make a post for either selling or buying - use the site filters to sort offers by location, payment method, currency and so on. LocalCryptos facilitates transactions using more than 40 payment methods worldwide, including cash.
Mind that some of the posts may be posted by scammers (the platform is anonymous, after all), so pay attention to the traders' reputation and feedback before entering a trade. A general rule of thumb would be avoiding large sum exchanges with new, unvetted accounts.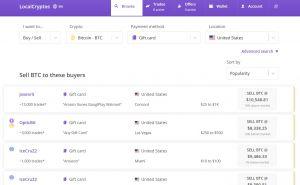 Source: LocalCryptos.com
Open a trade. Once you find a good offer by a trustworthy account, open a trade with the user. Choose the amount you want to buy or sell and lock in the price.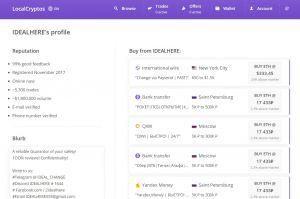 Source: LocalCryptos.com
Complete the trade. Once the seller locks an agreed amount of cryptocurrency in an escrow account, the buyer pays the seller via a specified payment method outside the LocalCryptos platform. The LocalCryptos escrow account holds the cryptocurrency until both sides of the deal confirm that the exchange has been made and the funds have been received. Once the seller confirms that he or she received the payment, the cryptocurrency is released from the escrow account and goes directly into the buyer's wallet.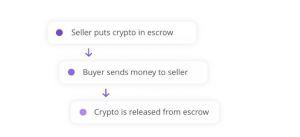 Source: LocalCryptos.com
That's it! LocalCryptos is designed in a way so that it makes the platform simple and secure to use even for non-experienced cryptocurrency users. It's like a Craiglist of crypto trading - you can find, meet, and trade with local cryptocurrency users in your area.
Is LocalCryptos secure?
The exchange's approach towards its users and their personal safety can either make or break the security of the platform. LocalCryptos employs some of the best industry practices to ensure the security of your funds and data.
Integrated end-to-end message encryption.
The system of signatures.
Financial forward secrecy.
Messaging forward secrecy.
It doesn't allow any third-party trackers.
LocalCryptos is a highly secure exchange as it is non-custodial by design. The trades between buyers and sellers within the platform use a fully automated escrow system that makes it impossible for the platform owners and developers to access your funds. As such, your funds are also immune from common hacks and thefts that plague other centralized exchanges.
Besides, the platform has an excellent 4.5/5 user rating on TrustPilot. Nevertheless, you can find some users claiming they lost money using the platform, but it is mostly due to their own mistake.
LocalCryptos cannot guarantee that there are no scammers on the platform, so be sure to deal with reputable users only. If the offer by an unvetted random stranger seems too good to be true, there might be an unpleasant surprise.
LocalCryptos wallet
LocalCryptos service relies heavily on its integrated non-custodial wallets. The wallets are secure as they are encrypted in a user's web browser. Also, LocalCryptos generates a new wallet address for every transaction by default. Hence, every wallet can have an infinite number of addresses tied to one private key.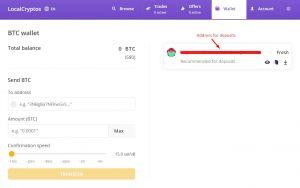 Source: LocalCryptos.com
For that reason, LocalCryptos does not have access to your private keys and is not responsible for the lack of security on your end.
If you sign up without an existing wallet, it's important to back it up. That way, you can access your funds even if LocalCryptos service goes offline for some reason or in case you forget your password.
How does the non-custodial escrow service work?
LocalCryptos uses a non-custodial escrow service which enables trustless exchanges between two people who don't know each other. The technicalities behind the escrow mechanism depend on the underlying blockchain.
Ethereum exchanges use a smart contract that executes once both sellers confirm that the trade has been completed.
Bitcoin escrow uses a P2WSH transaction.
Before a new cryptocurrency is added, the LocalCryptos team works on developing a new escrow script to fit the protocol.
The escrow account locks the seller's cryptocurrency funds. It guarantees that the buyer receives funds if the payment outside the platform is made, and leaves a viable abort option for the seller in case the buyer cheats.
As a buyer, you should never send money to the seller before he or she locks cryptocurrency in an escrow.
If there is a dispute about the payment, both parties have an option to raise a dispute. This allows for an arbitrator to enter the conversation, decrypt the messages, verify evidence, and return crypto to its rightful owner.
LocalCryptos customer support
LocalCryptos customer support works 24/7 and can be reached through different channels, namely:
In addition to the support channels, LocalCryptos have an extensive FAQ base, which can be used to answer some of your basic questions. You can find it right here.
Be aware of scammers and impersonators of LocalCryptos support members and respond to genuine accounts only. The exchange's staff will never ask you for your personal information, password, or private key.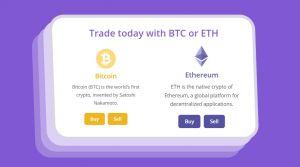 Source: LocalCryptos.com
Deposit and withdrawal methods
In terms of deposits and withdrawals, you only deposit your cryptocurrency into the LocalCryptos escrow wallet during trades with other users. The platform doesn't charge any extra deposit and withdrawal fees.
In terms of payments, LocalCryptos supports more than 40 fiat money transfer options and new payment methods are introduced constantly. Although we cannot list all of the options here, some of the popular ones include:
Cash (in person)
Bank transfer, SEPA, or international wire transfer
Contactless card
Cash deposit
Alipay or WeChat pay
Gift cards
M-PESA
Interac e-Transfer
Moneygram
PayPal
Skrill
TransferWise
Venmo
Western Union
Webmoney
Yandex.money
...and many more.
You can check all of the available options by signing into the platform via a new account or using your existing ethereum wallet.
Keep in mind that every external payment provider or method has its own payment processing fees, which are charged outside of the LocalCryptos platform.
Conclusion
Without a doubt, LocalCryptos is one of the most viable alternatives to the LocalBitcoins P2P trading platform. The platform is highly secure as it is non-custodial, offers end-to-end encryption and multi-currency support, is available in more than 130 countries worldwide, does not require any customer data apart from your wallet or email address and doesn't even charge high fees.
The platform is still in active development, so you can expect many new features to be introduced in the future.