Coinmama
Coinmama is a non-custodial cryptocurrency broker from Israel that is incorporated in Europe, Slovakia. Founded in 2013, it has become a fast, safe, and convenient cryptocurrency gateway for digital currency enthusiasts all over the world, including the United States. In fact, the exchange boasts of having over 2.4 million users across 188 countries. Most people use Coinmama because of its ease of use, helpful customer support, a wide variety of supported payment methods, including the ability to buy cryptos in conjunction with Apple on Apple Pay, and high levels of security.
General info
| | |
| --- | --- |
| Web address: | Coinmama |
| Support contact: | Link |
| Main location: | Dublin, Ireland |
| Daily volume: | 0.0 BTC |
| Mobile app available: | No |
| Is decentralized: | No |
| | |
| --- | --- |
| Parent Company: | New Bit Ventures Ltd |
| Transfer types: | Bank Transfer, Credit Card, Debit Card, |
| Supported fiat: | USD, EUR, GBP, JPY + |
| Supported pairs: | 10 |
| Has token: | - |
| Fees: | Very High (Compare rates) |
Pros & Cons
Extremely user-friendly Available in most countries Helpful customer support Supports lots of payment methods Non-custodial broker
Limited amount of cryptocurrencies Relatively high fees No anonymity

Coinmama review: key features
Coinmama is a cryptocurrency brokerage that makes it easy to buy and sell crypto for the fiat currency of your choice. It is a non-custodial platform, meaning that you should own a private cryptocurrency wallet before you start using the service.

Other key features of the platform include:
Ability to buy and sell crypto in 188 countries. Coinmama runs a worldwide service, meaning that anyone can use it regardless of where you live.
Support for the top 10 cryptocurrencies. Coinmama lets you buy bitcoin (BTC), ethereum (ETH), litecoin (LTC), XRP, EOS, QTUM, Bitcoin Cash (BCH), Ethereum Classic (ETC), Cardano (ADA), and Tezos (XTZ).
Wide selection of payment methods. Buy crypto with a credit or debit card, SWIFT or SEPA bank transfer, via Apple Pay, Fedwire, FasterPayments, Sofort, and more.
24/7 customer support desk. Coinmama boasts of having a top-notch customer support service.
Secure, non-custodial platform. Not your keys, not your coins. With Coinmama, you're in control of your private keys, so there is no additional counterparty risk.
All in all, Coinmama is a great platform for beginners, as well as more adept crypto users who are looking for a reliable fiat-to-crypto gateway. Quick, reliable, and secure service are the hallmarks of Coinmama.
Background and history of Coinmama
New Bit Ventures founded Coinmama in 2013, a Slovakian company which was first incorporated in Israel. Today, the company is a property of NBV International s.r.o., located at 3 Ballsbridge Park, Ballsbridge, Dublin, Ireland, D04 C7H2, a daughter company of New Bit Ventures Ltd (company #514907880). Both companies are regulated entities registered as Money Service Businesses with FinCEN (New Bit Ventures Ltd #31000084489239, NBV International s.r.o #31000124311540). Its transactions are carried out with NBV international s.r.o. and processed by New Bit Ventures Ltd.
As of 2021, Coinmama describes its mission as making it "fast, safe and fun to buy digital currency anywhere in the world."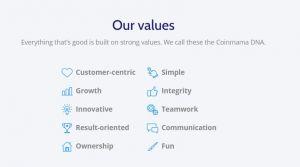 When it comes to Coinmama's team, it is led by Coinmama's current CEO Sagi Bakashi, who has 20 years of high-tech experience and was General Managers at IronSource, a tech unicorn that raised USD 1.6 billion recently. Nimrod Gruber is its co-founder and current COO. More information about Coinmama's current team and vacations can be found here.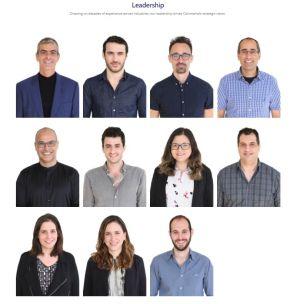 Supported countries and verification
Coinmama serves more than 2,400,000 people across 188 countries, which means that it is available worldwide, except for citizens and residents of countries included in the US embargo, United Nations sanctions, HM Treasury's financial sanctions lists. These include Iran, North Korea, Cuba, Syria, and the Ukrainian/Russian Crimea region.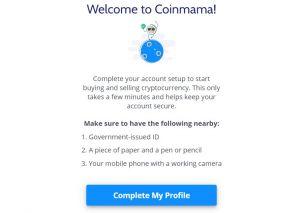 All Coinmama users must verify their identity prior to using the service. They must provide:
A government-issued ID, passport, or a driver's license.
A piece of paper with Coinmama and the current date written on it.
A functioning camera.
Coinmama's verification is a quick and smooth process, and you should get your verification within 15 minutes or so, which, compared with competing services, is extremely fast and convenient.
Coinmama fees
Coinmama has a relatively simple fee structure. It calculates fees based on the TradeBlock XBX index, which indicates the average market rate.
Buy orders are based on the following formula: the XBX price + 2% standard deviation fee + a commission fee up to 3.90%.
Credit and debit card buy orders with a locked rate, and instant delivery will cost you an additional 5% payment processing fee.
Buy orders placed with a SWIFT bank transfer must be worth at least USD 1,000, and any amounts below incur a fixed USD 20 fee. This fee doesn't apply to SEPA and SWIFT Faster Payment (the UK only) transfers.
Sell orders are subject to the same XBX Index average + 2% standard deviation fee + Coinmama's sell fee of 0.1%-0.9%.
When choosing the transaction amount, your fee and rate are automatically adjusted based on your cumulative purchases over a rolling 90-day period. These are:
Crypto Curious - 2,9%: up to USD 5,000 worth of crypto purchases.
Crypto Enthusiast - 2.5%: between USD 5,000 and USD 18,000 worth of crypto purchases over a rolling 90-day period.
Crypto Believer - 2.1%: more than USD 18,000 worth of crypto purchases over the last 90 days, or more than USD 50,000 worth in lifetime purchases.
As such, basic purchases at Coinmama vary from 5.9% to 10.9% based on your payment method. Selling crypto with Coinmama is slightly cheaper and amounts to approximately 2-3% per transaction. As a result, Coinmama comes out on the more expensive end of fiat-to-crypto gateways in the market.
Design and usability
Coinmama is an extremely simple and straightforward platform to use, making it a great option for beginners looking to buy and store cryptocurrency safely and securely.
It is a non-custodial broker, meaning that it does not provide digital wallet services. This is beneficial for you as a user because they will directly send you your cryptocurrency to your personal cryptocurrency wallet. On the other hand, you won't be able to complete your purchase without having a cryptocurrency wallet first. We highly recommend using a hardware cryptocurrency wallet like Ledger or Trezor, as they provide one of the safest ways to secure your coins in cold storage.
Buying bitcoin and other cryptocurrencies via Coinmama is simple. Here's how it goes:
Open your Coinmama account. Sign up using this link or use the button below. It only takes a few minutes.
[cta review='coinmama']Sign Up on Coinmama[/cta]

Verify your identity. Coinmama has a quick user verification method, which takes up to 15 minutes, and you need to upload your passport, national ID, or other suitable documents. Once approved and cleared, you can start making crypto purchases.
Place your order. Coinmama makes it super simple to place an order. Select the coin you want to buy, specify the amount, choose your payment method, external wallet address, and you're good to go.
Receive your crypto. Coinmama will send you your crypto as soon as they receive your payment. The coins will arrive in your private wallet.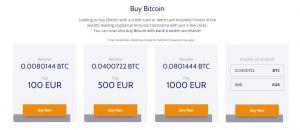 At the time of writing this review, Coinmama supports the following coins:
Bitcoin (BTC)
Ethereum (ETH)
XRP (XRP)
Litecoin (LTC)
Bitcoin Cash (BCH)
Cardano (ADA)
Qtum (QTUM)
Ethereum Classic (ETC)
EOS (EOS)
Tezos (XTZ)
Coinmama also makes it simple to sell bitcoin (it doesn't work with other above-mentioned coins yet). You can receive fiat payment directly to your bank account or virtual debit card, which is another product offered by the company.
To convert bitcoin and other coins back to fiat, you will need:
Access to your private crypto wallet.
Your bank account details.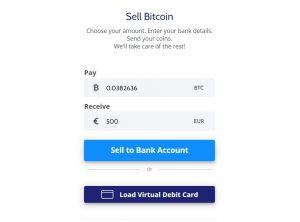 The process of selling goes like this:
Specify the amount of bitcoin you want to sell or the amount of fiat you want to receive.
Create your order by filling in all the required details.
Send your coins to the specified bitcoin address.
Once the transaction is confirmed, the payout amount will be transferred directly to your bank account.
This way, you can buy and sell up to USD 15,000 worth of crypto per day.
All in all, Coinmama provides a simple and convenient way to buy and sell crypto directly with your private wallet. You can easily buy and sell bitcoin and other supported coins, as well as recommend this service for your newbie friends looking for a simple yet secure way to accumulate crypto.
The broker does not have a mobile app yet; however, its website is responsive and simple enough to access and use via your smartphone.
Coinmama customer service
Coinmama's customer service operates 24/7 and is achievable via a number of channels, including: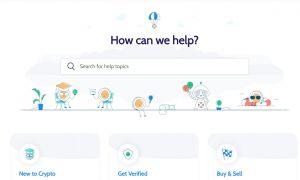 The support is typically quick to respond, and you should receive your answers within several minutes.
Coinmama security measures
Coinmama is a non-custodial platform, which means that it does not hold user coins on its platform, and hence is more secure than most centralized custodial exchanges. It hasn't experienced any major hacks of coins yet, though, it had experienced a serious customer data breach in early 2019 when it lost information of approximately 450,000 accounts. The theft was a part of a bigger attack that affected twenty other websites, and luckily, no client credit card information was stolen.
As such, Coinmama is a secure platform but may not be the best option for privacy-conscious individuals. It is regulated as a Money Service Business (MSB) by FinCEN in the United States, meaning that you have to submit personal information in order to engage in transactions. On the other hand, complying with regulators makes Coinmama a legit and trustworthy crypto broker.
You can protect your account with a strong password on the user side of things, but there is no option to add two-factor authentication (2FA). Still, that makes little difference since none of your crypto holdings are held within your Coinmama account, as it sends everything directly to your personal wallet.
All in all, Coinmama is a trustworthy and secure crypto broker. It may not be an ideal option for privacy enthusiasts, but it is a solid way to acquire coins and deposit them directly into your wallet.
If you don't have a wallet yet, we highly recommended using one of the devices by Ledger or Trezor.
Deposit and withdrawal methods
Coimama accepts all fiat currencies coming from countries where it provides its services. This includes deposits and credit card purchases denominated in the most popular fiat currencies such as USD, EUR, GBP, CAD, AUD, JPY, and many others. The platform also supports many payment options, including bank transfers, bank cards, and other local payment options.
The orders are executed as soon as Coinmama receives your payment, which depends on your chosen payment method.
You cannot deposit cryptocurrency into the platform, but you can sell bitcoin directly to Coinmama by using your account.
Conclusion
Coinmama is a reputable broker with great customer support. While you're likely to pay more for purchases via Coinmama compared with other centralized exchanges, bank card payments typically come with higher fees. Besides that, Coinmama is a great option for beginners who want to learn how to buy and store crypto safely and securely.