Coinhouse
Coinhouse is a regulated French cryptocurrency broker that serves European customers. The service was established in 2014 and has a physical office and service desk in the heart of Paris, La Maison du Bitcoin, France. Like all brokerage services, Coinhouse is a one-stop-shop for all things crypto - they provide everything from personal advisors to access to various decentralized products and secure crypto storage. Coinhouse's services come with three different pricing tiers - free, premium, and platinum. While free account enables you to purchase Bitcoin, Ethereum, and Litecoin via a credit/debit card or bank transfer, the platinum account will land you a dedicated market analyst who will provide you with personalized assistance and services. As you may see in this review, Coinhouse is a great choice for anyone who wants to get seriously involved in the world of cryptocurrencies but does not have the time to study all the technicalities.
General info
| | |
| --- | --- |
| Web address: | Coinhouse |
| Support contact: | Link |
| Main location: | Paris, France |
| Daily volume: | 0.0 BTC |
| Mobile app available: | No |
| Is decentralized: | No |
| | |
| --- | --- |
| Parent Company: | Coinhouse SASU |
| Transfer types: | Bank Transfer, Credit Card, Debit Card, Crypto Transfer, |
| Supported fiat: | EUR |
| Supported pairs: | 300 |
| Has token: | - |
| Fees: | Very High (Compare rates) |
Pros & Cons
Excellent and experienced customer service A quick way to buy top cryptocurrencies Strictly regulated exchange Highly-secure platform
High fee premium service Must subscribe to access more cryptocurrencies Must have a SEPA bank account to trade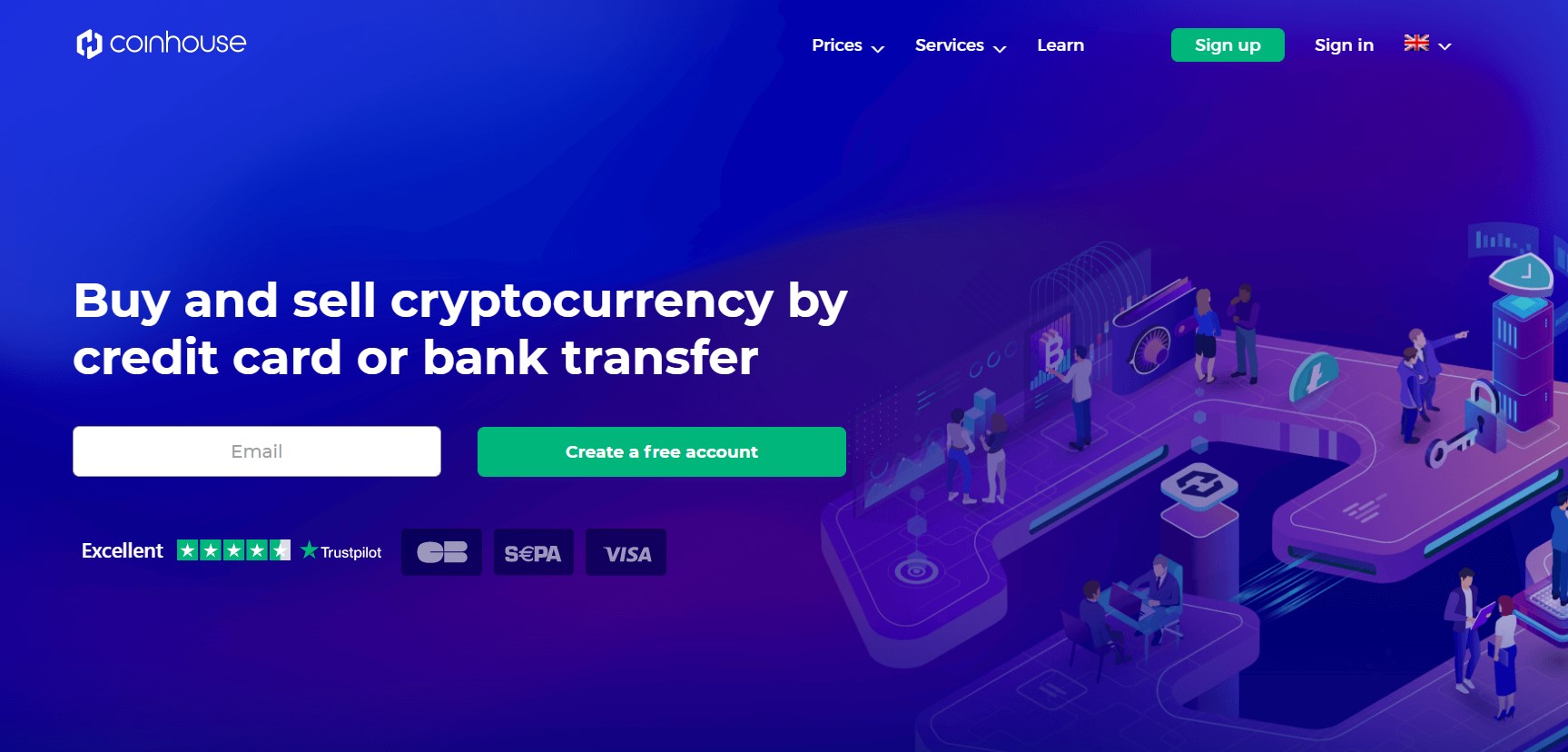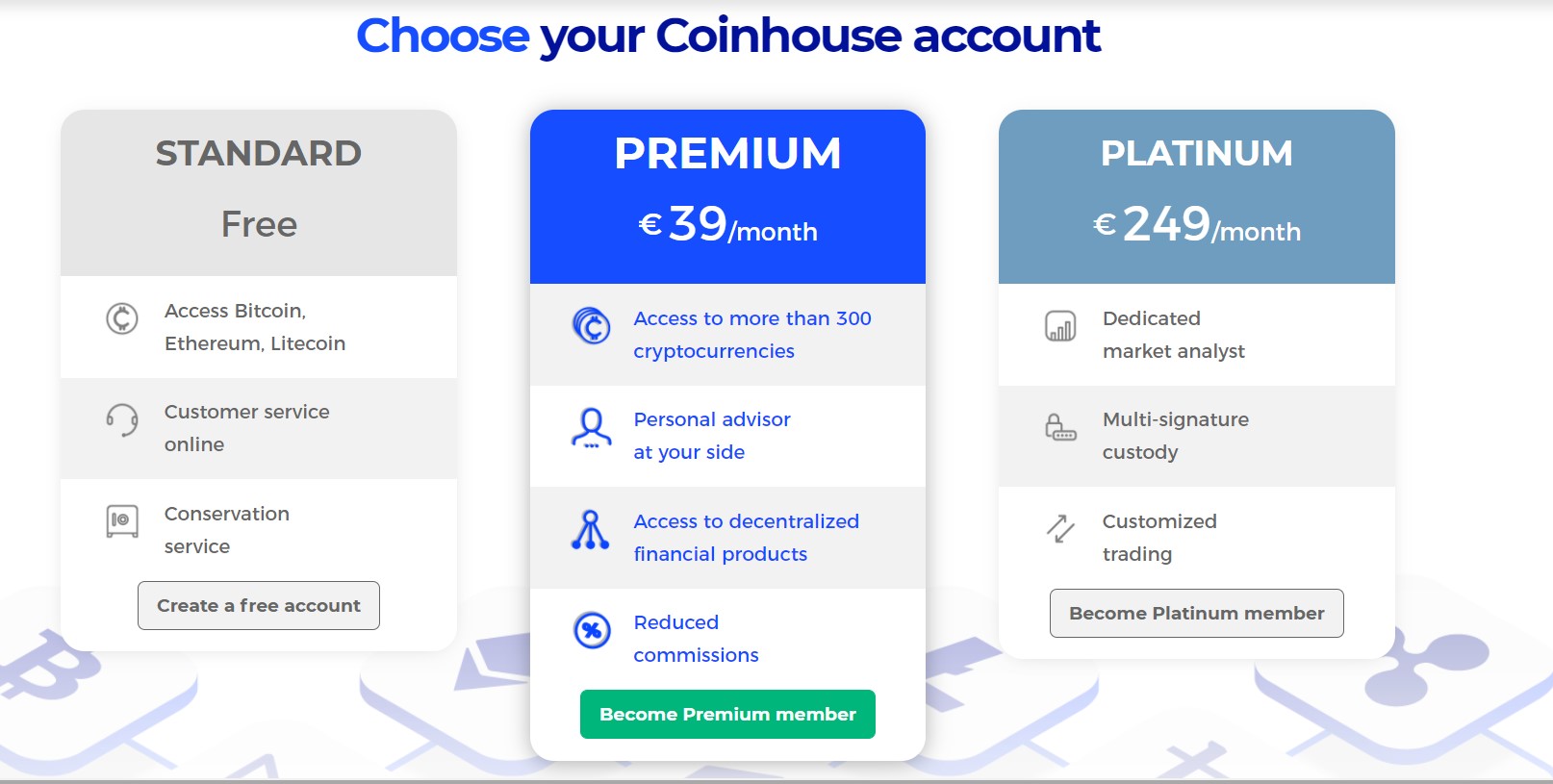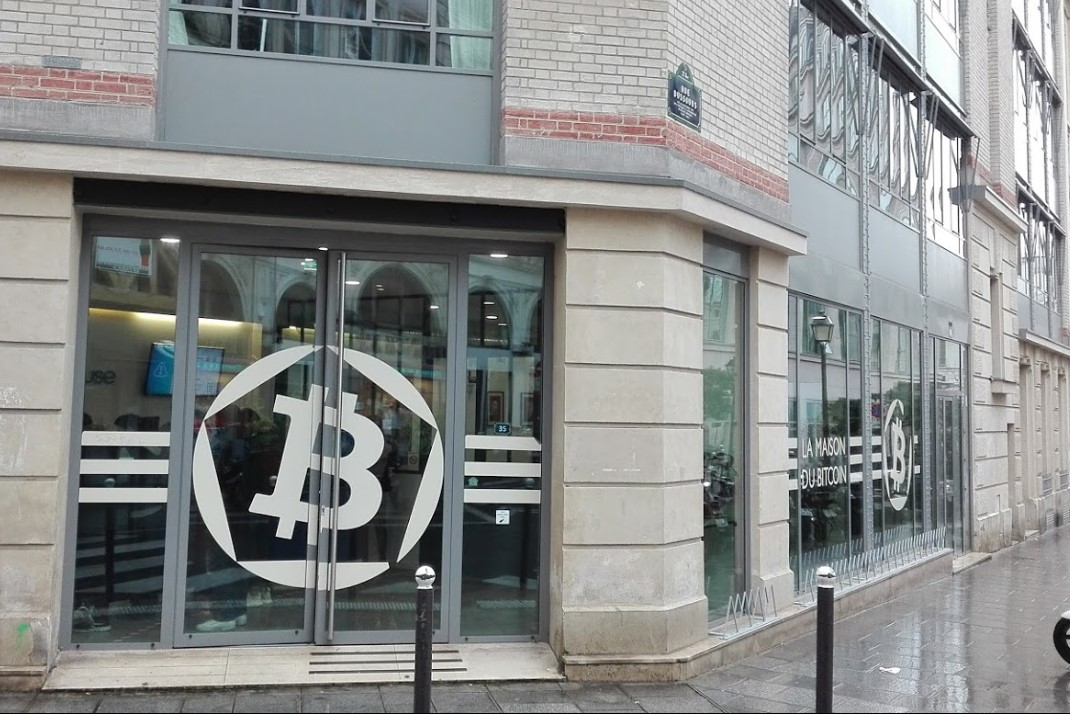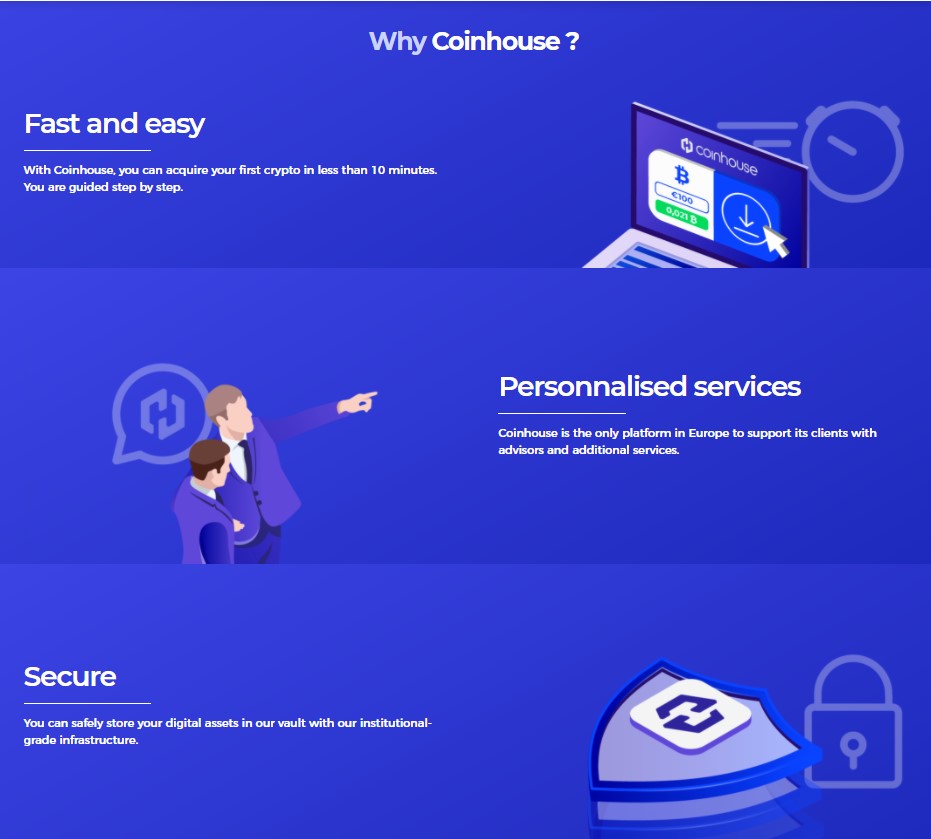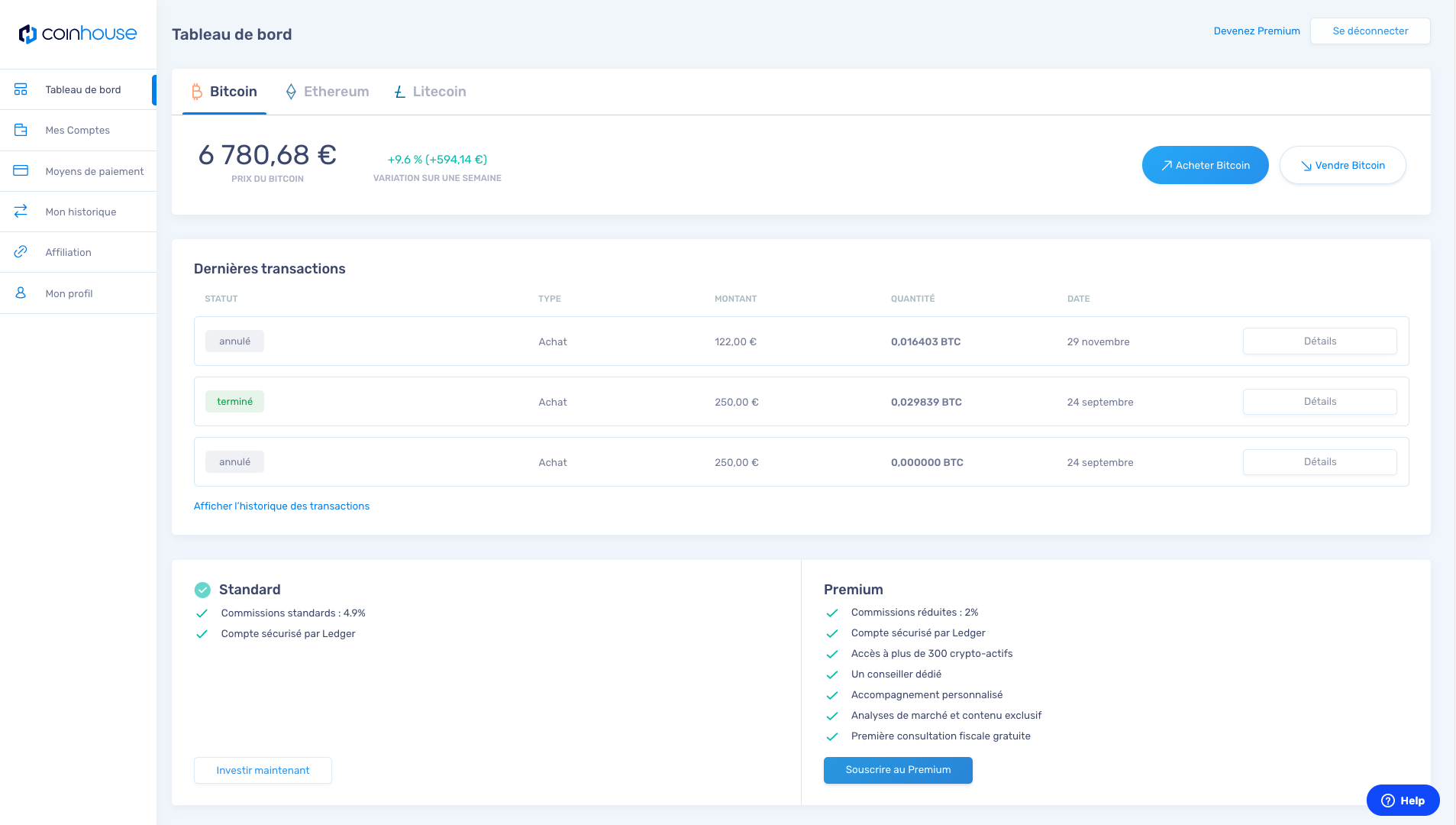 Key features
Cryptocurrency brokerage services. Coinhouse specializes in helping you to acquire. sell, swap, and store cryptocurrencies, as well as navigate volatile and complicated crypto markets.
A quick way to buy top cryptocurrencies. The platform supports quick crypto purchases using a credit or debit bank card. You can buy Bitcoin, Ethereum and Litecoin with a free account and access more than 300 cryptocurrencies with a premium subscription.
Institutional-grade crypto security. Coinhouse users can enjoy and integrated Ledger Vault security solution provided by one of the leading crypto asset security companies in the world.
Personalized assistance and learning. For just €39 per month, you can get a personal advisor, investment strategies, reduced commissions, and much more.
Free tax consultation for premium customers. Crypto taxes are a complicated subject, but Coinhouse's team is willing to share their tax experience with you.
Background
Founded in 2014, Coinhouse is an exclusive European cryptocurrency brokerage service. During its more than five years of existence, it has proven to be a reputable and trustworthy broker. In 2018, Coinhouse officially merged with La Maison du Bitcoin in preparation for further European expansion. The company's headquarters are located at the heart of Paris, 35 Rue du Caire, 75002, France, and it is on a mission to make the future of finance accessible for everyone today.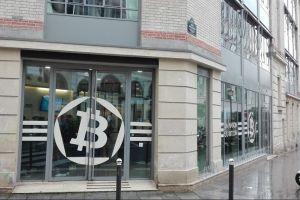 La Maison du Bitcoin. Source: Google Maps.
Moreover, the firm operates as a brick-and-mortar store and is said to be the first of the kind. So if you end up in Paris, you can go there and interact with their staff face-to-face. If you're unable to do that, you can contact Coinhouse via their website, which is available in five languages: English, French, German, Italian, and Spanish.
Served countries
At the moment, these countries served by Coinhouse include Austria, Belgium, Bulgaria, Cyprus, Croatia, Czech Republic, Denmark, Estonia, Finland, France, Germany, Greece, Hungary, Ireland, Iceland, Italy, Latvia, Lithuania, Liechtenstein, Luxembourg, Malta, Monaco, Netherlands, Norway, Portugal, Poland, Romania, San Marino, Spain, Slovakia, Slovenia, Sweden, Switzerland, Romania, and the United Kingdom.
Unfortunately, the list doesn't include investors from the United States. The key requirement for opening an account is having a SEPA bank account and passing a Know Your Customer (KYC) checkup upon registration.
As you may have guessed, Coinhouse is a fully regulated crypto broker that complies with all KYC and AML (anti-money laundering laws).
As such, all of the exchange users must verify their account using a government-issued ID or passport, residence address, and other required documents. The verification process can take up to 24 hours.
Coinhouse Fees
Coinhouse accounts have three different membership types - free, premium, and platinum. They all come with different features and fees.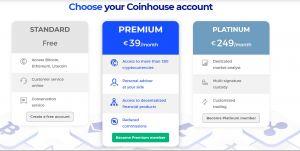 Coinhouse account plans.
Here's what kind of fees you're going to get for with each membership:
| Action | Standard Account | Premium Account | Platinum Account |
| --- | --- | --- | --- |
| Price | Free | €39/month | €249/month |
| Min. deposit | From €0 | From €5,000 | From €100,000 |
| Buy Offline | 4.9% + €9.90 | 2% or 3.9% | 2% or 3.9% |
| Sell Offline | 3.9% + €9.90 | 2% | 2% |
| Buy: Card | 4.9% | 3,9% | 3,9% |
| Buy: SEPA | 4.9% | 2% | 2% |
| Sell | 3.9% | 2% | 2% |
| Crypto-Swap | 0,5% | 0,5% | 0,5% |
As you can see, Coinhouse is a premium exchange that charges more than other centralized exchanges. However, these rates are common when it comes to brokerages/dealers that come with a lot of extra's included. In contrast, a competitor broke BC Bitcoin also charges between 3-4% per transaction based on the user's trading volume.
Nonetheless, Coinhouse offers a bundle of convenient services, and crypto purchases via bank cards tend to cost 5-15% in all centralized exchanges. Besides, premium services at €39 per month come with a lot of extra's that justify the price (see the usability section).
Mind that these rates don't include minor network fees charged by the Bitcoin and other blockchains. The transaction fees are based on the network load. If you want to estimate a transaction amount, you can multiply the 'Satoshi per byte' figure shown on the website by the weight of your transaction, which is shown to you as you initiate it.
Design and usability
The usability of Coinhouse entirely depends on your account membership level. In a nutshell, the more you pay, the more exclusive services you get.
| Standard Account | Premium Account | Platinum Account |
| --- | --- | --- |
| Free | €39/month | €249/month |
| From €0 | From €5,000 | From €100,000 |
| Trade BTC, ETH & LTC | Trade over 300 cryptoassets | Trade over 300 cryptoassets |
| Secure crypto accounts | Secure crypto accounts | Secure crypto accounts |
| - | Personal advisor | Personal advisor |
| - | Investment strategies | Investment strategies |
| - | Enhanced customer service | Enhanced customer service |
| - | Remote transactions | Remote transactions |
| - | Recurring payments | Recurring payments |
| - | Reduced commission | Reduced commission |
| - | Free tax consultation | Free tax consultation |
| - | - | Market analyst |
| - | - | Multisig custody |
| - | - | Customized trading |
You won't be able to do much apart from convenient Bitcoin, Ethereum or Litecoin purchases with a free account.
The real usefulness of the platform becomes evident once you upgrade to a premium account. You get a personal advisor, investment advice, reduced commissions, and even tax consultations, which may be a little bit of an overkill at this price.
True power users who want to invest more than €100,000 get a full, "all-inclusive" treatment with custom trading, which is excellent for people who want to save their precious time.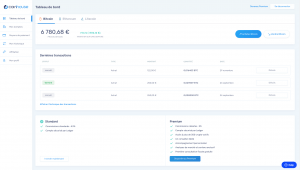 The trading platform itself is well-design, and it is easy to navigate, so you can conduct your crypto operations with ease no matter where you reside.
Customer support
Coinhouse offers unprecedented online customer support as the team is reachable via:
Email
Phone
Website
Social media channels
Physical location
The customer support team is very responsive and typically replies with an answer within several hours.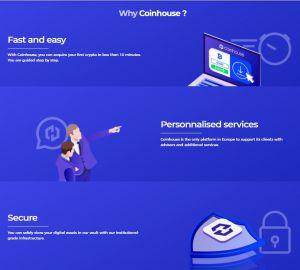 Coinhouse Security
Coinhouse is considered to be a highly secure exchange since most of its funds are stored in the institutional-grade cold storage wallet, which uses the Ledger Vault Solution. It means that:
Assets held by Coinhouse are protected from hacks and unauthorized access.
The platform uses sophisticated end-to-end hardware transfers with strict user access controls.
Coinhouse has a robust multi-authorization governance model without a single point of failure.
Most of the exchange's funds are held in cold storage, with only a fraction of funds kept in its hot wallet for withdrawal processes.
Apart from that, Coinhouse is a strictly regulated platform and employs robust anti-fraud, anti-terrorist financing, and KYC policies.
On the user side of things, you can protect your account with two-factor authentication (2FA). Also, Coinhouse prohibits commercial sharing or resale of their consumers' data, so you can be sure that all of your information is treated with respect and encryption.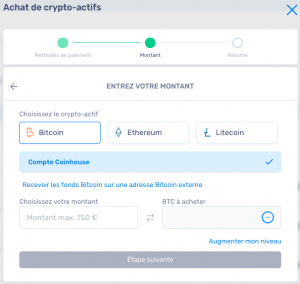 Deposit and withdrawal methods
At Coinhouse, you can fund your account using wire transfers and credit/debit cards. If you already have some cryptoassets, it is possible to deposit your cryptocurrencies into the platform's custody, too.
Buying cryptocurrencies is nearly instantaneous, as credit/debit card transactions are confirmed within minutes. For withdrawals, they may take up to an hour, depending on the withdrawal cryptocurrency and business of its blockchain. Bitcoin transactions require at least five confirmations to get them going.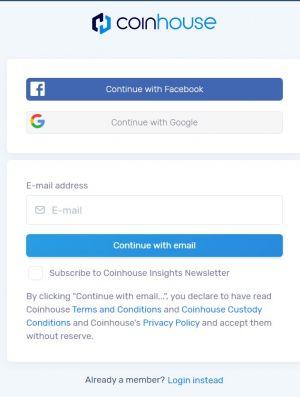 Sign up and start trading on Coinhouse
Coinhouse has a simple and straightforward registration process.
Go to the Coinhouse website and hit 'Sign Up' or 'Create a Free Account' button.
Confirm your email address.
Submit your identity details, address, and required identity verification documents. The entire verification process can take up to 24 hours after the request.
Once you're verified and get a green light, you can start trading on Coinhouse.
Alternatively, you can go to La Maison du Bitcoin and get your account opened there for you.
Conclusion
Coinhouse is an excellent platform for Europeans looking to buy and sell Bitcoin, Ethereum, Litecoin, and 300 other cryptocurrencies in a regulated environment. The platform's team is dedicated to providing you with all the services you could need, provided that you're willing to become a premium user.
If you're looking for a simple and cheap self-service exchange to buy and sell cryptocurrencies, you may check out our other exchange reviews.