BYDFi Exchange Review – Features, Fees and Rewards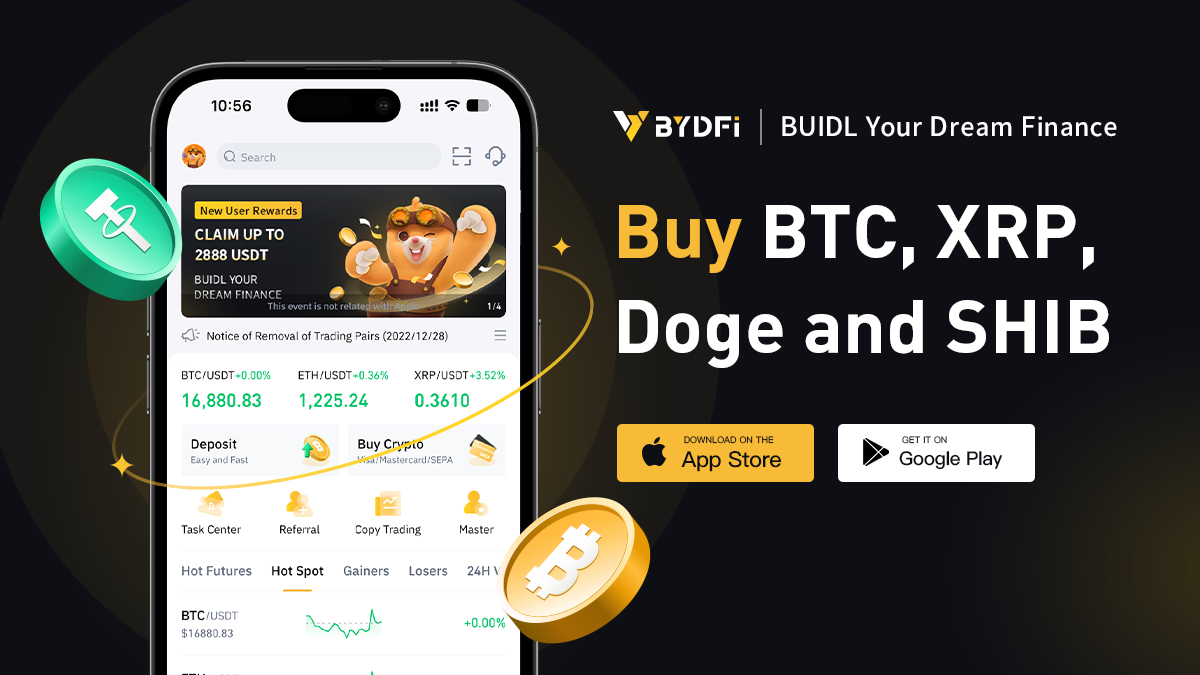 In an industry beset by hazy regulation and outright fraud, crypto traders and investors need a partner they can trust to help bridge the world into the blockchain-based future of finance. That's why BUIDL Your Dream Finance – aka BYDFi – launched in 2020, to help shape the possibilities for crypto and stay on the cutting edge of digital asset innovation.
General info
| | |
| --- | --- |
| Parent Company: | |
| Transfer types: | Crypto Transfer, |
| Supported fiat: | |
| Supported pairs: | 1400 |
| Has token: | - |
| Fees: | Very Low (Compare rates) |
Pros & Cons
Diverse trading services
Clean, easy to use interface
Low fees
Regulated in four jurisdictions
No forced KYC
Lucrative promotions
Limited withdrawal options
Limited fiat deposit options
Uses only SMS and email-based 2FA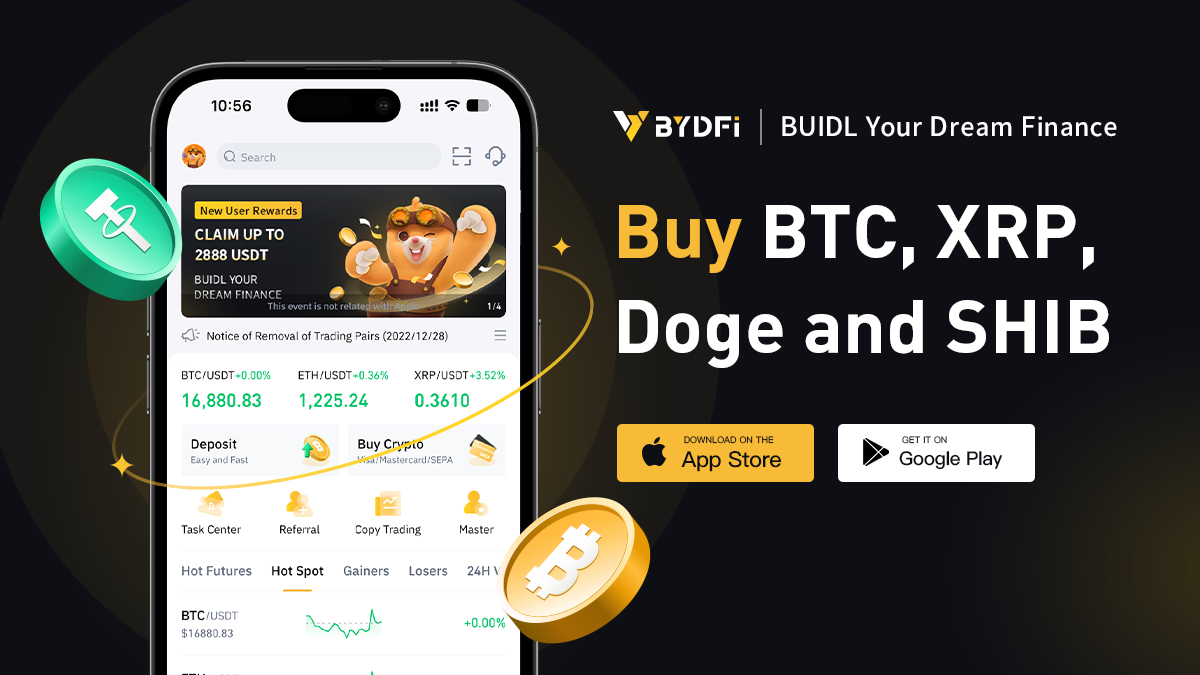 This BYDFi review will explore the company's crypto trading platform inside and out. We provide a detailed overview of BYDFi fees, features, rewards systems, security, and supported assets, and weigh them against those provided by the top rival exchanges in the industry.
What is BYDFi?
BUIDL Your Dream Finance (BYDFi) is a Singapore-based cryptocurrency trading platform for global investors. It allows users in over 150 countries to engage in all manner of cryptocurrency trades across hundreds of different digital assets, including spot, derivatives, and copy trading.
Previously known as BitYard when launched in April 2020, the company rebranded its name to BYDFi in January 2023 to reflect its commitment to help 'BUIDL' new crypto projects and to press forward with innovation in the digital asset space.
BUIDL is a slang term for 'build' in the crypto community, much like HODL is a slang term for 'Hold'. Meanwhile, the 'F' in BYDFi stands for Finance, while the 'i' stands for each individual person, whom BYDFi encourages to take action and achieve their dreams.
BYDFi believes crypto's use cases will expand beyond NFTs, the Metaverse, and GameFi experiences – but still offers a range of the best metaverse coins.
In March 2023, the platform was labeled a top ten recommended exchange by Forbes for its ultra-low trading fees and firm compliance with financial industry regulations. It currently serves over 500,000 users and generates millions of dollars in trading volume per day.
How Many Cryptos Can You Trade on BYDFi?
BYDFi boasts support for 400+ cryptocurrencies and 600+ trading pairs. It features many of the market's top picks, and is one of the best destinations to buy Bitcoin (BTC), Ethereum (ETH), Ripple (XRP), Dogecoin (DOGE), Cardano (ADA), and Shiba Inu (SHIB), as well as low-cap picks like Raydium (RAY).
Rival firm Coinbase only supports roughly 250 cryptocurrencies – which does not include spot trading for Ripple's XRP, Tron's TRX, or Telegram's TON.
BYDFi boasts support for both TRX and TON, giving it an edge over Coinbase, Kraken, and Crypto.com alike. This large assortment of assets is sure to provide traders with plenty of opportunities for a profitable investment or trade.
BYDFi Features & Trading Tools
The Singaporean exchange has no shortage of features and trading tools, which will be the core focus of our BYDFi review. We will cover the firm's spot trading, perpetual trading, copy trading, and demo trading.
| | | | | |
| --- | --- | --- | --- | --- |
| Exchange | BYDFi | Coinbase | Kraken | Crypto.com |
| Derivatives | √ | X | √ | √ |
| Copy Trading | √ | X | X | X |
| Free Demo Trading | √ | X | √ | X |
Spot Exchange
BYDFi lets traders interact with each other in the spot market in order to settle trades immediately.
Over 400 of the best cryptos to buy can be traded here against Tether (USDT) and other USD-pegged stablecoins like BUSD and USDC, including Bitcoin (BTC) Ethereum (ETH) Dogecoin (DOGE), and a slew of other altcoins like Polkadot (DOT), Cardano (ADA), 1Inch, AAVE, and more.
Users can buy and sell such assets using either market orders (immediate trades) or limit orders (orders to buy or sell at a specific price.
The spot market interface is broken into three sections:
Direct Conversion: This lets users convert their assets from one cryptocurrency to another with a single click, without needing to use the orderbook.
Classic spot market: Grants traders access to basic trading tools including charting software, the order book, and different order types.
Advanced spot market: Offers traders an even wider array of crypto trading tools (ex. Market depth) compared to the classic interface for optimal technical analysis.
| | | | | |
| --- | --- | --- | --- | --- |
| Exchange | BYDFi | Coinbase | Kraken | Crypto.com |
| Spot Fees | 0.1% | 1% | 0.2% | 0.075% |
| Spot Pairs | 400+ | 200+ | 200+ | 200+ |
| XRP Spot | √ | √ | √ | √ |
| DOGE Spot | √ | √ | √ | √ |
| SHIB Spot | √ | √ | √ | √ |
| TRX Spot | √ | X | √ | X |
| TON Spot | √ | X | X | X |
Perpetual Futures
A standard futures contract is an agreement to buy/sell an underlying asset at a certain price at a later date. By contrast, a perpetual futures contract – as offered by BYDFi – is a type of futures contract that never expires.
Traders take long and short positions against one another with these contracts. One group makes recurring payouts to the other group depending on whether the contract trades at a premium (longs pay shorts) or discount (shorts pay longs) to the asset index price.
BYDFi stand out against other platforms by offering up to 150x leverage for perpetual contracts. Alternative exchanges like BitMEX are limited to just 100x leverage, while Kraken is limited to 50x leverage.
The exchange provides four different types of derivatives contracts:
Lite Contracts: Best used by beginners who are looking to get their feet wet with some trading experience with up to 125x leverage. Available for BTC, ETH, XRP, DOT, ADA, and more. This section also include paper trading/demo trading.
USDT-M Contracts: Perpetual futures settled in USDT, the world's largest stablecoin which is pegged to the US dollar. Available for BTC, ETH, XRP, DOT, ADA, AAVE, and more. Like cash-settled futures, this means the trader on the losing end of the contract must pay the winner the difference between their earnings when the contract expires using USDT.
COIN-M Contracts: Contracts settled in the underlying cryptocurrency that that contract is based on (ex. Settles in Bitcoin on a BTC contract; settles in Ethereum on an ETH contract). Terms of such contracts don't change from the time the contract is agreed to until the time it settles.
However, it contains an implicit winner and loser depending on how much the underling crypto's price moves within that time. Available for BTC, ETH, XRP, and DOT.
Leveraged Tokens: Leverage contracts let you multiply the stake of your bet on a cryptocurrency's future price moves, whether long or short.
For instance, a BTC3L/USDT contracts post a 3X long leveled Bitcoin position against USDT, whereas a BTC3S/USDT contract posts an equivalent short position. Leverage tokens are available for popular cryptocurrencies such as BTC, ETH, XRP, DOT, LINK, ADA, BNB and UNI.
Users can open leverage positions up to a size of 150X in the case of BYDFi. Coinbase Pro, by contrast, only offers a maximum of 3X leverage on crypto trades. Even rival exchanges known for having higher limits, such as Bitmex and Phemex, still cap their leverage at just 100X.
Copy Trading
Copy Trading is a BYDFi feature allowing users to directly copy the trading positions of other selected investors. This can help guide inexperienced traders into making smarter trading decisions in the short term, while they're still learning the ways of the market.
The process is fully automated, meaning traders get to save time, money, and do away with risks that come with inexperience. That's why the strategy is growing popular ever more popular, and numerous crypto trading platforms including eToro, Gate.io, and Bybit have adopted copy trading programs.
Of course, there's something in it for the traders being mimicked: BYDFi's copy trading program makes users provide an 8 to 10% royalty to those traders who they choose to copy.
The platform lets users pick from hundreds of traders to copy, including so-called 'Masters' whose tracks record on generating profit can be compared side by side. Some traders have records of over 200% ROI in 30 days, making the fee paid by copiers more than worth it!
To copy another's trade, simply tap 'Copy Trading' from BYDFi's navigation bar and select 'Copy' next to your ideal trader, based on their proven ROI and favorite coins.
Demo Trading
BYDFi's Demo trading (aka 'Paper Trading') is a form of practice trading that lets users open positions without spending money. Using demo funds, traders may test new trading strategies in a simulated market that assists both beginners and trading veterans alike.
To access the feature, BYDFi users can click 'Derivatives' from the top navigation bar, and then click on 'Lite Contracts'. From there, users may select an asset that they wish to trade from the 'Assets' panel on the bottom right-hand side of the page. Then select the 'Live' tab, followed by 'Demo'.
The selection will see $100,000 USDT credited to your demo account, which can be used to start trading. Should you run out of funds in your demo wallet, simply close all open positions and select 'add funds' to replenish your wallet.
Note that this USDT cannot be withdrawn from the exchange (it isn't real, after all!)
BYDFi Fees
One of BYDFi's core benefits compared to other trading platforms are its ultra-low fees, whether trading in spot or derivatives markets. The next part of our BYDFi exchange review wil break down those fees in great detail.
| | |
| --- | --- |
| Trading Tool | Fee |
| Spot | 0.1% to 0.3% |
| Convert | 0.1% to 0.15% |
| Lite Contract | 0.05% |
| Perpetual Contract | 0.06% (Taker) / 0.02% (Maker) |
| Leverage Token | 0.2% (buy or sell) / 0.03% (daily) |
| Demo | Free (fees apply to demo funds) |
Spot Trades
Transaction fees follow the Maker/Taker fee model, with fees varying between 0.1% and 0.3% for both execution types.
Maker transaction fees are fees applied to anyone opening a pending position in the market, hence helping 'make' the market by providing it with liquidity.
Takers, by contrast, are those closing pending positions, and thus 'taking' liquidity away from the market. Both maker and taker fees are standard fees charged by the best crypto exchanges in return for use of the platform's order book liquidity.
Maker and taker fees are applied separately, and the extent of the charge depends on which cryptocurrency is being purchased. Individual fee rates may be viewed in the upper right corner of the page for spot trading pairs.
The formula for calculating your total transaction fee is as follows:
Spot Transaction Fee = Filled Order Quantity x Transaction Fee Rate
Convert
Fees are between 0.1% and 0.15% when trading and converting between different cryptos.
Lite Contracts
A 0.05% fee is applied when both opening and closing a Lite Contract. Funding fees are then apple every 8 hours based on the funding rate.
Lite contract trading fee formula:
Opening Fee = Margin * Leverage * 0.05%
Closing Fee = Margin * Leverage * 0.05%
Lite contract funding fee formula:
Funding Fee = Last Price * Position Quantity * Funding Rate
Position Quantity = Leverage * Margin / Entry Price
In practice, each trading fee is fully applied in a lump sum 0.1% fee charge when opening a position, with no additional fee when closing a position.
Perpetual Contracts
BYDFi also applies a maker/taker fee model to perpetual futures contacts. The taker fee is 0.06%, while the maker fee is just 0.02%.
Perpetual contract (USDT-M) trading fee formula:
Opening Fee / Closing Fee = Fulfilled Amount (Coin) * Entry Price *
Transaction Fee Rate
Perpetual contract funding fee formula:
Funding Fee = Position Value * Funding Rate
Position Value = Par Value * Contract Quantity / Mark Price
Inverse perpetual contract (COIN-M) trading fee formula:
Opening Fee / Closing Fee = (Cont * Contract Multiplier / Entry Price ) * Transaction Fee Rate
Leveraged Tokens
When taking a leveraged bet with BYDFi, the platform charges separate fees of 0.2% when buying or selling with USDT. Additionally, a daily management fee of 0.03% is applied to the true value of one's leveraged tokens at 0:00:00 (UTC+8). The user's current position will experience no deductions.
Demo Trades
Paper trading deducts money from one's paper balance using the fee calculations given above. This allows one's practice trades to completely mimic a real trading environment. One's actual exchange balance remains unaffected, however.
BYDFi Mobile App
BYDFi's leading crypto mobile app (available for Android and IOS) offers a user-friendly experience for trading on the go.
From the app's homepage, users can easily view some of the most recent gainers and losers on the market, browse the hottest futures and spot trading pairs, or deposit crypto/fiat to the exchange using one of BYDFi's partners.
Meanwhile, traders can easily surf through BYDFi's hundreds of spot, USDT-M, COIN-M and Lite contracts from its Discover page, and view their current total balance from the Assets page.
Just like the browser version, the mobile app offers a selection of top traders whose trading strategies you can directly copy.
BYDFi Bonuses and Rewards
Before getting started on BYDFi, the platform offers a number of incentives and rewards for earning some free initial trading money before dipping your toes into the market.
Welcome Bonus
New user rewards include a 50 USDT prize for making your first fiat deposit, and a 30 USDT reward for your first crypto deposit.
There's also a special 'mystery box' reward for customers who complete their KYC registration process, and a reward for submitting platform feedback that can range anywhere from 5 to 5000 USDT!
Meanwhile, the Advanced Task section includes accruing rewards for users as they deposit more funds to the exchange, including 1500 USDT for over 100,000 USDT in deposits, and over 10,000,000 USDT in trading volume.
Note, however, that these bonuses can only be sued for additional trading – not for withdrawal.
Referral Bonus
BYDFi also includes referral rewards that can provide users with up to 40% commissions for onboarding other users to the platform. Every account includes a personal affiliate link that will earn you lifetime rebates for every friend or colleague that joins BYDFi and trades through that link.
If you're a popular crypto influencer and demonstrate 'outstanding performance' through the program, you can even sign on as a BYDFi 'Elite Agent' and negotiate for a higher payout and special conditions.
All details regarding one's referrals and earnings may be viewed directly from BYDFi's affiliate center. Rebates are reflected in your account in real-time, so you won't be waiting weeks for the actual payout.
Payment Methods Accepted by BYDFi
To deposit funds to BYDFi, simply select 'Buy Crypto' from the homepage's navigation bar. Then select which crypto you'd like to receive in your account (default: USDT) and the fiat currency you wish to deposit (default: USD). Over 100 currency options are available.
The platform currently offers four different providers for fiat to crypto deposits: Transak, Banxa, Coinify, and Mercuryo.
| | | | | |
| --- | --- | --- | --- | --- |
| Service | Fees | Min/Max Deposits | Processing Times | Payment Methods |
| Transak | 0% | 30 - 1,500 USD | 2 - 10mins | Visa, Mastercard, Sepa |
| Banxa | 0% | 35 - 15,000 USD | 2 - 10mins | Visa, Mastercard, Sepa, Apple Pay |
| Coinify | 3% | 70 - 1,000 USD | 2 - 10mins | Visa, Mastercard, Sepa |
| Mercuryo | 5% | 55 - 4,900 USD | 2 - 10mins | Visa, Mastercard, Apple Pay, Google Pay |
To directly deposit crypto to BYDFi, simply hover to 'Assets' from the homepage's navigation bar, and then select 'Deposit' from the drop-down menu.
Then select the cryptocurrency that you plan to deposit (ex. USDT) and the network it will be deposited from (ERC20, MATIC, SOL, etc).
BYDFi Regulation and Security
Since launching in 2020, BYDFi has not reported any public security incidents. The exchange employs numerous measures to ensure its client's funds and data remain safe.
Personal data protection
BYDFi uses Jumio's identify verification AI to fight fraud, meet compliance standards and more quickly onboard good customers. KYC is still optional for basic use, but clients must register to gain access to a Master account and experience BYDFi's full range of functionality.
Cold Storage
The vast majority of cryptocurrency held at BYDFi is in cold storage wallets, meaning it's disconnected from the internet and safe from hackers.
Multi-party approvals
For added security, it requires multiple signatures to authorize transactions from the exchange's wallets. That way, if one private key is compromised, it still won't afford attackers access to client funds.
Segregated accounts
User funds and the exchange's assets are held in separate wallets, ensuring your assets aren't tampered with. Other exchanges like FTX are widely suspected to have comingled client assets for trading, resulting in billions of dollars in losses.
Strict whitelisting
BYDFi can only execute withdrawals from its cold wallets to pre-approved addresses, ensuring funds aren't transferred to unauthorized clients.
BYDFi also boasts a dual Money Services Business (MSB) license in the United States and Canada. The license is issued by each country's Financial Crimes Enforcement Network (FinCEN; MSB Registration No. - 31000215482431) and Financial Transactions and Reports Analysis Centre (FINTRAC; MSB Registration No. - M22636235) respectively.
BYDFi Customer Service
To contact BYDFi's customer support, users can click the quotation bubble on the bottom right of BYDFi's website, and enter a question. A robot assistant will help automatically find relevant answers to your question.
Alternatively, mobile app users can access the same chatbot by selecting the headset icon in the upper right corner of their screen.
Here are some other resources for getting in touch with the exchange:
The Verdict
This BYDFi exchange review has explained the range of features and benefits offered by the BYDFi's global cryptocurrency exchange. The platform boasts some of the lowest trading fees in the exchange business today, charging a maximum of 0.3% on all spot trades.
With over 400 trading pairs, it also beats out other cryptocurrency exchanges in terms of the variety of available assets. Thanks to its optional KYC onboarding and incentives programs, BYDFi is one of the easiest and most lucrative platforms to onboard for beginners.
Thanks to BYDFi's range of trading features including copy trading and demo trading, users are given all of the tools they need to safely learn and earn in the crypto markets from day 1. Meanwhile, the platform's most experienced traders are even given the freedom to trade with leverage as large as 150x.
Our BYDFi review also covered various payment options available for funding one's fiat account on the exchange, including BANXA, Transak, Mercuryo, and Coinify. When depositing crypto the platform, users' assets are held safely in cold storage wallets under multi-signature arrangements with strict whitelisting restrictions.
Finally, BYDFi boasts a dual Money Services Business (MSB) license in the United States and Canada and is regulated by the US and Canadian financial enforcement units FinCEN and FINTRAC respectively.
FAQs
Does BYDFi Charge Fees?
BYDFi charges small trading fees and funding fees, including maker and taker fees on spot trades. Our BYDFi review goes into exact details on the platform's fee structure and rates for various trading types.
Does BYDFi have an app?
BYDFi has a mobile app for both Android and IOS, through which users can view their balance, deposit funds, execute trades, and more.
How do I copy a trade on BYDFi?
To copy a trade on BYDFi, navigate to the 'Copy Trading' section from the homepage's navigation bar, and select a trader whose strategy you wish to copy.
Is BYDFi available in the US?
BYDFi is available in the United States and is licensed by the country's Financial Crimes Enforcement Network (FinCEN).