Bitzlato
Bitzlato, previously known as ChangeBot, is a modern and user-friendly Russian peer-to-peer (P2P) custodial crypto exchange that allows you to exchange Bitcoin (BTC), Ethereum (ETH), Bitcoin Cash (BCH), Litecoin (LTC), Dash (DASH), Tether (USDT), Monolith Ruble (RUBM) and Dogecoin (DOGE) without intermediaries and hidden commissions. Apart from P2P exchange, it also has a regular exchange that supports more than 20 crypto-to-crypto markets, allowing you to switch coins at very low fees. It's Telegram-based P2P bots continue serving users to this day, and it all boils down to a stellar, secure, and reliable crypto trading experience.
General info
| | |
| --- | --- |
| Web address: | Bitzlato |
| Support contact: | Link |
| Main location: | Hong Kong, HK |
| Daily volume: | 0.0 BTC |
| Mobile app available: | No |
| Is decentralized: | No |
| | |
| --- | --- |
| Parent Company: | BITZLATO LIMITED |
| Transfer types: | Bank Transfer, Credit Card, Debit Card, Crypto Transfer, |
| Supported fiat: | Over 60 |
| Supported pairs: | 22 |
| Has token: | - |
| Fees: | Low (Compare rates) |
Pros & Cons
Extremely low fees Wide variety of payment methods, including cash Innovative approach to trading Account verification is optional
Somewhat limited amount of altcoins Self-regulated exchange The exchange's team and history are not very well-known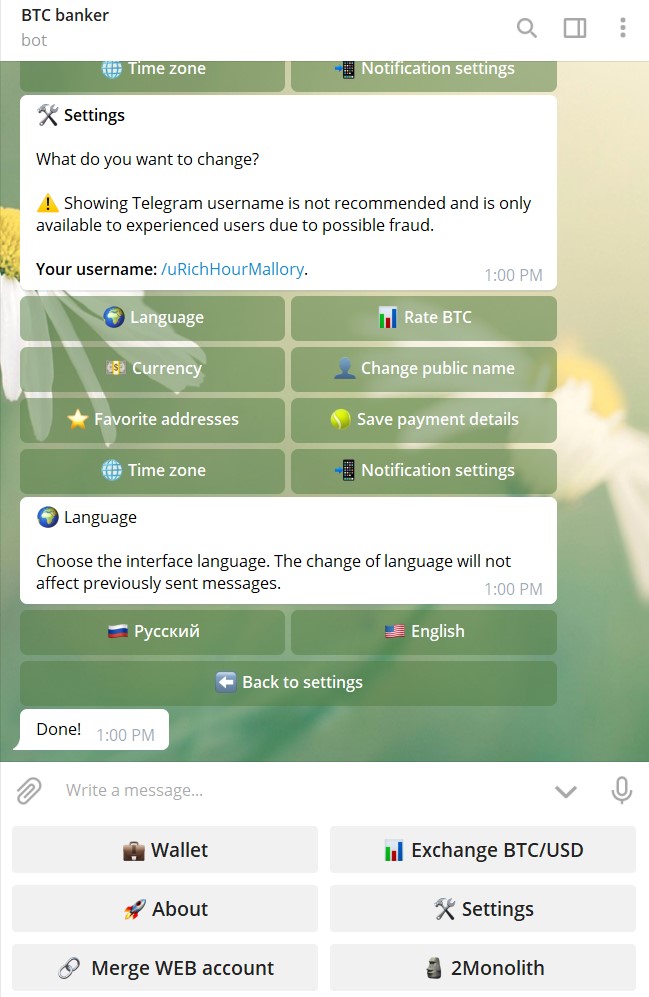 Bitzlato Review: Key Features
Bitlzato is an innovative cryptocurrency P2P platform and exchange, and one of the largest P2P exchanges in Russia. Though it is little-known in the west, it's been operating as an exchange since 2016 and offers high-quality services that have served thousands of satisfied customers.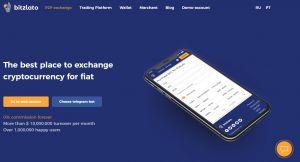 The key features of the exchange include:
Buy and sell 10 top cryptocurrencies with cash and other payment methods. Bitzlato supports Bitcoin (BTC), Ethereum (ETH), Litecoin (LTC), Dash (DASH), Bitcoin Cash (BCH), Dogecoin (DOGE), Tether (USDT), and Monolith Ruble (RUBM). Besides these, it's crypto-to-crypto exchange offers Ethereum Classic (ETC) and Dai (DAI) trading against bitcoin and stablecoins.
P2P exchange with Telegram bots. Bitzlato has gained traction as a P2P Telegram exchange first, and its Telegram-integrated services remain strong to this day. It provides a private and convenient way to buy and sell bitcoin without any hassle.
Trade cryptocurrencies using Bitzlato's web exchange. Bitzlato's web exchange is clean, simple, and easy to use for beginners. Nevertheless, it also supports advanced trading tools for advanced traders, too.
Secure and reliable service. Bltizlato runs a secure crypto exchange service that's been running since 2016 and is yet to experience a major security breach. The exchange is registered in Hong Kong.
Demo account. New crypto users can create a free demo account and test their trading skills with fake coins before adding real money into their account.
Extremely low fees! Whether you're interested in P2P trading or crypto-to-crypto exchange, Bitzlato's fees are some of the lowest in the industry. As such, it is a great option for high volume traders.
In a nutshell, Bitzlato is a quality cryptocurrency exchange that deserves more attention. It's suitable for both beginners and experienced crypto traders, and its versatile approach to crypto trading makes it easy to sign up and access crypto trading in less than a minute.

Source: Bitzlato.comGo to Exchange
Background and History
Bitzlato is a non-custodial P2P cryptocurrency exchange that is incorporated in Hong Kong.
First started as a Russian cryptocurrency mining company, Bitzlato started its activities in 2013, when it was founded by a team of experienced engineers. Since then, the company runs and develops mining equipment, data centers, and even provides client mining services in several countries.
In 2016, Bitzlato branched further into online crypto services by launching an affordable, safe, and secure Bitcoin P2P exchange service on a popular messaging service Telegram - a mobile BTC banker @BTC_CHANGE_BOT.
As the usage of the service grew, the Bitzlato team launched more Telegram exchange bots, including the ones for buying and selling Ethereum (ETH), Litecoin (LTC), Dash (DASH), Bitcoin Cash (BCH), and Dogecoin (DOGE). As a result, it became the second-best P2P exchange in Russia in terms of the trading volume.
In 2018, Bitzlato launched yet another new service - a web version of already existing P2P exchangers along with a cryptocurrency exchange. Besides, the exchange went through a rebranding and changed its name from ChangeBot into Bitzlato. Since then, all of the exchange's services are interconnected, meaning that you can make use of all of them via a single user account.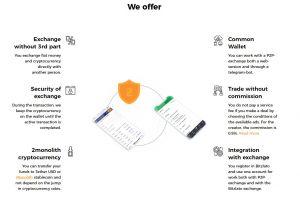 Source: Bitzlato.com
As of 2021, Bitzlato's service suite includes a cryptocurrency wallet, a P2P fiat-to-crypto exchange accessible via the platform as well as Telegram bots. Besides, the exchange's team is working on a crypto payment gateway for merchants called BitzlatoPay, its mining pool, P2P lending platform, and a mobile app as well as other innovative crypto products.
Bitzlato Supported Countries
Bitzlato services are available in most countries worldwide, but there are certain restrictions. The service's terms and conditions specify that the availability of its services may not be legally allowed in certain jurisdictions with complicated cryptocurrency regulations. By using the platform's services, Bitzlato's users confirm that they comply with the legislation of their jurisdiction.
Notable examples of not supported countries include, but are not limited to:
The United States of America
The Federal Republic of Germany
At pixel time, Bitzlato's website is available in seven languages, which include English (EN), Russian (RU), Portuguese (PT), Spanish (ES), Simplified Chinese (ZH), Arabic (AR), and French (FR).
Bitzlato Verification
Bitzlato uses effective internal procedures and mechanisms to prevent money laundering, terrorist financing, and other harmful and illegal activities. User verification on the Bitzlato platform is not mandatory but highly recommended since most of the traders deal with verified users only. As such, having a verified profile increases your trust and credibility.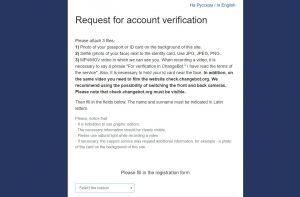 Bitzlato account verification form.
Verification can be completed by navigating to the "Verification" inscription in your account on the web version or via the Telegram bot by clicking "About Service" and then "Verification."
Bitzlato will ask you to submit the following documents:
Enter your passport data
A valid email address
Close-up selfie with an identity card
Another picture of you with a Bitzlato website in the background
A video of you pronouncing a presented Verbatim phrase
In some cases, Bitzlato's support team may request additional information. After verification, your ads will be visible in the "Safe Mode,", which is likely to raise the number of responses to your offers.
Bitzlato Fees
Bitzlato offers low fee trading and P2P exchanges between users, though the rates differ based on your preferred exchange method.
If you're using the Bitzlato exchange, it charges both taker and maker fees. As a market maker, you will pay 0.05% per executed order, while as a market taker, you will pay 0.15% per transaction.
Such a fee structure makes Bitzlato exchange an extremely affordable option, and one of the lowest-fee exchanges in the industry. Here is how Bitzlato compares with other popular altcoin exchanges:
An entirely different fee structure applies to Bitzlato's P2P trades, which charges a 0.5% fee to a person who creates an ad. For example, if you respond to an advertisement, regardless if it's for buying or selling cryptocurrency, you will not be charged a penny more than stated in the add (except for payment processing fees, which depend on chosen payment method).
As if that's not enough, Bitzlato currently also has an ongoing "Free Weekend" promotion for trading Bitcoin (BTC) and Ethereum (ETH) cryptocurrencies for free on weekends (from 00:00 on Saturday to 23:59 on Sunday) on its web version of the P2P platform.
Also, during the promotion, trading Litecoin (LTC), Dash (DASH), Bitcoin Cash (BCH), Dogecoin (DOGE), Tether (USDT), and Monolith Ruble (RUBM) is free of charge.
For comparison, another popular P2P platform, LocalBitcoins, charges its users who place advertisements a 1% fee. It's non-custodial competitor, LocalCryptos, takes 0.25% maker fee and 0.75% taker fee per every completed trade. As such, Bitzlato turns out to offer cheaper P2P exchange services than both of these platforms.
Bitzlato does not charge fees for deposit cryptocurrencies into its multicurrency crypto wallet. It does, however, charge fees for withdrawing currencies from it, which constitute a small fraction of a total transaction amount.
| Coin | Minimum Withdrawal | Withdrawal Fee |
| --- | --- | --- |
| Bitcoin (BTC) | - | 0.0002 BTC |
| Ethereum (ETH) | 0.02 ETH | 0.001 ETH |
| Dogecoin (DOGE) | - | 1 DOGE |
| Litecoin (LTC) | - | 0.001 LTC |
| Dash (DASH) | - | 0.001 DASH |
| Bitcoin Cash (BCH) | - | 0.0002 BCH |
| Tether (USDT) | - | 1.5 USDT |
| Monolith Ruble (RUBM) | - | 40 RUBM |
As such, Bitzlato's trading and withdrawal fees are some of the lowest amongst both P2P and regular exchanges.
Design and Usability
Bitzlato exchange is accessible via multiple facets, including its cryptocurrency exchange service, web-based P2P platform, and a wide selection of Telegram bots.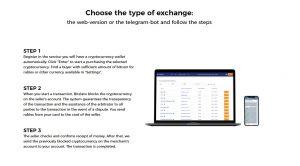 Source: Bitzlato.com
At the moment, Bitzlato does have its mobile apps for iOS or Android, but the service indicates that they are coming soon.
Registration on the website is fast and straightforward and takes only a few minutes. All you need to do is enter your username or email, solve a puzzle, and you're ready to go.
Bitzlato WEB P2P Platform
Bitzlato's website is a one-stop-shop for all of its services, including the main P2P exchange platform. The P2P section of the platform has a clear design, and you can make use of its left panel to filter ads according to your needs. You can sort user advertisements by sellers or buyers, cryptocurrency, and preferred payment method. Besides, you can check whether you want to see only verified or active users.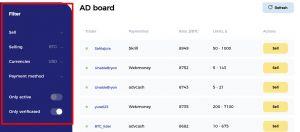 Aside from browsing the AD board, you can also place your advertisements by clicking the "Create advert" button.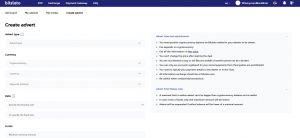 Here, you will be presented will all the available options, specify your trade terms, limits, and rate. Be sure that you're aware of Bitzlato's trading rules and requirements before placing an ad. You can find them on the right side of the screen.
All in all, Bitzlato's P2P exchange provides a cheap, secure, and convenient way to buy and sell cryptocurrencies online. The platform is well-designed and should be simple to navigate even for inexperienced users.
Bitzlato Cryptocurrency Exchange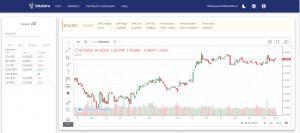 Bitzlato's crypto exchange is a great way to trade top cryptocurrencies in a cheap, private, and reliable way. You can enter the exchange by navigating to the "Exchange" or "Markets" tab on the web platform.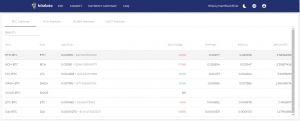 At the moment, the exchange supports the trading of 10 cryptocurrencies in 22 market pairs. The base cryptocurrencies of the exchange are Bitcoin (7 markets), Ethereum (4 markets), Monolith Ruble (7 markets), and Tether USD (4 markets).
The ten supported cryptocurrencies include:
Bitcoin (BTC)
Ethereum (ETH)
Litecoin (LTC)
Dash (DASH)
Bitcoin Cash (BCH)
Ethereum Classic (ETC)
Dogecoin (DOGE)
Dai (DAI)
Monolith Ruble (RUMB)
Tether (USDT)
The exchange itself has a clean and tidy layout, which is easy to navigate. On the left side of the screen, you will find the markets panel (2), where you can switch between different trading pairs.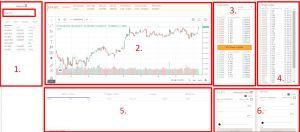 In the middle of the screen, you will see a market chart by TradingView (2), which comes with all the charting tools you could ever need for your trading and technical analysis. On the upper right corner of the exchange, you will see the market's order book (3) and completed trades (4) panels, which will help you to follow the situation in the market. The bottom of the screen is dedicated to an overview of your existing and completed orders, history, and balances (5).
Finally, you can place both simple and advanced orders via "Buy" and "Sell" tabs (6) in the lower-right corner. Less experienced investors can make use of the panel as it is, while seasoned traders might want to open an advanced orders option, where you can find additional order types. Bitzlato supports market, stop limit, stop market, take profit limit, and take profit market orders, which you can use to your advantage.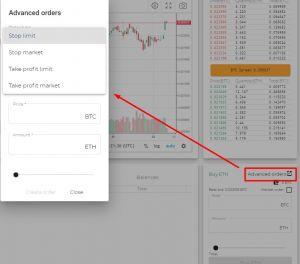 Bitzlato advanced orders.
Although it is relatively new, Bitzlato's crypto exchange has decent liquidity. For example, its BTC/ETH market facilitates approximately 10 BTC daily trading volume, meaning that you are likely to get your trades executed even without buying or selling at the market price.
Bitzlato Telegram P2P Trading Bots
Prior to becoming a fully-fledged web platform, Bitzlato gained traction as a Telegram-based P2P trading facilitator, and trading via the Telegram app remains a viable option to this day.
This innovative approach is extremely user-friendly and enables P2P trading on the go. The bots are co-integrated with the P2P platform and vice versa, meaning that you can access all Bitzlato's services with the same account.
Currently, there are 13 active Telegram bots for trading, which include:
6 bots for bitcoin exchanges.
5 altcoin bots (Ethereum, Litecoin, DASH, Bitcoin Cash, Dogecoin).
2 stablecoin bots (Tether USD and Monolith RUB)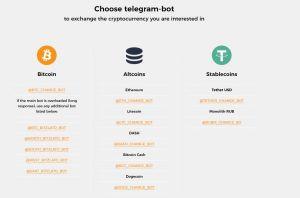 A complete list of Bitzlato's Telegram bots.
Using a bot is as easy as pie. After entering the selected bot, you will have access to the same features and functions supported by the web platform, including the ability to review your ads, create new posts, buy or sell cryptocurrencies from other people via all supported methods, and more.
Here is a short guide on how to use the bot to buy bitcoin:
Click "Exchange BTC/USD."
Hit the "Buy" button.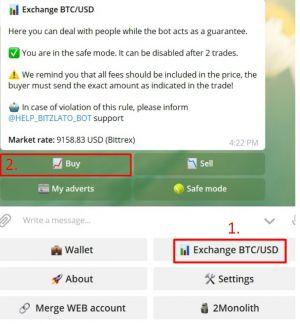 Select a preferred payment method. We're going to use "VISA" in this example.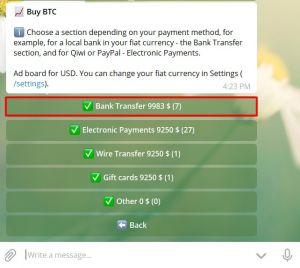 Select the preferred payment gateway.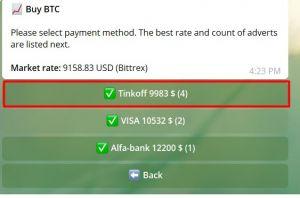 Once you select your payment method and gateway, you will see available offers.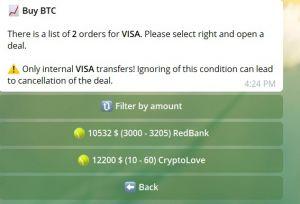 Once you choose an offer, you will see all the available information about the seller. Click "Open the deal" if everything looks good and you want to continue.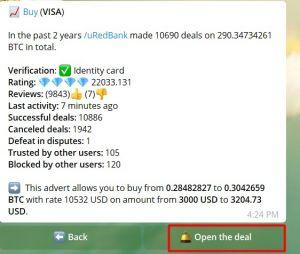 Next, the bot will request you to input a payment amount. Every offer has a different minimum and maximum, so be sure that the amount fits the range specified in the deal.

Confirm the purchase.
If the vendor accepts your trade, you can either cancel or write a message to the seller to get further details about the payment. Pay attention to the auto-cancel time.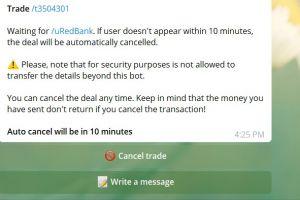 After you make a payment, confirm it with the bot and wait for the seller to release the coins to you.
That's it! As you can see, trading with Btizlato's bots is quick, reliable, and super convenient. If you have any issues with your transaction, be sure to reach out to the exchange's support team.
Bitzlato DEMO account
In case it is your first time using bitcoin or cryptocurrencies, you can open a DEMO account to get an impression on how it feels to trade using Bitzlato's platform.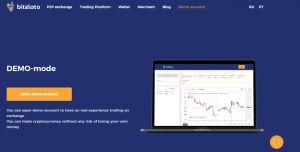 Bitzlato will credit your demo account with several fake bitcoins and altcoins so that you can test your trading skills and its platform. It's an excellent option for inexperienced retail investors and people who are just getting interested in bitcoin and cryptocurrency trading.
Opening a demo account is absolutely free, and there is zero risk of you losing any funds.
Bitzlato Merchant Solution
Bitzlato also offers a payment gateway service for merchants that want to accept payments in fiat funds and cryptocurrencies. It supports more than 75 payment methods and options and can be integrated into your website, mobile application, work as a link in a messenger bot or email.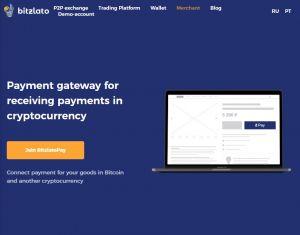 Registration of a new wallet is free and takes only a couple of minutes. The clients do not need to pay any network fees or wait for confirmations - everything happens instantly, for free, and without any hidden costs. Unlike other payment providers, the service respects users' privacy and is completely anonymous.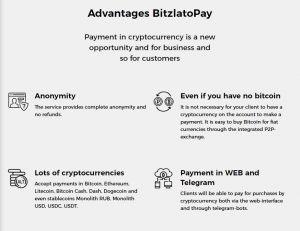 Bitzlato Customer Support
Another perk of Bitzlato exchange is that it has a responsive and supportive around the clock customer support team. It can be reached via the following channels: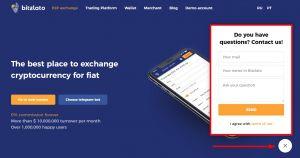 One minor inconvenience, at least for now, is that Bitzlato's FAQ knowledge base is available in Russian-only. However, it should become available in English soon as the directory for English guides already exists.
Typically, Bitzlato's support is very responsive, and you can expect to get a reply within two hours at most, though it may take longer during busy periods.

You can also find some useful information and links at the bottom of the Bitzlato website.
Bitzlato Security
Bitzlato is a custodial exchange, meaning that you have to trust it with your funds to keep them secure. As with most custodial wallet service providers, the security of the service is of paramount importance.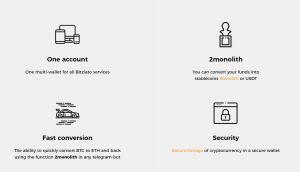 Source: Bitzlato.com
Luckily, Bitzlato does security well and has not experienced any big security breaches yet. According to the exchange, they strive to meet all industry's security standards and use the following security measures:
Most cryptocurrencies are kept in cold wallets, with only a fraction of funds remaining online to cover operating liquidity needs.
All wallets and paper backups are encrypted and stored in geographically distributed vaults.
Regular audits of the reserves.
The network infrastructure is protected by physical firewalls.
DDoS attack protection.
Regular data backups and network scans to identify potential threats.
All network traffic is SSL and SSH encrypted.
All application traffic is sent using SSL/TLS.
Regular internal source code checks and third-party controlled attacks to identify system vulnerabilities.
All personal information and passwords are encrypted, too.
Bitzlato's employees do not have access to user account data and passwords.
All employees have to undergo a security review and use encrypted storage with a strong password management system.
However, security is not a one-way street, and no amount of security measures on the exchange's side of things will save you if you are reckless with your account and password. Do not forget to set up two-factor authentication (2FA) for both the Bitzlato web platform (you can find it in your accounts' settings window), as well as on your Telegram account to prevent security breaches. Bitzlato exchange's employees will never ask you for your personal information and passwords, so do not send them to anyone even if they ask for it.

P2P exchanges introduce another security vulnerability in that the person you're dealing with may be a fraudster who doesn't hold his side of the deal. To minimize risks, always inspect the profile of a person you're dealing with and perform all deals using Bitzlato's escrow service only.
Bitzlato has a built-in feedback system for traders, so you can check whether the trader is verified, has been trustworthy in the past, and has sufficient positive evaluations. As a rule of thumb, try to avoid traders who are unverified or have little trading history on the platform.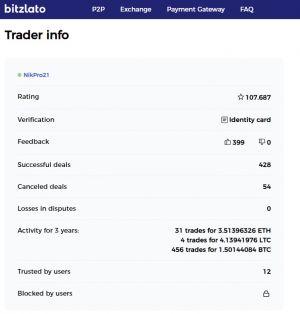 Bitzlato trader information.
Here are a few other tips on how to remain secure using Bitzlato's services:
Hide your phone number tied to your Telegram account from unauthorized persons.
Set two-factor authentication on your Telegram account.
Do not use a login and password combination that is used on other services.
Do not perform transactions outside of Bitzlato's bots, escrow service, or via external wallets, since then you won't be secured by Bitzlato's security and fraud prevention measures.
Carefully inspect the ad and advertiser before engaging in a transaction. If the offer seems to be too good to be true, it's usually a scam.
Before sending funds, make sure that the other party has accepted the transaction.
Do not release funds from escrow until you get the actual receipt of funds in your account.
Check the legality of funds sent to you by asking the other party to add an additional comment to the payment, such as "Cryptocurrency purchase from <username> via Bitzlato service," or something similar that addresses your concerns.
Never install software, open links, or accept files from unverified, suspicious sources.
Never provide your password, phone number, or confirmation codes to third parties. A strategy used by the scammers is pretending to be a support agent, so keep in mind that actual team members of Bitzlato will never ask you for these details.
In case you do become a victim of cybercrime using Bitzlato P2P platform or bot, the exchange offers a protection service for verified users. It won't be able to return your funds if you used an external wallet, but even so, you could request to block fraudulent accounts for the safety of other users.
You can contact the support service via the web platform, 'support" tab on the bot, or directly via @CBHelpBot on Telegram.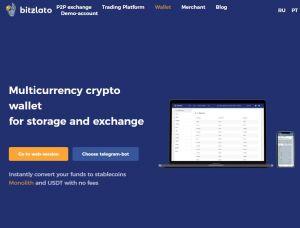 Source: Bitzlato.com
In sum, Bitzlato is a secure exchange and service that is legit and reliable. There should not be any issues if you take all the security precautions seriously.
Deposit and Withdrawal Methods
Bitzlato lets you deposit and withdraw cryptocurrencies to its multicurrency wallet. It does not charge extra fees for making deposits, but withdrawals incur a small withdrawal fee to cover the network costs (see the fees section of this review).
Both deposit and withdrawal transactions are nearly instant and require one confirmation. The only exception is Bitcoin Cash (BCH), whose deposits do not require any confirmations at all. Besides, there are no limits on how much or little crypto you can withdraw except for Ethereum, whose minimal transaction is 0.02 ETH.
Bitzlato does not support fiat currencies on its platform, but it supports various fiat currencies as a P2P exchange payment option.
Bitzlato supported cryptocurrencies:
Bitcoin (BTC)
Ethereum (ETH)
Litecoin (LTC)
Dash (DASH)
Monolith RUB (RUBM)
Tether (USDT)
Bitcoin Cash (BCH)
Dogecoin (DOGE)
Ethereum Classic (ETC) - exchange only, no P2P
Dai (DAI) - exchange only, no P2P
Bitzlato supported fiat currencies:
United States Dollar (USD)
Russian Ruble (RUB)
Ukrainian Hryvnia (UAH)
Euro (EUR)
British Pound (GBP)
Australian Dollar (AUD)
Canadian Dollar (CAD)
Swiss Franc (CHF)
Japanese Yen (JPY)
Brazilian Real (BRL)
Chinese Yuan (CNY)
Mexican Peso (MXN)
Belarusian Rouble (BYN)
Czech Koruna (CZK)
Danish Krone (DKK)
Hong Kong Dollar (HKD)
Indonesian Rupiah (IDR)
Indian Rupee (INR)
Norwegian Krone (NOK)
New Zealand Dollar (NZD)
Poland Zloty (PLN)
Swedish Krona (SEK)
Singapore Dollar (SGD)
Afghan Afghani (AFN)
Albanian Lek (ALL)
Armenian Dram (AMD)
Angolan Kwanza (AOA)
Argentine Peso (ARS)
Azerbaijani Manat (AZN)
Bulgarian Lev (BGN)
Bolivian Boliviano (BOB)
Botswanan Pula (BWP)
Chilean Peso (CLP)
Colombian Peso (COP)
Costa Rican Colon (CRC)
Cuban Peso (CUP)
Algerian Dinar (DZD)
Egyptian Pound (EGP)
Georgian Lari (GEL)
Ghanaian Cedi (GHS)
Croatian Kuna (HRK)
Haitian Gourde (HTG)
Hungarian Forint (HUF)
Israeli New Shekel (ILS)
Iranian Rial (IRR)
Kenyan Shilling (KES)
Cambodian Riel (KHR)
Kazakhstani Tenge (KZT)
Moldovan Leu (MDL)
Malaysian Ringgit (MYR)
Mozambican Metical (MZN)
Nigerian Naira (NGN)
Panamanian Balboa (PAB)
Romanian Leu (RON)
Thai Baht (THB)
Turkish Lira (TRY)
New Taiwan Dollar (TWD)
Uruguayan Peso (UYU)
Uzbekistani Som (UZS)
Venezuelan Bolivar (VES)
Central African Franc (XAF)
South African Rand (ZAR)
Bitzlato supported payment methods:
Cash
VISA
Mastercard
Webmoney
ADVcash
Payeer
Perfect Money
Tinkoff
Card to card
Capitalist
Skrill
PokerStars
Neteller
Western Union
Alfa-bank
PrivatBank
Sberbank
KoronaPay
Payoneer
Other payment methods
Bitzlato Review: Conclusion
Bitzlato is a surprisingly refreshing, innovative, and forward-looking cryptocurrency exchange. It advocates user-privacy and anonymity, allowing you to buy and sell cryptocurrencies with cash as well as other traditional methods. What's more, it does not force you to go through extensive KYC procedures required on other exchanges. Its fees are extremely low, and even free for some cryptocurrencies, which makes it a top option amongst P2P and regular custodial exchanges. All in all, if Bitzlato's team continues on its course, it's on its way to becoming one of the top crypto exchanges in terms of cryptocurrency services and products.