Bityard Review
Bityard is a relatively new cryptocurrency spot, derivatives, and copy trading exchange from Singapore. Aimed at users seeking unparalleled performance and ease of use, it is an extremely user-friendly platform that supports trading of top 32 cryptocurrencies, margin trading of crypto, indices, and commodities with up to 100x leverage, crypto-to-crypto conversions, copy trading fiat deposits, and withdrawals, offers low fees, and great promotions for both retail and professional traders.
General info
| | |
| --- | --- |
| Web address: | Bityard |
| Support contact: | Link |
| Main location: | Singapore |
| Daily volume: | 0.0 BTC |
| Mobile app available: | Yes |
| Is decentralized: | No |
| | |
| --- | --- |
| Parent Company: | BItyard Blockchain Limited |
| Transfer types: | Crypto Transfer, |
| Supported fiat: | CNY, VND |
| Supported pairs: | 40 |
| Has token: | BYD |
| Fees: | Low (Compare rates) |
Pros & Cons
Diverse trading services Clean, easy to use interface Low fees Regulated in four jurisdictions No forced KYC Lucrative promotions
Limited withdrawal options Limited fiat deposit options Uses only SMS and email-based 2FA
Bityard Review: Key features
Bityard is a relatively new crypto derivatives exchange that provides leveraged crypto and other derivatives trading. The key idea behind its platform is to make trading of complex contracts as simple as possible, hence their slogan "complex contract, simple trade."
Other notable features of Bityard include:
Trade top cryptocurrencies or derivatives with 100x leverage. Long or short Bitcoin (BTC), Bitcoin Cash (BCH), Litecoin (LTC), Ethereum (ETH), Dash (DASH), EOS (EOS), Ripple (XRP), Ethereum Classic (ETC), Tron (TRX), and Chainlink (LINK) cryptocurrencies against Tether (USDT) with 10x - 100x leverage. In terms of derivatives, you can trade Gold, Silver, Nasdaq 100, Crude Oil, DAX, and other popular contracts.
Copy trading. If you're new or don't trust your trading instincts yet, you can make use of Bityard's copy trading feature, which lets you automatically follow and copy top traders on the Bityard platform.
Spot trading. Bityard also serves as a decent crypto-to-crypto exchange, where you can buy and sell 32 top cryptocurrencies.
Super user-friendly platform. Designed with beginners in mind, Bityard delivers stellar performance but remains an extremely clean and straightforward platform that can be accessed both on the web and mobile devices.
Regulated platform that is supervised in four jurisdictions all over the globe. Although it is based in the Asian fintech center Singapore, Bityard is also regulated in the United States, European Union, and Australia.
Low trading fees. Bityard has an uncomplicated fee structure. Every trade will cost you 0.05%, and you can open a trade starting with just 5 USDT.
Fiat deposits. At the moment, this feature is available in China and Vietnam only. Bityard supports fiat deposits directly to its platform. The platform claims that more fiat currencies will come to the platform in the future.
Generous promotions. Earn USDT for completing trades and achieving milestones on the platform.
Register and trade in minutes. Signing up on Bityard takes less than a minute, and you don't need to provide excessive personal information. After sign up, you can make deposits and start trading immediately.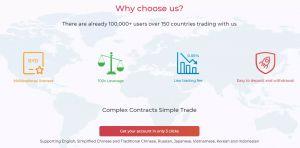 All in all, Bityard is a new yet ambitious player in the crypto derivatives and spot trading space. High leverage, regulated nature of the exchange, ease of use, robust performance, copy trading, and generous promotional offers make it one of the most energetic crypto trading platforms out there.
Background, team, and history
Bityard was established in 2019 in Singapore and is based on the idea of "Complex Contract, Simple Trade." As such, it is geared towards new and experienced crypto traders seeking simplicity. Bityard is becoming one of the best crypto derivatives trading platforms out there.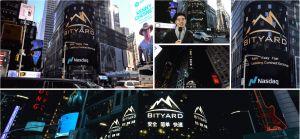 The platform is managed by Bityard Blockchain Foundation Limited, which is registered and licensed in four countries: Singapore, under Accounting and Corporate Regulatory Authority (ACRA), the United States as a Money Services Business (MSB) from Financial Crimes Enforcement Network which belongs to the Department of Treasury, Estonia's Majandustegevuse Register (MTR) kept by the Ministry of Economic Affairs, and Australian Transaction Reports and Analysis Centre (AUSTRAC).

The trading platform was officially launched in April 2020, so it is still a relatively new industry player. According to the original press release, Bityard has received a strategic USD 10 million investment from an undisclosed US hedge fund.
In November 2020, Bityard launched spot trading in collaboration with Binance, thus allowing traders to buy and sell top 30 cryptocurrencies on the platform.
In December 2020, Bityard launched its latest feature - copy trading, which is aimed at users who want to trade and learn from already established traders.
The plans of the exchange include improving its crypto trading services according to the market needs. Further products are likely to include forex pairs, U.S. stock CFDs, and perpetual crypto contract trading.
Bityard Supported Countries and Registration
Bityard is growing into a well-recognized international crypto contracts trading platform that operates in more than 150 countries, including the United States. The exchange also claims to have more than 100,00 users worldwide.
Account creation takes no longer than a minute, as you can do so using your mobile number or email. Once you verify either one of those, you're ready to make a deposit and start trading.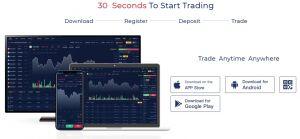 Bityard makes registration very convenient, as they are not forced to pass advanced know-your-customer measures during the registration. However, you might be asked to verify your identity when withdrawing funds from the platform in case of suspicious activity. In such a case, you will be asked to verify your identity, provide a bank statement and proof-of-address (a utility bill with your residence address). Every KYC audit is typically completed within 2 hours.
Bityard's trading services are available in eight languages: English, Simplified Chinese, Traditional Chinese, Russian, Vietnamese, Korean, Japanese, Portuguese, and Indonesian.
Bityard Fees
Fees are one of many of Bityard's strengths, as it offers a simple and straightforward fee schedule. Like most crypto derivatives exchanges, it charges position opening and closing, overnight, and fund withdrawal fees. There are no fees charged for making a deposit.
There are no traditional market taker and maker fees at Bityard since all liquidity is provided by the exchange. Each trade will cost you 0.05% regardless if you're opening or closing a position.
The minimum position size must be 5 USDT or more and must not exceed 20,000 USDT per trade. Risk takers can also enhance their position sizes with margin and leverage.
Positions held for longer than 12 hours may incur an overnight fee, which is charged every day at 05:55:00 GMT+8, Singapore time. At pixel time, the overnight cost stands at 0.045%.
When it comes to spot trading, Bityard charges 0.05% per trade, too. This is extremely cheap, as it constitutes the best rate in the market amongst crypto-to-crypto exchanges. For comparison, competing exchanges like Binance or KuCoin charge 0.1% per spot trade.
In brief, Bityard's trading fees can be summarized as follows:
Min/max leverage: 10x - 100x
Min/max margin: 5 USDT - 20,000 USDT
Trading fee: margin*(leverage-1)*0.05%
Overnight fee: margin*(leverage-1)*0.045%*days
Spot trading fee: 0.05% per trade
Bityard does not charge a penny for depositing funds into the platform when it comes to deposit fees. However, every withdrawal will cost you 2 USDT, or its equivalent. This fee scheme makes Bityard one of the most affordable crypto contracts trading platforms out there.
Last but not least, Bityard charges fees for using its copy-trading feature. Between 8% and 10% of every winning trade will go to the trader you follow based on the traders' category.
Aside from the regular fees, the exchange offers many discounts and promotions with rewards that can cover trading costs.
Overall, Bityard offers some of the lowest fees for everyone interested in leveraged crypto derivatives trading.
Bityard Security
Bityard appears to be a very secure cryptocurrency exchange, though it hasn't existed for long yet, and still needs to pass the test of time.
First and foremost, Bityard is a regulated exchange and adheres to the international trading standards in four jurisdictions, including the United States, Estonia (European Union), Singapore, and Australia. The financial oversight guarantees that the exchange runs a legitimate operation and is not going away with your funds anytime soon.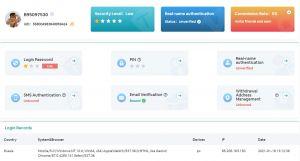 On the technical side of exchange security, Bityard is a custodial platform, meaning that you have to rely on it to secure your funds from hackers and other malicious cyberspace actors. To keep their operations secure, Bityard is said to employ the following security measures:
Multi-signature cold wallets kept safely offline, with only a fraction of user funds being held in hot wallets online.
Real-time risk auditing and management tools monitor the exchange's activities, market positions, and exposure.
Secure communications that use SSL encryption
The security of your funds on custodial crypto trading platforms is not a one-way street. On the user side of things, Bityard lets you protect your funds using:
Two-factor authentication (2FA) using SMS (not recommended for U.S. customers due to the prevalence of SMS-swap attacks in the United States) or email.
Whitelisting withdrawal addresses.
Secure PIN for withdrawal authentication.
History of login records.
Real name authentication (useful in case of lost password or 2FA device).
Email verification.
Interestingly, the exchange does not offer Google-based 2FA, which is one of the more popular options within the industry, as well as universal 2nd factor (U2F) authentication method, which could help the users to make their account security bulletproof from their side of things.
As a result, Bityard is a generally secure platform, and the risk of losing your funds to attackers via the exchange is low. However, it is never zero, so it is not recommended to keep your funds on the platform longer than necessary.
Design and usability
Bityard was designed with ease of use in mind. As such, the platform is great for retail investors, who are interested in trading leveraged crypto contracts, commodity and indices CFDs, and cryptocurrencies.
Perhaps the most remarkable thing about Bityard is its frictionless experience that lets you advance from signing up to making a deposit and trading in just a few minutes. All you need to do is enter your email address or phone number, and you're ready to make a deposit and roll.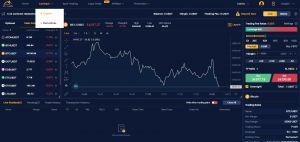 Other than that, there are no complicated drop-down menus or tiny tick boxes that make the exchange very easy to use regardless if you're trading on your phone or computer. The trading platform is laid out clearly, with an easy way to switch between different markets, watch, observe and perform technical analysis (TA) on the charts, place market or limit orders, set stop loss or take profit targets, adjust leverage, and manage open and pending positions.
Night owls are likely to enjoy its night mode, while others can customize the trading interface using the "Layout" button.

All trades on the platform are denominated in Tether (USDT) cryptocurrency. Currently, the platform lists ten active crypto contracts with leverage:
Bitcoin / Tether (BTC/USDT)
Bitcoin Cash / Tether (BCH/USDT)
Dash / Tether (DASH/USDT)
EOS / Tether (EOS/USDT)
Ethereum / Tether (ETH/USDT)
Ethereum Classic / Tether (ETC/USDT)
Chainlink / Tether (LINK/USDT)
Litecoin / Tether (LTC/USDT)
Tron / Tether (TRX/USDT)
XRP / Tether (XRP/USDT)
When it comes to spot trading, you can participate in the following markets:
Cardano / Tether (ADA/USDT)
Algorand / Tether (ALGO/USDT)
Aragon / Tether (ANT/USDT)
Cosmos / Tether (ATOM/USDT)
Band Protocol / Tether (BAND/USDT)
Basic Attention Token / Tether (BAT/USDT)
Bitcoin / Tether (BTC/USDT)
Compound / Tether (COMP/USDT)
Dash / Tether (DASH/USDT)
Polkadot / Tether (DOT/USDT)
Enjin / Tether (ENJ/USDT)
EOS / Tether (EOS/USDT)
Ethereum / Tether (ETH/USDT)
Filecoin / Tether (FIL/USDT)
Kyber Network / Tether (KNC/USDT)
Chainlink / Tether (LINK/USDT)
Loopring / Tether (LRC/USDT)
Litecoin / Tether (LTC/USDT)
Decentraland / Tether (MANA/USDT)
Maker / Tether (MKR/USDT)
OmiseGo / Tether (OMG/USDT)
Ontology / Tether (ONT/USDT)
Ren / Tether (REN/USDT)
Sandbox / Tether (SAND/USDT)
Storj / Tether (STORJ/USDT)
Tron / Tether (TRX/USDT)
Uniswap / Tether (UNI/USDT)
Stellar Lumens / Tether (XLM/USDT)
XRP / Tether (XRP/USDT)
Tezos / Tether (XTZ/USDT)
yearn.finance / Tether (YFI/USDT)
0x / Tether (ZRX/USDT)
Bityard's spot exchange is relatively simple to use, though it might look complicated for complete beginners at first. Here, you can navigate the markets, analyze TradingView charts, watch order books and recent traders, and place market and limit orders.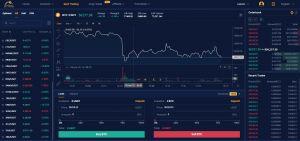 Less experienced users might want to trade Bityard's copy trading feature. Here, you can choose to recruit a more seasoned trader to make trades for you for 8-10% of your future profits.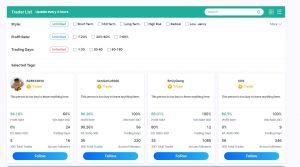 Once you find a suitable trader that fits your risk appetite, you can follow and allocate either a fixed amount (let's say USD 200) or a percentage of your holdings that will be used for copying the traders' trades.
Once you decide on that, you can also select additional settings like MAX position amount, Daily Copy Margin, and Stop Loss Ratio.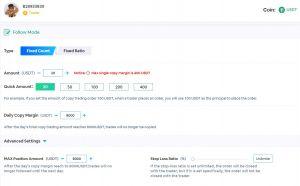 You can stop copying other traders at any time.
If you're an experienced trader, you might want to become one of Bityard's traders. In order to do so, you need to pass KYC verification and deposit a cumulative recharge amount that is greater than USDT 500. If you perform well, you might raise your level from ordinary trader to a star and be featured amongst the platform's top traders. All interested traders have to fill in this application form by Bityard: https://forms.gle/kbrh85ip7c6L9qK68
Besides, the exchange is accessible via mobile apps for iOS and Android. They offer all the same features as the web terminal but may be more convenient for individuals who prefer to trade on-the-go.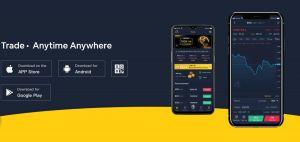 Bityard mobile apps
Those wishing to trade on their smartphone will be glad to know that they can access the platform via their mobile devices.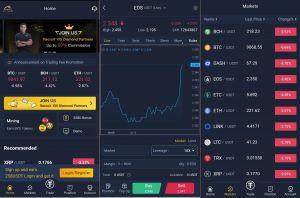 Just like the web version of the exchange, the apps are extremely user-friendly and make it effortless to perform trades, open an account, try out the demo platform, and monitor the markets.
Bityard customer support
Bityard support is reachable via the following customer support channels:
The quickest way to get a response is by summoning a live support agent. An email is a surefire way to get a response, too, though it might take a bit longer. In our test, social media channels were the slowest to respond, meaning that you might not get an answer every time.
Bityard promotions
As a new exchange, Bityard has plenty of promotions and contests that allow you to earn free cryptocurrency using its bonuses, affiliate, or referral programs.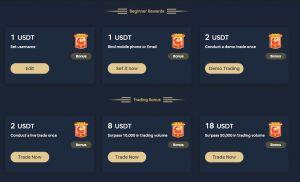 Some of the cool bonuses include earning cryptocurrency just by completing trivial things like binding your phone number or email, setting up a username, trying out the demo platform, or surpassing certain milestones like conducting a trade or exceeding USD 10,000 in cumulative trading volume. You can get up to USDT 258 for fulfilling all the promo challenges.
Also, you can get bonus points from Bityard's "Daily Mining".
Here, you can get a fraction of all sorts of coins just by returning and "mining" them daily. Well, you don't actually get to mine them in a traditional sense - only clicking on the coins' icons is sufficient to get them transferred into your account.
Keep in mind that these "mining rewards" are not real cryptocurrencies - they can be used only for reducing trading fees and cannot be withdrawn from your account.
Register and collect your bonus
Deposit and withdrawal methods
Bityard supports deposits and withdrawals in both cryptocurrencies as well as fiat currencies.
When it comes to cryptocurrency deposits, they are free of charge. Currently, you can deposit:
The process of making a deposit is as simple as using the platform, as you merely need to navigate to the "Assets" section and hit "Deposit."Here you can choose how much of which cryptocurrency you can deposit.

Cryptocurrency withdrawals are relatively straightforward, too. All you need to do is head to the same "Assets" section and hit the "Withdraw" button. Here, you can select which assets you want to withdraw from the platform.
Cryptocurrency withdrawals are currently available in Tether (USDT) only. As such, you have to convert the asset into USDT before sending it out from the platform using a conveniently located "Convert" option.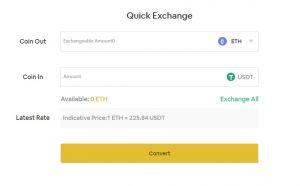 Mind that the minimum withdrawal amount is USDT 50 or its equivalent. On top of that, you will have to pay a 2 USDT withdrawal fee charged by the platform.
As for fiat deposits and withdrawals, these are more difficult to perform and are available only for customers based in Vietnam and Mainland China. However, since Bityard is just getting started, more options are likely to be available in the future.
Unfortunately, Bityard does not support direct fiat deposits via bank transfer or credit/debit cards yet.
Conclusion
Bityard is a modern crypto contract and spot trading platform, and it is an ambitious one, too. Regulated in four continents, it has positioned itself to grow into one of the main crypto leveraged contract trading hubs globally. As for now, it offers low fees, up to 100x leverage, generous promotion and referral offers, ten active USDT denominated markets, and a super user-friendly interface that makes it stand out amongst competing contract exchanges.