Bitvavo
Bitvavo is a top-tier exchange for trading cryptocurrencies in Europe. Regulated and registered in the Netherlands, the exchange offers low fees, more than 180 tradeable assets, high security, and a customer-oriented focus.
General info
| | |
| --- | --- |
| Web address: | Bitvavo |
| Support contact: | Link |
| Main location: | Amsterdam, Pays-Bas |
| Daily volume: | 1707.0 BTC |
| Mobile app available: | Yes |
| Is decentralized: | No |
| | |
| --- | --- |
| Parent Company: | Bitvavo B.V. |
| Transfer types: | Bank Transfer, Credit Card, Debit Card, |
| Supported fiat: | EUR |
| Supported pairs: | 180 |
| Has token: | - |
| Fees: | Low (Compare rates) |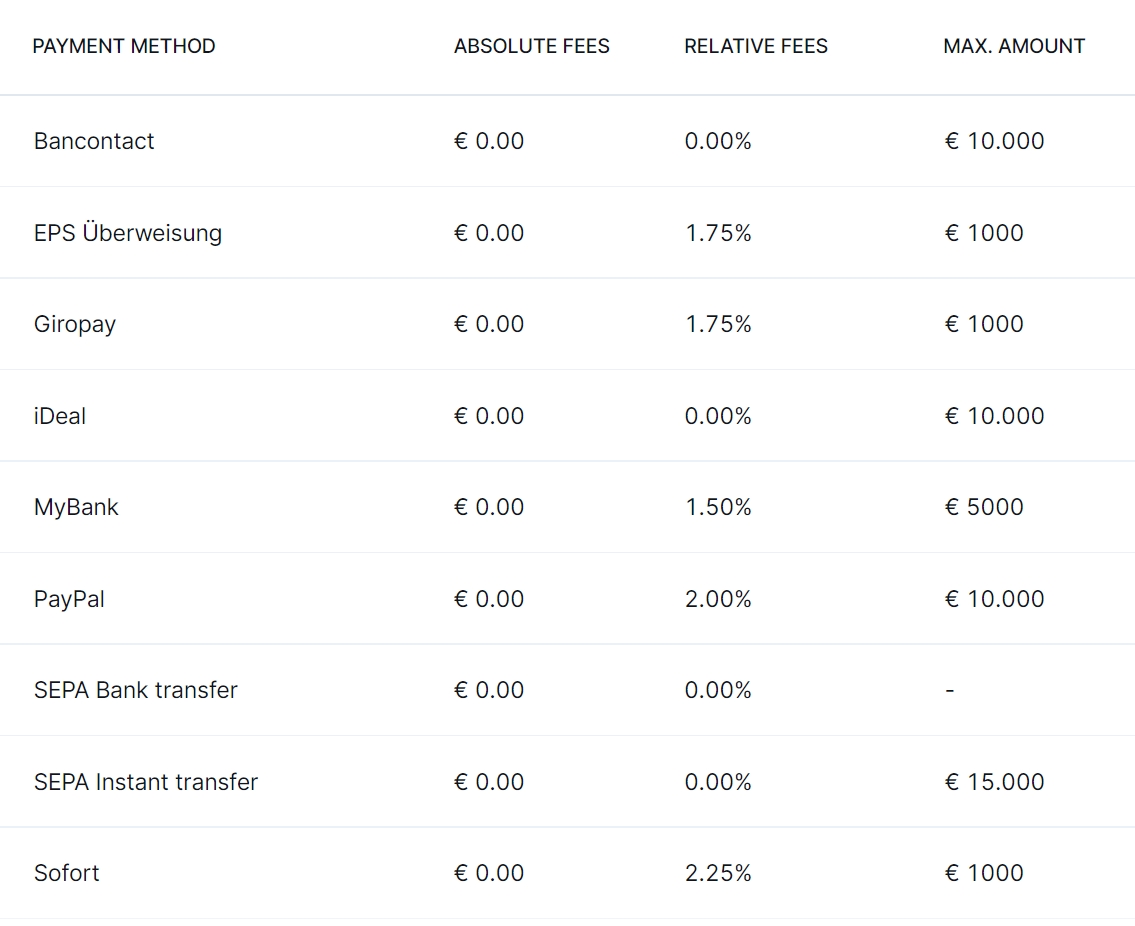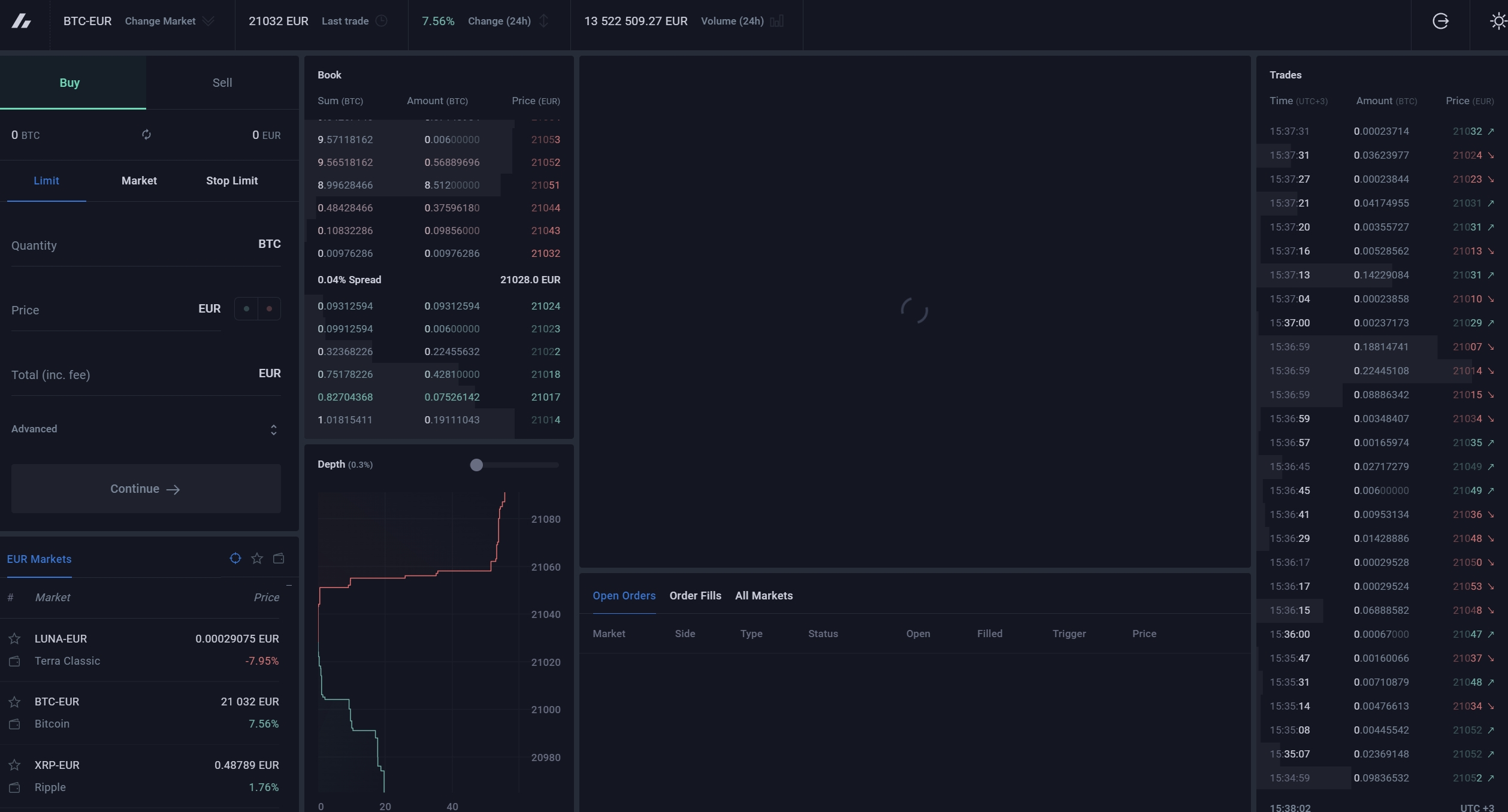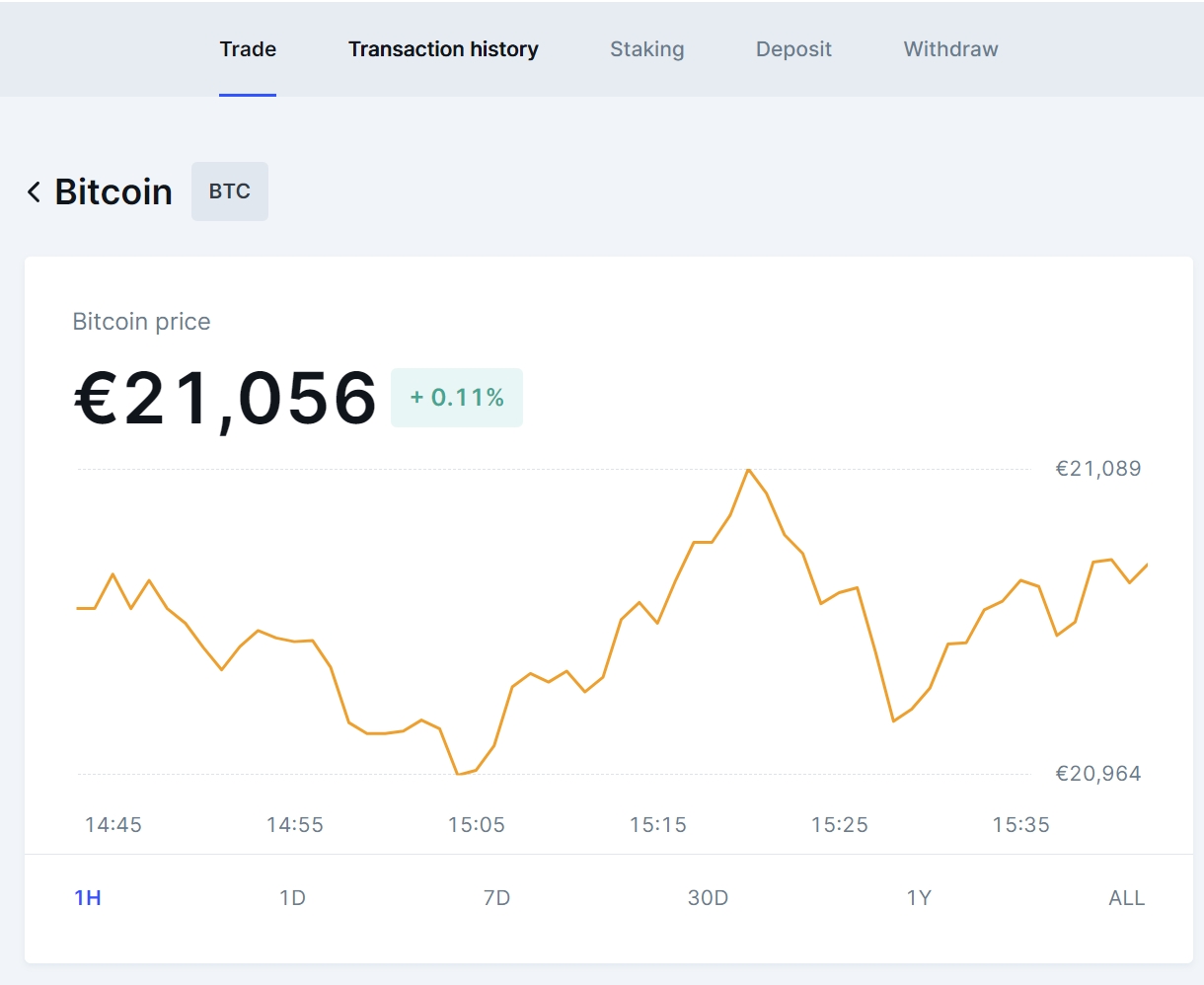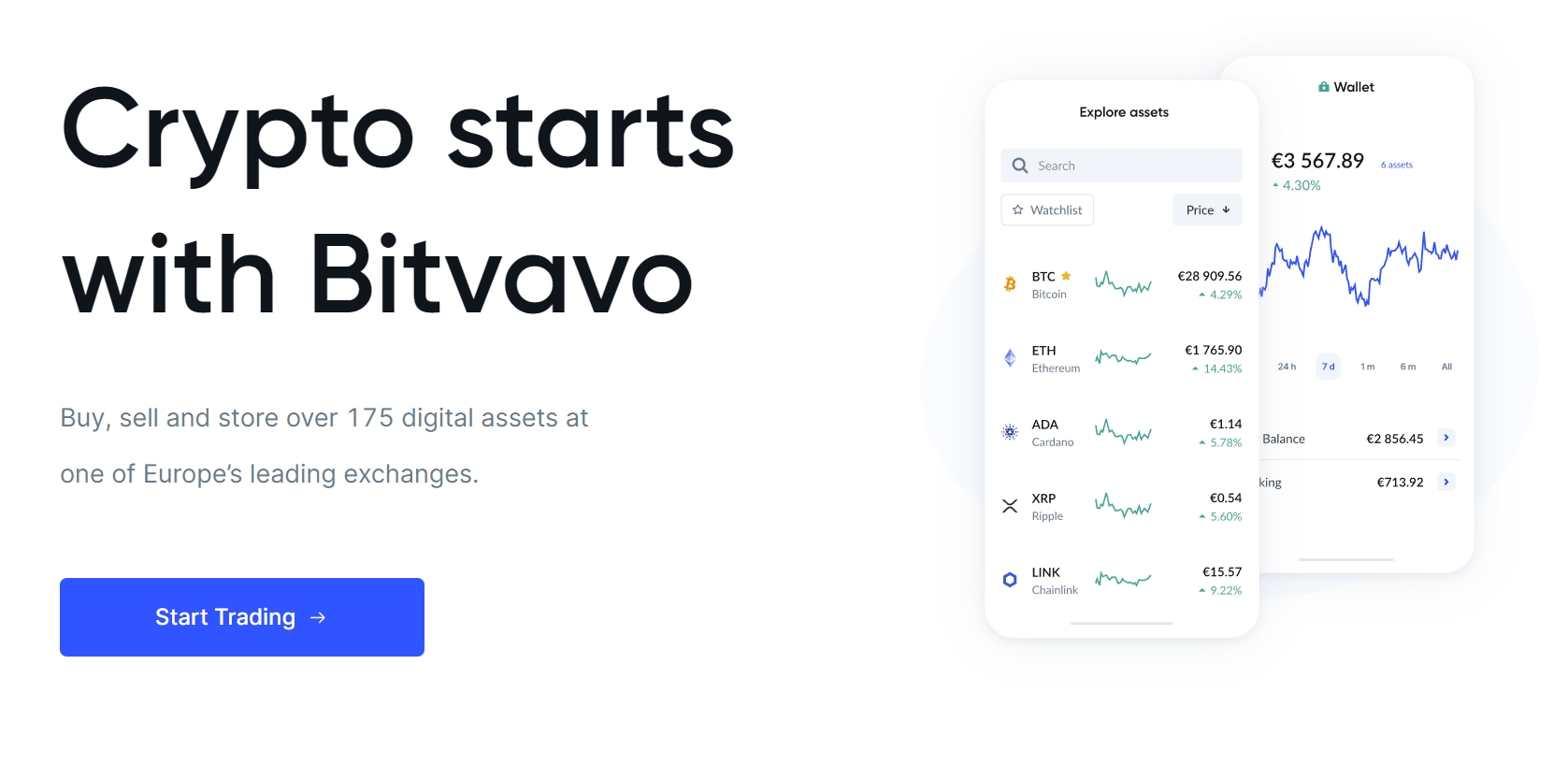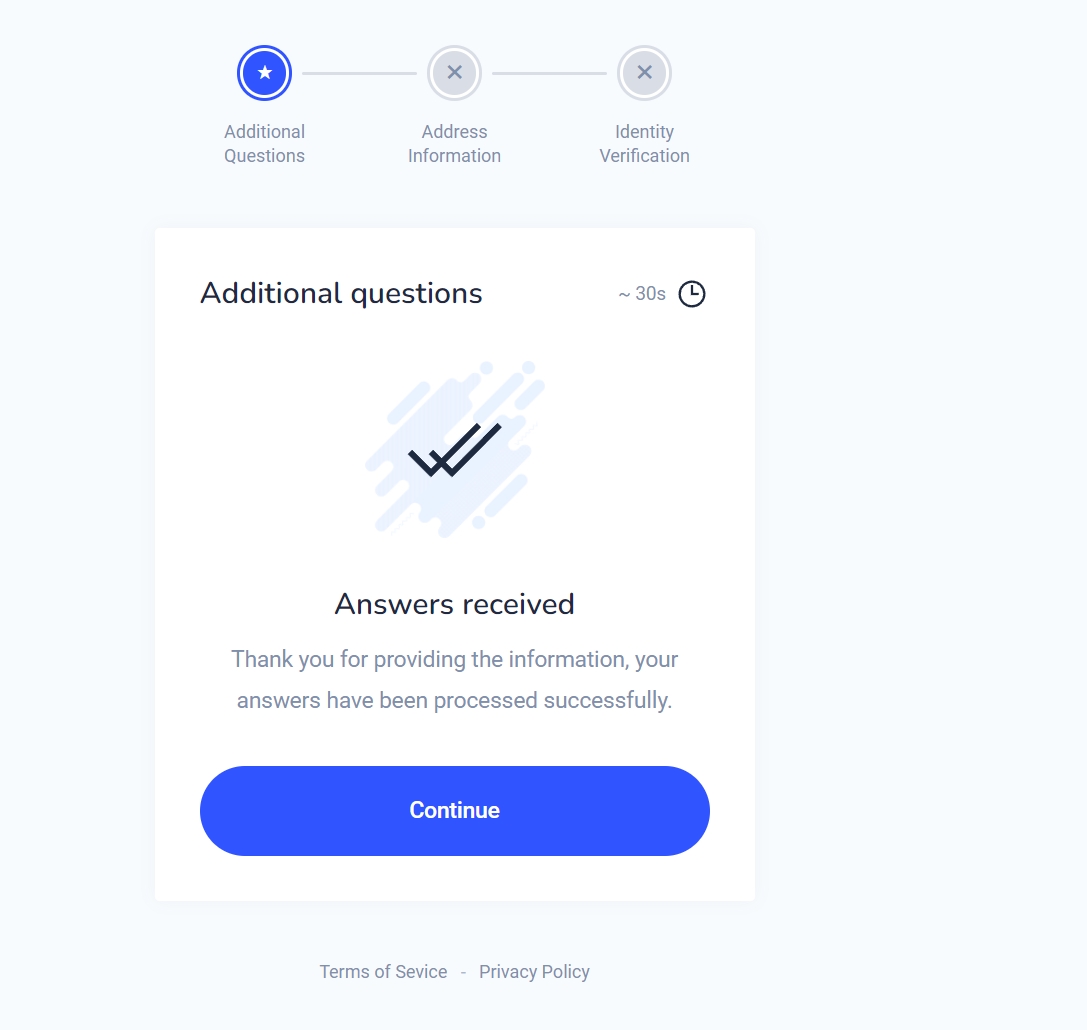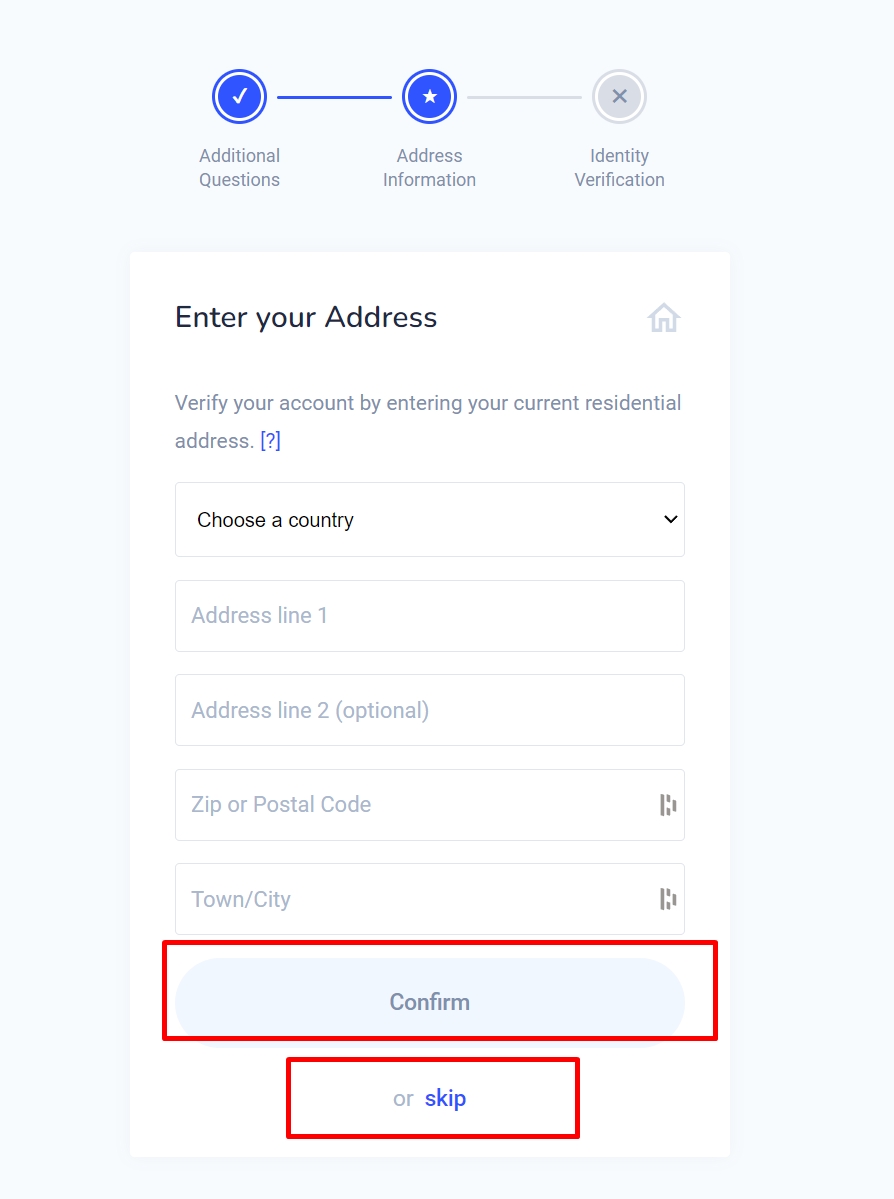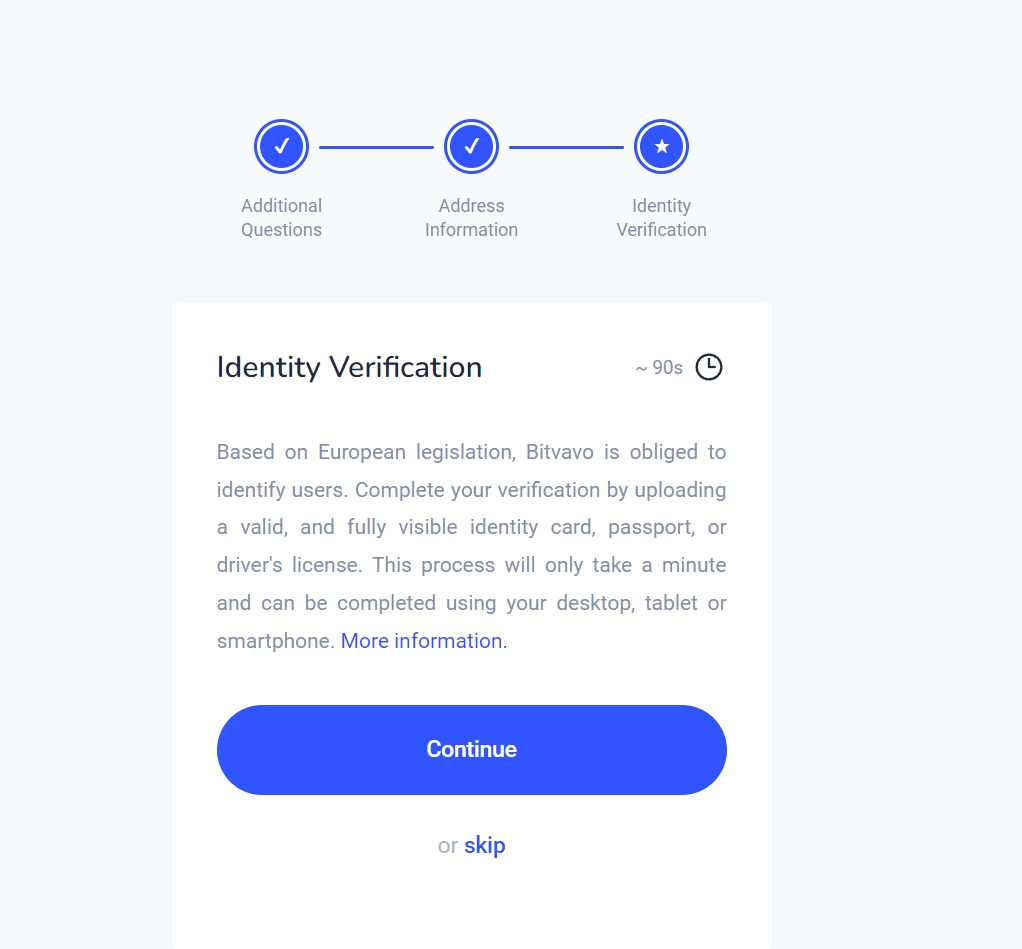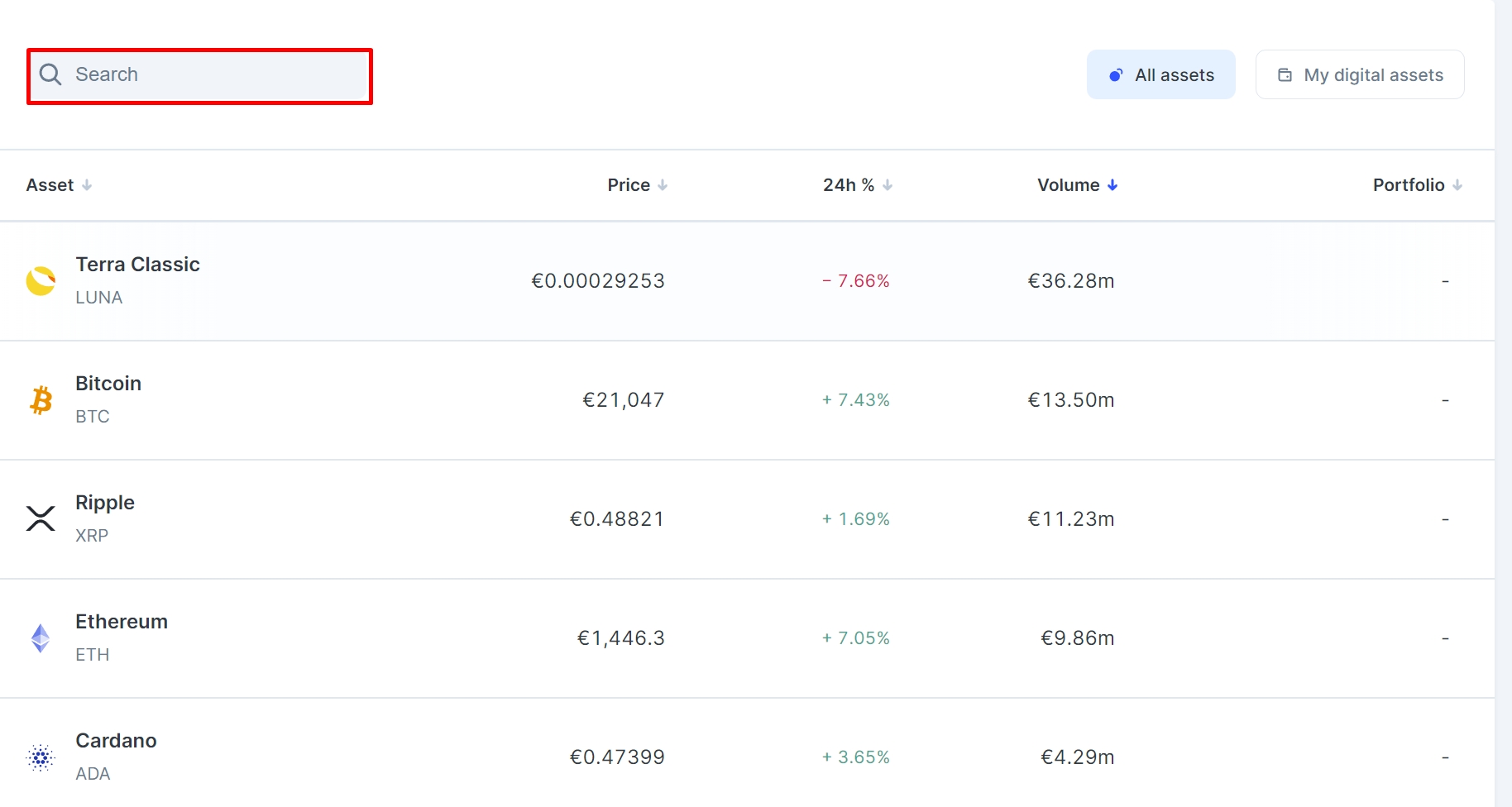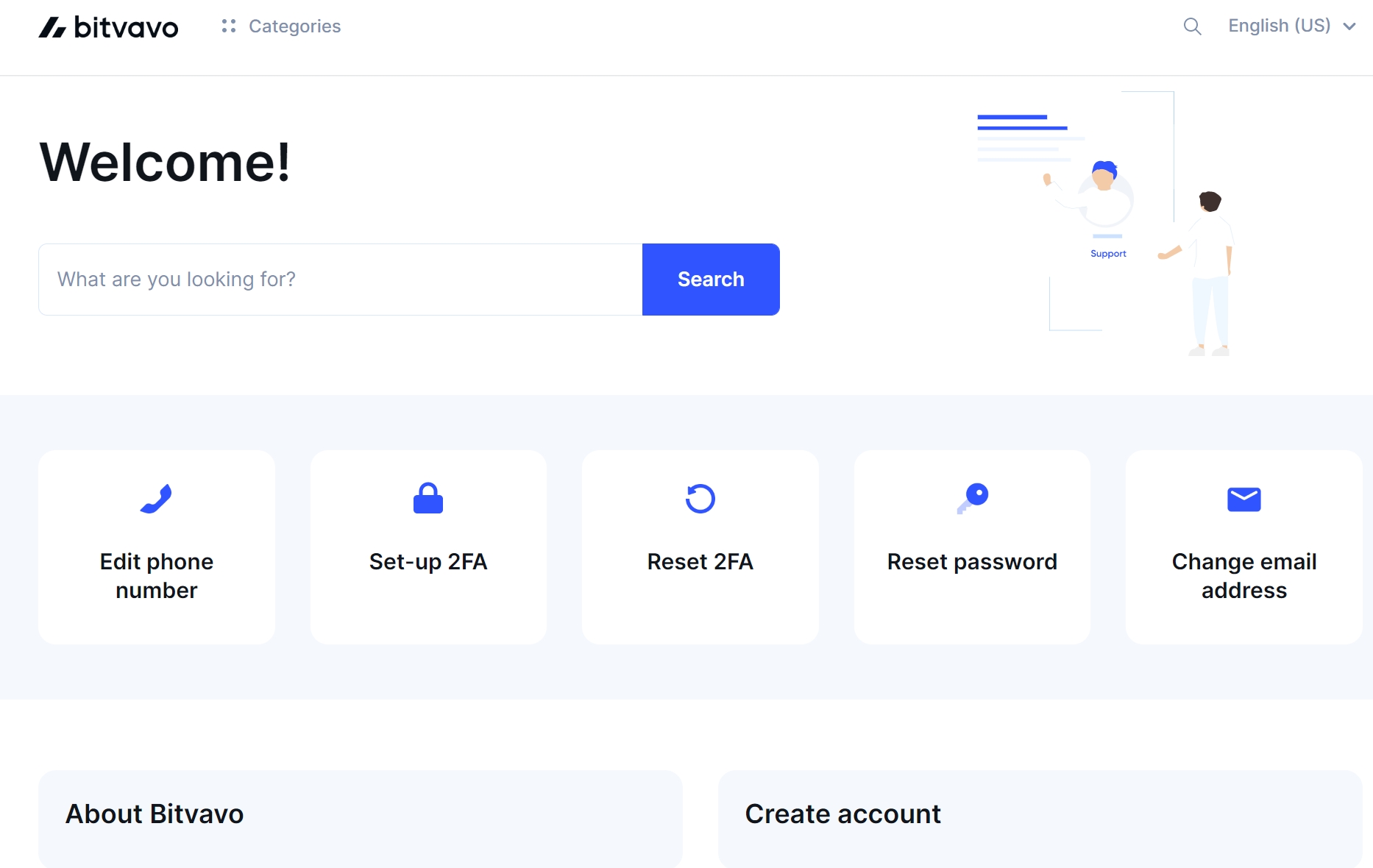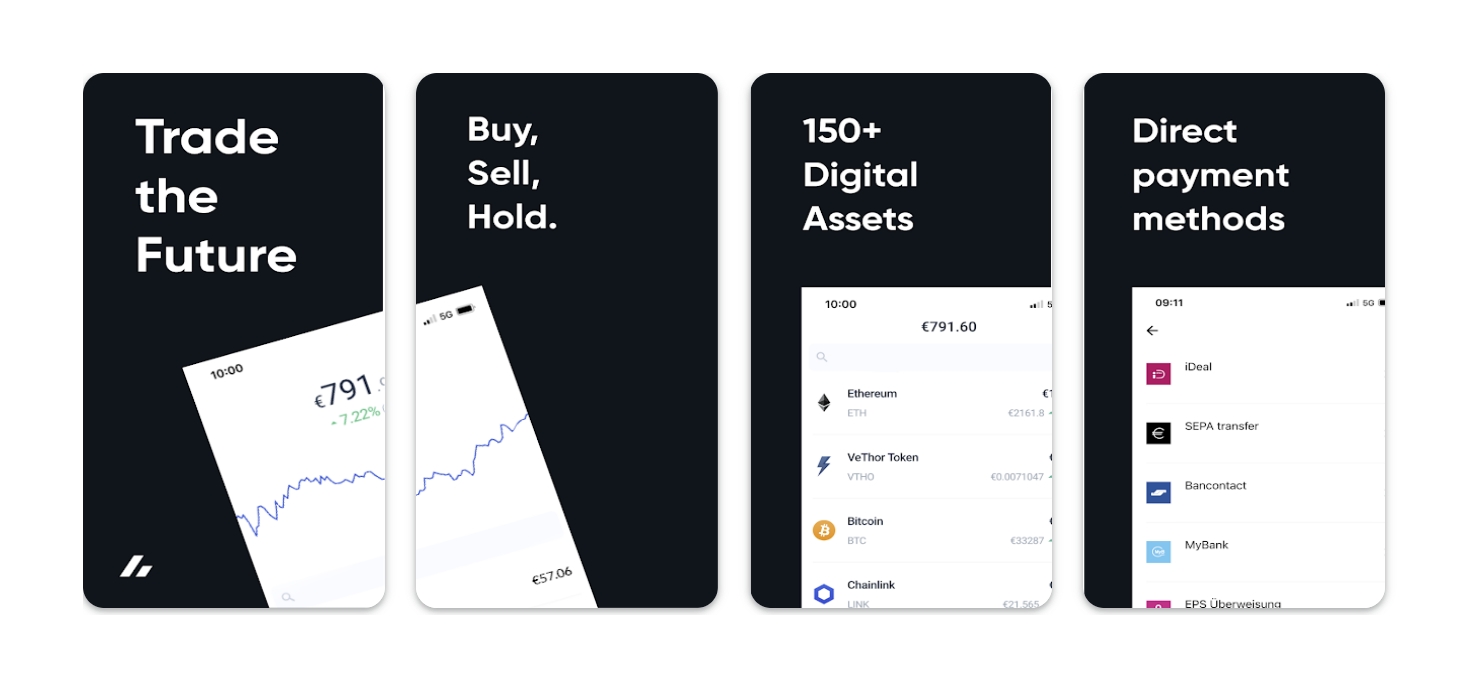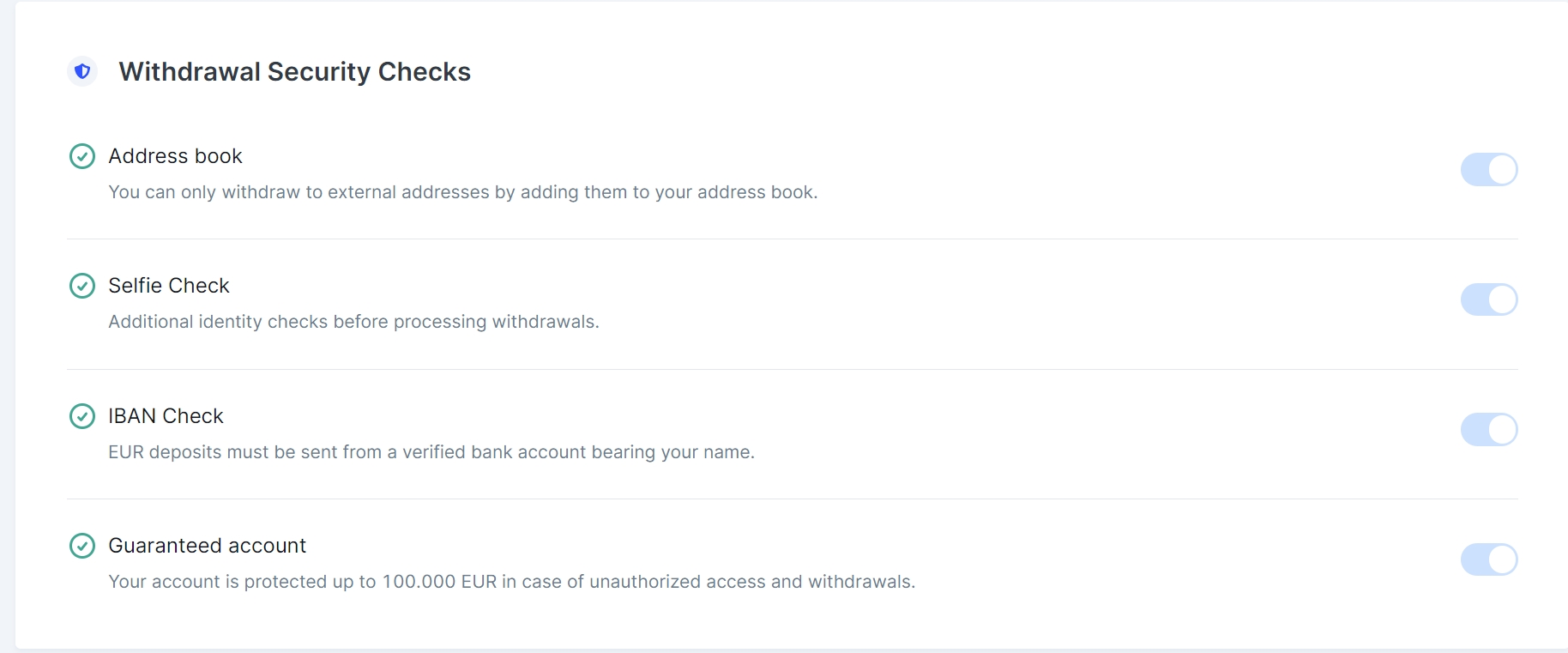 Bitvavo review: key features
Bitvavo exchange comes with a number of desired features that can be found on its platform.
Premier destination for European traders. Bitvavo lets you trade over 180 digital assets and is a useful EUR onramp and offramp for over a million active European traders.
Ease of use. Bitvavo is a user-friendly exchange that includes advanced trading features for more seasoned traders.
Low fees. Bitvavo's trading fees range from 0.03% to 0.25% per trade, making it some of the lowest fee exchanges in the industry.
Focus on security. The exchange puts an emphasis on security and risk management, thus giving its users all the necessary tools and protection to keep their accounts safe.
Staking rewards. Bitvavo has an option for staking crypto assets and earning a yield.
Bitvavo's staking services consist of off-chain and on-chain staking services. The former enables users to earn rewards on available and idle account balances in their accounts, while the latter provides an option for users' digital assets to actively participate in transaction validation on a proof-of-stake (PoS) blockchain.
The staking services are available for 20 digital assets listed on Bitvavo, in the range between Chainlink (LINK) and VeChain (VET)'s ~ 0.49% and Cosmos (ATOM)'s ~ 10.0%. The assets include Bitcoin (BTC) ~ 0.77% and Ethereum (ETH) ~ 1.01%. A user only needs to opt in for staking services, and the option will apply to all available and supported digital assets on their account. They can opt out at any time. Users are also able to trade and withdraw the digital assets participating in the staking program.
All in all, the Bitvavo exchange seems to be a decent option for European cryptocurrency enthusiasts and people looking for a one-stop shop for various crypto assets.
History and background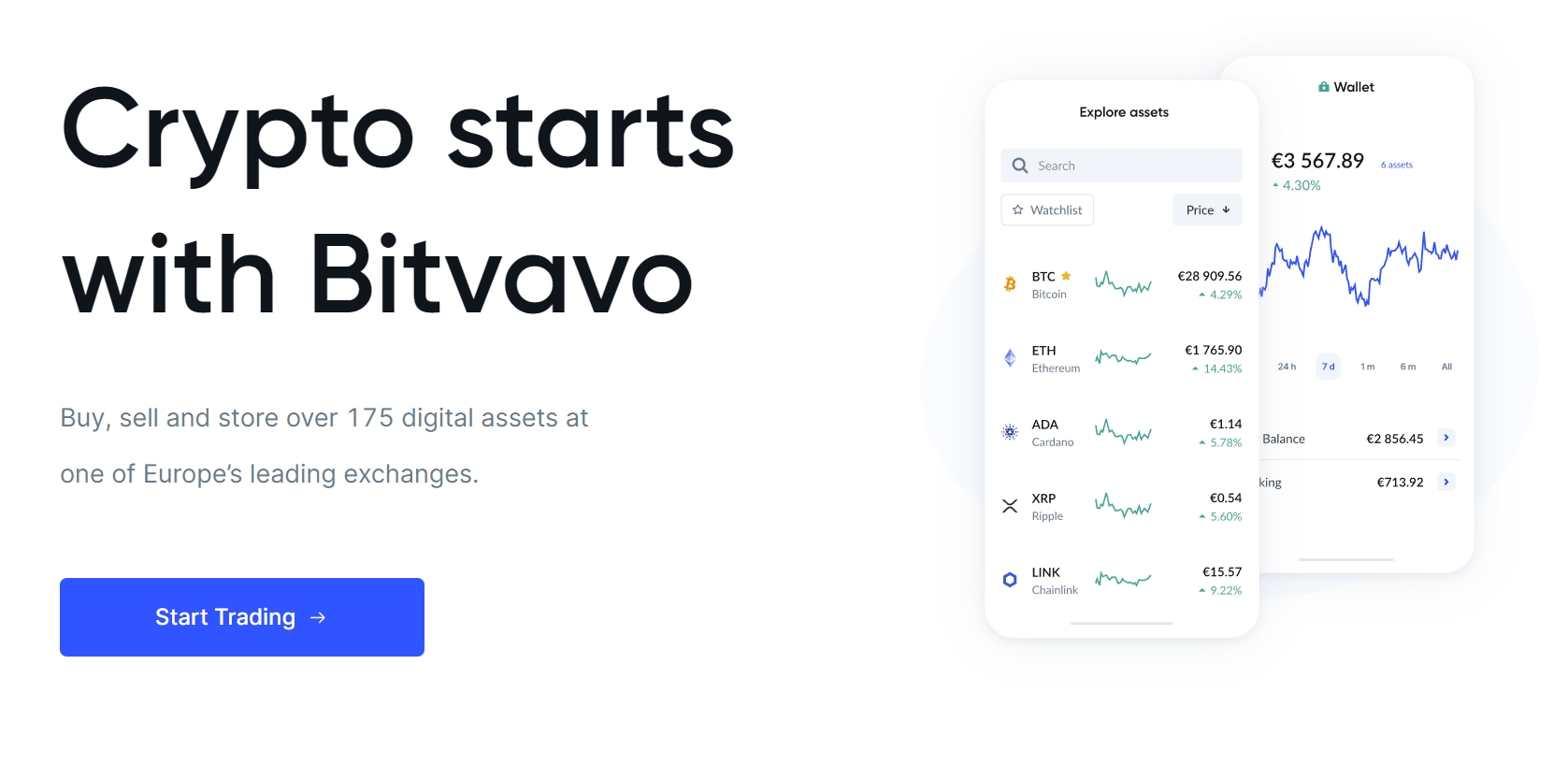 Bitvavo is one of the leading centralized European cryptocurrency exchanges that facilitates nearly USD 100,000,000 worth of cryptocurrency trades on a daily basis. Launched in 2018, the exchange is located in Amsterdam, Netherlands. It operates in 29 European countries and has been regulated and registered with the Dutch Central Bank (DNB) since November 11, 2020.
Although registration as a provider of digital asset services makes Bitvavo more trustworthy, it only covers Bitvavo's compliance with the Money Laundering and Terrorist Financing (Prevention) Act and the 1977 Sanctions Act. It does not mean that Bitvavo meets financial requirements or that its business risks are monitored by DNB, and there's no specific customer protection.
The company stresses its values, which are:
Transparency - aiming to be as transparent as possible in fees and other communications.
Accessibility - building a platform and products that can onboard anyone.
Forward-looking - believing in the digital economy and the future it is aiming to bring.
The exchange's official headquarters are located in Keizersgracht 281, 1016ED, Amsterdam, The Netherlands. It is incorporated as Bitvavo B.V., and its Dutch VAT payer number (KvK) is 68743424.
Bitvavo fees
Bitvavo users enjoy some of the lowest trading fees among prominent cryptocurrency exchanges. New users are charged 0.25% for taker trades and 0.15% for placing maker offers, but they can also reduce their fees by increasing their trading volume and moving to a higher trading fees tier.

There are nine trading fee-based tiers at Bitvavo, primarily based on your cumulative trading volume during the last 30 days. For example, if it exceeds EUR 25,000,000 per month, your trading fees are reduced to 0.04% for takes and 0.03% for maker orders.
| | | |
| --- | --- | --- |
| Volume (30D) | Take Fee | Maker Fee |
| € 0+ | 0.25% | 0.15% |
| € 100 000+ | 0.20% | 0.10% |
| € 250 000+ | 0.16% | 0.08% |
| € 500 000+ | 0.12% | 0.06% |
| € 1 000 000+ | 0.10% | 0.05% |
| € 2 500 000+ | 0.08% | 0.04% |
| € 5 000 000+ | 0.06% | 0.04% |
| € 10 000 000+ | 0.05% | 0.03% |
| € 25 000 000+ | 0.04% | 0.03% |
















Regarding deposit and withdrawal fees, Bitvavo crypto deposits come free of charge (except for transaction fees that are paid on your behalf). As a regulated platform, Bitvavo also accepts EUR deposits which can be made via eight payment channels. Note that SEPA transfers are free of charge.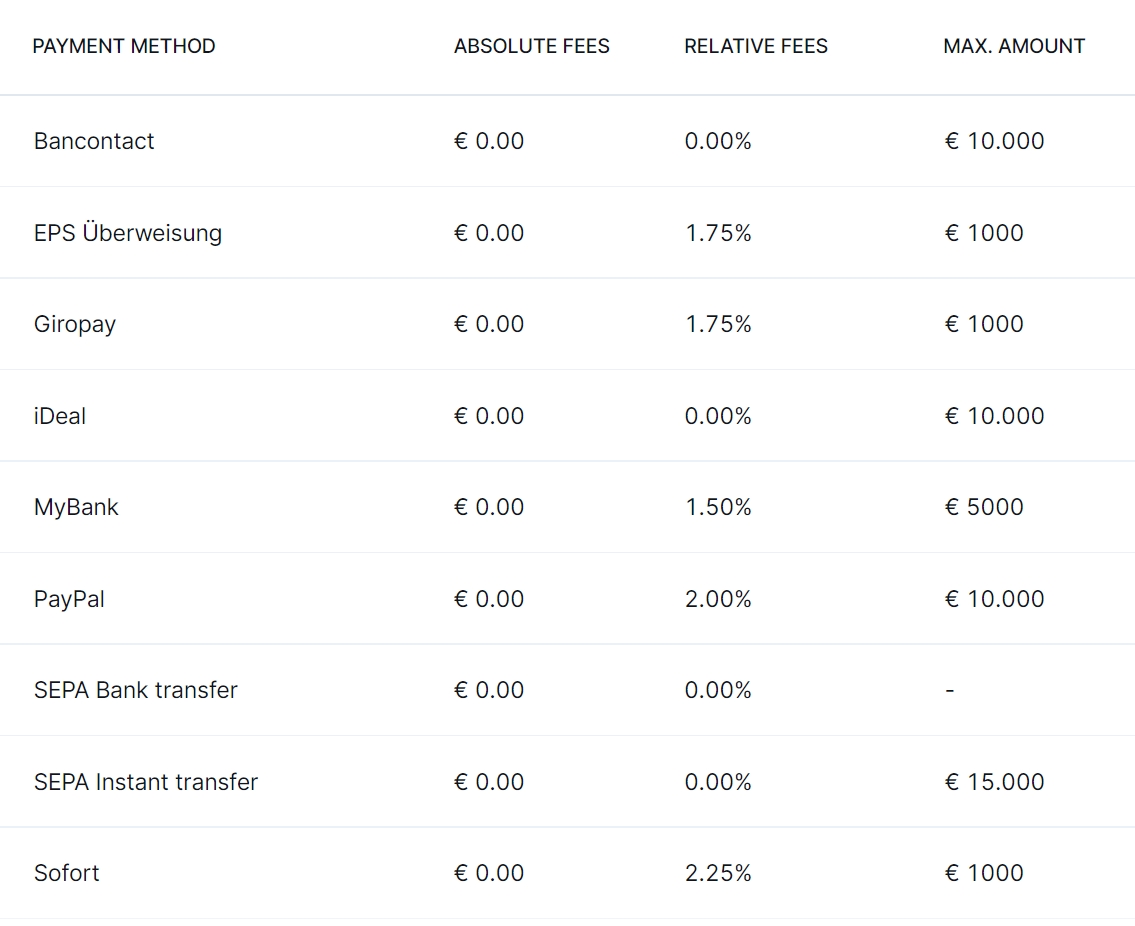 Like most competing exchanges, Bitvavo charges its users fees for cryptocurrency withdrawals. While the fee itself varies based on the blockchain congestion, there's always a minimum amount for each different crypto asset that will be charged. Amongst the most popular cryptocurrencies, they are as follows:
For the complete and most up-to-date Bitvavo fees information, please check the exchange's fees page.
In sum, the Bitvavo exchange offers some of the most competitive fees among the European cryptocurrency exchanges.
Design and utility
Bitvavo lets you trade and store more than 180 digital assets to get with more than 1 million active users on its platform. So far, this has led to over 100 billion in total exchanged volume and 13,500 reviews on Trustpilot with an average score of 4.2 out of 5.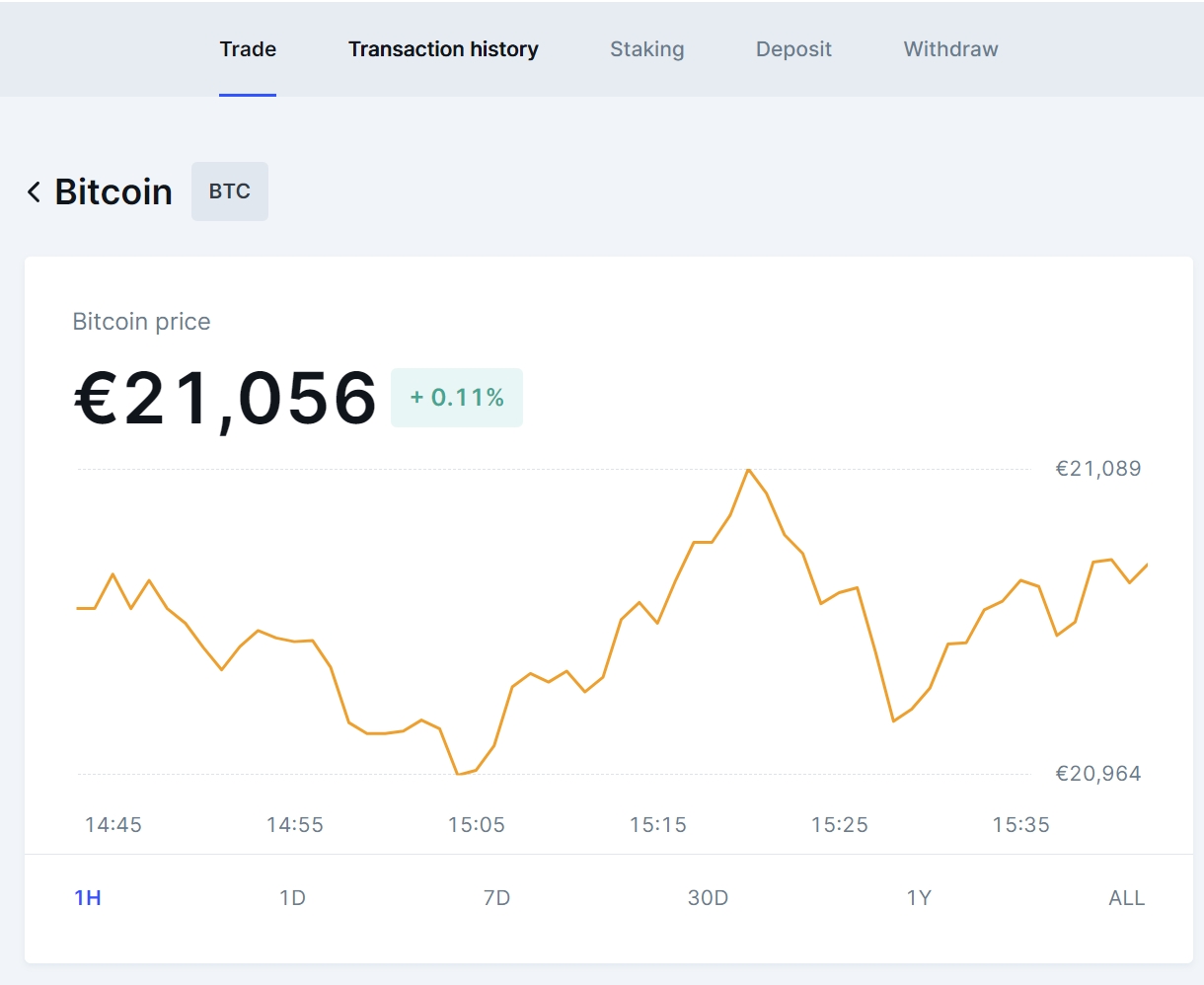 Bitvavo platform can be accessed via a web platform and a mobile app. Both can be used interchangeably and grant you access to the platform's core features.
Signing up on Bitvavo
Singing up on Bitvavo is a relatively simple process and can be completed via both the web platform and the mobile app. The exchange does make you go through a lengthy KYC/AML check where you have to indicate your source of income and share personal identification information, but it does not take too long to get your account verified.
At pixel time, Bitvavo operates in the following countries:
Austria
Belgium
Bulgaria
Chech Republic
Denmark
Estonia
Finland
France
Germany
Greece
Hungary
Ireland
Italy
Latvia
Liechtenstein
Luxembourg
Lithuania
Malta
Netherlands
Norway
Poland
Portugal
Romania
Slovakia
Slovenia
Spain
Sweden
Switzerland
United Kingdom
As a purely European exchange, Bitvavo does not accept customers from other countries than those listed above, including the United States.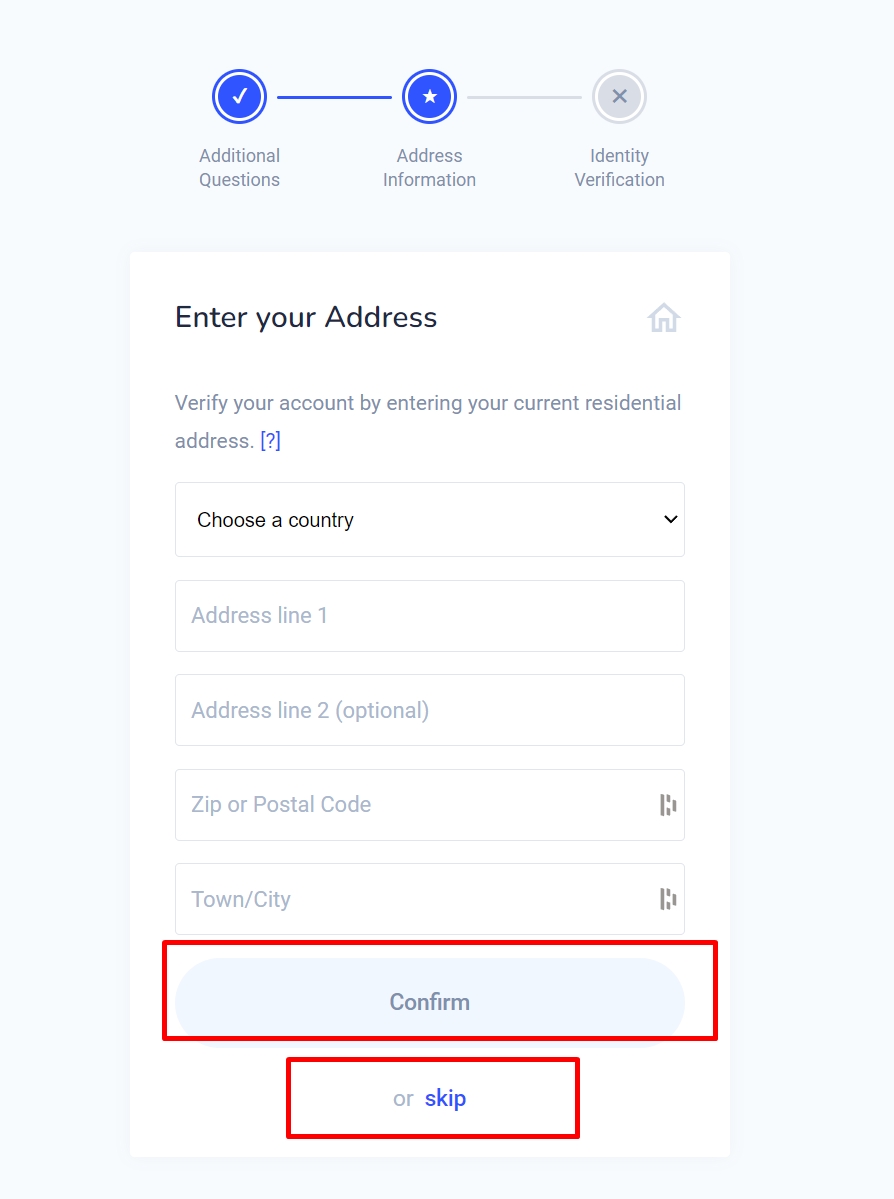 Sign up process can be completed via Bitvavo's mobile app or web platform. In either case, you'll be prompted through the same process with the same questions, including the source of your funds, personal ID or driver's license, and proof of personal address, so be sure to have these documents with you during the process.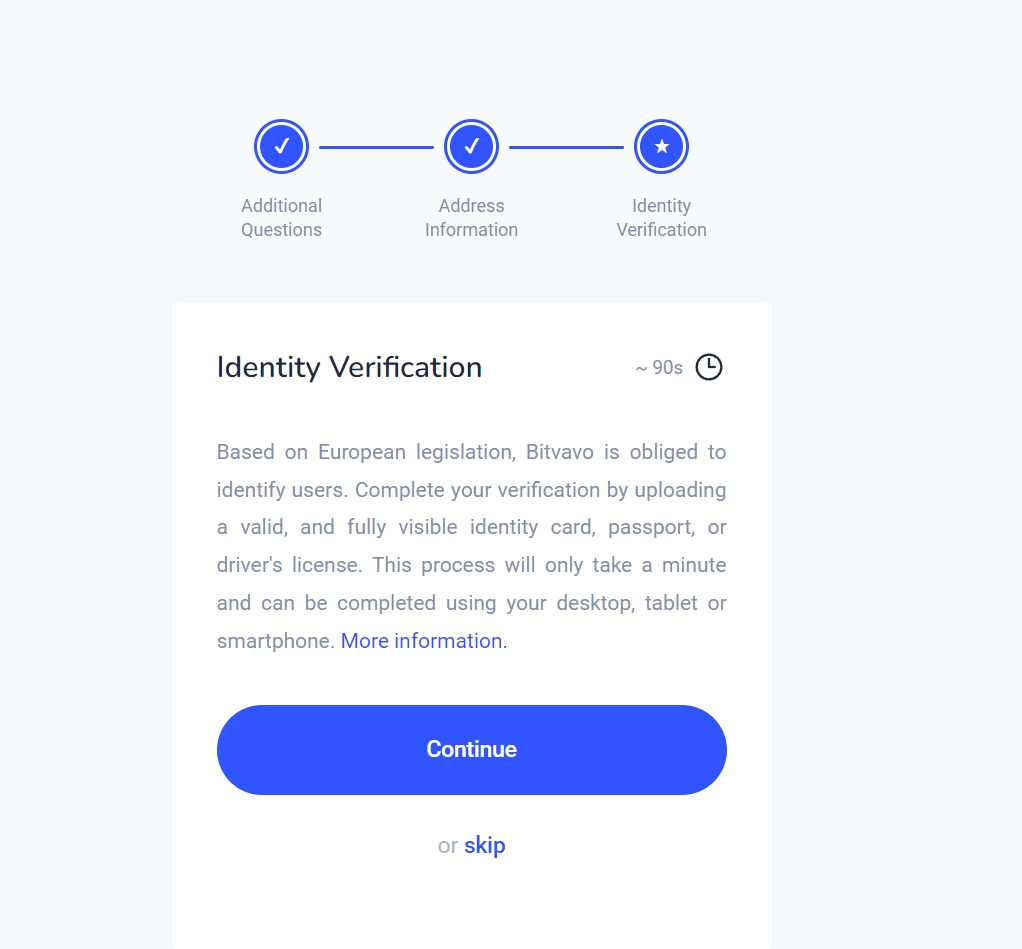 Your account should be verified as soon as you complete the process.
Bitvavo web platform
Once you sign up on Bitvavo and verify your identity, you are free to make your first deposit and take advantage of all the features offered by Bitvavo. These include:
Deposit and withdraw EUR to and from the platform.
Trade more than 180 crypto assets.
Store your crypto assets on Bitvavo's 'hot' wallet.
Withdraw purchased cryptocurrencies to your private crypto wallets.
Keep track of your portfolio's value over time.
Stake cryptocurrencies for additional 'passive income.'
Enter the 'Bitvavo Advanced' trading area for a more immersive trading experience.
Bitvavo's web platform is designed with simplicity in mind. All you need to do is select a crypto asset of interest, click on it, and the platform will lead you to an asset overview window, where you can find the asset's price chart, read the latest news about the project, as well as buy or sell your stack. Additional tabs of the web interface also let you view the asset's transaction history for your account, enter the staking management window for the asset, and manage deposits and withdrawals.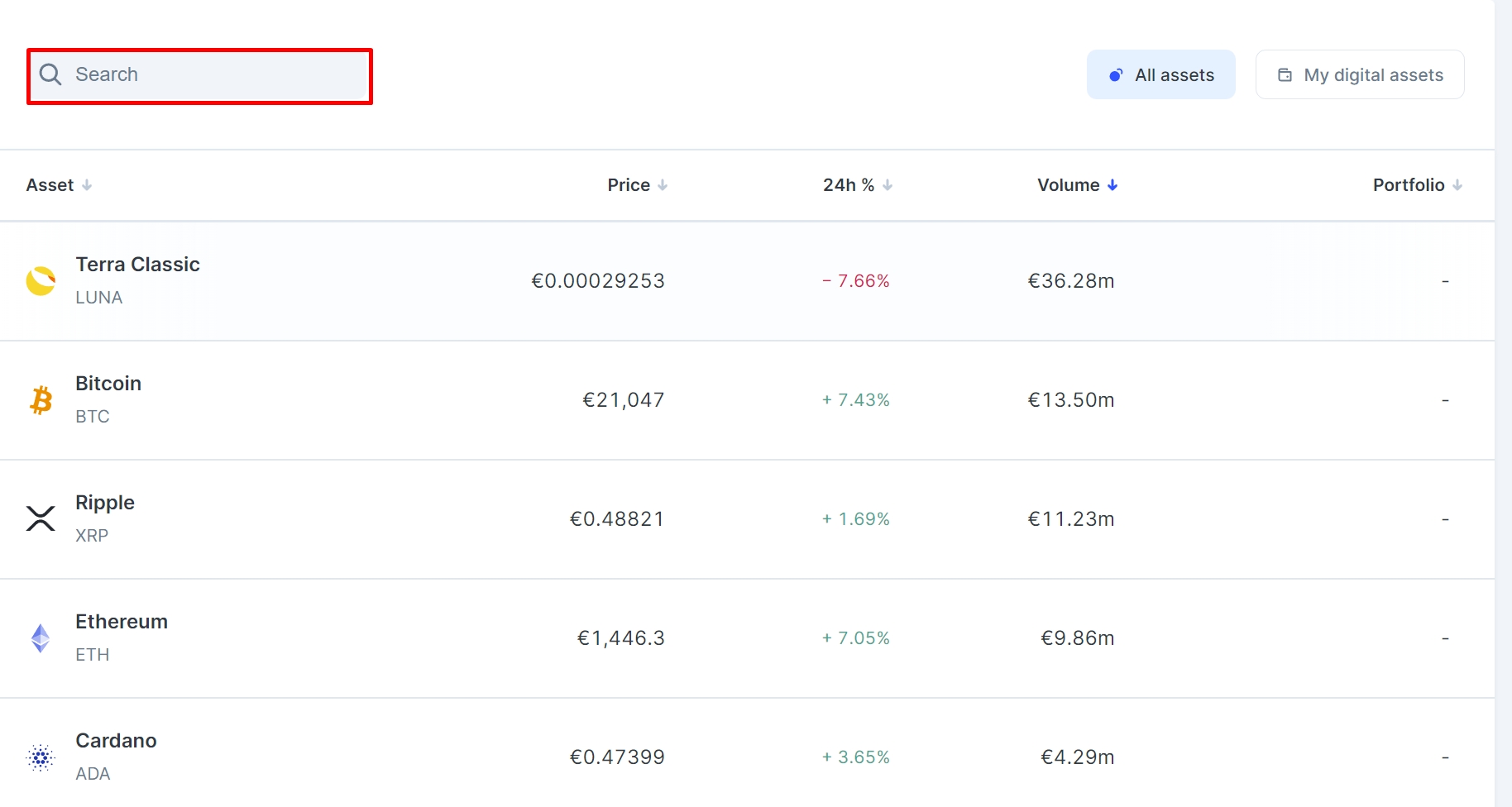 Experienced traders might want to switch to Bitvavo's 'Advanced' interface, where the exchange lets you rich trading features such as a candlestick chart where you can draw your own technical price analysis, place limit, market or stop limit orders, observe the market order book, and depth in real-time, and seamlessly switch through different trading pairs and observe their recent trades. Although the 'Advanced' section offers more options for traders, it can be too overwhelming for beginners.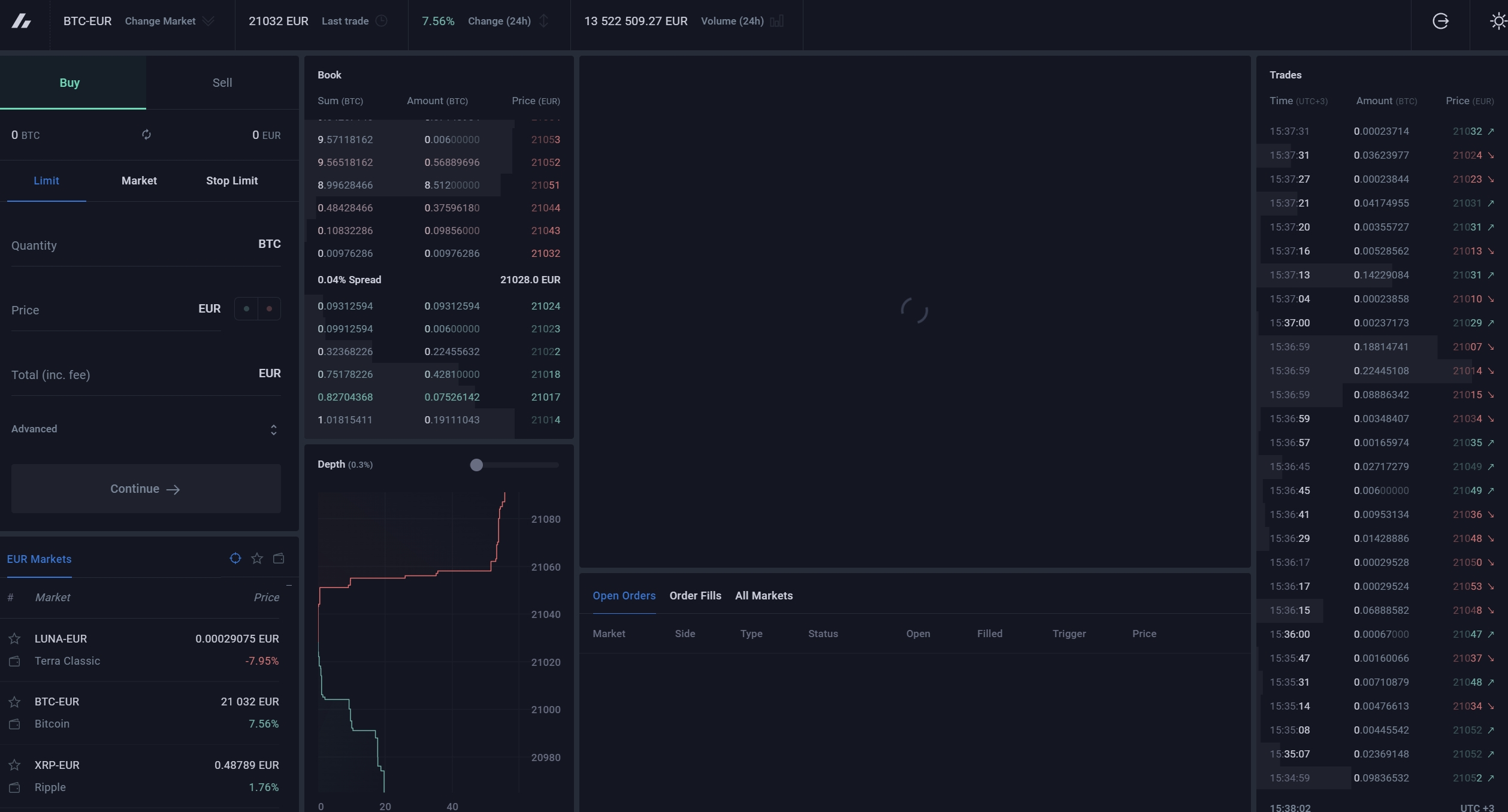 Bitvavo mobile app
Bitvavo's mobile app is just as neat as its web terminal, if not neater. It offers all the main features of the main platform, including depositing and withdrawing assets (including EUR), completing identity verification, performing trades, and managing your staking activities.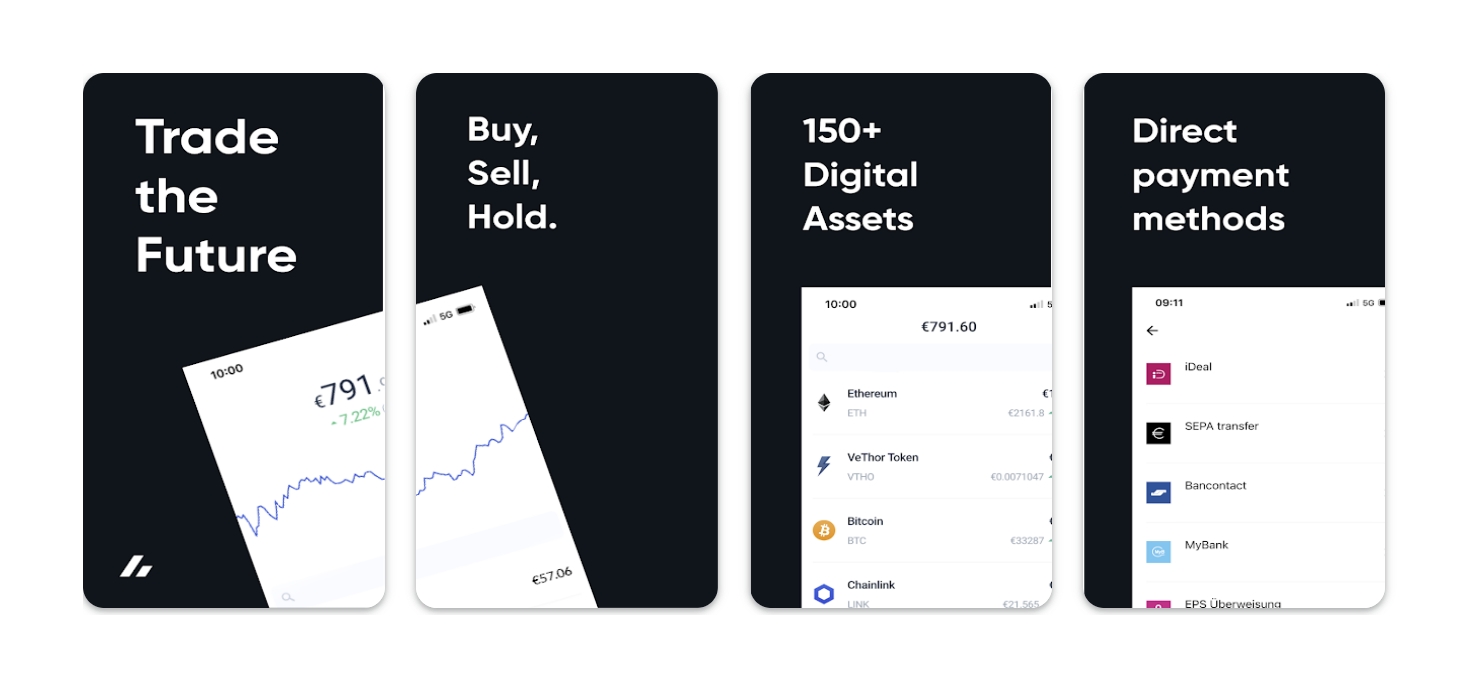 The app does not include advanced trading features of the exchange, though, which might be a minus for experienced traders who must manage their trades on the go but nevertheless is a great companion for the main platform.
Bitvavo customer support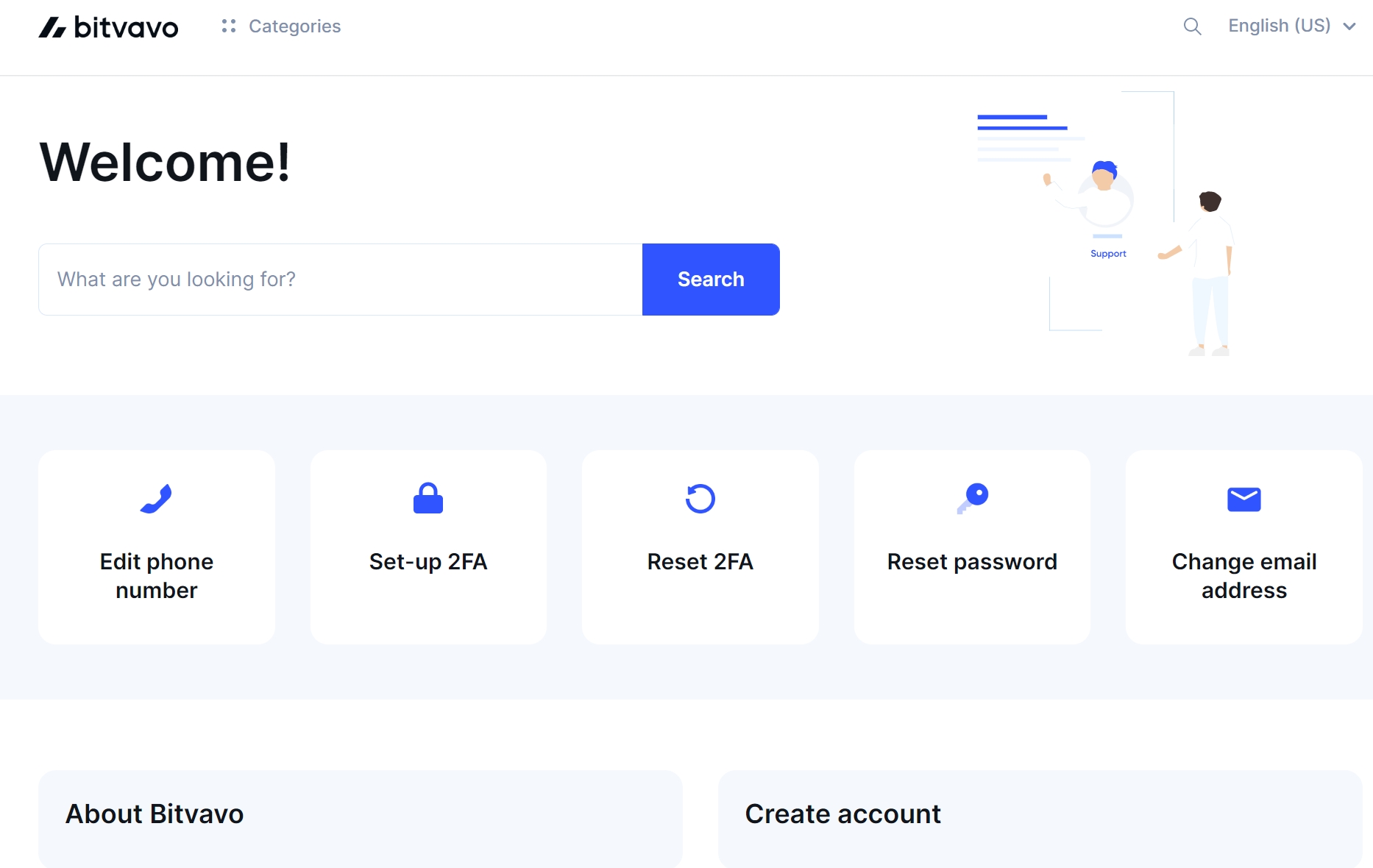 Bitvavo's support can be reached via multiple channels, namely:
According to Bitvavo reviews on Trustpilot, the customer support team is typically highly responsive, warm, and helpful, so reaching out in case of further questions, feedback, or help might be a good idea.
Bitvavo security
When it comes to security, Bitvavo cryptocurrency exchange boats of having 'industry-leading security.' In truth, the exchange has not experienced large-scale security breaches except for several phishing attacks aimed at its users - something that no exchange can willingly avoid if its users are not adhering to the principles of cybersecurity.
On its website, Bitvavo claims that its employees follow strict security protocols and screening procedures. When it comes to personal account security, the platform recommends enabling two-factor authentication (2FA) and setting up an anti-phishing code, and it also lets you control enabled devices. Bitvavo users can also whitelist their crypto addresses, make use of Bitvavo's permission-based access, as well as IP whitelisting.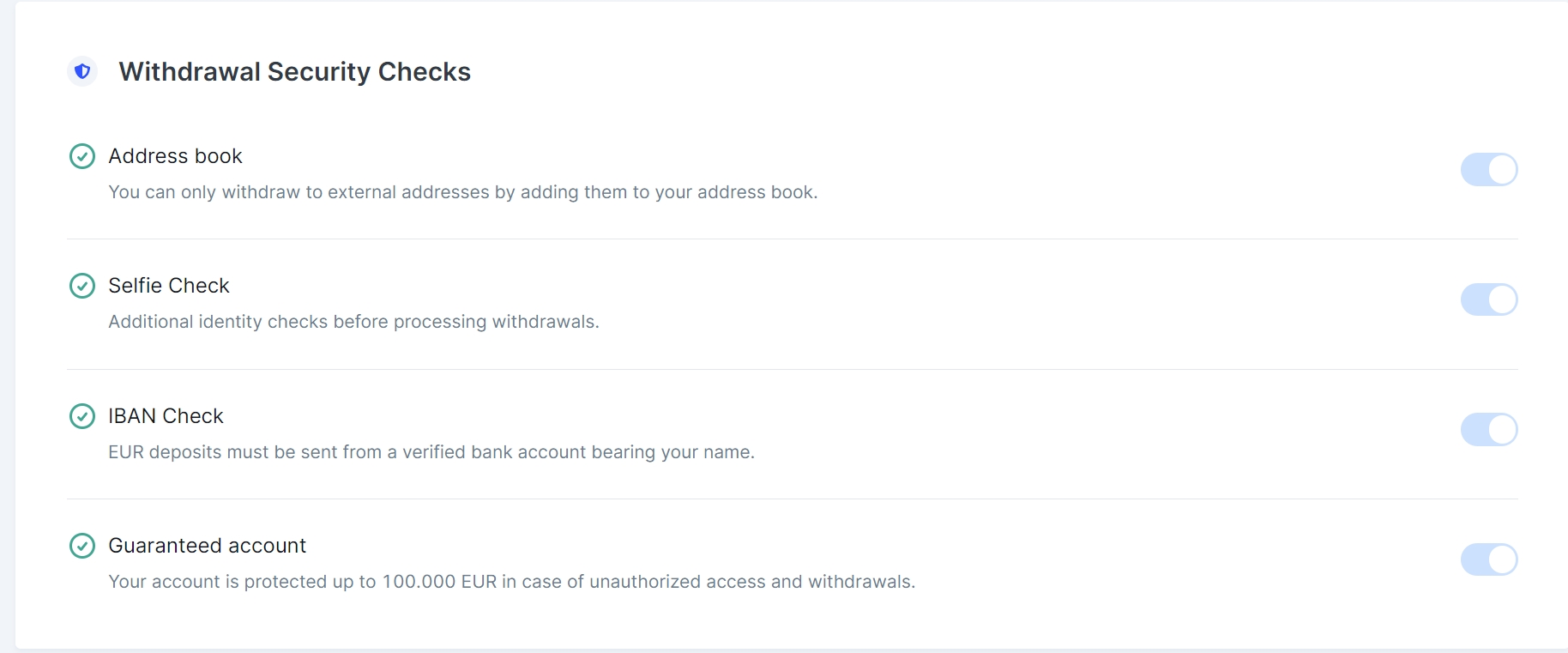 On the platform side of things, Bitvavo employs robust data monitoring and threat identification techniques embedded in the organizational design. The vast majority of the exchange's digital assets are held in offline cold wallets in discrete, secure locations with strict access controls and 24/7 monitoring. According to Bitvavo, their vaults meet category 4+ requirements, which is the highest security category in the Netherlands. Large transfers out of the exchange's custody are initiated and approved by a select group of the exchange's executive members via a multi-signature scheme, which means that they must be approved via manual verification from multiple individuals. Besides, its custody providers are said to be insured for up to USD 250 million, says the exchange's website.
In case of misfortune, Bitvavo offers a "Bitvavo Account Guarantee," which promises to reimburse its users for up to EUR 100,000 in case someone manages to access their funds without proper authorization.
The Bitvavo Account Guarantee is not a regulatory requirement, but a pilot launched voluntarily. It is currently available to eligible users and in eligible cases, and only once per user. To be eligible for reimbursement, users must have all the necessary KYC steps completed, and their accounts must be open for at least 30 days after becoming eligible to trade.
Unauthorized withdrawal of crypto or euro is covered by this option, as well as situations when funds were removed without authorization, such as in the case of a sim swap attack. Incorrect transactions, loss of profits, and buying, selling, or sending crypto are not covered by the Bitvavo Account Guarantee.
Overall, it can be said that Bitvavo takes its security seriously and provides a wide array of tools for its users to protect their digital assets from unauthorized access.
Bitvavo review - conclusion
Bitvavo is one of the fastest growing cryptocurrency exchanges in Europe for a good reason - low fees, transparency, security, and unparalleled customer service combined with ease of use, quick transfers, and advanced trading features make it a premier choice for anyone seeking to start their journey into the fast and risky yet still so exciting world of borderless finance.