Bitget
Bitget is a crypto exchange founded in 2018 whose main features include futures trading and copy trading. Bitget has been named one of the top five futures trading platforms and one of the top ten spot trading platforms. It has more than 8 million users across more than 100 countries and regions, making it a popular and widely used platform. As one of the most reliable crypto exchanges out there, Bitget is committed to providing users with a secure and cost-effective one-stop trading solution.
General info
| | |
| --- | --- |
| Web address: | Bitget |
| Support contact: | Link |
| Main location: | |
| Daily volume: | 17185.6 BTC |
| Mobile app available: | Yes |
| Is decentralized: | No |
| | |
| --- | --- |
| Parent Company: | |
| Transfer types: | Bank Transfer, |
| Supported fiat: | 42+ |
| Supported pairs: | 35 |
| Has token: | BGB |
| Fees: | Very Low (Compare rates) |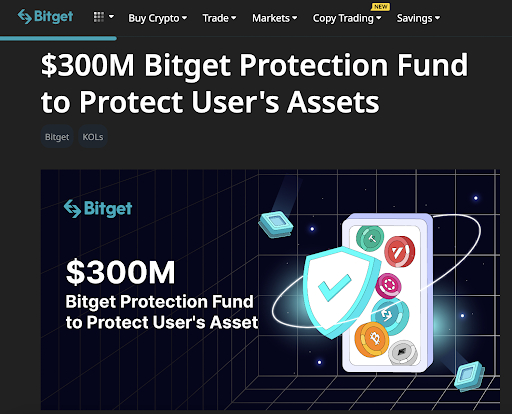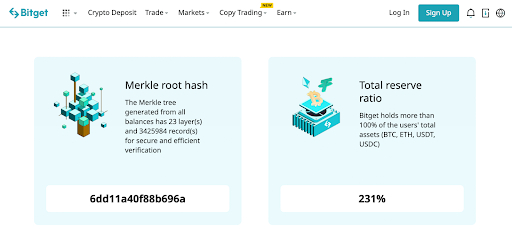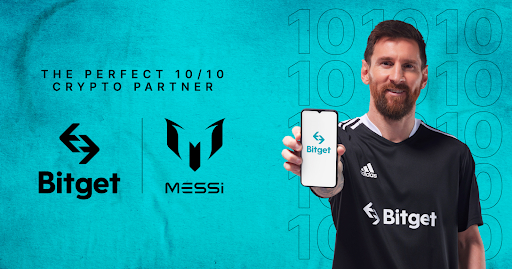 What does Bitget provide?
One of Bitget's unique features is its copy trading platform, which connects beginners with professional traders to create a hands-off, gains-up experience. Users can examine elite traders' portfolios and historical performance before subscribing to a trader's strategy that meets their return and risk requirements. Bitget also provides a derivatives platform where users can trade futures, options, and perpetual swaps in USDT-margined, USDC-margined, and Coin-margined futures, as well as a spot exchange function for a variety of popular cryptocurrencies.
Bitget is ranked 10th among all spot exchanges by Coingecko. The exchange's services and features are also accessible through all Android and iOS devices, and there are over 480 cryptocurrencies and more than 580 trading pairs available, which means that users will certainly find what they are looking for here.
Is it safe to use?
Bitget has top-notch security, and the platform has even formed the Bitget Protection Fund to protect users' assets in the event of an incident. As of November 2022, the fund was worth USD $300 million, making it the second largest user protection fund among CEXs. Bitget has also launched its Proof of Reserves page, which ensures that a 1:1 reserve ratio of customer funds is maintained at all times. Currently, the total reserve ratio is over 230%, much higher than the industry standard. Bitget offers multilingual customer support in English, Spanish, Turkish, and Vietnamese to enhance the user experience.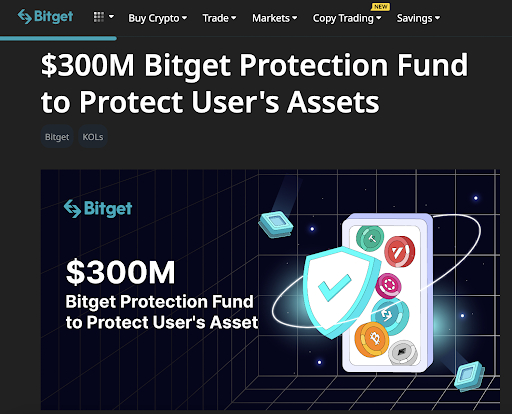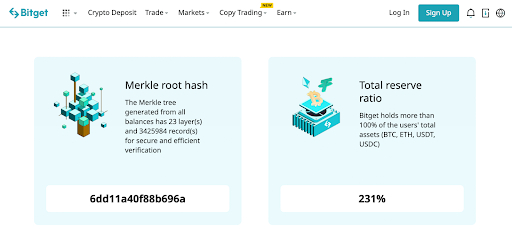 Additionally, the exchange has an unspecified bug bounty program, but clients who start noticing security issues are urged to reach out and report them. Naturally, the prize would then vary based on the threat's security level, and while threat information is only posted once it has been fixed and is no longer a vulnerability, the exchange takes every precaution to safeguard the identities of the users who submit these reports.
In order to further bolster security, users also have the option to set up a two-factor authentication (2FA) system by entering a Google Authenticator code. The procedure is straightforward and adds an extra layer of security to logins, withdrawals, and subsequent changes to other security settings.
Withdrawals, on the other hand, do not necessitate the whitelisting of the withdrawal address, which means that someone else with all of your login information could theoretically send your funds to their own private wallet. Of course, this emphasizes the importance of enabling 2FA and keeping your passwords safe and unique.
What about fee structure and calculation?
Bitget is a simple and inexpensive cryptocurrency exchange platform with a clear fee structure and calculation. Users are drawn to its VIP fee discount program and bonuses, and its native token, BGB, provides both value and utility. Bitget intends to consistently improve its copy trading features and broaden the range of digital assets available in its spot market. It also has plans of expanding its crypto education and CSR programs through sponsorships and partnerships.
Moreover, Bitget's total transaction volume increased by over 300% in 2022, and it ranked fifth in terms of volume among derivatives trading platforms. After the demise of FTX, Bitget's derivatives market share skyrocketed from 3% to 11%. Bitget is also the only cryptocurrency exchange which increased 24-hour Open Interest from around $800 million to $3.74 billion. Needless to say, the exchange's successes speak for themselves.
Deposits and withdrawals
It is very simple to deposit cryptocurrencies with Bitget. Users are directed to a page where they can select which asset they want to deposit (and the chain it's on, if applicable), and if this is their first time doing so, the exchange creates their wallet address so that they can easily copy it to their individual wallet or even just scan the QR code, if desired.
Withdrawals are also straightforward. Users enter the same information as well as the amount they wish to withdraw in the 'Withdraw' window. It is worth noting that the exchange does charge a withdrawal fee, which is displayed during the withdrawal process, but users can find a complete list of all fees on the website. The daily withdrawal limit is 20 BTC (or equivalent in another cryptocurrency) for users who have not completed the KYC process.
Conclusion
Bitget is completely committed to assisting users in trading smarter by offering a safe and cost-effective one-stop trading solution. It also motivates the general public to embrace cryptocurrency through partnerships with reputable partners like the legendary Argentine footballer and 2022 FIFA World Cup winner Lionel Messi, Italy's top football team Juventus, and official eSports event organizer PGL.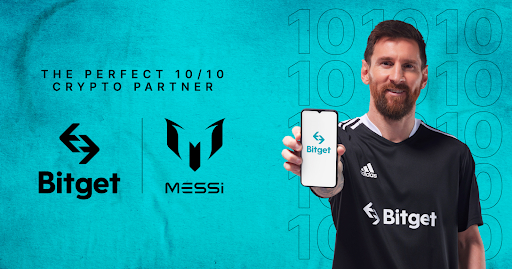 For additional information and regular updates, visit Bitget's official website along with the Twitter, Discord, Telegram, Reddit, YouTube, Facebook, LinkedIn, and Instagram channels.