Binaryx
Founded in 2019, Binaryx has already made an impact on the cryptocurrency community with its award-winning design. Focusing on asset tokenization and security, they are a digital asset exchange that aims to help build the next generation of assets. Binaryx's user-focused platform makes it easy for beginners to sign up while giving experienced traders a clean trading interface. Looking towards the future to continue advancing their platform with options like ETFs, crypto savings, credits, and futures Binaryx is a reliable option for everyone.
General info
| | |
| --- | --- |
| Web address: | Binaryx |
| Support contact: | Link |
| Main location: | Estonia |
| Daily volume: | 0.0 BTC |
| Mobile app available: | No |
| Is decentralized: | No |
| | |
| --- | --- |
| Parent Company: | Payward, Inc: BinaryxOÜ |
| Transfer types: | Bank Transfer, Crypto Transfer, |
| Supported fiat: | USD, EUR, UAH, RUB |
| Supported pairs: | 24 |
| Has token: | - |
| Fees: | Medium (Compare rates) |
Pros & Cons
Excellent design High liquidity Low fees Great security
Limited trading pairs for now Advanced options coming later

Binaryx Review: Key Features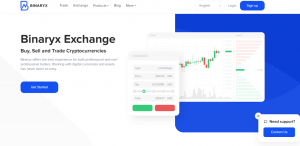 Fiat-to-crypto onramp with high liquidity - Other than depositing crypto to trade, the platform allows trading with USD, EUR, UAH, RUB. It already supports purchasing Bitcoin, Ethereum, Litecoin, Bitcoin Cash, Tether, Ripple. 30 more cryptocurrencies will soon be released.
Academy feature - With their academy, Binaryx has learning tools that range from Beginner to Hero, so that you can ease your way into cryptocurrency and have tools you need to become more advanced.
24/7 Support - Not only do they have a chat bubble that appears at the bottom right corner of each page, Binaryx also has an extensive FAQ, email contact, Telegram, Viber, and WeChat accounts, hosting a whole range of support not normally seen on most exchanges.
Emphasis on Security - With a whole range of security options, regular audits, partnering with a cybersecurity company, following regulations, and extensive background checks on employees with several interviews, Binaryx puts clear significance to having deep security protocols.
Clear Roadmap for the Future - Planning a professional ETF Index, payment gateways, advanced referral systems, crypto futures, CFDs, business tokenization, online payment system, and an international digital bank, Binaryx has provided a clear commitment to continuous improvement for users. Already hitting many of their targeted objectives, they are walking the path to realizing their goal as a next-generation asset exchange.
Background and history of the exchange
Binaryx was founded in 2019 with the goal of creating the next generation of digital asset exchange. In January, they added liquidity providers that rank as high as #1 or #2 in countries like Singapore and Ukraine as well as having their own liquidity. By March 2020, they finished their intuitive cold wallet design. By October 2020, a matching engine and spot trading terminal were completed, ready for users to trade. Showing their high potential, they won Silver at the prestigious Horizon Interactive awards 2020.
Not stopping there, Binaryx has displayed a commitment to become a great cryptocurrency exchange by laying out an entire road map that continues on until 2022. These include a Pro ETF Index, CFD's, business tokenization, P2P Exchange, and more.
February 2021, their original tokenized couple-focused Valentine's token, SDVT, delighted many in the cryptocurrency community. This caused many new users to become more engaged with cryptocurrency tokens, showing the potential of Binaryx's vision for tokenized assets.
One of the most prestigious awards in web design and creative media, the Horizon Interactive awards in 2020 had Binaryx, winning Silver, not long after their exchange was fully operational. Binaryx is fully deserving of the reward and it can easily be seen when a user clicks to open the website. It is inviting and easy to navigate.
Starting off on a strong note, with a clear and steady roadmap to becoming a great exchange, Binaryx's goals are to continue its success and become a part of the next generation of financial services.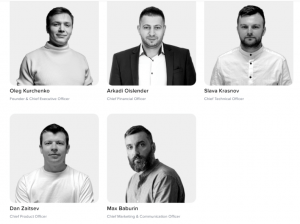 The heads of Binaryx's team are all heavily experienced with developed expertise in their role and are transparent as to the responsibilities of each team member.
The Founder is Oleg Kurchenko, who is also a Co-Founder of youdigital.io, making him familiar with both crypto and online interfaces. He has the know-how and experience to successfully run an exchange.
Their Chief Financial Officer, Arkadi Oislender, has a strong history in financial services, having worked before as a trader, general manager, and CFO.
Chief Technology Officer Viacheslav Krasnov is an experienced Android Developer and technology Project Manager.
Dan Zaitsev, their Chief Product Officer, has over ten years of experience building tech startups.
Ilona Ivanchuk, their Chief Content Officer, has been the Head of a Sales Department and is also the head of marketing.
Their Chief Marketing & Communication Officer, Max Baburin, has been Head of Marketing Operations for several companies.
With experienced officers at the helm of their team, it is clear why Binaryx has made strides in their platform.
Regulations and verification
Run by BinaryxOÜ, Binaryx is officially licensed to conduct trading operations and is looking to become operational in more countries.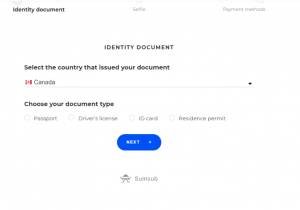 There are no verification requirements or account tiers. However, to deposit fiat, you have to go through a verification module, which includes ID verification, a selfie, and a payment method, which is standard for any exchange that you want to deposit and withdraw fiat from. Binaryx, for now, has a focus on being a crypto-to-crypto exchange with high liquidity in that regard. However, you would need to send your funds to another exchange in order to liquidate your funds into fiat. Expect liquidity upgrades in the future.
Binaryx Fees
Binaryx has a unique fee system. Their fees are 0% but only after you have subscribed with their USD 9.99/per month system subscription, increasing your ability to exchange crypto to USD 100,000. This is a great offer. Often, with just one transaction an exchange will charge you more than USD 9.99. It gives a great incentive to begin trading on Binaryx.
It is a surprise that many other exchanges don't utilize this concept since it is a popular method in many other industries. This makes the fees low. You just need one payment a month for all trades. If it continues to stay like this, it should attract many crypto enthusiasts and have them keep an eye out for Binaryx's potential as an exchange.
Design and usability
The design is one of the best things about Binaryx. If you are planning to look at a trading screen for hours at a time, the interface, font, and simple color palette should be on your radar for cryptocurrency exchanges. The website's font and design are welcoming, with all of the notable sections clearly displayed at the top. It does not overwhelm and is inviting to anyone new to cryptocurrency. The trading platform also has one of the most pleasing fonts you can find. If you are looking towards running your own cryptocurrency trading business, Binaryx has one of the best designs to look at the screen for hours.
However, there are not so many tools yet for experienced traders who are adept at margin and futures trading. For the majority of traders, this is not an issue since many high-leverage options are risky and require a lot of experience. Binaryx's roadmap shows, however, that they are continuously improving and should have a whole range of advanced trading tools by the end of the year.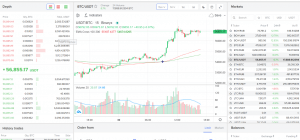 Registration is simple with hardly any Know-Your-Customer (KYC) needed to fully onboard you. All you have to do is put your name, email, password, and country and you can start trading. Depositing cryptocurrency is also a breeze. To deposit crypto, you just have to send money to your wallet, like any other quick crypto deposit. If using fiat to trade, you need to be verified before using your credit card. You can begin trading right away with a minimum deposit of $5. The way that this is laid out is in big, bold font, lean, and simple to use.
For now, Binaryx supports advanced orders like limit buys and spot trading. By the end of July 2021, they are aiming to support margin trading and crypto futures. Staking protocols are scheduled for October 2021 and CFDs will be available by the end of the year.
Academy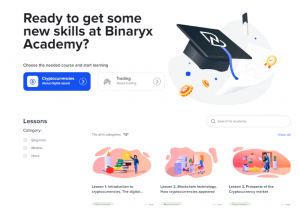 Binaryx eases new users in with their academy program. If you are just getting started with cryptocurrency, this tool could be valuable for your future engagement with cryptocurrency and blockchain in general. For now, there are only videos for those who are beginners to cryptocurrency, but they have a Hero section for future advanced videos for advanced traders once those options become available.
Customer support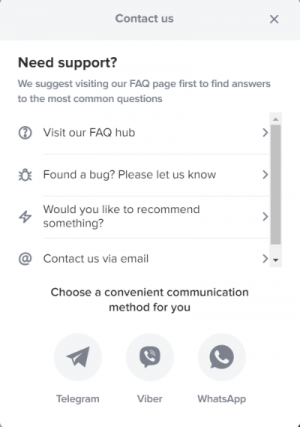 Having a wide array of support options, Binaryx has a good foundation when it comes to customer support, really focusing on becoming a user-focused platform. Many exchanges only have a support ticket and don't even have access at all to a chat bubble or other ways of communication. Not only does Binaryx have a support ticket, but Binaryx also has ways that you can communicate with a representative through Telegram, Viber, and WeChat.
Security
According to Binaryx, they invest thousands of hours on cybersecurity measures. Partnering with 10Guards, Binaryx has developed multilevel access to files, servers, and workstations.
With fail-safe uptime, their cloud architecture and microservices aim to be top-notch, hosting their servers in some of the best datacenters in the world. Having engineers in diverse cross-regional data centers to boost performance, it is obvious that Binaryx takes security seriously. Following Data Center Certification protocols, Binaryx only utilizes certified data centers. Along with this, Binaryx follows the EU's General Data Protection Regulation (GDPR) requirements. Tracking anomalies, threats, and abnormalities, their cybersecurity team regularly monitors activities on the platform.
Their work speaks for itself. They have never been hacked and are only adding to their security protocols.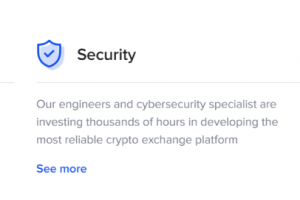 Binaryx is also very upfront about how they vet their employees. Anyone who joins the team has to pass screening tests and interviews, along with background checks done by their security department. Multiple-round interviews, for their skills in becoming an employee or partner, are also done, with a final team that decides whether to move forward with a candidate.
Their wallet is also cold storage, free-to-use, and organizes all your cryptocurrency in one place. Using only trusted payment gateways like Visa and Mastercard, Binaryx manages to avoid double currency conversion charges because they aggregate their payment gateways.
User account security measures
Right now, they have 2FA security measures and are working around the clock to add Device & IP Management, Withdrawal Whitelist, Anti-Phishing Protection, Permission-Based Access, IP Whitelist, and Withdrawal Address Whitelist. 2FA is the regular standard and Binaryx wants to ensure more security for users by integrating future security measures.
All in all, Binaryx's commitment to security is something to pay attention to when you are looking to keep your funds or trade on an exchange.
Deposit and withdrawal methods
Depositing funds is as simple as sending them to a wallet address. As mentioned before, to be able to deposit cryptocurrency, you only need to provide Binaryx's wallet address to another wallet you have and send your cryptocurrency there. You may also scan a QR code. To send fiat, you need to go through a verification process that is pretty standard for any exchange.

As of right now, you would need to transfer your crypto to another exchange in order to liquidate it, a process that should not be difficult for experienced users and only requires a bit of looking into for those new to cryptocurrency. This is a common trait in even established exchanges that want to focus on crypto-to-crypto trading. Understandably, many may not like this feature. However, the roadmap looks as if they are adding even more liquidity tools to improve user experience.
Conclusion
If you are just beginning to trade in cryptocurrencies, Binaryx would be a great platform for you to start with, especially since the user interface and design may already be one of the best in the industry. And once you have gotten comfortable with trading on Binaryx, the future improvements they have will come to fruition and give you more options to utilize your gained crypto experience. With an ability to ease in users and a road map that shows high potential, Binaryx is an exchange with lots of promise. In the future, with all of the upgrades and continuous commitment to improvement that Binaryx has shown, the platform is likely to become a great crypto gateway for everyone.