Bexplus Review
Bexplus is a Bitcoin-based crypto derivatives trading platform with a 100x leverage. In other words, users can make a hundredfold more profit than they normally would — or suffer equivalent losses if they are not using proper risk management strategies. The platform lets users try their hand at trading through a demo account before committing their money to this trading strategy. Besides, you might enjoy its high privacy, 100% welcome bonus, helpful customer service desk, and 100% interest-bearing wallet.
General info
| | |
| --- | --- |
| Web address: | Bexplus |
| Support contact: | Link |
| Main location: | Saint Vincent and the Grenadines |
| Daily volume: | 0.0 BTC |
| Mobile app available: | Yes |
| Is decentralized: | No |
| | |
| --- | --- |
| Parent Company: | Bexplus.com |
| Transfer types: | Crypto Transfer, |
| Supported fiat: | - |
| Supported pairs: | 4 |
| Has token: | - |
| Fees: | High (Compare rates) |
Pros & Cons
Interest-bearing wallet 100% welcome bonus Fully functional mobile app No forced KYC 100x leverage Demo trading account Accepts BTC, USDT, ETH, XRP, LTC EOS deposits
Limited pairings Withdrawals only in BTC
Bexplus Review: key features

Bexplus sticks to its niche, offering no more and no less than margin trading. Their notable features include:
An interest-bearing wallet that lets you earn up to 30% extra annualized income as long as you're an active trader and own more than a set amount.
A 100% welcome bonus for your first deposit, up to 10 BTC, for a more relaxed approach to trading that might also net you much bigger profits.
A fully functional mobile app that lets you turn on notifications so you can stay on top of your trading game wherever you are.
A demo trading account If you want to get more familiar with the platform or even the trading strategy itself, with 10 BTC in it for risk-free trading.
A privacy-oriented platform that does not force KYC checks, meaning you get to protect your privacy.
Simple and easy to understand step by step guides in their Help Center that cover everything from trading to simple depositing or withdrawing.
A sleek interface that's easy on the eyes, but doesn't exclude any important information.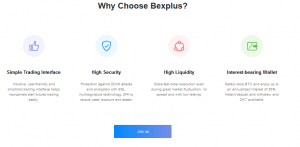 Bexplus history and background
Global cryptocurrency derivatives trading platform Bexplus was founded in late 2017 and is registered in Saint Vincent and the Grenadines. They currently have offices in Singapore, Japan, the US, and Brazil. The team comprises "seasoned blockchain experts," as the team puts it, along with those with significant experience in the financial sector and Internet professionals.
Bexplus is licensed by Saint Vincent and the Grenadines Financial Services Authority (SVGFSA). As they don't do any KYC checks, this means that customers from all over the world can sign up. Even though many crypto exchanges are banned in the United States, Bexplus is allowed. It has obtained MSB (Money Services Business), which means that it can conduct business in the United States.
There are also no account tiers: all users have the same access levels and are subject to the same rules and fees that apply. With no forced KYC, this means anyone interested in leverage trading can sign up within seconds and start trading. However, crypto derivatives trading is not legal in all jurisdictions, so be sure to check with your legal or tax advisor before trading on Bexplus.
Bexplus fees
Bexplus charges fees for every transaction: in a USDT pairing, BTC transactions will incur a fee of 0.075%, for ETH, it's 0.151%, for LTC, it's 0.193%, while both EOS and XRP transactions are charged at 0.195%. This is regardless of whether you place a maker or taker order. An extra 0.1% loan interest is charged in the case of overnight financing (in other words, you don't need to pay this if your position closes before midnight GMT).
| Trading pairs | Min. trading volume | Min. position size change | Max. trading volume | Leverage | Service fee |
| --- | --- | --- | --- | --- | --- |
| BTC/USDT | 0.1 BTC | 0.1 BTC | 200 BTC | x100 | 0.076% |
| ETH/USDT | 1 ETH | 1 ETH | 4,000 ETH | x100 | 0.161% |
| LTC/USDT | 10 LTC | 10 LTC | 20,000 LTC | x100 | 0.193% |
| EOS/USDT | 100 EOS | 100 EOS | 200,000 EOS | x100 | 0.195% |
| XRP/USDT | 1,000 XRP | 1,000 XRP | 2,000,000 XRP | x100 | 0.195% |
After you open a position, forced liquidation occurs when your account's margin rate reaches 30% or less. Besides, when your position's profit reaches a net 85% of your account value, the corresponding positions are automatically closed for a profit.
Bexplus does charge a 0.0005 BTC withdrawal fee when it comes to deposit and withdrawal fees, which also includes a BTC transaction fee. Deposits to Bexplus are free of charge, except for the network fee.
All of the fees and transactions in the Bexplus platform are settled in BTC, but the fees are relatively low, especially compared to more regulated margin trading platforms.
Bexplus design and usability

Bexplus prides itself on its easy to use interface. Newcomers can take advantage of a demo account with 10 BTC in it that they can use to see how the platform works, how they can take advantage of all the features, and learn anything they might not know yet, all without risking actual money. This is especially important as the platform only offers 100x leveraged trading: while your initial margin, in the case of a right call, will yield a hundredfold return, the same is true in the case of a loss. Users who want to take advantage of the much larger positions thus available have to know the risks of this trading strategy.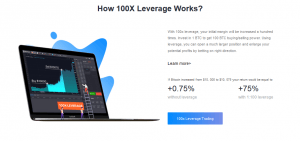 The platform is available in several languages aside from English, including Spanish, Portuguese, Turkish, German, Japanese, Russian, and others. Under the Trading tab on the home screen, users can find in-depth statistics about the past 24 hours (or longer, depending on what they choose), as well as a myriad of trading options. However, those still unsure what to do can follow a link to the trading simulation at the top of the page. Another handy link will take them to trading rules, which will tell them everything they need to know about fees, forced liquidation, and other commonly asked questions.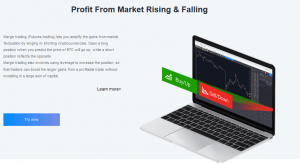 Another important feature of Bexplus is their interest-bearing wallet: users can get between 18% and 30% annualized returns as long as you have 0.05 BTC or more. However, to keep that bonus, users are expected to trade at least 10% of the saved amount monthly, or they will be downgraded to a flat 3% annualized interest rate. But if they become "active users" again (by trading 10% or more monthly), users are restored to the previous, higher interest rate with no further repercussions. New users will also receive a 100% bonus to their first deposit, up to 10 BTC. This offers them a chance to trade without putting much at risk for that first stretch.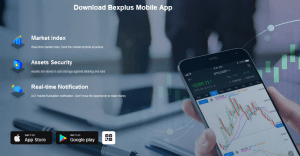 Bexplus also offers a fully functional mobile app. It lets you take your trading with you wherever you go without worrying about losing access to any of their features, be it margin trading or digital wallet. The app is super convenient for trading on-the-go and is available for both iOS and Android systems.
When it comes to customer support, their professional team is available 24/7 through email and social media, but many common issues are already extensively covered in their Help Center.
Bexplus security measures
Bexplus stores most of its coins in cold wallets, which makes them completely unreachable by malicious actors. Users can activate two-factor authentication (2FA) when logging in, while the site itself is encrypted with SSL technology and offers protection against DDoS attacks. The exchange's security measures have not been rated by any external experts on the matter.
Deposit and withdrawal methods
Bexplus accepts Bitcoin(BTC), Tether (USDT), Ethereum (ETH), Litecoin (LTC), Ripple (XRP), and EOS deposit, but only supports BTC withdrawal. You'll be able to exchange your deposited cryptocurrencies on the platform to BTC and trade supported cryptocurrencies, like BTC/ETH/LTC/DOGE/XRP, but you can't withdraw anything other than BTC. While restrictive, this can also be considered a simpler approach.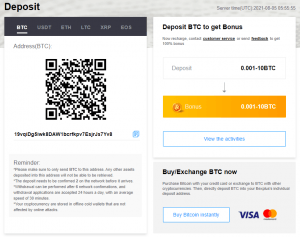 There is no limit amount for the deposit, and no deposit service fee is charged. But you have to keep in mind that Bexplus will charge a flat 0.0005 BTC service fee for each withdrawal. Once you submit your withdrawal request, you will receive a withdrawal address confirmation email that you have to reply to before your withdrawal goes through, as an added security measure.
Bexplus review: conclusion
Bexplus is a decent cryptocurrency derivatives trading platform that does exactly what it claims to and nothing more. This means you won't have to navigate complicated options and features until you find what you're looking for. You can also keep your right to privacy safe as they don't force you to go through KYC procedures, while their demo trading account will let you practice without committing real money. This means that the platform is a great choice for newcomers and veteran traders who want to use leverage trading to boost their profits.