BC Bitcoin
BC Bitcoin is an UK-based cryptocurrency broker which acts as a one-stop-shop for all types of crypto-related services, including buying and selling of nearly any cryptocurrency, coin trading, escrow, mining pool purchasing, and even a top-tier cold storage custody service. Essentially, it lets you access a wide range of crypto assets with excellent liquidity and over-the-counter (OTC) trading. With BC Bitcoin, you do not need to spend hours learning the ins and outs of the cryptoverse, as everything can be managed for you by a supremely competent team of professionals.
General info
| | |
| --- | --- |
| Web address: | BC Bitcoin |
| Support contact: | Link |
| Main location: | Hertfordshire, UK |
| Daily volume: | 0.0 BTC |
| Mobile app available: | No |
| Is decentralized: | No |
| | |
| --- | --- |
| Parent Company: | J&M Trading Limited |
| Transfer types: | Bank Transfer, Crypto Transfer, |
| Supported fiat: | USD EUR GBP JPY + |
| Supported pairs: | 100 |
| Has token: | - |
| Fees: | Very High (Compare rates) |
Pros & Cons
Bespoke brokerage supporting services for any cryptocurrency
Fast account verification and high level of security
Transparent and highly trusted
Very easy to contact and experts at managing digital assets
Supports crypto and fiat payment methods
Available only during business hours
High fees
No live trading charts
Not available to US customers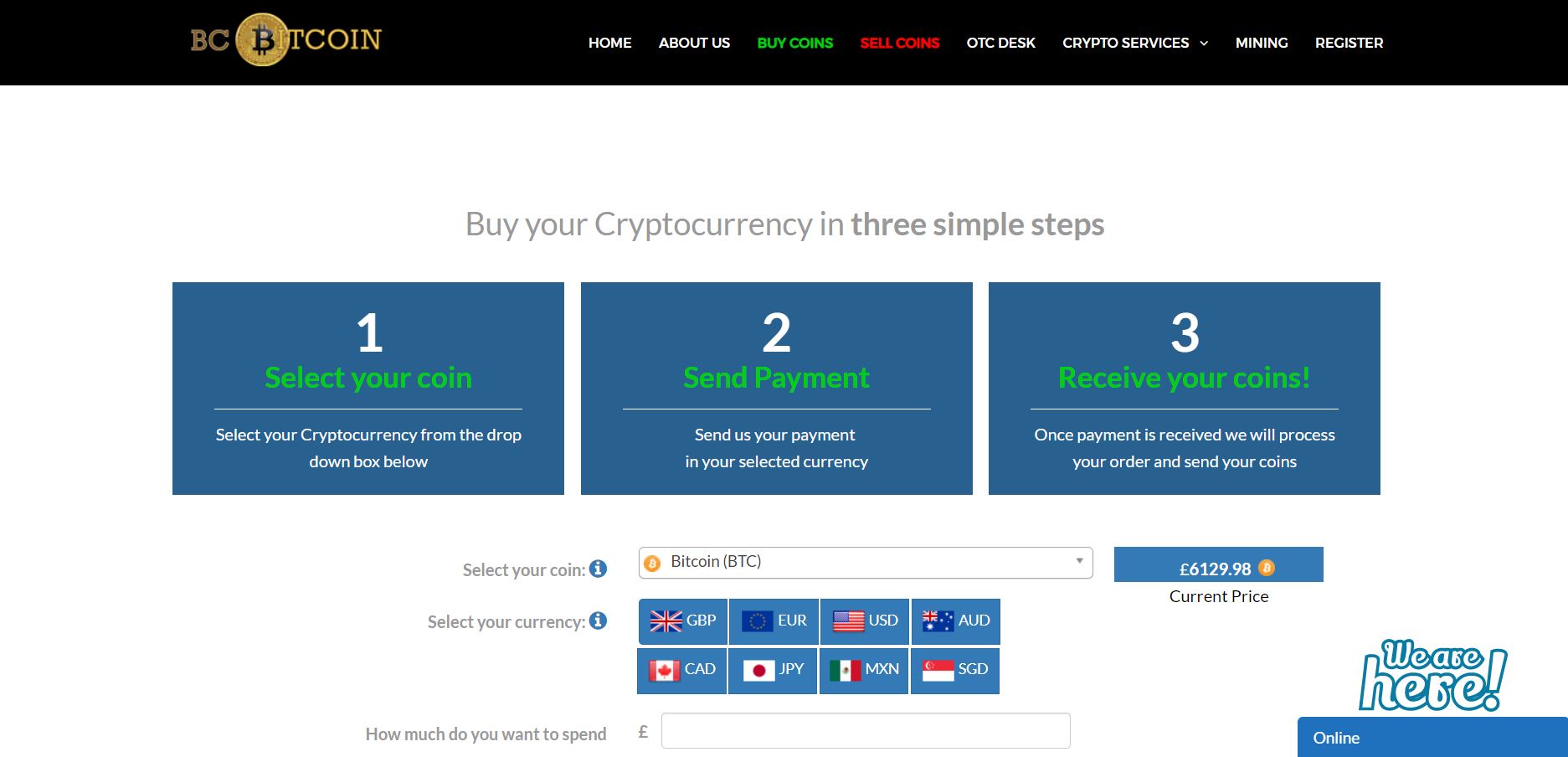 BC Bitcoin key features review
Ability to buy and sell almost all cryptocurrencies either through their website or with the help of a broker.
Coin trading service with the help of a broker.
OTC service for seasoned traders or institutions that deal in large sums.
Professional cryptocurrency escrow service for buyers and sellers.
Cold storage service with computer verified biometric security, multi-signatures, multi-location wallets, and 24-hour safety delay.
Ability to purchase mining pools through Bitclub Network.
Bitcoin payment gateway service for businesses.
Opportunity to learn more about Bitcoin and cryptocurrency trading by working directly with crypto experts.
History and background
BC Bitcoin started its brokerage operation in October 2017. The business is enlisted under J&M Trading Limited, and its headquarters are in Broxbourne, UK.
Led by Jamie Green and Mark Lemon, BC Bitcoin also has a team of veteran investors and traders. At the moment, its website displays six staff members. The team is known for willing to go an extra mile to help their customers, as can be observed from their excellent customer reviews and feedback on Trustpilot and similar reviews websites.
All BC Bitcoin users must pass KYC authentication since it is a registered firm in the UK. Besides, it does not do business with any entity under the US or EU sanctions. Unfortunately, BC Bitcoin is unavailable in Algeria, Bolivia, Cambodia, Ecuador, Bangladesh, Nepal, and the United States.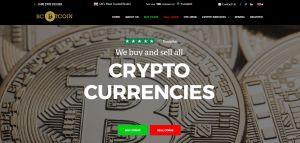 BC Bitcoin fees review
BC Bitcoin stands out among other cryptocurrency brokers with their transparent fees. Their costs depend on whether you are buying or selling. After fee, you will receive the best available market rate and the most amount of coins.
Buying fees
| Volume | Fee | Cost per £1000 |
| --- | --- | --- |
| £100 -£100,000 | 4% | £40 |
| Over £100,000 | 3% | £30 |
Selling fees
| Volume | Fee | Cost per £1000 |
| --- | --- | --- |
| £100 -£50,000 | 3% | £30 |
| Over £50,000 | 2.5% | £25 |
At first sight, the fees seem to be high compared with cryptocurrency exchanges but not so high compared with other brokerage services. The trading fees vary and depend on both trading volume and regularity.
Other services provided by BC Bitcoin come with the following charges:
Coin escrow - 1% fee for a complete transaction, split between involved parties.
Cold storage custody - 0.5% deposit + 0.75% annual management + 0.5% exit fees.
Bitcoin payment gateway service - 2% fee passed onto the customer.
All in all, prices are not the strength of BC Bitcoin. However, there is always a trade-off between high fees and level of service, and BC Bitcoin offers a quality service which comes at a premium price.
Platform security review
Security is pivotal for BC Bitcoin's success and thus is treated seriously. BC Bitcoin transfers purchased coins directly to the customers wallet for secure and safe holding but if you want them to store your digital assets for you, that is possible, too. They use highly-secure cold storage wallets, which are protected with multi-signatures, biometrics, and 24-hour safety delays. The funds are held in multiple secured locations such as safe deposit boxes at banks, so there little to none risk of experiencing a high-profile hack.
If we were to nitpick, it can be mentioned that BC Bitcoin website does not let you protect your account with two-factor (2FA) or universal 2nd factor (U2F) authentication but it is not a big issue because no cryptocurrencies are held directly in your account.
On the legal end of things, BC Bitcoin is a compliant, trusted brokerage, so you can go about your business without having to worry about the safety of your digital assets.
User interface at BC Bitcoin
BC Bitcoin is a bespoke brokerage, so it does not offer much in terms of the user interface. Most, if not all tasks and requests can be done by communicating directly with your broker, which is ideal if you are not a computer whizz. You can reach them via a myriad of channels, including email, phone, Skype, Whatsapp, Telegram, and a web contact form.
However, this is also the key reason why the service fees come with a premium compared with regular cryptocurrency exchanges.
When it comes to user experience, things are designed to be as simple as possible. BC Bitcoin makes it super easy to register an account on their website and guides you through the compulsory KYC verification process.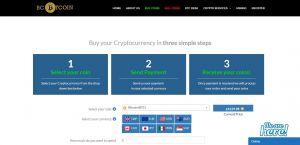 Once you get your account ready, you can place orders using conveniently designed Buy Coins and Sell Coins sections of the site.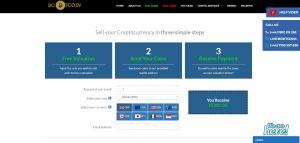 Alternatively, you can communicate your needs to the broker, and he or she will do everything they can to provide an acceptable solution. Apart from the standard offers, BC Bitcoin brokers tend to customize their services for individual customers for the best win-win outcome, making it a truly premium crypto brokerage.
BC Bitcoin deposits and withdrawals
BC Bitcoin is flexible when it comes to deposits and withdrawals. You can deposit cryptocurrencies, as well as trade in eight popular fiat currencies - USD, EUR, GBP, AUD, CAD, JPY, MXN, SGD.
Fiat transfers typically take 1-2 business days to execute, unless you are using a UK bank. In such case, your transfer will arrive instantly or usually within 2 hours. While there is no direct option to use a credit or debit card for deposits, you may contact BC Bitcoin and ask if they can arrange this for you.
It does not cost you anything to create and verify a BC Bitcoin account. However, you are going to pay a 3-4% fee on your cryptocurrency sales and purchases. If you decide to make use of their cold storage service, withdrawal and funds management will cost you extra, as covered in the fees section of this review.
If you find yourself struggling with either of those, you can always call BC Bitcoin and ask for assistance. The brokerage is available 7 days per week, 365 days per year so there is no downtime for 'business days' and we are available anytime during business hours, 8 AM to 8 PM in the UK time zone.
All in all, BC Bitcoin is a credible cryptocurrency broker which offers high-quality services for all user needs. While you can see several offers on their website, you will get the best offers if you contact them directly and ask if they can organize a custom deal which works best for your situation.
Getting started with BC Bitcoin
On business days, you can register a BC Bitcoin account, get it verified, and purchase cryptocurrency of your choice through BC Bitcoin within one hour. Here is what you need to do:
Go to BC Bitcoin website, click register in the upper-right corner and open a new account.
Right after registration, you will be asked to submit documents for KYC compliance. You will need an ID, passport or drivers license and a picture of yourself holding a note "I have read and agree to the BC Bitcoin KYC Contract."
Once verified, you are eligible to place your order. Head to the Buy Coins section of the website and follow its instructions.
Once the order is submitted, you will need to pay for it. BC Bitcoin will only process your request once they receive your payment.
It everything is fine, cryptocurrency is delivered to your dedicated private wallet address. If you need help with setting up one, BC Bitcoin can help you.
You will receive an email with your transaction details and a request to confirm whether the digital assets have reached your wallet.
If you have more questions on how to purchase cryptocurrency with BC Bitcoin, contact their brokers or watch the explanatory video tutorial below.