You Can Now Earn 200% on Your Investments with ETHx2.io!
Disclosure: Crypto is a high-risk asset class. This article is provided for informational purposes and does not constitute investment advice. By using this website, you agree to our terms and conditions. We may utilise affiliate links within our content, and receive commission.
The text below is an advertorial article that was not written by Cryptonews.com journalists.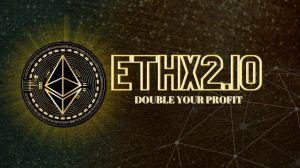 About ETHx2.io:
With the current market crashing and jobs either disappearing or not paying enough, everyone is forced to lower their expenses or work multiple jobs just to keep up. Those times are now over with ETHx2.io.
ETHx2.io helps all the investors earn 200% of what they are investing without working. All that you have to do is invest your ETH and watch as your profits start rising.
Is it safe?
There are multiple websites out there doing scams in the name of profits. To assure all of its investors, ETHx2.io has published the complete transparency on its website. They have not only made their smart contract public, but they also have their registration of being a real firm on their website.
The certificate can be cross-checked on the registrars website as well to be sure whether they are legit. Anyone can do their own research on their platform before investing.
Investments:
There are different options through which you can invest on ETHx2.io. The more you invest, the more you will earn as profit. The different profiting schemes that they follow are:
Personal hold bonus
Once you have invested into the ETHx2.io, you are always going to have an option to withdraw your profit and your investment. You can let the investment stay until it has completed the whole 200% circle but most people keep withdrawing their profits.
The personal hold bonus is applied to people who don't withdraw their bonus for 24 hours. It increases their profit by 0.1% and it is directly added to their earnt profit.
It does not only help you make more money but also very easily. The interest rate will keep increasing every day and the longer you will wait to withdraw your funds, the earlier you will complete the whole 200% cycle.
Contract total amount bonus:
The total amount bonus is the bonus you get every time the platform crosses 500 ETH. For example, the platform currently holds 500 ETH, you will be receiving 0.1% extra profit every day (conditions applied).
1% every 24 hours:
This is the most basic way to make money. All you have to do is just keep your money in the wallet on ETHx2.io and a 1% profit will be added to it automatically. You will be able to see real-time increment in your profits all the time and by the end of 24 hours, your investment will have an increment of 1%.
All of these factors help you reach your 200% quicker so you can keep making money.
Affiliate programs:
Different affiliate programs have been launched to help you keep making money without investing much yourself. Every time you invite someone to join the ETHx2.io using your affiliation URL, you will get 5% on their total amount of deposit. This is the first affiliation.
Every time the other person invites someone else to join the ETHx2.io using their URL, their URL will be directly linked to yours and you will earn 3% off the total deposit of the person who just joined as well. This is known as the second affiliation. The second person will receive their 5% as well on their total amount of deposit while the end person will have no decrements from their profit.
The last affiliation type is the third affiliation. Third affiliation is when your friend of friend invites someone else using their link to join the platform. Their link is directly linked to your friends' link which is linked to your link.
It sounds a little complicated but it is really not. You will be making 2% on their total deposited amount while the people involved in first and second affiliation will still be getting their share.
Is there a way to get money easier than this? You already know the answer to this.
Steps involved:
There are three easy steps involved in earning your money.
First, making the investment. Just connect your ETHx2.io wallet to your any other exchange wallet which uses ETH currency and invest in the market.
The second step involves keeping a check of your wallet. You will be able to see all the earnings that you are having throughout the day and you can withdraw them at any time.
The last step is withdrawing the money. It is just a one-click process and you will receive all your profit in your connected wallet right away.
Happy earning!
Contact:
There are multiple ways to contact ETHx2.io. With their official contacts to telegram support, admin email and their social networks and telegram groups, you can always be in touch with them. Visit their website for more information: ethx2.io
---