YGG Raises $13.8 Million From a16z and DWF Labs
Disclaimer: The Industry Talk section features insights by crypto industry players and is not a part of the editorial content of Cryptonews.com.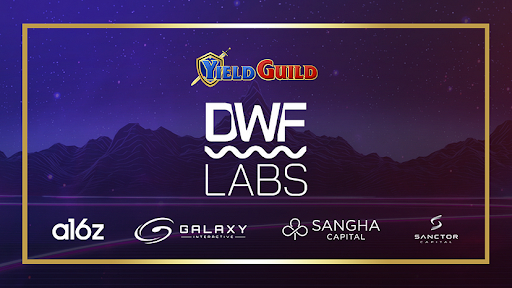 Yield Guild Games (YGG), a leading play-to-earn (P2E) gaming guild, has raised $13.8 million in a funding round led by Andreessen Horowitz's a16z Crypto fund and investment firm DWF Labs.
Other participants in the round include Sangha Capital Fund, Sanctor Capital, Galaxy Interactive, and angel investor David Lee. YGG did not say how many tokens were sold, but they are estimated to account for more than 35% of its total $25 million asset value in its treasury as of November 2022.
DWF Labs is the investment arm of high-frequency crypto trading platform Digital Wave Finance (DWF). DWF Labs is a multi-stage web3 multi-product ecosystem, providing consulting, cybersecurity, smart contract audit process, debt financing, treasury management and other services as well as trading solutions such as token listing, over the counter (OTC) trading, and liquidity support for different clients through their partners.
DWF Labs aims to support the founders building the future of web3. It has invested in over 50 web3 projects and collaborates with top crypto exchanges such as Binance, ByBit and more.
"We have committed to support YGG as part of our vision towards a blockchain-based economy through web3," said Andrei Grachev, Managing Partner at DWF Labs. "We are confident that through this token purchase, YGG will continue to innovate and grow the blockchain gaming space as we provide support through this long-term partnership."
YGG empowers gamers to earn real income
YGG is at the forefront of non-fungible token (NFT) game economies with its partnerships with blockchain-based games like Axie Infinity, The Sandbox, and League of Kingdoms. The guild was founded in 2018 by Gabby Dizon and Beryl Li after Dizon started loaning out his Axie Infinity NFTs to other players who could not afford to buy their own. YGG has since become the largest in-game asset manager and investor in the popular Philippines-based game.
YGG aims to empower gamers by helping each other coordinate to join P2E games and earn crypto-based rewards they can exchange for real-world money. The company invests in gaming NFTs like in-game assets and virtual land, which it loans out and sells to its members to use in games to generate yields or profit.
YGG plans to use the funds from the token sale to accelerate the development of its soulbound reputation token (SBT), which it intends to become a major part of its ecosystem platform.
SBT tokens are linked to players' crypto wallets and non-transferable. The token was launched in a test in 2022 as a reward for in-game activities. YGG plans to relaunch its web app next month and is working to integrate SBT into games directly. It will introduce a new incentive program to reward creators for completing certain tasks or quests as proof of their achievements and reputation.
As part of its move towards decentralization, YGG became a Swiss association last year to adopt a flexible, non-profit legal structure. The legal framework offers clarity and validity for YGG token holders as members of YGG's decentralized autonomous organization (DAO). Token holders receive limited liability protection as members and can participate in governance votes. Members can vote on what games to play, what virtual assets the guild invests in, and they are used in gameplay.
---