XRP vs Tradecurve (TCRV) - Two Varying Perspectives on the Use of Blockchain Technology
Disclaimer: The text below is an advertorial article that is not part of Cryptonews.com editorial content.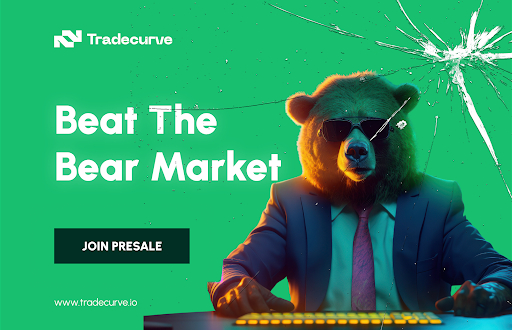 As the world of cryptocurrency expands and evolves, we're seeing an increasingly diverse range of applications for blockchain technology. Two notable examples of this are XRP and Tradecurve (TCRV), each employing this transformative technology in distinct ways. XRP focuses on speeding up international money transfers, while Tradecurve (TCRV), currently in its presale phase, aims to revolutionize the trading industry by offering a unique hybrid exchange platform.
Tradecurve
Tradecurve represents a new evolution in the world of trading platforms, by blending the best of decentralized and centralized exchanges. It's like a supermarket of financial instruments, where users can leverage their cryptocurrency holdings to trade in a multitude of assets — commodities, stocks, forex, and of course, other cryptocurrencies.
What makes Tradecurve unique is its decentralization, a first for platforms offering such a broad variety of tradeable products. This means users enjoy complete anonymity due to no KYC procedures being required, allowing traders the freedom to operate without having to share personal details.
Tradecurve's goal is to make trading accessible to everyone, across the globe, by providing a doorway to a vast number of markets and opportunities. To get started, users only need a valid email to set up an account. Once done, they can connect their wallets, deposit their preferred crypto, and jump into the world of trading.
But Tradecurve's features don't stop there. It's designed to provide numerous advantages like AI-driven algorithmic trading, an impressive 500:1 leverage, VIP account service, reduced trading fees, and the ability to copy trades of successful traders for a subscription fee.
For newcomers in the trading world, Tradecurve plans to offer an interactive learning experience in the form of a metaverse trading academy. This virtual space will provide courses on trading strategies and offer interaction with crypto experts.
The TCRV token is currently priced at $0.015 in the third stage of its presale, a prime opportunity for those looking to invest before the price is hiked further in each stage. Expert predictions suggest the token could yield up to 50x returns before even being listed on leading centralized exchanges and Uniswap, where it is expected to grow further to the $1.00 level.
Given the historical performance of tokens like Binance's BNB, which started at $0.11 and now trades at $308, the prospects for TCRV seem promising. Tradecurve has the potential to secure a top spot among global trading platforms.

XRP
XRP uses blockchain technology to facilitate fast, secure, and low-cost international transactions. Here's a more detailed look at how XRP uses blockchain technology, focusing on its consensus mechanism:
Consensus Protocol - XRP uses the Ripple Protocol Consensus Algorithm (RPCA), which involves independent server nodes comparing transaction records and making collective decisions about the validity and order of transactions. This process takes approximately 3-5 seconds, resulting in extremely fast transaction confirmations.
Decentralization and Security - Even though some critics argue that Ripple holds a significant amount of XRP, thereby centralizing the network, the truth is, the ledger itself operates in a decentralized manner. No single party can control the ledger's updates. The integrity and security of the network are maintained through the agreement of nodes on the transaction order and validity, preventing double-spending and other forms of fraud.
Interledger Protocol - Beyond the XRP Ledger itself, Ripple also uses a protocol called the Interledger Protocol (ILP) to enable payments across different blockchains. XRP often acts as a bridge currency in this context, providing extra liquidity and facilitating real-time cross-border transactions.
All of this combines to create a blockchain platform built to handle large-scale, cross-border payments quickly and securely.
For more information about TCRV presale tokens:
Website: https://tradecurve.io/
Buy presale: https://app.tradecurve.io/sign-up
Twitter: https://twitter.com/Tradecurveapp
Telegram: https://t.me/tradecurve_official
---