XRP Price Up 8% in 24 Hours – Can XRP Reach $10 in 2023?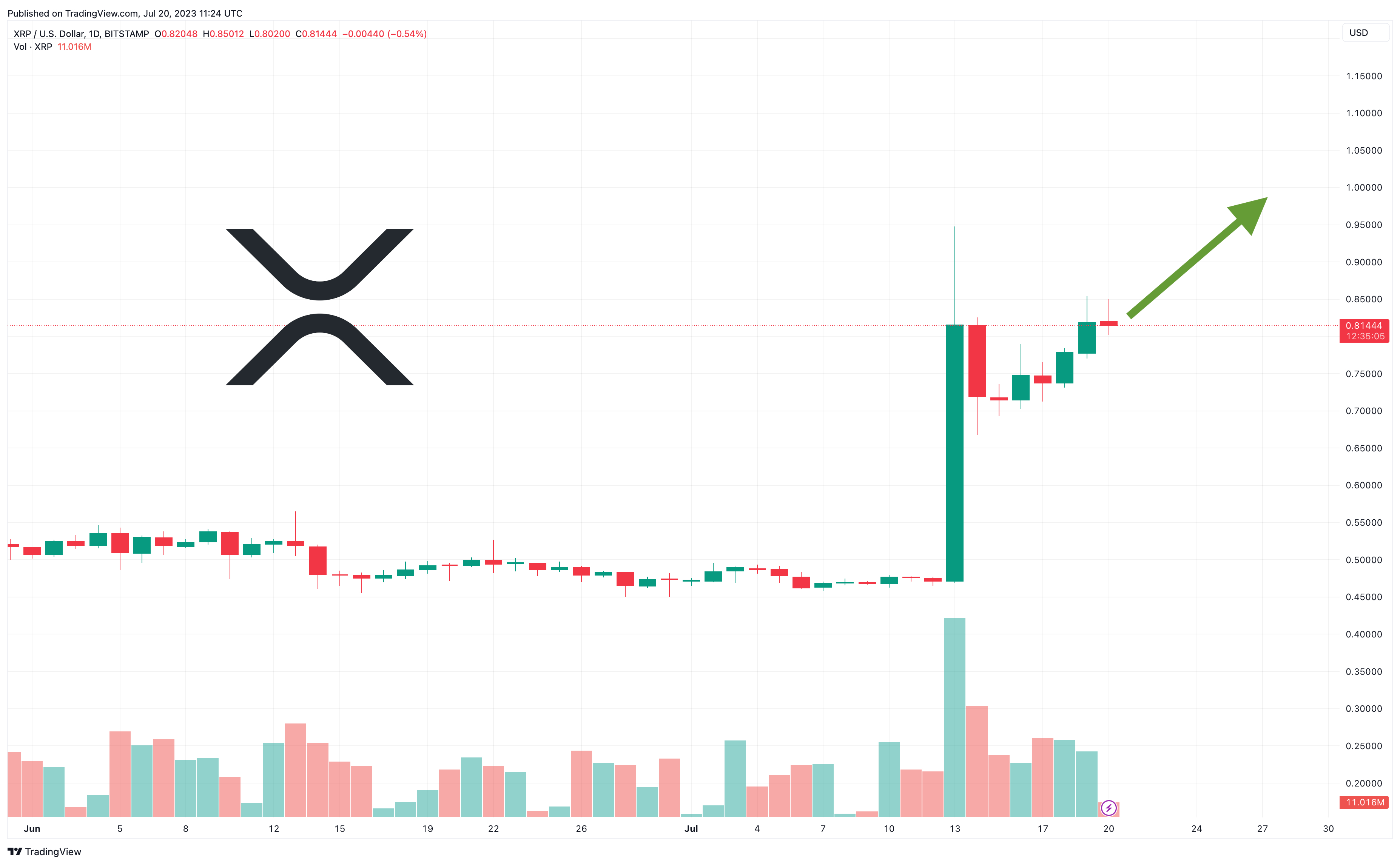 The price of XRP has risen by as much as 8% in the past 24 hours, with the altcoin's move to $0.811954 making it the fourth-biggest cryptocurrency in the market in terms of cap, ahead of BNB.
XRP's current price also means that it has gained by 71% in the last seven days and by roughly 138% since the beginning of the year, with the largely positive decision in the Ripple-SEC case last week helping to make the altcoin one of the best-performing major tokens right now.
It's also likely that XRP will continue rallying for the forseeable future, now that it has been relisted on major US-serving exchanges.
And with Ripple now in a strong position to continue expanding its cross-border payments business, XRP could have a very strong end to 2023, as well as a happy new year.
XRP Price Up 8% in 24 Hours – Can XRP Reach $10 in 2023?
XRP's indicators continue to paint a very promising picture, with its relative strength index (purple) and 30-day moving average (yellow) both refusing to come down from their high levels.
Despite flagging a little over the past couple of days, the 30-day average has resumed rising further above XRP's 200-day average (blue), in an ongoing sign of strength and momentum.
Likewise, the RSI remains above 60 despite losing a little bit of impetus this morning, suggesting that further gains are still likely.
It's also worth pointing out that, even though XRP has had a few slips over the past week as some traders take profits, it hasn't really fallen very far down, with its support level (green) continuing to rise even now.
As such, XRP remains a relatively safe bet for further increases in the near term, with the coin potentially on course to make it to $0.85 in the next week or so.
Such an increase will be helped by the strong positivity surrounding Ripple now that it has secured a relatively positive ruling in its case with the SEC, with the presiding judge siding with the cryptocurrency firm on a number of important counts.
Importantly, the ruling enabled crypto-exchanges to relist XRP in the US, something which has also boosted the token's price in recent days.
And while nothing new has happened since the ruling was delivered one week ago, positivity remains high, with many within the market expecting Ripple to soon announce plans for its own initial public offering.
An IPO is something that CEO Brad Garlinghouse has alluded to on numerous occasions while the SEC case was underway, and while there has been explicit mention of a public offering since the delivery of the ruling last week, it could be only a matter of time.
And when it does happen, it would likely boost interest in XRP even further, helping the token to reach new levels.
This process will also be helped by Ripple's expansion as a business, with the company now being in a better position to announce new partnerships and new market entries.
As such, XRP could be expected to reach $1 in the next few weeks, before potentially seeing out the year at around $2 or $3.
And if 2024 delivers another bull market, it could rise even higher, beatingits current all-time high of $3.40 and nearing $5.
---