XRP Price Up 2% in 24 Hours – Can XRP Reach $10 in 2023?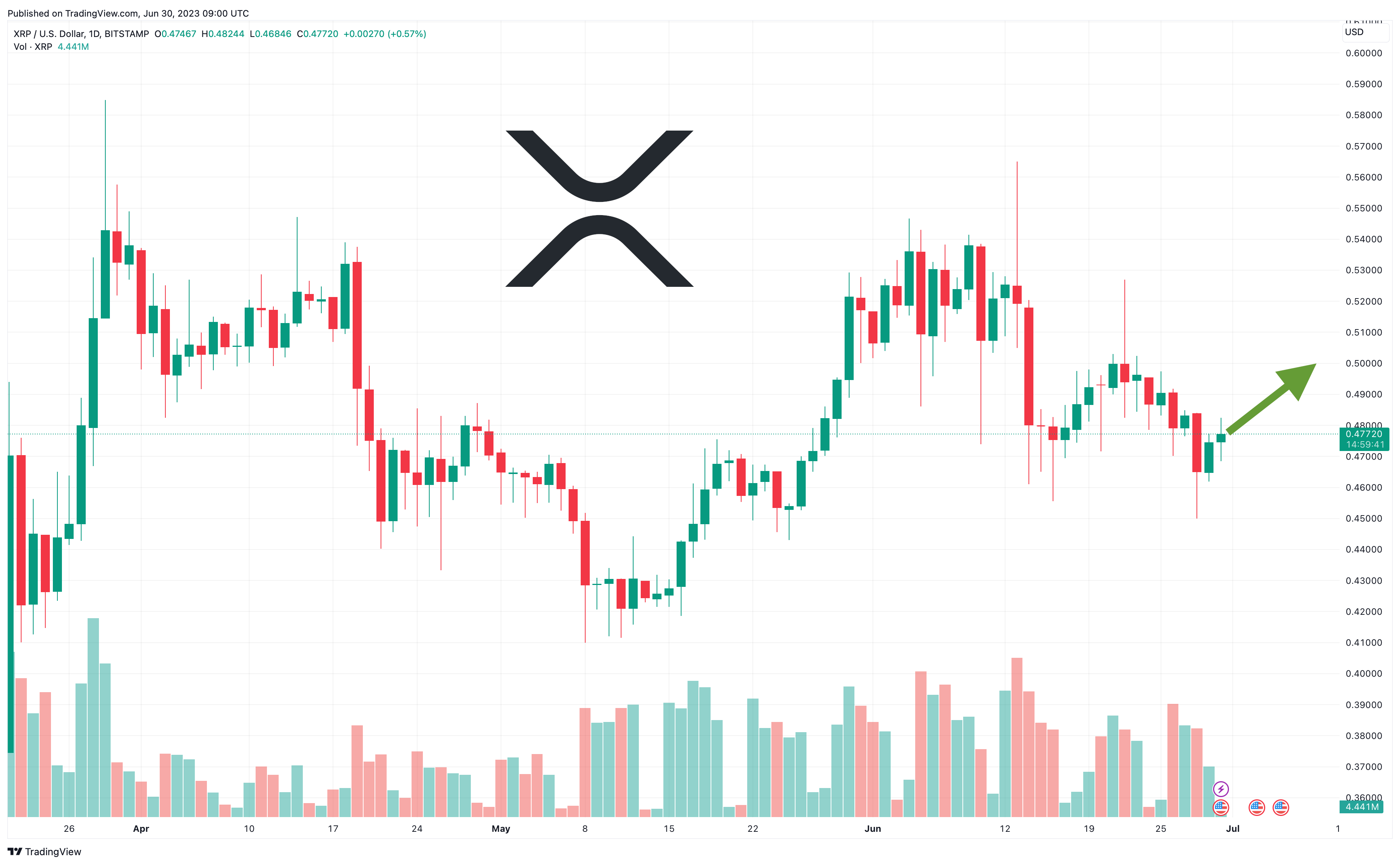 The XRP price has risen by 2% in the past 24 hours, reaching $0.476333 as the wider cryptocurrency market gains by the same percentage today.
Today's increase goes part of the way towards compensating XRP holders for recent losses, yet the altcoin remains 3% down in the last seven days and 6.5% down in the last 30, although it has risen by 40% since the beginning of the year.
Such a recovery has been achieved largely because of the progress Ripple has made in its legal battle with the SEC, which is likely to end within the next few months.
And if Ripple does secure a positive summary judgment or settlement, then XRP may enjoy a massive rally in the following weeks, potentially rising to new highs in the context of a new bull market.
XRP Price Up 2% in 24 Hours – Can XRP Reach $10 in 2023?
XRP's indicators suggest that the altcoin could be close to staging a recovery, with its relative strength index (purple) rising from under 30 a couple of days to 50 today.
At the same time, XRP's 30-day moving average (yellow) has reached what looks like a bottom in relation to its 200-day average (blue), implying that it and the coin's price is likely to begin rising again.
Indeed, the fact that XRP's price has risen above its 30-day average would suggest that momentum is now moving in the altcoin's favor, and that it may have just begun a rally that could last into the medium term.
This would suggest a short-term XRP price target of around $0.49 or even $0.50, although the unstable condition of the cryptocurrency market at the moment may stop any potential rally before it really gets into gear.
Still, the longer term picture for XRP looks more promising, with the aforementioned Ripple-SEC legal case nearing its conclusion.
More importantly, the past few weeks have brought a number of developments which suggest Ripple has a good chance of receiving the kind of judgment that will enable it to continue its business, while also enabling exchanges to continue listing XRP.
This includes the release of the long-awaited Hinman emails, which revealed that even the SEC was confused as to what would qualify a cryptocurrency as a security.
It also includes earlier rulings, such as the court upholding Ripple's right to present a fair notice defense, as well as the court excluding an expert witness the SEC had called to testify that XRP buyers would have had an explicit expectation of profit.
Taken together, such developments point to a potential Ripple 'victory,' something which would cause XRP to have one of the biggest rallies of the year.
It would easily rise to $1 in the weeks following a positive conclusion, while the appearance of a fully fledged bull market could help it return to its current all-time high of $3.40, or even higher.
Diversification with New Altcoins
The only issue with XRP is that it may still take several months for a decision to arrive, meaning that the altcoin may not do much in the meantime.
Of course, traders looking for above-average gains in the shorter term may be inclined to diversify their portfolios with a number of new altcoins, with presale tokens in particular holding promise of substantial returns.
One of the most exciting new presale tokens in the market right now is Thug Life Token (THUG), a meme coin that has aligned itself with the gangsta rap and hip-hop communities.
Launched earlier this week, THUG's presale has already raised close to $150,000, with the offering having a hard cap of $2,058,000.
An ERC-20 token, THUG has a total maximum supply of 4.2 billion tokens (in a reference to 4/20 culture), with 70% of this supply reserved for its presale.
This will make THUG a more decentralized meme token than many of its peers and rivals, something which should help it accumulate a healthy community of holders and followers, all of whom will feel more invested in the project.
In a departure from many other presales this year, THUG's offering has only one stage, with the meme token available for $0.0007.
Investors can put themselves in line for a potential profit by going to the official Thug Life Token website and connecting their MetaMask wallets, with the token buyable using either ETH or USDT.
Given that there's only one stage, the sale could end in only a few weeks, at which point THUG may enjoy some big rallies when it lists on exchanges.
Disclaimer: Crypto is a high-risk asset class. This article is provided for informational purposes and does not constitute investment advice. You could lose all of your capital.
---