XRP Price Slips on SEC Appeal While Safer Alternative XRP20 Fundraising Accelerates Past $1.8m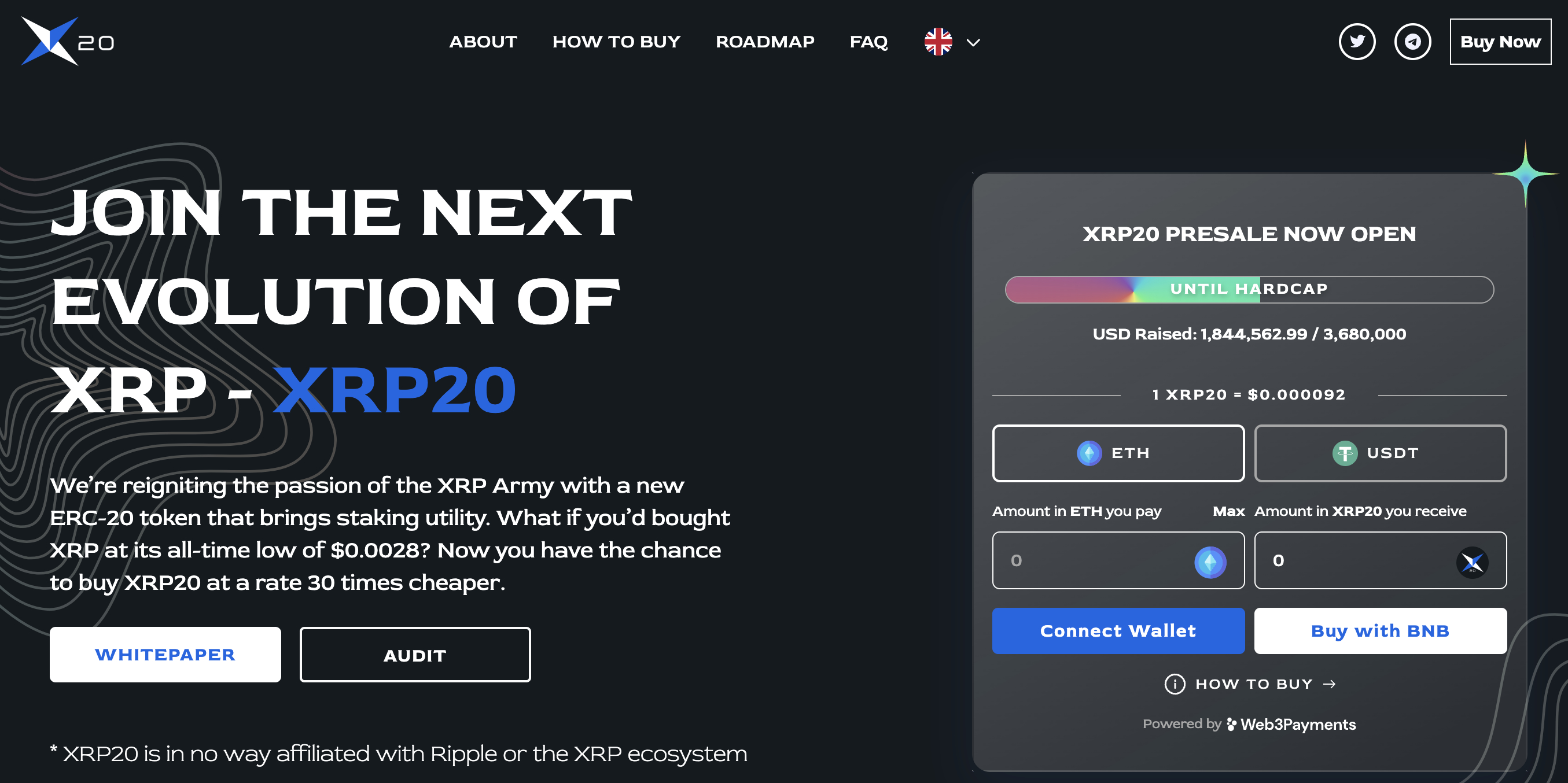 The XRP price is slipping lower after news emerged that the US Securities and Exchange Commission (SEC) is appealing the judge's decision in the XRP securities case, boosting the appeal of a safer alternative, the XRP20 coin.
While the XRP price has reversed from recent near-term highs, last trading at $0.62, investors have poured more than $1.84 million into the XRP20 stake-to-earn coin as a safer option for realizing consistent strong returns due to its advantages over XRP.
The run rate is accelerating into the second half of the presale as XRP20 closes in on its $3,680,000 hard cap target.
Adding to bullish XRP20 sentiment are crypto analysts on YouTube predicting 10x returns for early buyers of XRP20. With the presale tokens being snapped up quickly, there is no time to lose.
Buy XRP20 at a Price 30x Less Than XRP's All-Time Low
You can buy XRP20 for just $0.000092, 30x less than its all-time low price of $0.002802. Recall that XRP has pumped 220x from its all-time low to today's price.
To avoid disappointment and to get all the latest presale news and listing dates, follow the project on X (formerly Twitter) and join its Telegram channel.
The XRP20 coin is not affiliated with XRP issuer Ripple Labs or its products. Instead, the new cryptocurrency leverages the '2.0 version' trend while offering new possibilities through its stake-to-earn utility to reward token holders.
News of the appeal could dampen further price appreciation for XRP until the outcome of the court case is known.
The SEC's appeal is unlikely to be heard before the first quarter of 2024, which means uncertainty could hang over the XRP price for the foreseeable future.
Also encouraging buyers is the welcome news that XRP20's smart contract is fully audited by top blockchain security firm 0xguard.com. Most '2.0 version' coins coming onto DEXs have not been audited.
XRP20's Staking and Burning Provides Crypto Portfolios with Diversified Returns
That is good news for market participants who want to gain exposure to a passive income from staking and benefit from upside in the token's price as an alternative to XRP.
Forty percent of the total XRP20 token supply is allocated to staking, providing a deep reserve for paying out rewards.
However, XRP20 has a 0.1% burn mechanism on transactions alongside staking, making it a deflationary asset. Every time a token is bought or sold, 0.1% of the transaction total is burnt. Burning makes XRP20 scarcer over time and is therefore price-supportive.
Ten percent of the total token supply is allocated to be burnt.
XRP20 is a Fairer and Safer Route to Profits Than XRP Ensnared in a Legal Mire
Presale buyers are being offered 40% of the total token supply, making it much fairer than the launch of XRP in 2013, when insiders were given preference.
A further 10% of the XRP20 token supply is allocated to decentralized exchange (DEX) liquidity to allow for efficient coin trading when it launches, possibly as early as next week.
Regarding the number of tokens available in the presale, 40% has been allocated to the general public for purchase.
Decentralized exchange (DEX) liquidity is catered for by allocating 10% of the total token supply.
Contrast that approach with XRP. Of the 100 billion XRP tokens issued by Ripple in 2013, 80% went to the company, and the remainder was given to the three founders.
Judge Analisa Torres's ruling that XRP was not a security, as far as its sale to retail investors was concerned, kicked off a surge in the coin's price, with predictions rolling in that the price could blast past the previous all-time high at $3.84.
Even before the latest court news, some XRP price analysts predicted that XRP could give up all of its price gains since the court ruling, which further bolsters the case for XRP20.
XRP20 is Also Safer Because it is Fully Decentralized, Unlike XRP
The business logic of the burning mechanism, as with the staking, is coded into smart contracts.
As such, XRP20 is fully decentralized, in stark contrast to XRP. Ripple Labs issues XRP by releasing tokens from an escrow account it manages. This heavily decentralized aspect of Ripple has attracted criticism over the years.
There are no such worries with XRP20.
Because XRP20 is an Ethereum token, it has the advantage over XRP of being fully decentralized. It is also built on a blockchain undergoing a transformation that will make transactions faster and cheaper without damaging the chain's security.
Because Ripple's XRP is highly centralized, it means there is potentially a single source of failure. Ethereum, on the other hand, has in excess of 700,000 block validators.
The chart below shows the inflation in XRP supply as a result of the successive release of tokens from escrow over the past year:

Chart: courtesy Messari
XRP20, as an Ethereum-compliant ERC20 token, has all the benefits of complete decentralization and the smart contract extensibility that has made Ethereum the premier enterprise-ready blockchain of the crypto industry.
Buy XRP20 for a Return on Investment of as Much as 6,629x
Crypto buyers seeking to diversify their portfolio holdings are attracted to XRP20 because of its added passive income potential.
But the prospect of a parabolic rise in value could see returns set out on a parabolic increase in value. If XRP20 climbs from its presale price to match the current XRP price, it will equate to a return of 662,943% or a 6,629x gain.
Moreover, if XRP20 achieves only a fraction of that price target, buyers would still be bagging returns that could make a 10x or 100x gain seem positively pedestrian.
To buy XRP20, head over to the website, connect your crypto wallet, and pay with Ethereum or USDT.
There's no time to lose to get in before the coin lists, but do your own research and don't invest what you can't afford to lose.
Also, as is made clear on the website, XRP20 has no affiliation with XRP or Ripple Labs. XRP20 is not a security.
Disclaimer: Crypto is a high-risk asset class. This article is provided for informational purposes and does not constitute investment advice. You could lose all of your capital.
---