XRP Price Rallied Today, Leaving Other Top 10 Coins Behind
XRP, the native token of Ripple, is the best performing coin among top 10 tokens by market capitalization on Monday and in the past week.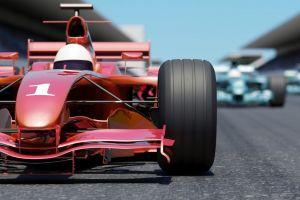 At pixel time (09:32 UTC), XRP trades at c. USD 0.2686 and is up by 5.6% in the past 24 hours and by 7% in the past week.
In comparison, bitcoin and ether are down c. 1%, while XLM is the second best performer with 3.6% gains today.
XRP price chart: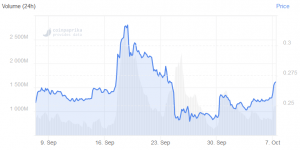 Looking at the top 10 coins by market capitalization over the course of the last week, we find that majority have seen a 2%-7% rise, while bitcoin is almost unchanged.
Just four days ago, as reported, Ripple came out with a host of updates and news, but XRP was trading sideways nonetheless. The price has risen more than 7% since then.
As a matter of fact, looking at the chart for the last week, we can see XRP making a gradual rise starting with October 4th, reaching its highest peak between then and the time of writing on October 7th with a price of USD 0.269 – which is also the level it last saw on September 24th.
The second place on weekly charts is taken by EOS, which appreciated 6.8% in the last seven days. It too, like many other coins, had seen a major drop on September 24th, and has been trading sideways since. The last week has proved greener for EOS, which now trades at c. USD 2.99 and is up by 0.6% in the past 24 hours.
Meanwhile, the Cryptoverse has taken notice of the latest XRP rally, with many discussing possible dumps and/or pumps, while the speculations about an altseason continue.
Trader and analyst Luke Martin, aka Venture Coinist, updated his thread on the progress of XRP, and says that the coin is on its way to 4,000 sats (USD 0.32).
Furthermore, Su Zhu, CEO of Singapore-based investment management firm Three Arrows Capital, thinks that right now "the biggest bull case" for BTC is XRP, adding that in the short to medium term the altcoins with structures that look like XRP and ETH will outperform those that look like EOS and BCH.
And, of course, there were some jokes posted on the Cryptoverse's own expense:
---