XRP Price Prediction – XRP Targets $0.50, Can it Surge to $1?
Disclosure: Crypto is a high-risk asset class. This article is provided for informational purposes and does not constitute investment advice. By using this website, you agree to our terms and conditions. We may utilise affiliate links within our content, and receive commission.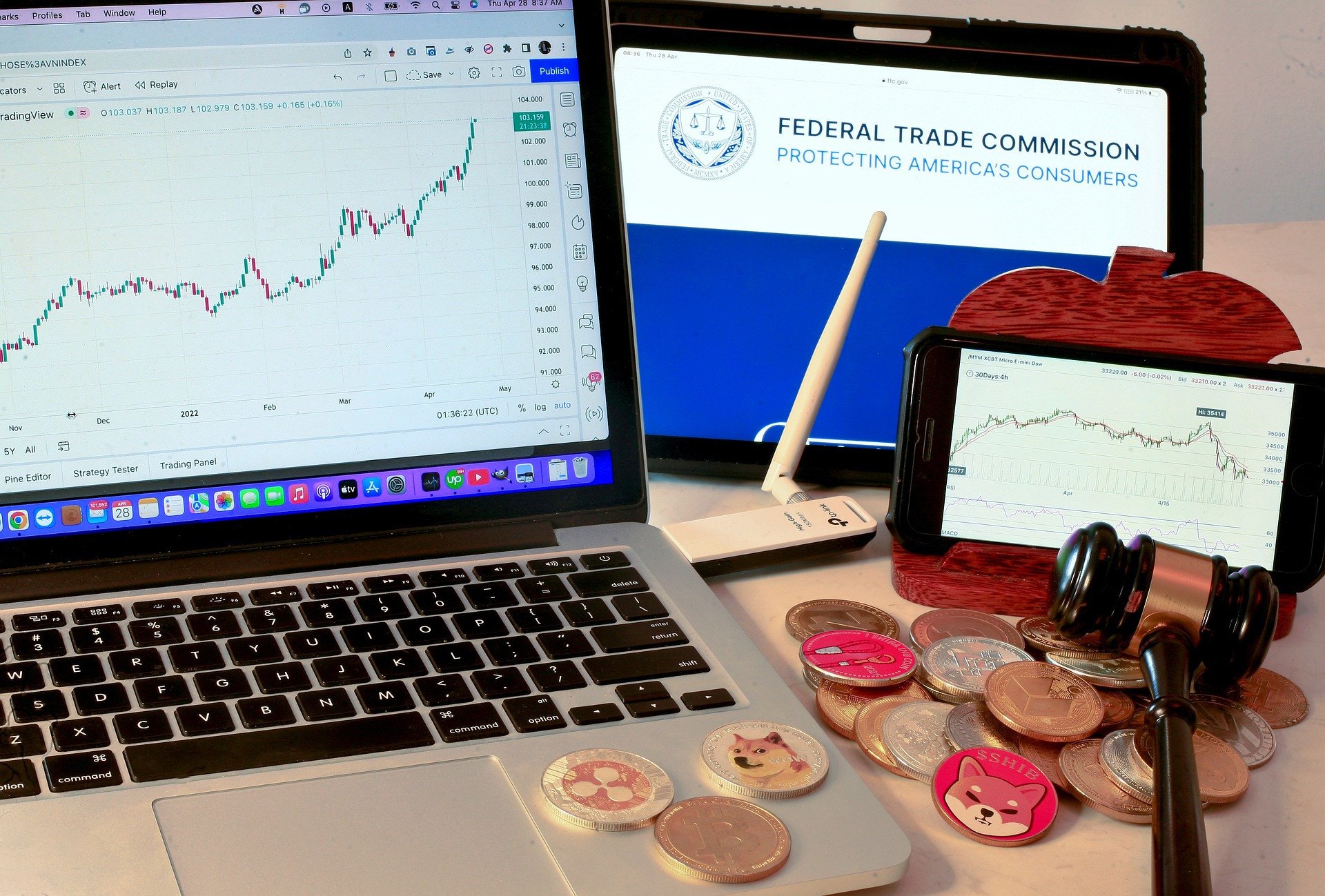 The XRP price has risen by 1.5% today, reaching $0.476671 in the past 24 hours. Its jump comes amid a similar bounce for the market as a whole, yet XRP continues to outpace average rises in the past month, having risen by an impressive 27%.
XRP has been outperforming the market since last month, helped on by positive developments in the legal battle between Ripple and the SEC. However, the fact that it remains 86% below its 2018 ATH (of $3.40) suggests that it still has plenty of room left to rise, and that it could easily surge past $1 in the coming months, especially if the aforementioned case reaches a conclusion.
XRP Price Prediction – XRP Targets $0.50, Can it Surge to $1?
While XRP is up in the past 30 days, it remains down over the year to date, by 42.5%. This, however, is a smaller fall than for the market as a whole, which has seen its total cap plunge by 57.8%.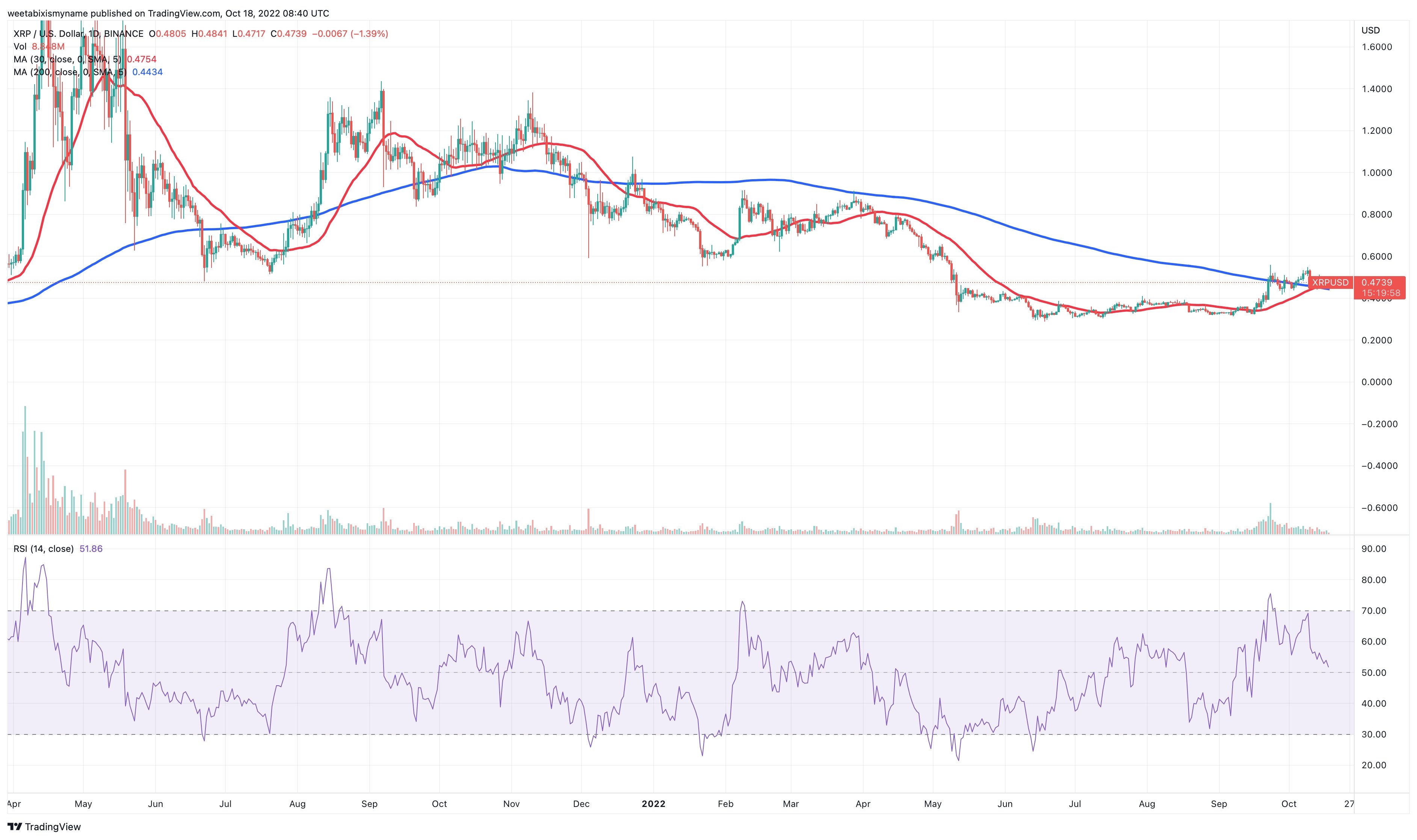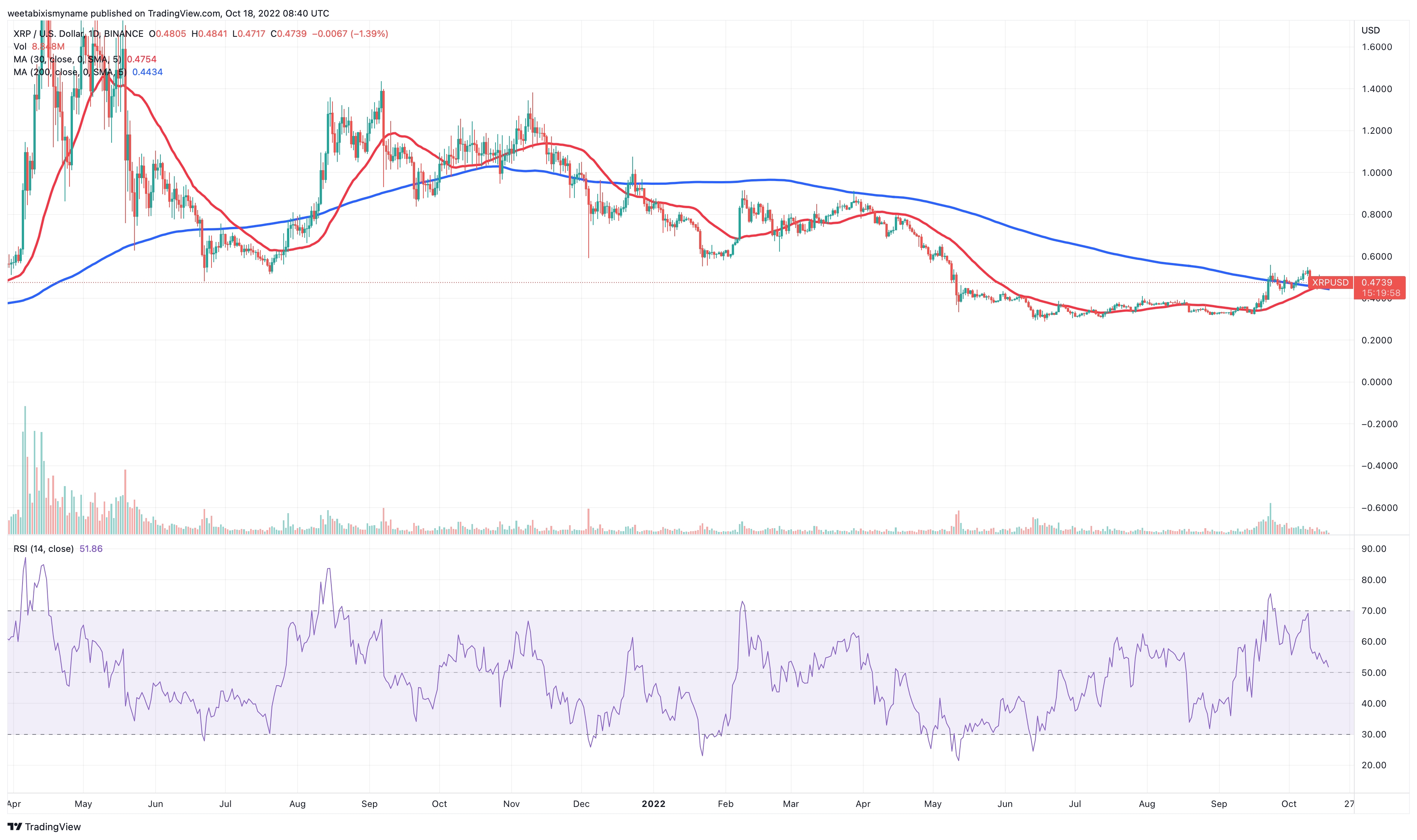 As its chart over the past 12 months reveals, XRP is enjoying good momentum right now, momentum which looks like it still has space to continue.
Its relative strength index (purple) remains above 50, having fallen in the past couple of days as a result of market-wide forces. At the same time, its 30-day moving average (red) has overtaken its 200-day average (blue), signaling a possible breakout to a new level.
XRP's performance at this precise moment in time depends to a large extent on global macroeconomics, which remains subdued. That said, ongoing developments in the Ripple-SEC case provide it with the chance to continue outperforming the market.
Its impressive 30-day gain is largely the product of both Ripple and the SEC submitting motions calling for a summary judgment. This would bring the case to a settlement, without a full trial, and needless to say, it created plenty of market excitement on behalf of XRP.
#XRPCommunity #SECGov v. #RIpple #XRP BREAKING: SEC files Motion for Summary Judgment.https://t.co/uPBRctmiQJ

— James K. Filan 🇺🇸🇮🇪 (@FilanLaw) September 17, 2022
Not only does it look like the case could end in the next few months, but recent rulings and developments also suggest that Ripple has a very good chance of securing a favorable settlement. For example, last week brought permission for Ripple to present a couple of amicus briefs (meaning submissions of evidence from external sources), doing so against the SEC's complaints.
#XRPCommunity #SECGov v. #Ripple #XRP Judge Torres, over the SEC's objection, grants I-Remit's and TapJets' requests to file amicus briefs in support of Ripple. pic.twitter.com/07kyBi7NYj

— James K. Filan 🇺🇸🇮🇪 (@FilanLaw) October 11, 2022
There was also the well-known instance where the court upheld Ripple's ability to use a fair notice defense, whereby it will argue that the SEC did not give it sufficient warning that XRP was liable to be considered a security.
Together, such small victories point to a bigger victory in a few months' time. And given how much XRP has risen up until now, a favorable settlement next year will surely cause it to surge.
How Big a Rise?
The question is, by just how much will XRP rally in the event of a good outcome for Ripple? This depends on the state of the wider market and, by extension, the global economy.
Even with an ongoing bear market, XRP could still rise close to $1. If the court rules that the altcoin is NOT a security, exchanges will re-list it, while Ripple will be more able to expand its network and sign new partnerships (although it has already been doing this to an extent even during the case).
On the other hand, if the cryptocurrency market has entered a more bullish or positive phase around the time Ripple settles, XRP could rise far in excess of $1. Remember that its current ATH was set back in January 2018, implying that it missed out on new highs during the 2020-21 bull market.
Assuming that it does rise to $3.40, this would constitute a gain of more than 600%, a figure that would no doubt outstrip the returns likely to be witnessed by other top-100 cryptocurrencies.
This is likely the best-case scenario, but even a move to $1 would represent a more than 100% gain. Of course, traders will have to wait a while longer yet before they can reap such rewards.
IMPT – Biggest Presale in 2022?
In the meantime, arguably, one of the best options for gaining during a bear market is investing in a newly launched altcoin, via a presale. 2022 has seen successful token sales from the likes of Tamadoge (TAMA) that have led to big returns, and one of the best ongoing sales is currently being held by the Impact Project (IMPT).
📣 LET'S GOOO #IMPT CREW!! 📣

♻️HUGE MILESTONE ACCOMPLISHED!! ♻️

🔥🔥$5 MILLION USD RAISED SO FAR🔥🔥

Hurry! Presale Stage 1 Will Run Out Soon! ⏰

BUY $IMPT NOW! 👉 https://t.co/oD1IG3PF0S pic.twitter.com/qoz8jZVc9x

— IMPT.io (@IMPT_token) October 17, 2022
Based on Ethereum, the Impact Project is a carbon credit marketplace and eco-friendly shopping platform, enabling consumers to earn NFT-based carbon offsets via spending with retailers that partner with green initiatives. Its sale has made native token IMPT available at $0.018, and has so far raised over $5 million.
Given its fundamentals, there's a very good chance that IMPT could rally significantly from its presale price once it lists on exchanges. And it's likely to gain its first listings well before Ripple settles with the SEC.

Visit IMPT Now
---