XRP Price Prediction - Up 1.47% to $0.47, Can It Reach $1? Wall Street Memes Pumps to $500k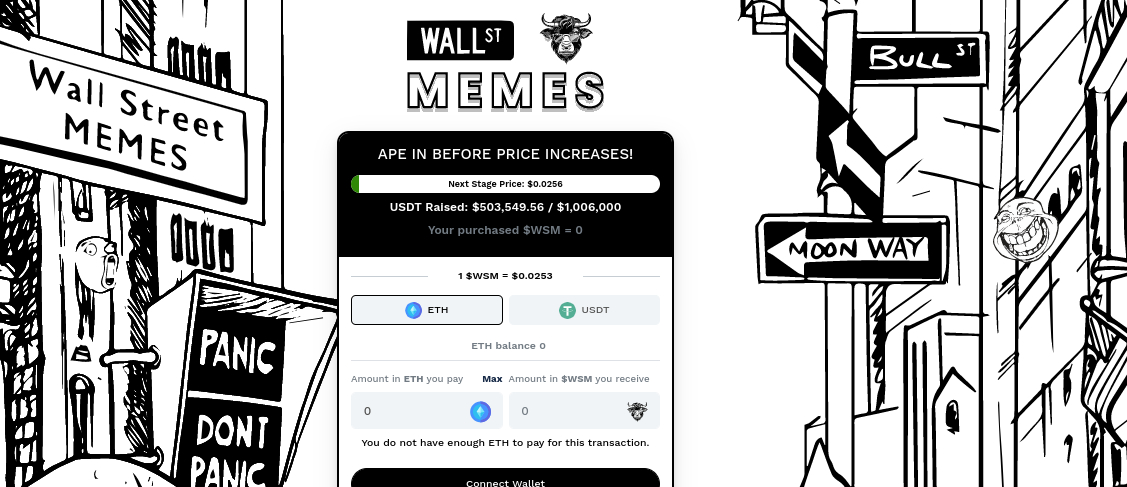 Ripple's XRP is one of the digital assets that has recorded a positive outcome in the crypto market.
So far, the cross-border token has pumped 1.47%, spurring questions on whether it could hit the $1 price peg anytime soon.
Given the time $XRP has spent below the single dollar price point, this can seem far-fetched in the short term.
However, in the event that it gets a favorable ruling in its ongoing legal standoff with the US Securities and Exchange Commission (SEC), $XRP could be on a significant climb to its previous record high.
For now, other promising coins are posting significant profits for investors.
One such is the Wall Street Memes, which debuted less than 72 hours ago.
So far, it has hit $500k in its presale raise, showing tremendous interest in the newly launched project.
XRP's Rally a Reflection of Broader Market Turnaround
The crypto market has been on a bearish streak following a series of macro events beyond its control.
For instance, the US dollar has continued to strengthen its position, which has had an adverse impact on crypto's foremost mover Bitcoin.
In the simplest terms, a strong dollar often leads to a weakening of the BTC price, pushing the emerging industry from a $1.25 trillion market valuation in April and early May 2023 rise to below $1.10 trillion 24 hours earlier.
Now, the crypto market has shown its resilience once more and has retouched the $1.12 trillion, reflecting a 0.76% increase overall.
Bitcoin has rallied 0.88%, but one of the high-achievers in this new segment of the crypto bull run is the $XRP token.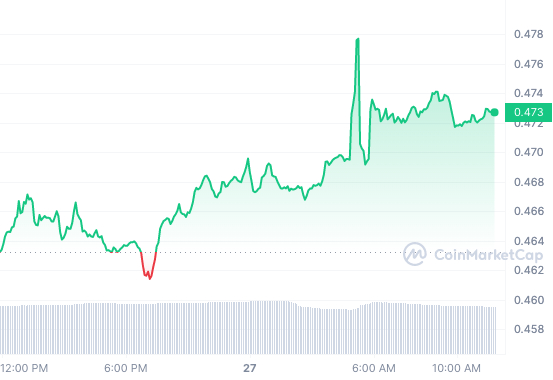 The remittance-focused project has grossed 1.47% in a recovering market and hit a month's high of $0.47.
Its seven-day performance is also in the green zone, with a neat 1.09% recorded so far.
The longer-term prospect shows that $XRP has rallied 2.32% in the last 30 days and 25.03% in the last 90 days. Its bullish streak does not stop here, though, as it has jumped 19.29% in the last 180 days.
The token's year-to-date (YTD) price performance stands at an impressive 39.42% and 20.5% in the last year.
The $XRP asset has been one of the most tenacious coins, given its legal troubles with US authorities.
This bullish rally is a win for the project, as it has weathered numerous legal storms since December 2020 and is still profitable.
On its technical front, $ XRP's 50-day simple moving average (SMA) price is on par with its current price showing a strong short-term base investors can rely on.
However, its 200-day SMA is more bullish, as its price is $0.4149.
On its relative strength index (RSI), $XRsP has a figure of 56.56 and is climbing by the hour, meaning it is slowly rising above the underbought region.
Its moving average convergence divergence (MACD) further accentuates a bullish signal as its blue trendline is leading the charge.
XRP Marching on Despite Legal Issues
In the last two and a half years, the creators of $XRP have continued diversifying the token's and network's use cases.
So far, they have launched a central bank digital currency (CBDC) and are actively exploiting the protocol as a hub for making native non-fungible tokens (NFTs).
Nonetheless, the Ripple team has also looked to consolidate its position in the crypto space, especially in the European landscape.
Accordingly, the remittance and cross-border solution have recently acquired a major stake in Europe's second-largest crypto exchange Bitstamp.
Ripple president Monica Long says the initiative stems from the company's focus on going beyond payments in the long term.
Also, more world governments are turning to the XRPLedger network as the most viable option for cross-border transaction settlement.
One such is the Russian Federation, which recently earmarked $XRP as the best means to send and receive funds from other regions after it was cut off from the SWIFT network following its aggression in Ukraine.
While this might seem contrary to US interest, the XRP network is largely open source meaning anyone can use it for payments.
Nonetheless, a new crypto project is churning the crypto waters following its meteoric rise to fame.
WSM Hits $500k Less Than 72 Hours
The COVID-19 pandemic served as a global reset for many industries. Looking back, the financial landscape has been the most changed, with new sectors getting a new lease on life.
One such is the GameStop fiasco of 2021 which saw retail investors stand up to institutional buyers and buy up shares of struggling companies.
In the end, many investors were able to make millions off this short-term paradigm shift, which led to the creation of the meme stocks and movement.
The Wall Street Memes ($WSM) was created from that event. According to the team behind the decentralized project, WSM is the ultimate expression of the internet's triumph over rampant greed in the world.
The platform features different memes used on social media to depict their emotions and communicate their belief systems.
The WSM community is an existing 1 million strong member base with a track record of selling out their first NFT collection, Wall St Bulls, in 32 minutes in 2021.
This makes it a viral sensation in the meme coin landscape.
Additionally, Twitter founder Elon Musk has been involved with the WSM project, making it a legit meme coin investors should jump into.
Musk's interaction with the project will automatically guarantee it will become the next big thing in the meme space once it launches on a tier-1 exchange like Binance in the coming weeks, just like $PEPE and $SPONGE.
At press time, the project is currently on track for its first round of presale and has already clocked in a significant sum of over $500,000.
Early bird investors can grab the $WSM token at a current presale price of $0.0253 before it climbs to $0.0256.
---