XRP Price Prediction – Can It Hold Overnight Gains And Reach $0.466 Today?
Disclosure: Crypto is a high-risk asset class. This article is provided for informational purposes and does not constitute investment advice. By using this website, you agree to our terms and conditions. We may utilise affiliate links within our content, and receive commission.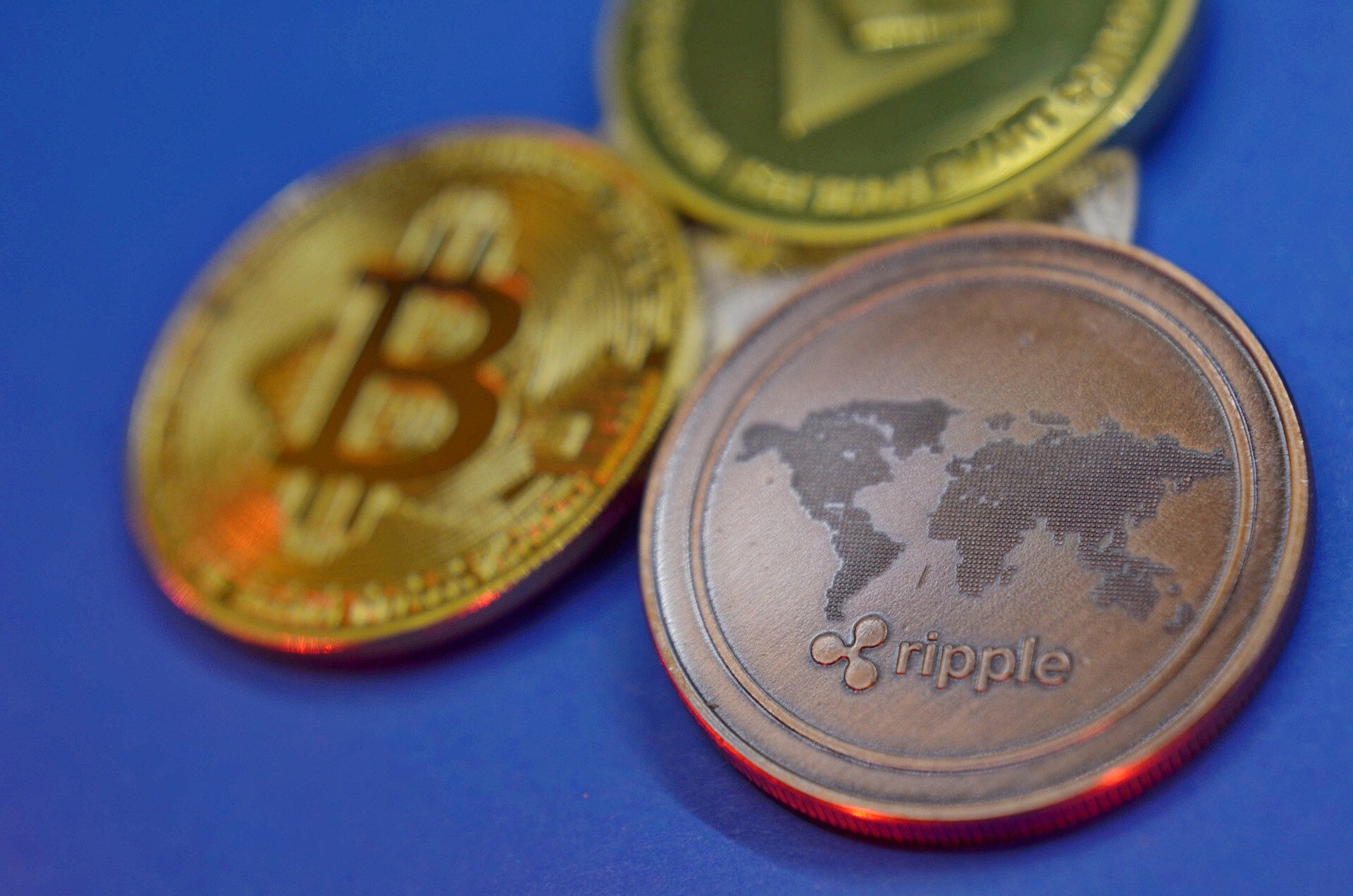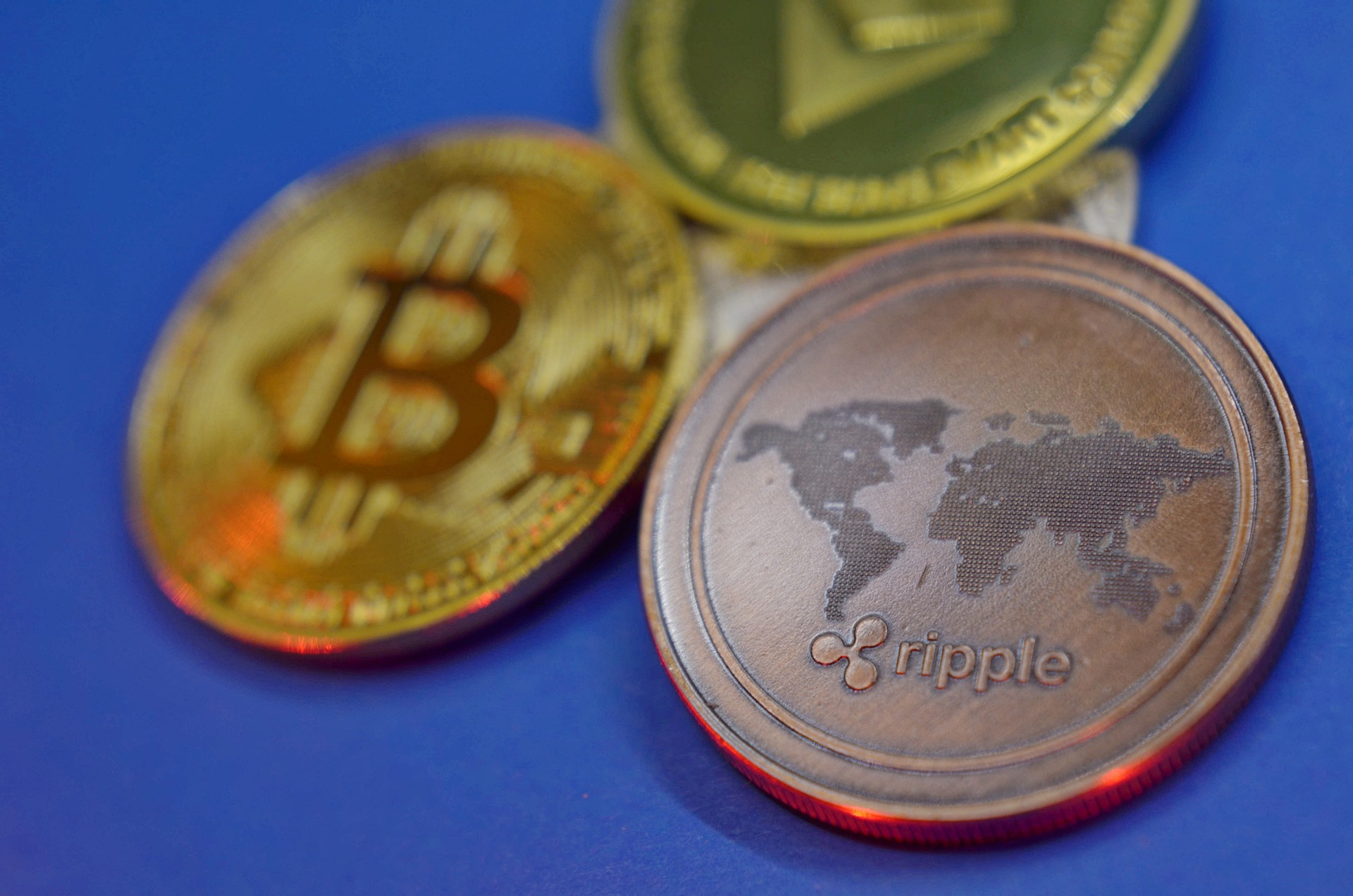 The XRP price has risen by 0.5% in the past 24 hours, reaching $0.456787. This marks a 2.6% decline in a week and a 1.5% gain in a fortnight, as the altcoin's value continues to be pulled in opposite directions by wider market pessimism and positive developments in the ongoing Ripple-SEC case.
Even with its losses in the past few days (which are in keeping with rate hike-caused market declines), XRP remains one of the best-performing top-100 coins of the past 90 days, during which period it has risen by around 20.7%. This medium-term momentum is likely to be continued as the market recovers from yesterday's Federal Reserve-inspired selloff, with XRP on course to regain its seven-day high of $0.479406.
XRP Price Prediction
XRP's technical indicators highlight how the altcoin remains in a good position, with its 30-day moving average (red) still in the process of rising higher above its 200-day average. At the same time, even with yesterday's losses, its relative strength index (purple) is hovering around 50, revealing that it hasn't lost a significant amount of momentum.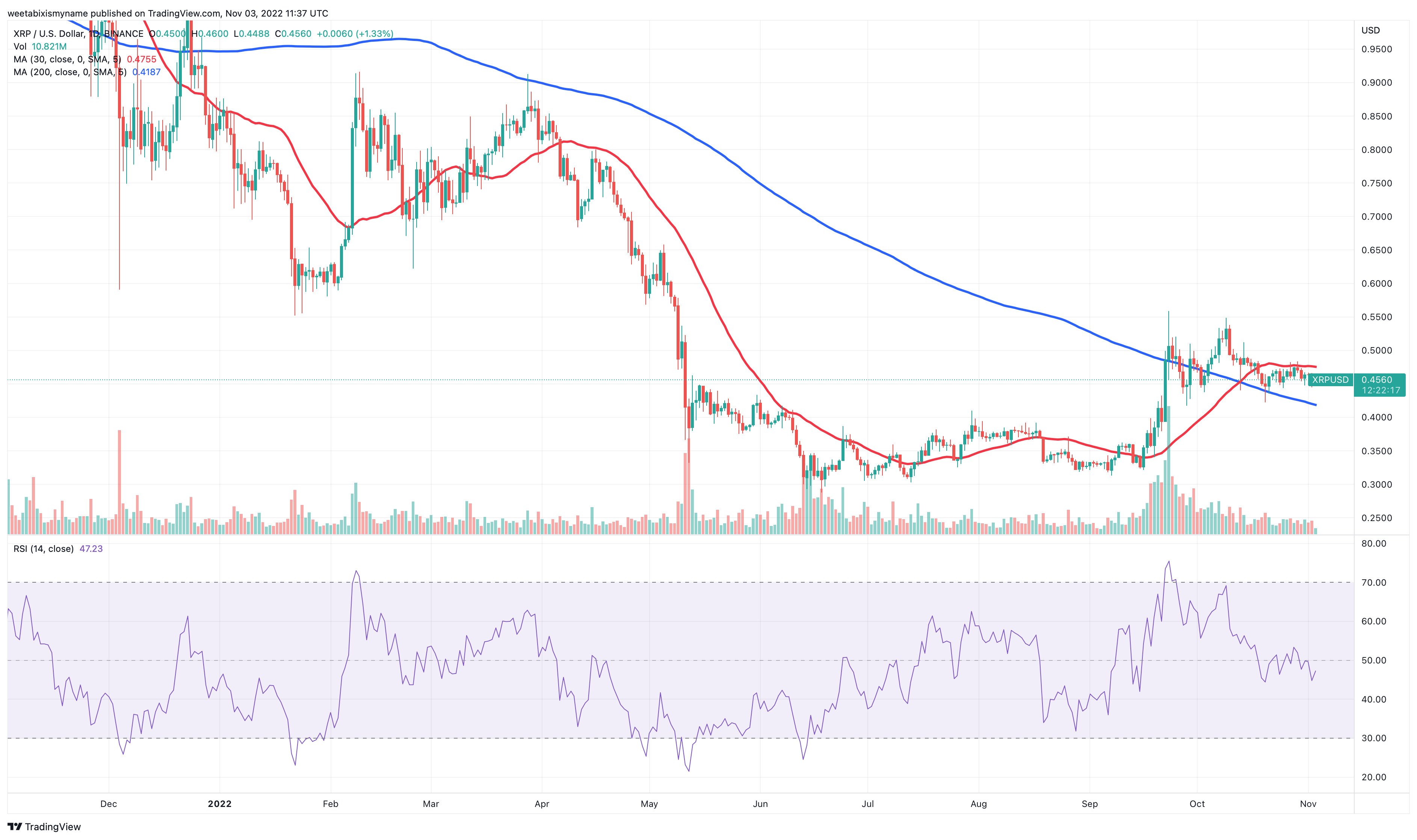 In other words, XRP is well-placed to continue rising again as soon as the market shakes off the Federal Reserve's rate hike from yesterday. Not only does it remain grossly undervalued, but the fact that Ripple's case with the SEC is entering its end phase will continue driving demand.
Indeed, all available evidence suggests that Ripple will secure a favorable settlement in this case. Most recently, Coinbase applied this week to file an amicus brief in support of Ripple and the latter's fair notice defence, something which could boost Ripple's case considerably.
Coinbase.

Amicus Brief.

Well, heck, if you come out in opposition to the SEC here, might as well relist XRP. Don't you think? https://t.co/JMsJbmWYTd

— Jeremy Hogan (@attorneyjeremy1) October 31, 2022
More generally, XRP's fortunes have been improving ever since the middle of September, when both Ripple and the SEC submitted their own separate motions for summary judgment. This means that the case is closer to ending, and that a settlement will be reached sooner rather than later.
#XRPCommunity #SECGov v. #RIpple #XRP BREAKING: SEC files Motion for Summary Judgment.https://t.co/uPBRctmiQJ

— James K. Filan 🇺🇸🇮🇪 (@FilanLaw) September 17, 2022
In terms of just how positive a settlement would be for Ripple, there have been numerous judgments over the past year which suggest it could be decidedly positive. For example, Judge Torres ruled last month that Ripple could present two amicus briefs in support of its case, with this ruling coming against the SEC's objections.
Worth the Wait! XRP owners are heard loud and clear.

Deaton's Amicus Brief does exactly what I was hoping: humanize XRP holders while punching holes in the SEC arguments that Ripple left intact.

Man, now I'm going to have to outline a video tonight. https://t.co/svbaJz9IKQ pic.twitter.com/c3l4THFgPy

— Jeremy Hogan (@attorneyjeremy1) October 31, 2022
Back in March, the court also upheld Ripple's right to use a fair notice defense, which the SEC asked to have dismissed. As a result, Ripple can now present evidence supporting its claim that the regulator failed to give it warning that XRP could be regarded as a security.
Short- and Long-Term Gains
Looking at the short term, there's every chance that XRP could recover in the coming days to reclaim $0.466 and even higher levels. As noted above, its seven-day high is currently $0.479406, so if investor sentiment improves in the wake of the Fed's decision to raise its base rate by 0.75%, there's every chance the altcoin could return to such a price.
As for the long-term game, a positive outcome of the Ripple case could see XRP trouble its current all-time high, which is $3.40. Set back in January 2018, it's arguably below a fair value for XRP, which failed to set a new record high during the 2020-21 bull market, owing to the SEC's legal action.
A recent poll of 55 specialists produced an average prediction that XRP will reach $3.81 by the end of 2025 if Ripple wins its case. This is likely a conservative estimate, with a return to a wider bull market likely to make a higher price more probable.
It's worth recalling that Ripple has been able to continue expanding its network even during the case, strengthening XRP's fundamentals. This suggests that XRP is indeed undervalued, and that a positive settlement will see it surge dramatically.
3 Altcoins Offering Bigger Short-Term Gains
It's likely that some traders may not appreciate having to wait a few more months for the conclusion of Ripple's case. Accordingly, there are a variety of promising new altcoins holding presales right now, with each holding out promise of big gains once they list on exchanges.
Dash 2 Trade (D2T)
Dash 2 Trade is an Ethereum-based trading intelligence platform that provides users with real-time analytics and social data, helping them to make more informed investment decisions. It began its token sale two weeks ago and has now raised more than $4.4 million, while also confirming its first CEX listing on LBank Exchange.
IMPT
Also running on Ethereum, IMPT is developing a carbon credit marketplace, where users can earn NFT-based carbon offsets for shopping with a wide range of eco-friendly retailers.
IMPT's presale has now raised $12 million barely a few weeks after launching. It's likely that investors have been drawn to its innovative use of blockchain in solving the challenges faced by pre-existing carbon offset marketplaces, with the openness of blockchain technology making its marketplace more transparent.

Visit IMPT Now
Calvaria (RIA)
One of the newest presales in crypto, Calvaria (RIA) is a play-to-earn game that lets players earn and battle with NFT-based collectible cards. Interestingly, users can play the game without having to hold any cryptocurrency, something which potentially promises to make it a gateway into blockchain-based gaming for many players.

Its presale has just launched and has raised over $1.2 million, with 1 USDT currently buying you 50 RIA (although prices will rise when the sale moves to its next stage).

Visit Calvaria Now
---