XRP Price Prediction as XRP Pumps Up 12% in 7 Days – $1 Incoming?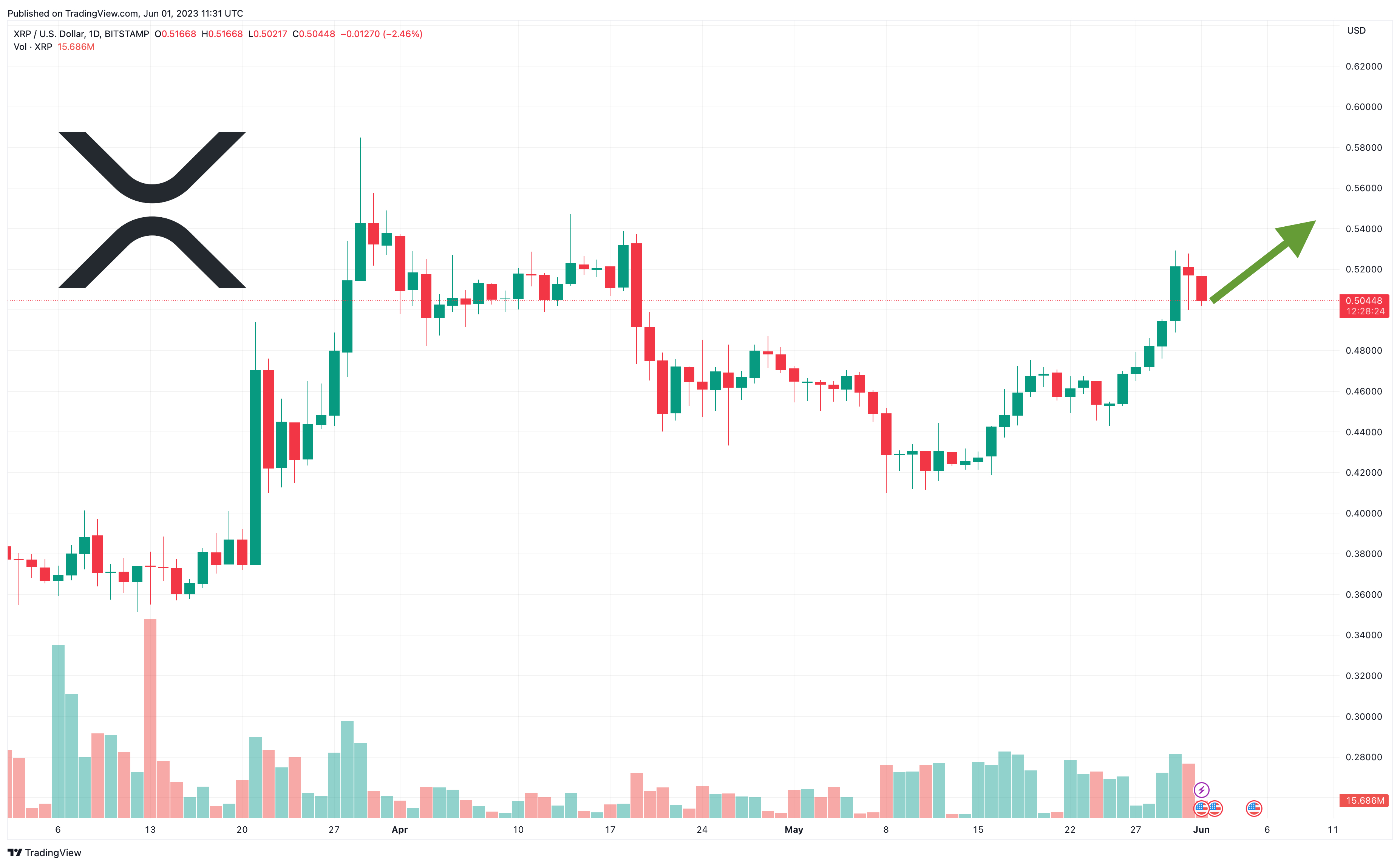 The price of XRP has barely moved in the past 24 hours, although its current level of $0.506955 marks a 12.5% gain in the past seven days.
Increasingly positive sentiment regarding the Ripple-SEC case has enabled XRP to beat the market this week, with the altcoin also up by 48.5% since the beginning of the year.
A number of recent developments in the aforementioned case have led investors to believe that Ripple will be on the receiving end of a positive summary judgment or settlement, with the market beginning to bet that the price of XRP will rocket as a result.
And with a decision expected in the next few months, XRP could end up enjoying the biggest rally of any major cryptocurrency this year.
XRP Price Prediction as XRP Pumps Up 12% in 7 Days – $1 Incoming?
XRP's chart suggests that the altcoin has lost some of the momentum from its rally earlier this week, with its indicators beginning to weaken somewhat.
Its relative strength index (purple) has fallen away from its earlier position above 70 and has slipped towards 50, signaling a loss of momentum.
Likewise, XRP's 30-day moving average (yellow) is now sliding downwards and could be heading towards its 200-day average (blue), potentially forecasting some falls.
However, it's likely that any falls would be relatively minor, given that the coin's support level (green) is holding up well and actually rising slightly.
For this reason, it's tempting to conclude that XRP has consolidating quite firmly around a new higher level, and may stick to $0.5 for the foreseeable future.
And even though its rally of the past may have ebbed a little, it's in an increasingly strong position as far as its fundamentals are concerned.
That's because recent developments suggest that Ripple is now positioned nicely to get a positive result from its long-running case with the SEC.
Most notably, shared documents have revealed that the securities regulator had received legal opinion to the effect that XRP was not a security, something which potentially undermines its case and any claim that it had provided Ripple with fair notice of any likely legal action.
Another positive sign is that Ripple itself has begun behaving in a way that suggests it will secure the kind of decision it wants, with the company acquiring Metaco in the past few weeks and also launching a CBDC platform.
These are the actions of a company that really believes it will be operating normally in the future, with its confidence being picked up by the market and translated into a rising price for XRP.
However, if Ripple does win its case, then XRP is undoubtedly going to rise far beyond its current price.
From roughly $0.5, it could easily hit $1 in a matter of days after a positive outcone, with the following months -- and more bullish market and economic conditions -- bringing its price to $2 or higher.
And given how Ripple has been able to grow its business even under the shadow of its case, the coming years could see XRP become a real rival to Ethereum and Bitcoin as one of the biggest coins in the market.
Hedging Bets with Other High-Growth Alts
Even with all of the above developments, it's still not guaranteed that Ripple will emerge unscathed from its case with the SEC.
Because of this, some investors may be interested in reducing their overall risk and expanding their portfolios with other altcoins.
There are no shortage of promising new altcoins at the moment, with a number of presale tokens also present opportunities for big gains once they're added to exchanges.
One of the most notable of these Wall Street Memes (WSM), a new cryptocurrency associated with the meme stocks movement that emerged out of the 2021 GameStop and AMC rallies.
Launching the presale for its WSM token earlier this week, Wall Street Memes has already raised more than $2.2 million.
This figure points to how quickly WSM could grow once its presale ends in the next few months, as does the fact that the Wall Street Memes Twitter account now has more than 200,000 followers.
With such a big community already on hand, WSM could rally big once it lists, with the presale currently making it available at a discounted price of $0.0262.
This will rise to $0.03370000 by the time the sale reaches its 30th stage, making for an increase of 28.6%, and that's even before any listings.
Investors can get involved in the presale by visiting the official Wall Street Memes website and connecting their crypto wallets, before using either ETH, BNB, USDT or their credit cards to buy WSM.
The meme token will have a total maximum supply of two billion, with 50% allocated to its presale and 30% being reserved for community rewards.
With such a strong emphasis on its community, WSM could easily generate the kind of bottom-up momentum that will provide it with big rallies, possibly making it one of the most successful meme tokens of the year.
---