XRP Price Prediction as XRP Falls 2.3% in 24 Hours – Where is the Next Support?
Disclosure: Crypto is a high-risk asset class. This article is provided for informational purposes and does not constitute investment advice. By using this website, you agree to our terms and conditions. We may utilise affiliate links within our content, and receive commission.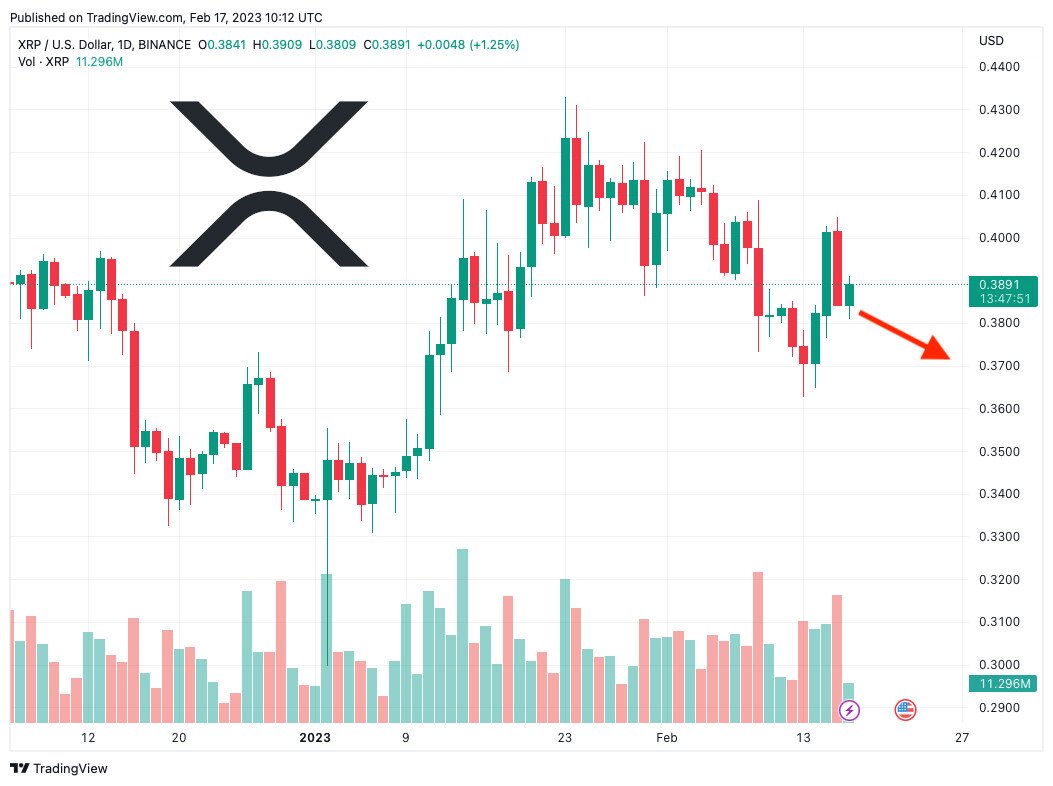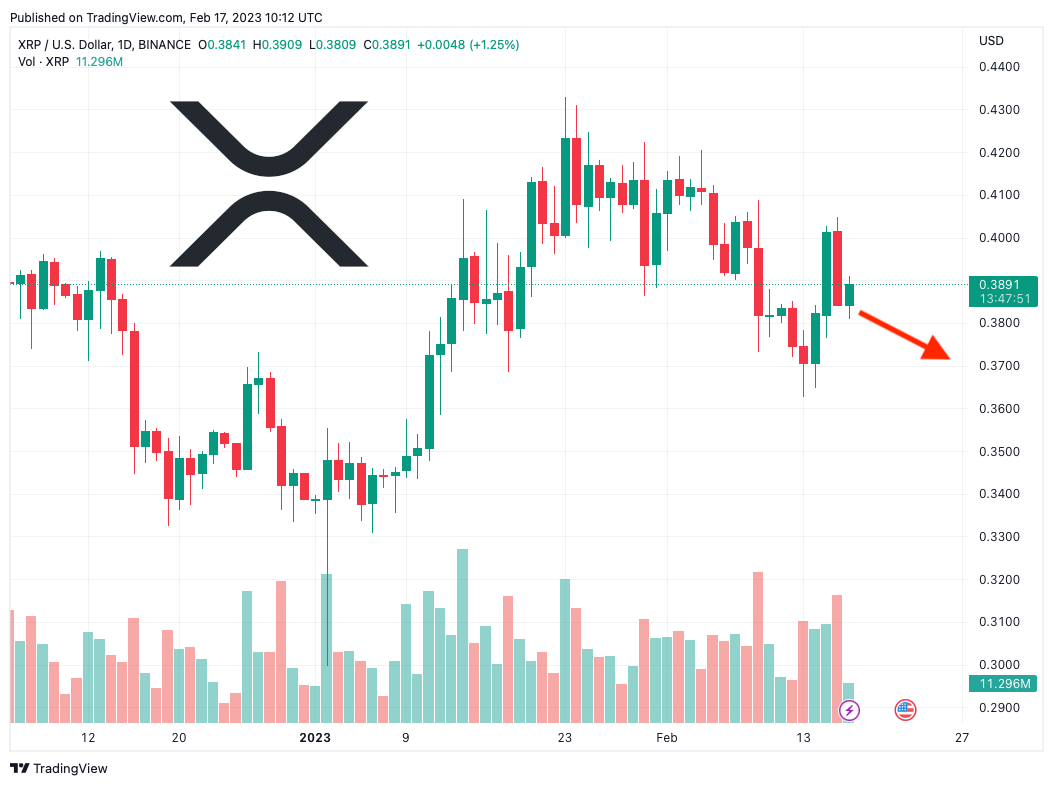 The XRP price has fallen by 3% in the past 24 hours, dropping to $0.387535 amid a marketwide fall today. It has now increased by 1% in a week and dipped by a very slight 0.2% in the last 30 days as the XRP community continues to wait for the conclusion of Ripple's long-running legal battle with the SEC.
It's partly because of the SEC that the market, and XRP, have fallen today, with the securities regulator suing stablecoin issuer Terraform Labs and its (fugitive) CEO Do Kwon yesterday. However, with Ripple's case with the SEC looking good, and with the XRP community urging Coinbase to relist the token, it could have a good 2023 ahead of it.
XRP Price Prediction as XRP Falls 2.3% in 24 Hours – Where is the Next Support?
XRP remains in a dangerous position, with the coin arguably primed for more falls. Its relative strength index (purple) has dropped below 50 in the past day, and could fall further after spending much of January close to 70.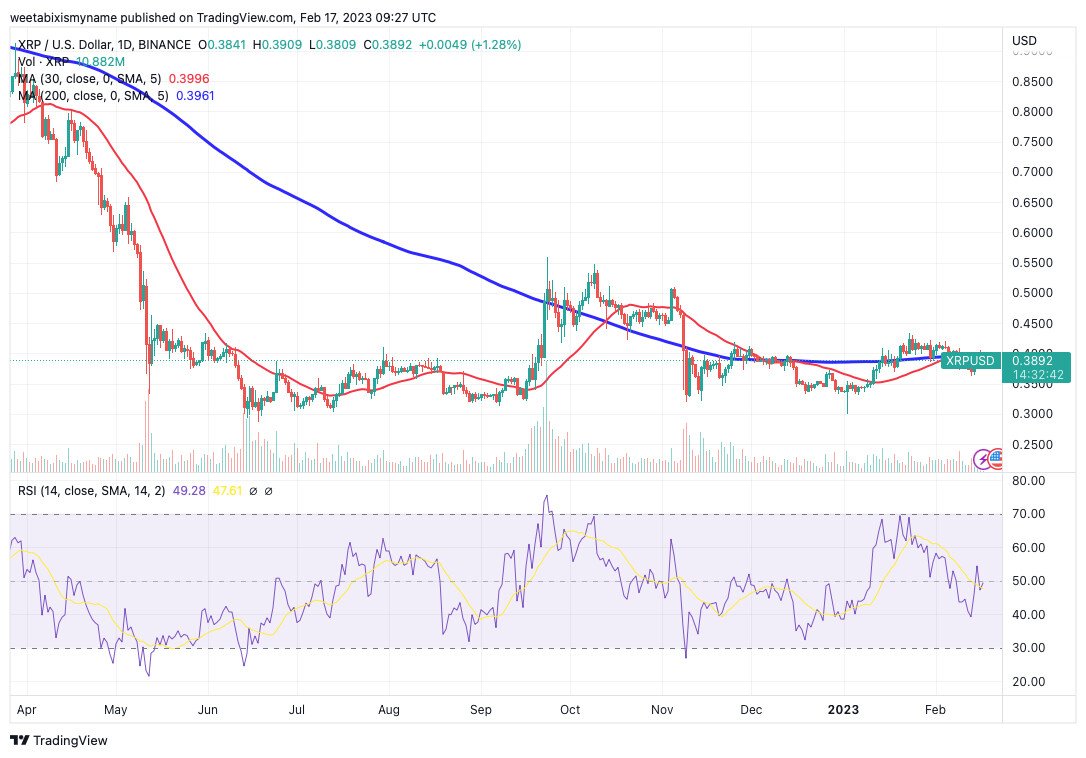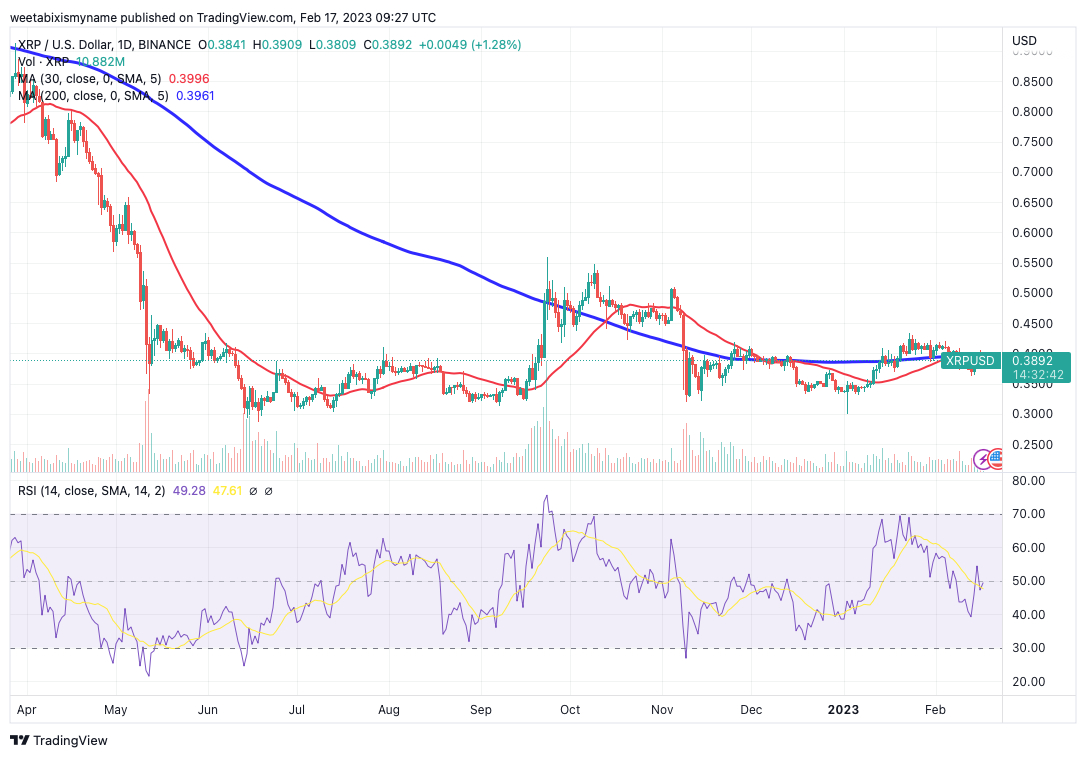 Meanwhile, XRP's 30-day moving average (red) has stopped rising relative to its 200-day (blue), and could therefore be about to drop back down again.
The key support level to watch out, for now, is $0.38. The last time XRP dropped below this price, at the start of this week, it fell all the way down to about $0.36.
XRP has fallen below $0.35 only once this year (at the beginning of January), and this price remains its medium-term support level, one which would be breached only as a result of a serious market downturn.
#XRP continuing the downside as expected | Will give this more time to play out | Lower targets i'm eyeing around $0.35 https://t.co/9WtVxx1n2e

— Cryptoes (@cryptoes_ta) February 13, 2023
As far as the longer-term picture goes, holders are still waiting patiently for the conclusion of Ripple's case against the SEC. This is currently in its end phase, in that pretty much everything has been briefed in the case, leaving Judge Analisa Torres with the task of reaching a judgment.
According to an interview, Ripple CEO Brad Garlinghouse gave last month, the case could end by the first half of 2023, or by the end of the year at the latest. And the expectation among much of the XRP community, is that Ripple has a real chance of securing a judgment that enables it to continue its business.
For one, the court overseeing the case has granted it various favorable rulings over the past year or so. This includes the upholding of its right to present a fair notice defense, and also the granting of access to important documents and emails related to a 2018 speech given by then-SEC Chairman William Hinman, a speech in which he declared that neither Bitcoin nor Ethereum are securities.
On top of this, there's an argument that the SEC hasn't sufficiently established how Ripple developed a 'common enterprise' that would boost the value of XRP, as described in the Howey test. If the SEC is to demonstrate that Ripple sold unregistered securities, it needs to clearly set out what exactly this common enterprise is, yet some have claimed that it hasn't been clear on this.
Ripple has a particularly strong defense on the common enterprise prong of Howey and the SEC has struggled to even assert what is the common enterprise and has changed its position on this issue in the course of the proceeding. SEC has to win on this issue to succeed in the case. https://t.co/h5OTaBlYu2

— bill morgan (@Belisarius2020) January 20, 2023
Assuming that Ripple does end up with a positive judgment, this will undoubtedly cause a big XRP rally. Not only will it be traded massively on exchanges that already list it, but platforms that delisted in December 2020 (when the SEC sued Ripple) will relist.
This includes Coinbase, which has the subject of speculation over the past couple of days, after it was noticed that it the exchange had performed maintenance on XRP transfers (despite not offering such transfers at this time).
Just received that email from Coinbase $XRP pic.twitter.com/sQFci4QlzV

— vitrage.eth (@moon_unchained) February 14, 2023
It was in part because of such maintenance that the #RelistXRP hashtag went viral on Twitter, with the coin's supporters urging Coinbase to reintroduce XRP trading, which would provide a windfall for Coinbase as well as boost XRP.
Hey @coinbase and @brian_armstrong, I got a GREAT IDEA! Ready?

RELIST #XRP… people will go absolutely NUTS and will buy the shit out of it. You'll be heroes and instantly collect MILLIONS in exchange fees.

THEN use that money to fight the SEC on the staking thing.

VOILA!

— XRPP (@XRP_Productions) February 10, 2023
Despite delisting XRP (for legal reasons), Coinbase does appear to have remained generally supportive of Ripple's position. It submitted an amicus brief in support of Ripple back in November, indicating that it largely sides with the company and would prefer to relist XRP, provided it becomes legally safe to do so.
And if Coinbase does reslist XRP, the latter will reach new levels for this year, especially if this is joined with a good judgment for Ripple. The market could see XRP return to $0.5 within a matter of days of such a judgment and/or relisting, while the longer term will bring a return to $1, before the altcoin advanced towards its record high of $3.40 in the event of a new bull market.
It's also worth pointing out that, on a fundamental level, XRP remains a strong coin. This was highlighted a few weeks ago, when Ripple published its Q4 2022 XRP Markets Report, revealing that it had processed $226.31 million in net XRP sales in that quarter alone.
This was despite its case with the SEC, suggesting that the end of this case will cause Ripple's business to boom. And with it, so to will XRP's price.
Best Alternatives to XRP
While XRP is due a very big rally at some point in the not-too distant future, this isn't likely to arrive for several months. As such, if you're looking for other high-potential crypto projects alongside XRP, we've reviewed the top 15 cryptocurrencies for 2023, as analyzed by the CryptoNews Industry Talk team.

The list is updated weekly with new altcoins and ICO projects.
Disclaimer: The Industry Talk section features insights by crypto industry players and is not a part of the editorial content of Cryptonews.com.
---