XRP Price Prediction as XRP Falls to $0.50 Support Level – Time to Buy the Dip?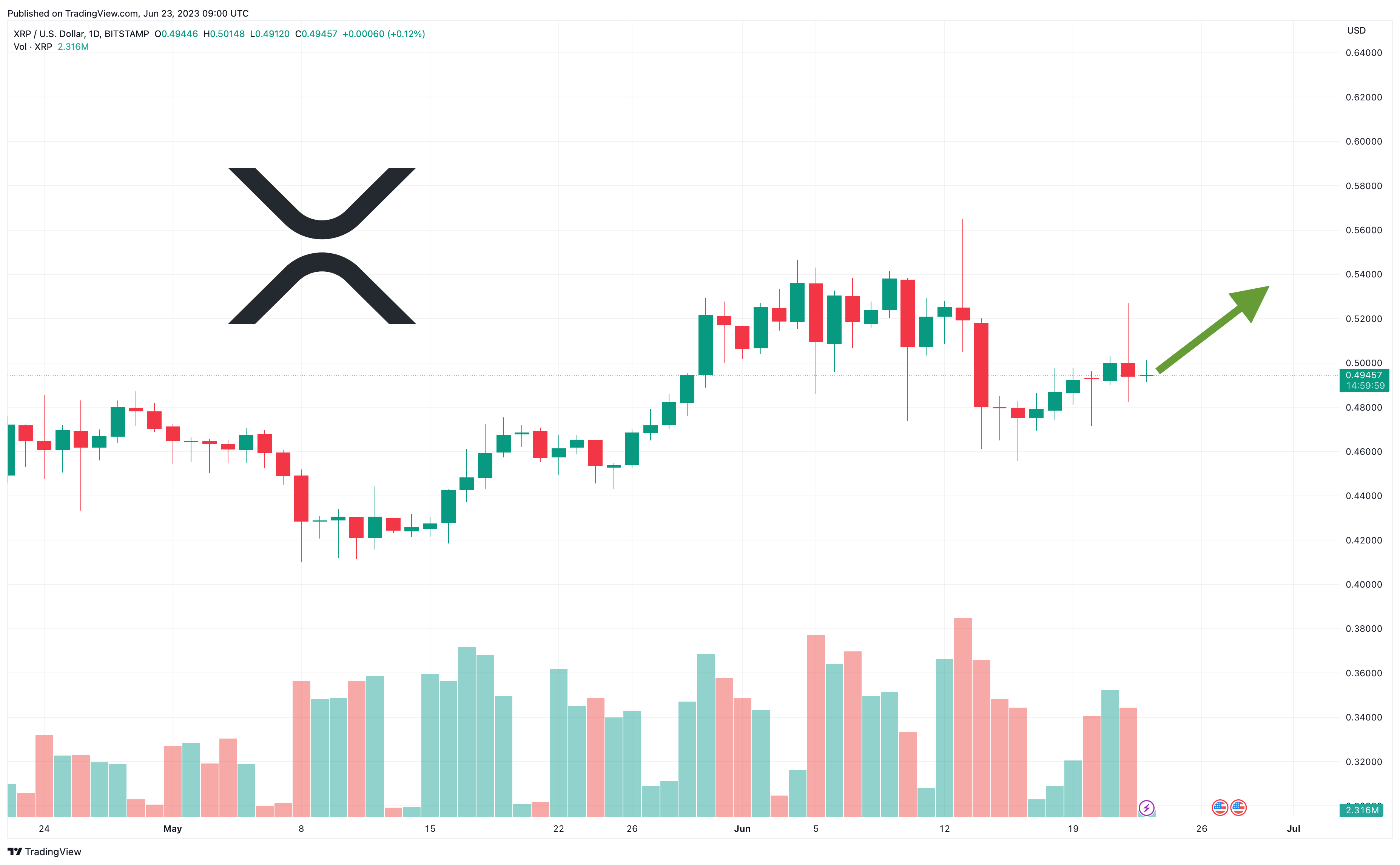 The XRP price has dropped by 3.5% in the past 24 hours, with its fall to $0.493229 coming as the cryptocurrency market as a whole suffers a 1% dip.
XRP's dive below the $0.50 support level means that it has risen by 3% in a week and by 7% in the last 30 days, with the altcoin also up by 51% in the past 12 months.
Given that it appears to be on a long-term upwards trajectory, today's correction, therefore, provides an excellent opportunity for traders to buy it at a relevant discount.
Because if and when Ripple receives a positive judgment in its case with the SEC, there's no question that XRP would rally substantially.
XRP Price Prediction as XRP Falls to $0.50 Support Level – Time to Buy the Dip?
Even with today's fall, XRP's technicals remain in a promising position, with the coin potentially poised to resume rising once its current little correction has played out.
In particular, its 30-day moving average (yellow) is about to overtake its 200-day average (blue), forming a golden cross that can signal an incoming breakout.
On the other hand, XRP's relative strength index (purple) is hovering around the 50 level, although this is a position from which it could easily begin climbing upwards again.
Supporting the view that XRP is likelier to rise is the fact that its support level (green) is now ascending, providing it with a higher base from which it can mount further gains.
And even though XRP has slipped today, its overall picture remains largely positive, given the current status of Ripple's case with the SEC.
This case is likely to end in the coming weeks, with Ripple CEO Brad Garlinghouse posting a video on Twitter last week which appeared to suggest that its conclusion was imminent.
More importantly, recent developments suggest that Ripple has a very good chance of securing a judgment or settlement which will work in its favor, enabling it to continue operating its business as before and also enabling XRP to be listed on exchanges.
For example, the release of the Hinman emails roughly a week ago revealed that the SEC itself was not clear on where US securities law stands in relation to cryptocurrencies, something which supports Ripple's argument that it didn't receive fair notice of legal action.
Because of this, it's credible to believe that Ripple may get the kind of outcome it wants, as suggested by other positive developments in the case, such as the fact that the court excluded one of the SEC's expert witnesses.
If so, XRP is going to have one of the biggest rallies of the year, with the coin potentially racing back to $1 in the weeks following a decision.
Diversifying with New Altcoins
As positive as the recent noises about Ripple have been, there's still no guarantee of a good outcome in its case, which may also still take several months to arrive (despite Garlinghouse's recent statements).
For this reason, traders looking for earlier gains may be advised to diversify their portfolios into newer altcoins, particularly those that are currently holding their presale and are due to list on exchanges in the next few weeks.
One of the best new cryptocurrencies fitting into this category is yPredict.ai, a Polygon-based platform that will use AI and advanced algorithms to provide users with various trading tools.
It launched the presale for its native YPRED token a few weeks ago, and has impressively raised more than $2.5 million.
The platform also recently launched its first AI-powered predictive trading model, reporting a surge in requests from traders to use the algorithm.
Over the coming months, it will continue to expand its range of AI-based prediction tools, which will be made available through yPredict's own marketplace, enabling developers of forecasting and analytical models to sell their services directly to traders.
The native YPRED token will be used to pay for subscriptions to such models, as well as for staking purposes and for gaining access to the platform's analytics.
This means that, in a market flooded with meme tokens with few or no fundamentals, YPRED will have an actual use case, something which means it should grow in price in parallel with the growing use of yPredict.ai's ecosystem.
Investors can participate in the presale for YPRED by going to the official yPredict.ai website, with 1 YPRED token currently costing $0.09.
This will rise to $0.12 by the time the sale ends, but once YPRED lists on exchanges, its fundamentals could easily push it up much higher.
Disclaimer: The Industry Talk section features insights by crypto industry players and is not a part of the editorial content of Cryptonews.com.
---