XRP Price Prediction as XRP Drops 3.4% in 24 Hours – Is $0.50 the Next Target?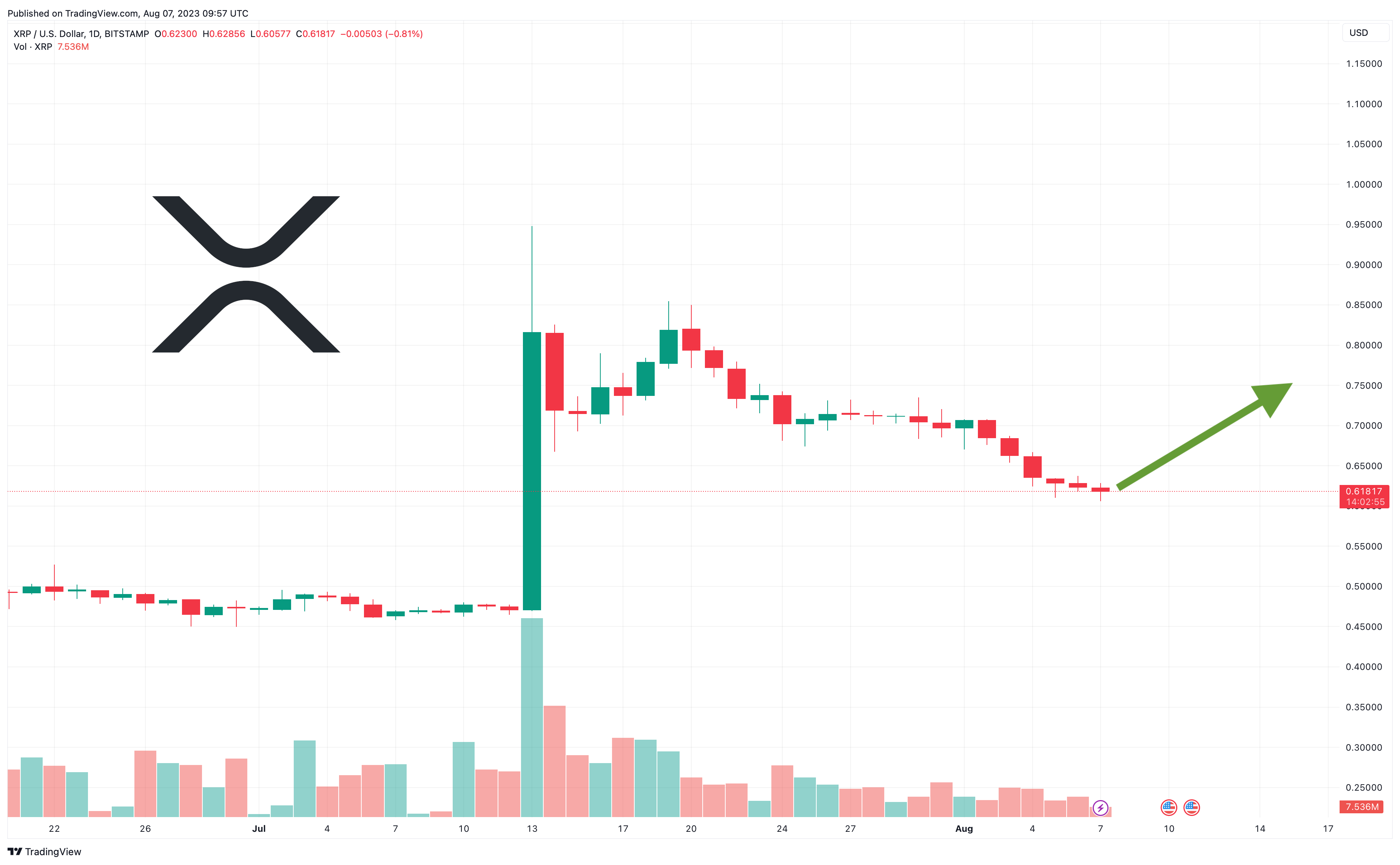 The XRP price has fallen by as much as 3.4% in the past 24 hours, with its drop to $0.615960 coming as the cryptocurrency market barely moves today.
XRP is now down by 12% in the last seven days but up by 31% in the past month, with the altcoin also having risen by 81% since the beginning of the year.
As strong as these gains, XRP is actually down by 27% since Ripple received a ruling in its case with the SEC, with the market's initial positivity becoming more negative recent weeks in response to Coinbase's unfolding case with the securities regulator.
Yet XRP remains in a strong position fundamentally, with Ripple announcing a few new partnerships in the past couple of weeks, highlighting how quickly it could grow over the coming months and years.
XRP Price Prediction as XRP Drops 3.4% in 24 Hours – Is $0.50 the Next Target?
XRP is currently in bad shape in terms of its technical indicators, with its 30-day moving average (yellow) forming a 'death cross' with its 200-day average (blue) today, signaling the possibility of further big losses to come.
At the same time, XRP's relative strength index (purple) has dropped just below 30, indicating a substantial loss of momentum and a real push among traders to offload the token.
Things are made to look worse by XRP's support level (green), which has declined continuously since the altcoin's surge in mid-July.
This could mean that the cryptocurrency may be unable to defend against further losses in the near future, with a drop below $0.60 entirely conceivable at the moment.
However, given that XRP's RSI has dropped below 30, it's entirely arguable that it has bottomed out and that it should be in line to rebound again soon.
Part of the reason why XRP has suffered in the past couple of weeks is that, despite Ripple's partial victory against the SEC in July, market sentiment has been dragged down by ongoing legal battles against Coinbase and Binance.
The Coinbase case in particular seems to have soured the market, with CEO Brian Armstrong revealing that the regulator asked the exchange to delist every cryptocurrency except from Bitcoin.
On top of this, commentators have noted that Coinbase has put forward a fairly weak defense so far, with the exchange apparently arguing that cryptocurrencies should be regarded as digital collectibles.
This has potentially cancelled out any positivity that emerged after Ripple's riling, with XRP struggling in the past few weeks.
Having said that, Ripple has signed a couple of important partnerships during this time, including a stabelcoin trial with the Republic of Palau.
Last week also brought the news that the Bank of England has studied using XRPLedger for the settlement of inter-bank transfers and payments.
As such, XRP can be expected to recover over time, with the altcoin likely to return to $0.70 in the next few months, and potentially rising to $0.80 or $0.90 by the end of the year.
An ERC-20 Alternative to XRP
While traders are waiting for XRP to recover, some may be tempted to look towards a new altcoin that offers an Ethereum-based version of the token, one designed to offer holders the opportunity to earn income from staking.
This is XRP20, a new altcoin that has already raised close to $1 million in its presale, which began only last week.
Not only does XRP20 offer a version of XRP that's open to staking, but its presale has also priced it at $0.000092, which was a level XRP attained all the way back in 2014.
In other words, it's offering investors the chance to make up for the fact that many of them may have missed the original XRP the first time around.
XRP20 will have a total maximum supply of 100,000,000,000, with 40 billion allocated to the presale and another 40 billion being reserved for staking rewards.
Another attractive feature of XRP20 is that 10% of its total supply will be burned over time, with 0.1% of every transaction also being burned.
This means XRP20 will be a deflationary token, helping to boost its price over the longer term.
New investors can join the sale by visiting XRP20's official website and connecting their software wallets, while using ETH, USDT or fiat currency to buy the token.
Disclaimer: Crypto is a high-risk asset class. This article is provided for informational purposes and does not constitute investment advice. You could lose all of your capital.
---