XRP Price Prediction as XRP Becomes Best Performing Crypto Over the Last 7 Days – Is a New Bull Market Starting?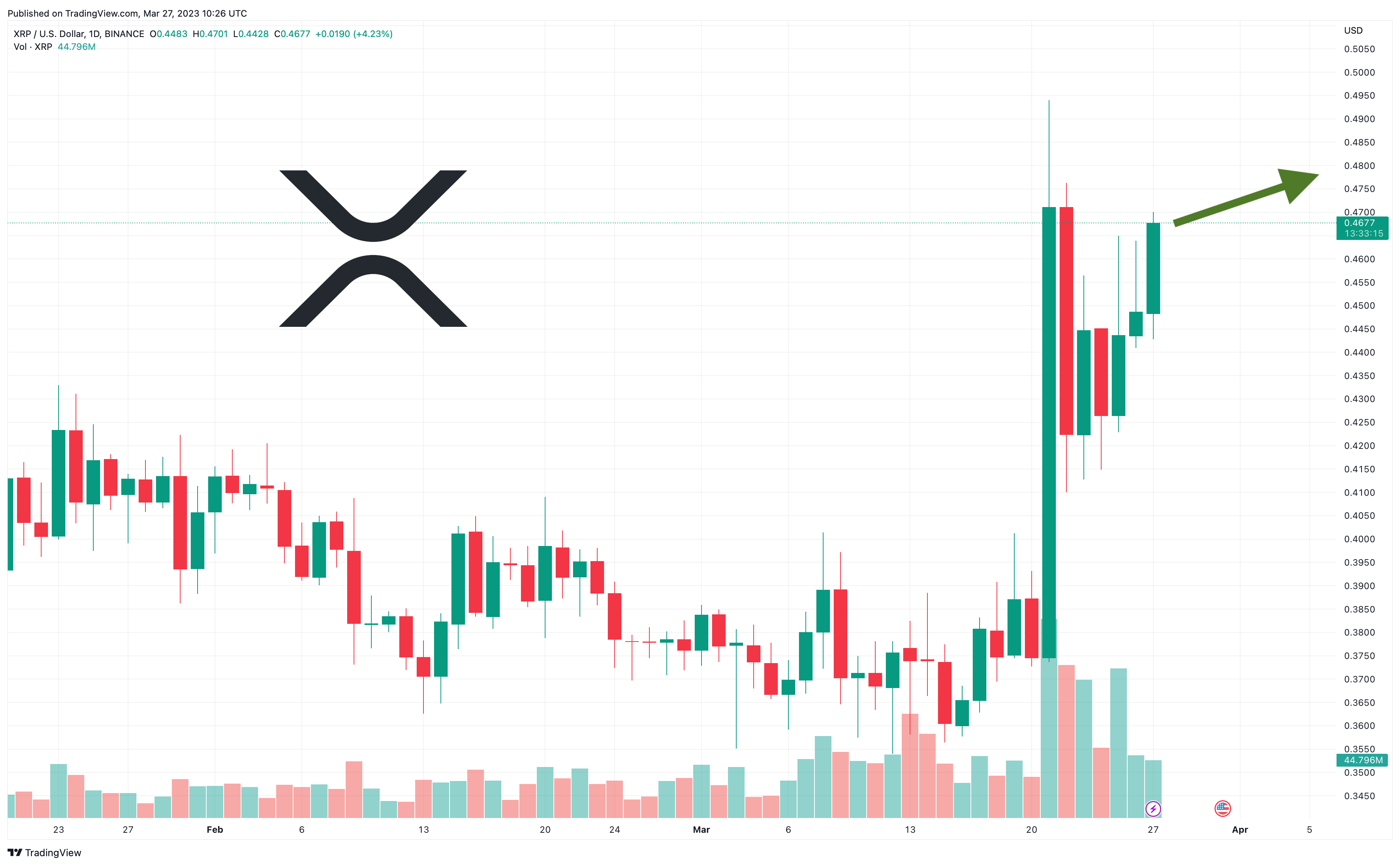 The XRP price has gained by 1% in the past 24 hours, with its move to $0.468157 making it the best-performing top-100 cryptocurrency within the past week.
XRP's price has increased by an impressive 20% in the last seven days, as well as by 25% in the past fortnight, as the market comes to increasingly expect a positive resolution to the Ripple-SEC case.
With XRP's 24-hour trading volume still elevated at just over $1.5 billion, it does indeed seem that interest in the coin remains very high, pointing to further gains in the near future.
This will certainly be the case if Ripple does indeed secure a positive outcome in its case, something which could send XRP beyond $1 and on course to recover its all-time high from 2018.
XRP Price Prediction as XRP Becomes Best Performing Crypto Over the Last 7 Days – Is a New Bull Market Starting?
XRP's chart shows that it has plenty of momentum right now, yet encouragingly its technical indicators suggest that it can still rise further before becoming overbought.
Its relative strength index (purple) has begun rising again after dropping to 60 a couple of days ago, suggesting that another surge is in the works.
At the same time, XRP's 30-day moving average (red) has begun climbing towards its 200-day average (blue), with a crossover likely to signal further movements upwards.
In terms of resistance levels, it's likely that XRP could be in for a more sustained rally if it breaks the $0.475 level and stays above it.
Regardless, there's little doubt that XRP will rise far beyond such a price if and when Ripple receives a favorable settlement or judgment in its case with the SEC.
A decision is likely due in the next few months, although certain high-profile observers of -- and participants in -- the case have even suggested that its conclusion could arrive as soon as this week.
At the very least, Ripple CEO Brad Garlinghouse has said on numerous occasions recently that he expects an end to the case this year and perhaps by the summer.
Most importantly, there remains a very credible chance of Ripple winning, in light of all the positive decisions and rulings in its favor it has been able to secure.
This includes the upholding of Ripple's motion to exclude one of the SEC's key expert witnesses, who had been called upon by the regulator to testify that XRP buyers had had a reasonable expectation of profit.
Other positive decisions include Ripple's winning of access to important SEC emails related to a 2018 speech on whether cryptocurrencies are securities, and also the upholding of the company's right to use a fair notice defense.
Such developments have all helped to create optimism within the XRP and wider cryptocurrency community, with many people expecting a decision soon.
And if this decision is positive, XRP's rally of the past week will probably seem like small potatoes.
Having said all this, it needs to be pointed out that whales appear to be moving XRP to exchanges at the moment, as indicated by three whale alerts within the past 24 hours.
Because of this, we may actually see a dip in the short term, at least before a decision arrives in the case.
However, the longer-term picture looks much more positive, with a Ripple victory enabling the company to expand its business on a large scale.
Even with the case casting a shadow over this business for the past couple of years, XRP Ledger accounts have now risen to almost five million, up from two million back in February 2020.
In addition, Ripple's latest financial report showed net sales of $226.31 million in the fourth quarter of 2022, with the company expanding its cross-border payments solution into France, Sweden and Africa in the same period.
This growth points to how much Ripple could prosper if it wins its case, while it also points to how much XRP could rise in price.
It's arguably safe to say that it will sooner or later beat its all-time high of $3.40 in the event of a victory, while some bullish analysts have predicted double figures before the year ends.
Is Now a Good Time to Buy XRP?
Given the gains of its past few days, XRP may potentially witness a little correction in the short term, although its indicators still look good.
As for the longer term, it may still take several months for a decision in the Ripple-SEC case to emerge, meaning that traders looking for big gains may prefer to look at other high-potential coins at the moment.
To this end, the Cryptonews Industry Talk team has assembled a selection of the top 15 cryptocurrencies to keep an eye on in 2023.

The list is updated weekly with new altcoins and ICO projects.
Disclaimer: The Industry Talk section features insights by crypto industry players and is not a part of the editorial content of Cryptonews.com.
---