XRP Price Prediction as XRP Approaches $0.50 Key Level – What Happens Next?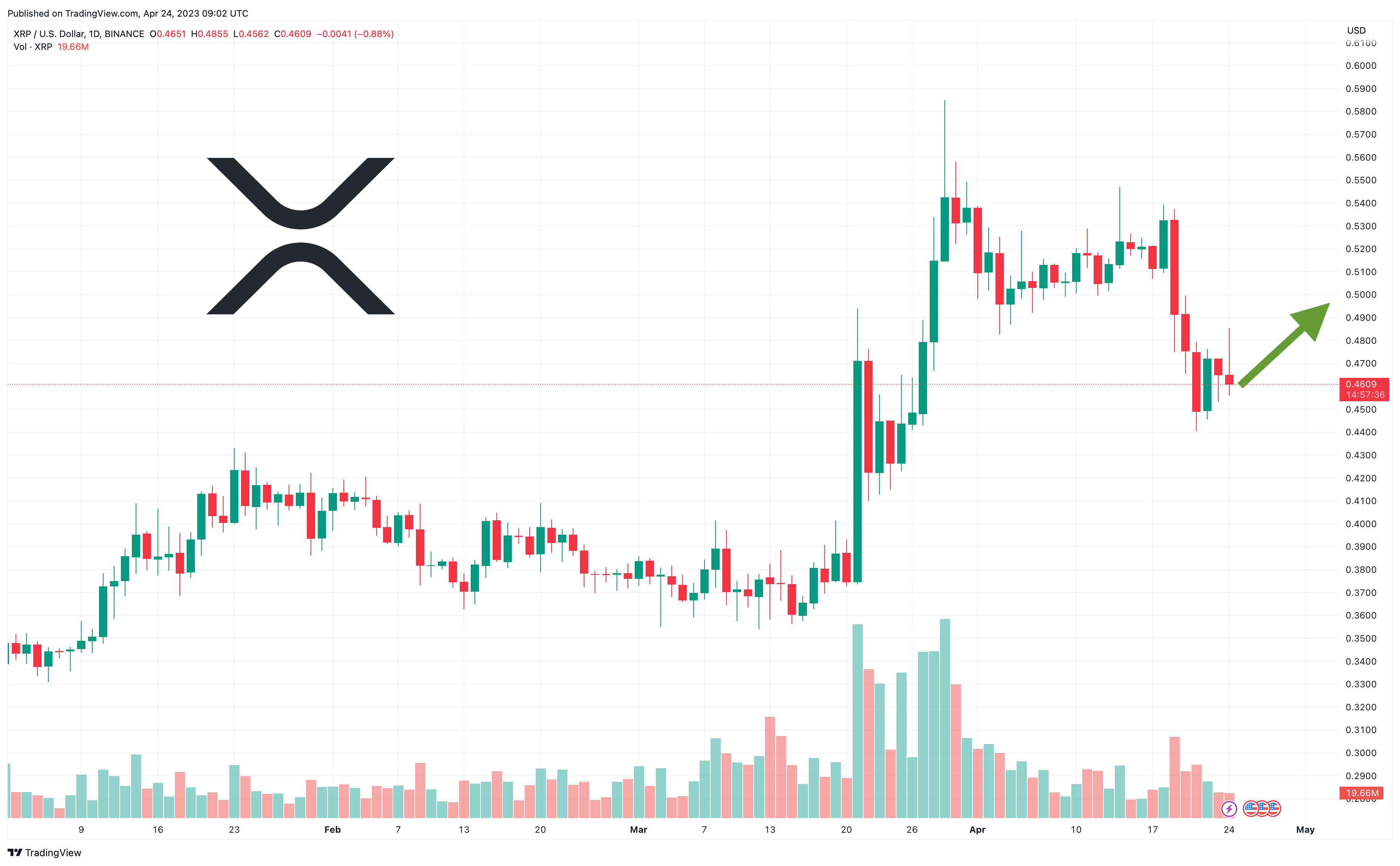 The XRP price has dropped by 2% in the past 24 hours, falling to $0.462049 in the wake of the cryptocurrency market's correction in the latter half of last week.
The altcoin's current price means it has fallen by 11% in a week, although it remains up by 8% in the last 30 days and by 35% since the start of 2023.
The coin has also actually recovered by 4% since falling to a seven-day low of $0.44383 on Friday, and with it regaining some momentum after being oversold, it could potentially retake the $0.50 level this week.
Such a move would be helped by the Ripple-SEC case, which is expected to end in the coming weeks, possibly bringing a positive enough settlement or summary judgment to send XRP surging.
XRP Price Prediction as XRP Approaches $0.50 Key Level – What Happens Next?
XRP's chart continues to suggest that the coin has a little bit more pain left in store before it can bottom out and begin rising again.
Its relative strength index (purple) has dropped further below 50 and continues to slide, suggesting that XRP will continue to fall in price as the RSI declines closer to 30.
Likewise, XRP's 30-day moving average (yellow) still hasn't plunged below its 200-day average (blue), implying that the coin still has a few days or weeks to go before the current correction ends.
On the other hand, one might be tempted to argue that the still-high 30-day average signals the continuation of positive momentum, which may help XRP to recover from its dip sooner rather than later.
However, a counterargument to this is that XRP has fallen through a number of support levels in the previous few days, and could also breach its current $0.46 level, something which may portend further drops.
Based on whale alerts, it seems that large investors are still moving XRP to exchanges, implying that further falls may be on the cards.
Regardless, XRP continues to move towards the light at the end of its tunnel, which in its case is the aforementioned Ripple-SEC case.
Lawyer John E. Deaton recently went on record as predicting that the case could end by May 6, while all major pieces of evidence have indeed been submitted, supporting his belief that the end may be imminent.
Several experts observing the case have taken the view that Ripple has a good chance of winning, with attorney Jeremy Hogan arguing that the SEC has failed to prove a major plank of its case, which is that XRP buyers entered into an investment contract with Ripple.
Assuming that this analysis is accurate, this puts Ripple in a very good position as far as securing a positive outcome goes, one which will enable it to continue its business and also enable exchanges to list XRP.
If so, XRP will undoubtedly experience one of the biggest rallies in its history.
It would likely rise back up to $1 or higher in the weeks following the case's conclusion, with a wider bull market helping it to overtake its current all-time high of $3.40.
And given that this ATH was set way back in January 2018, there's no doubt that XRP has plenty of lost time to make up for.
DeeLance Is A High-Potential Alternative
Despite this optimism, the Ripple community may have to wait several weeks or months for a decision, meaning that traders looking for big gains in the shorter term may be better off investing in other high-potential tokens.
Among the most promising new altcoins are a variety of presale tokens, with DeeLance (DLANCE) being a prime example
DeeLance is an Ethereum-based decentralized marketplace for remote work in the Web3 sector, one which helps to connect freelancers and businesses in a more seamless way than ever before, while also helping freelancers earn more from remote work.
It launched the presale for its DLANCE token several weeks ago, and has now raised more than $400,000.
DeeLance's remote work platform offers several original features that haven't been seen in other similar platforms to date.
Most notably, this includes the use of non-fungible tokens to indicate and transfer ownership of units of work, something which should ensure that freelancers are paid fairly and fully for the work, with the ability to sell NFTs likely to become an extra source of income.
DeeLance is developing its very own work-oriented metaverse, where freelancers and businesses will be able to set up virtual offices and network with each other more efficiently.
Investors can take the plunge with DeeLance's presale by visiting its official website and connecting their crypto wallets, before using ETH or USDT to buy DLANCE.
One DLANCE token currently costs $0.029, although this will rise to $0.033 when the sale enters its second stage.
DeeLance is set to launch with a price of $0.053, meaning that traders who buy will be sitting on a return of 60%
---